Classic Long Plays – A Glance Back
1963 – Richie Allen & The Pacific Surfers – Imperial LP 9243 – "Surfer's Slide"
Leader of this group was Richard Podolor born in 1940 – Performed with "The Hondells", "The Renegades", "The Super Stocks" and more.  Other studios guys on this LP are Rene Hall, Ray Phhiman, Lincoln Mayorga, Sandy Nelson and Harper Crosby.
1967 – The Amboy Dukes – Mainstream 56104 – "The Amboy Dukes"
The Amboy Dukes formed in 1964 in Detroit, Michigan – Original members were guitarist Ted Nugent who had been in a group called "The Royal High Boys" in Detroit, Bob Lehnert, Gary Hicks, Dick Treat and Gail Uptadale.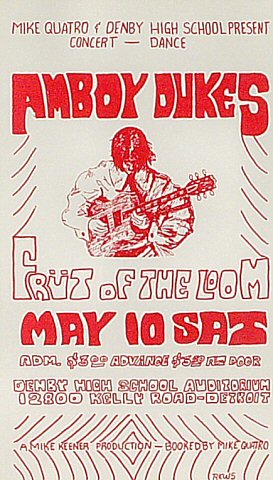 1967 – The American Breed – Acta A-38002 – "The American Breed"
The American Breed formed in 1962 in Brookfield, Illinois – They later evolved into a group called "Rufus".
1962 – The Angels – Caprice LP 1001 – "And the Angels Sing"
The Angels formed in 1961 in New Jersey with Barbara Allbut, Phyllis Allbut, Bernadette Carroll and Lynda Malzone. They began as "The Starlets" and also appeared as "The Halos".
1968 – The Animated Egg – Alshire S-5104 – "The Animated Egg"
This band was actually a group of studio musicians out of Los Angeles performing instrumentals.  Musicians included Jerry Cole, Edgar Lamar, Don Dexter, Tommy Lee, Glenn Cass, Billy Joe Hastings, Norm Cass and Billy Preston.
1961 – Ann-Margret – RCA Victor LP 2399 – "And Here She Is Ann-Margret"
Ann-Margret was born in April of 1941 in Sweden – She established herself as both an actress and a singer in the 1960's with "Bye Bye Birdie" being her hallmark performance.