Dorothy Fields
Dorothy Fields was born in July, 1904 in Allenhurst, New Jersey.  After high school she had her sites set on a career as an actress but her father – Lew Fields – who was a highly successful actor and major Broadway director refused to allow Dorothy to pursue that course due to his experiences in the show business world.
One of my favorite Field's composition's was delivered by Alfalfa on the "Little Rascals".  Just precious! Look it up.
And so she turned her attention to teaching and other jobs – while – without father's knowledge, submitting poetry to magazines.  Dorothy still managed to find some work on the stage.  Through that venture she would eventually meet up with song writer Jimmy McHugh in 1928.
The duo would write together – Fields supplying the lyrics – for nearly seven years.  They would write dozens of songs during that time and place at least 30 hits on the national popularity charts into the mid 1930's.
Fields would work with other writers along the way including Jerome Kern, Irving Berlin and Cy Coleman.  Her output for motion pictures and Broadway productions totaled more than 400 songs.
Fields conceived the idea for a book and musical based on the life of Annie Oakley.  She sold Oscar Hammerstein II on the idea and so she was employed to work with Jerome Kern to deliver the music.  Before they could begin, Kern would pass away and so she teamed up with Irving Berlin instead.
Dorothy was a tireless composer – researching her subjects for weeks and then logging in excruciating hours to complete the final musical results.
Dorothy Fields was inducted into the Songwriters Hall of Fame's second class along with Johnny Mercer – in 1971.  She passed away in 1989 at the relatively early age of 69.
McHugh entered the Songwriters Hall of Fame with the initial class – that being the 1970 class.  He passed away while living in California in 1969 at the age of 74.
Dorothy Fields Composer's Selected Discography
(In most cases showing the highest charting song – Some images are UK even though U.S. chart positions are listed)
Seger Ellis Orchestra – OKeh 41077 – I Can't Give You Anything But Love – Number 19 Pop Charts – 1928 – Fields/McHugh
(Dorothy Fields & Jimmy McHugh's first charting single)
Ukulele Ike (Cliff Edwards – Columbia 1471 – I Can't Give You Anything But Love – Number 1 Pop Charts – 1928 – Fields/McHugh
Annette Hanshaw – Velvet Tone 1832 – In A Great Big Way – Number 19 Pop Charts – 1929 – Fields/McHugh
Ruth Etting – Columbia 2199 – Exactly Like You – Number 11 Pop Charts – 1930 – Fields/McHugh
Gus Arnheim and His Cocoanut Grove Orchestra – Victor 22505 – Go Home and Tell Your Mother – Number 3 Pop Charts – 1930 – Fields/McHugh
Ted Lewis  and His Band – Columbia 2144 – On the Sunny Side Of The Street – Number 2 Pop Charts – 1930 – Fields/McHugh
Red Nichols – Brunswick 6014 – Blue Again – Number 10 Pop Charts – 1931 – Fields/McHugh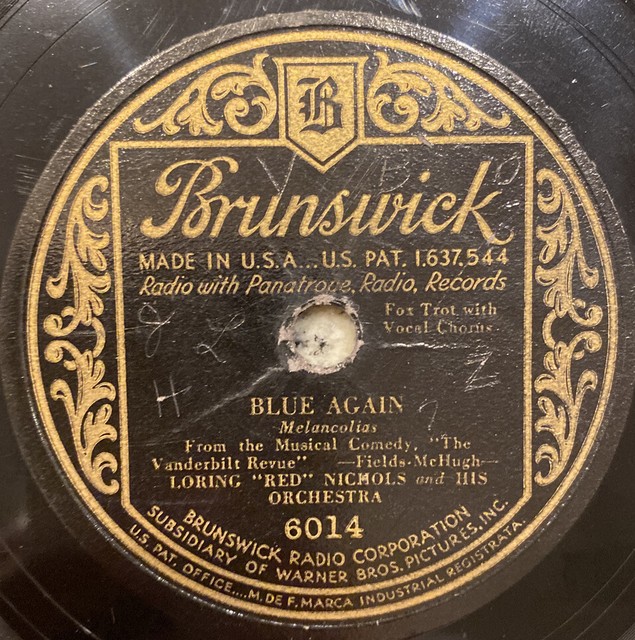 Jacques Renard – Brunswick – Cuban Love Song – Number 7 Pop Charts – 1931- Fields/McHugh
The Mills Brothers – Brunswick 1415 (UK) – Goodbye Blues – Number 4 Pop Charts – 1932 – Fields/McHugh/Johnson
Ethel Waters – Brunswick 6617 – Don't Blame Me – Number 6 Pop Charts – 1933 – Fields/McHugh
Rudy Vallee & His Connecticut Yankees  – Victor 24721 – Lost In A Fog – Number 4 Pop Charts – 1934 – Fields/McHugh
Frances Langford – Brunswick 7512 – I Feel A Song Comin' On – Number 15 Pop – 1935 – Fields/McHugh
The Dorsey Brothers – Brunswick (UK) 256 – Every Little Moment – Number 10 Pop Charts – 1935 – Fields/McHugh
Little Jack Little – Columbia 3069 – I'm In the Mood For Love – Number 1 Pop Charts – 1935 – Fields/McHugh
Eddie Duchin – Victor 24871 – Lovely To Look At – Number 1 Pop Charts – 1935 – Fields/McHugh
Fred Astaire – Columbia (UK) 1828 – A Fine Romance – Number 1 – 1936 – Fields/Kern
(Four versions of this song charted)
Teddy Wilson – Brunswick 7781 – I Can't Give You Anything But Love – Number 5 Pop Charts – 1936 – Fields/McHugh
Fred Astaire – Vocalion (UK) 501 – Never Gonna Dance – Number 5 Pop Charts – b/w Pick Yourself Up – Number 7 Pop Charts – 1936 – Fields/Kern
Fred Astaire – Vocalion (UK) 502 – The Way You Look Tonight – Number 1 – 1936 – Fields/Kern
Tommy Dorsey – Victor 25766 – You Couldn't Be Cuter – Number 3 Charts – 1938 – Fields/Kern
Lionel Hampton – Victor 25592 – On the Sunny Side of the Street – Number 10 R&B Charts  – 1944 – Fields/McHugh
Ella Fitzgerald – Decca 18587 – When My Sugar Walks Down the Street – Number 22 Pop Charts – Number 2 Country – 1944 – McHugh/Austin/Mills
Benny Goodman – Columbia 36787 – Close As Pages In A Book – Number 11 Pop Charts – 1945 – Fields/Romberg
Jo Stafford – Capitol 199 – On the Sunny Side of the Street – Number 17 Pop Charts – 1945 – Fields/McHugh
Billy Eckstine – National 9016 – I'm In the Mood For Love – Number 12 Pop Charts – 1948 – Fields/McHugh
Rose Murphy – Majestic 1204 – I Can't Give You Anything But Love – Number 3 R&B – Number 13 Pop Charts – 1948 – Fields/McHugh
Nat "King" Cole and the Trio – Capitol 70050 – Exactly Like You – Number 9 R&B – 1949 – Fields/McHugh
The Chimes – Tag 445 – I'm In the Mood For Love – Number 38 Hot 100 – 1961 – Fields/McHugh
The Lettermen – Capitol 4586 – The Way You Look Tonight – Number 13 Hot 100 – Number 3 Adult Contemporary – 1961 – Fields/Kern
The Everly Brothers – Warner Bros. 5501 EP Cut – Don't Blame Me – Number 20 Hot 100 – 1961 – Fields/McHugh
Fats Domino – Imperial 66005 – I Can't Give You Anything But Love – Number 114 Bubbling Under – 1963 – Fields/McHugh
Tony Bennett – Columbia 43508 – Baby, Dream Your Dream – Number 27 Adult Contemporary – January, 1966 – Fields/Coleman
Peggy Lee – Capitol 5557 – Big Spender – Number 9 Adult Contemporary b/w Where Am I Going? – Number 96 Hot 100 – Number 4 Adult Contemporary – 1966 – Fields/Coleman
Sylvia Syms – Columbia 43475 – There's Gotta Be Something Better – Number 28 Adult Contemporary – 1966 – Fields/Coleman
Barbara Streisand – Columbia 43518 – You Wanna Bet – Number 18 Adult Contemporary – 1966 – Fields/Coleman
Bert Kaempfert Orchestra – Decca 32008 – I Can't Give You Anything But Love – Number 100 Hot 100 – Number 6 Adult Contemporary – 1966 – Fields/McHugh
Sammy Davis Jr. – Decca 73270 – Rhythm of Life – Number 124 Bubbling Under – 1969 – Fields/Coleman
Linda Clifford – Curtom 140 – If My Friends Could See Me Now – Number 54 Hot 100 – Number 68 R&B – Number 1 Dance – 1978 – Fields/Coleman