December 28th, 1946 – The Journey Begins….
This was my birth week – me making my entrance in the late afternoon of December 25th, 1946 – yes, Christmas Day! or as it would later become "Craigmas".
Sammy Kaye – "The Old Lamplighter"
The "Honor Roll Of Hits" emphasized the composers of the top songs over the actual performers.  In this week the number one song in the nation, "The Old Lamplighter", was performed by Hal Darwin on Capitol Records, Morton Downey on Majestic Records, Anita Ellis on Mercury Records as well as many more.  That's just how it was back then.  Lots of competition on the popular tunes of the day.
Turns out that the most successful version would be Sammy Kaye which finished the year as the number 7 best song running number 1 for 7 weeks and spending 17 weeks in the Top Ten.
September 8th, 1951- Kindergarten
This was my first week in school.  My mother enrolled me in the Colorado Teacher's College on-campus elementary school reserved for the children of professors and employees.  The college was located in Greeley, Colorado and today is The University of Northern Colorado. My mother worked in the adjacent administration building as a secretary.
I remember playing with wooden blocks and wooden train sets in Kindergarten, banging on drums, triangles and tambourines for music – the closest I would ever get to playing an instrument, milk break in the mid morning and rolling out a little carpet section for post noon naps.
The "Lucky Strike Hit Parade" was going strong.
Tony Bennett – "Because of You"
"Because of You" topped the charts with Tony Bennett's version leading the way.  The song ranked number two for the year behind Johnnie Ray's "Cry".
January 3rd, 1953 – 2nd Grade
We departed Greeley during the Christmas break in late 1952, moving to the west Denver neighborhood of Barnum at 5th and Zenobia – just a block from the Denver/Lakewood boundary.  My dad had been commuting from Greeley to Denver for nearly two years – a very slow road trip back in those days – way before the construction of Interstate 25 which would connect Northern Colorado to the Denver area .
Patti Page – "Why Don't You Believe Me"
For my first week at Newlon Elementary School, a school considered then almost out in the boondocks, and only two years old serving the burgeoning baby boomers – "Why Don't You Believe Me" by Patti Page topped the charts.  Her version would come in at number 34 for the year.
Newlon was a drastic change for me.  I went from a campus environment with professor's kids to a blue collar neighborhood with a diverse student population – Even today I count many Newlonites among my most treasured friends but a nerd like me had to tread lightly hoping to avoid Albert Brandeberry, Joe Mumfort, and all the rest of the tough guys.
Outside of class especially on weekends there was always the dreaded "Barnum Gang" much older than us – probably out of high school or had dropped out, but always not to be fooled with.
Down there in the number 10 position is good old "White Christmas" with well over a dozen versions vying for air play – but with Bing Crosby carrying the day once again – but failing to rank in the Top 172 songs.  The first year his classic charted was 1942 and it sat atop the charts for 11 straight weeks.
Many White Christmases with Bing
"White Christmas" reached number 7 in '43, number 5 in '44, back to number 1 in '45, and again number 1 in '46, number 3 in '47, , number 6 in '48, number 5 in '49, number 13 in '50, number 15 in '51 skipped '53 and returned at number 13 in '54, number 7 on the Holiday Charts in '55, back to the pop charts at number 65 in '56, missing a year and then number 66 in '58, number 59 in '59, gained momentum at number 26 in '60, surging to number 12 in '61, number 38 in '62 – at that was that!
September 8th, 1958 – 7th Grade Kunsmiller Jr. High School
Kunsmiller was located to the far southwest end of Denver – several miles from my home on Zenobia.  1958 was the opening year for the school.  Oddly there were two other Jr. High Schools located much closer to my home – Kepner located in West Wood where my sister went – and then Lake Jr. High just east of Sloan's lake.
But due to the huge number of baby boomers entering Jr. High's – it was off to Kunsmiller!
Rock and Roll was well under way in '58 – "At the Hop" was the number one song for the year by Danny and the Juniors – no argument here.
Domenico Mondungo – "Nel Blu Dipinto Di Blu (Volare)"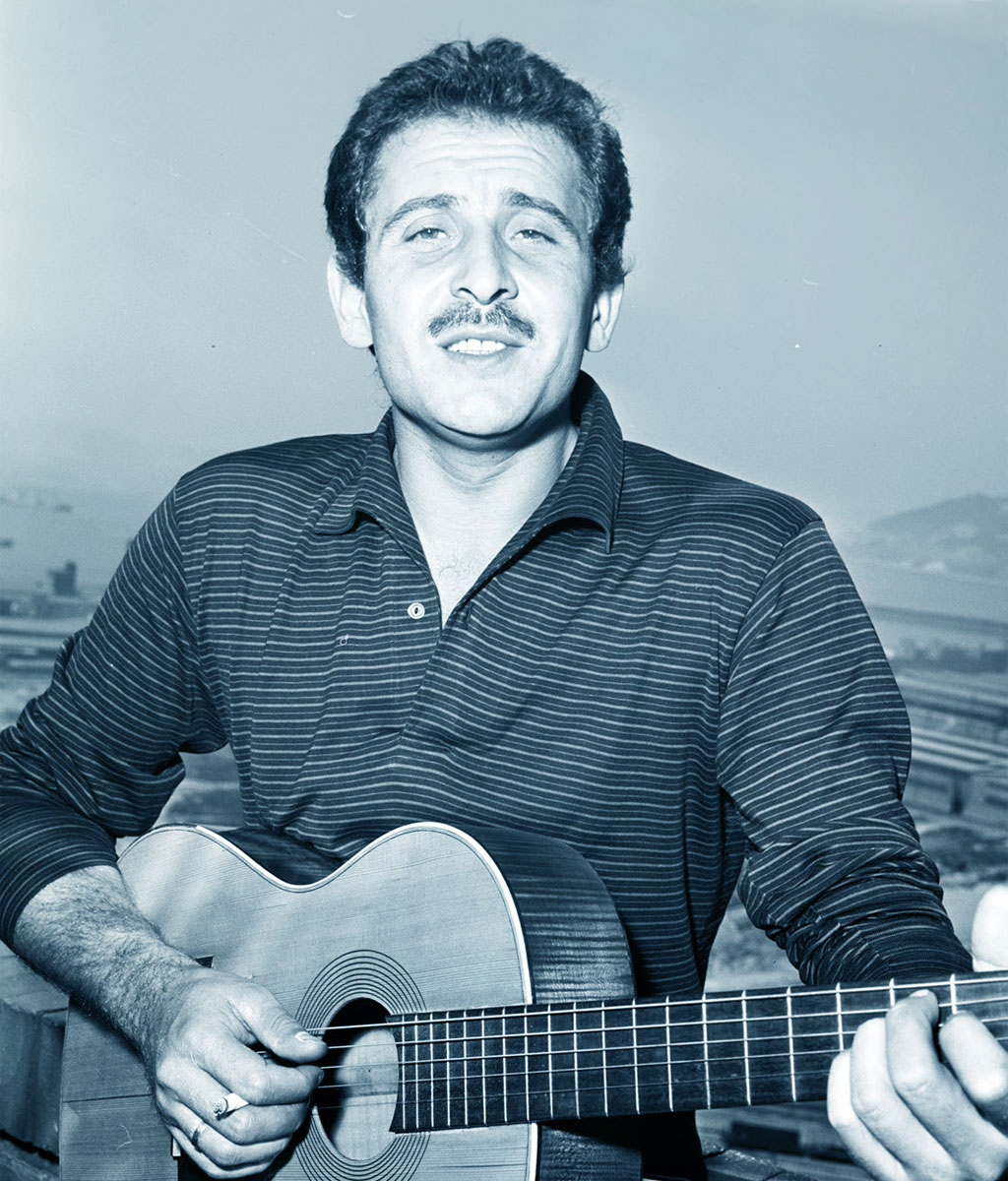 Billboard was still publishing their "Honor Roll of Hits" but the 'real' music chart nationally was their "Hot 100".  That first week at Kunsmiller the top song was Volare or "Nel Blu Dipinto Di Blu" by Domenico Mondungo out of Italy.  As I have written here before his version did received TV air play on American Bandstand – The Italian 'regulars' loved the song.
"Nel Blu" would finish as the 16th most popular song of 1958.
September 1958 Releases
September 7th, 1959 – Rishel Jr. High School
We hadn't even gotten a chance to properly break in Kunsmiller when we received notice that we would all be bused to yet another brand new west side Jr. High – Rishell located west Denver just off lower west Alameda.
Kids who were to attend Rishel would be drawn from three areas of West Denver which were all assigned to three different Denver High Schools – West High, Lincoln High and South High.  It was an interesting mix.  And once again – continuing to be a nerd, I had to watch my backside throughout my two years there.
There was a gang whom I won't name that was known to roam the stair corridors between classes and sometimes – when they didn't feel up to attending class – during classes.  More than once while running an errand I ran smack dab into the middle of three or four members – Had to do some fast talking.
I think once I told them that I knew a couple members of the Barnum Gang.
Cool Kathy…
I've mentioned this before but in 1959 while attending Rishel I decided I would attempt to make a list of every single rock and roll record that had come out up to that point in time.  I started off the list with a lot of zeal but then began to bog down.  Enter Kathy Mercer.  Somehow she noticed me scribbling on my list and asked what I was doing.
Now you have to realize that Kathy was perhaps the coolest of all the cool girls in school – and she had never, ever spoken to me before and I am pretty sure had never noticed that I existed.  But my list got her attention.  So when she asked me to turn it over to her for a few days I was elated.
Turn it over I did and two days later she returned it to me having added 100's of recordings that my nerd mind had forgotten.  Kathy was a rocker!  She enhanced the listing with a lot of Buddy Holly, Chuck Berry, Gene Vincent, Eddie Cochran  – even Ronnie Self!
But once the list was back in my hands – Kathy turned her attention back to the cool kids.  Never acknowledging my presence ever again.  I think I tried to dream up a new list that I could present to her – but was simply fresh out of ideas.
The Browns – "The Three Bells"
During the first week of September in 1959 Homer and Jethro were flying high – Capitol Records was trying to pitch "Johnny October" and Sandy Nelson was beating out his first big hit!
The number one song was by The Browns "The Three Bells".  It held the top spot for 4 weeks and ranked number 10 for the year.
September 4th, 1961 – West High School (The "Cowboys")
So then it was onto West High School in downtown Denver.  Now it must be understood that West back then had somewhat of a reputation for being a tough school.  As 9th graders the year before we exchanged stories and rumors passed down to us by older brothers and sisters of the horrors that awaited us at West.
I was quite certain that when I walked through the doors on that first day of school into the then 81 year-old West High that I was certainly bound to find ten or twelve Barnum Gang members waiting for me in the hallways and probably another 15 to 20 outside circling the school and patrolling the entrances.
I remember riding to school with three of my friends driving by one of our mothers.  We pleaded with her to drop us off at a small side entrance on the south side of the school vs. the large main entrance which certainly had to be Barnum Gang turf.
This KIMN weekly survey sheet from September 23rd, 1964 was one of six published by KIMN Radio featuring Denver high schools.  The others were Thomas Jefferson, George Washington, East, North and South.  Both Lincoln and Manual were left out and no suburban high schools were so honored.
The Highwaymen – "Michael"
"Michael" topped the charts my first week at West – remaining there for two weeks.  The Highwaymen's reign was rather short lived on the charts with just four more records – the final being "The Bird Man" in the summer of 1962 at number 64.
1961 United Artists Ad from Billboard
May 30th, 1964 – End of An Era
It was graduation week at West – the long reign of the baby boomers was coming to an end – 35 of my classmates would head up to Fort Collins to attend Colorado State University which had just transitioned from "Colorado A&M".
I remember our West High 10th reunion – It was well attended probably nearly 200 alumni – not bad for a class the size of ours.  But that would be the final large gathering of the Class of '64.
Our senior year was scarred by the assassination of John Fitzgerald Kennedy on November 22nd, 1963.  Like everyone else I remember exactly where I was.  Sitting in College English with instructor Mr. Blomberg and classmates Kathy McCumber, Margaret McLaughlin, Khris Von Carlowitz, Eddie Vigil to name a few – The school P.A. System came on to inform us of the incident.  The radio feed was continued throughout all the classes of the school up until the dreaded announcement of the President's passing.
School was immediately dismissed.  Things for the West High Senior Class would certainly brighten in the days that followed – but the world had changed.
PS:  West didn't turn out to be a horrific experience after all.  It was just the best darn place to finish growing up that I could imagine – and the kids – the greatest!
The Beatles – "Love Me Do"
Chart Dominance In Denver on KIMN
Six Beatles' Songs in the Top 10 – Nine in the Top 50 — March 11th, 1964
The Beatles "Second Album" was sitting at the top of the LP charts – and "Love Me Do" rested at number 1.  The Beatles did provided the Class of '64 with some great music and great memories  – starting the week of February 1st, 1964 when the Fab Four booted Bobby Vinton's "There, I've Said It Again" from the top spot after an agonizing four week run in that spot.
"I Want To Hold Your Hand" would hold down number 1 for seven straight weeks to be replaced by "She Loves You", to be replaced by "Can't Buy Me Love".  Now I am a little sad to say that the Beatles were bumped on May 9th of '64 by Louis Armstrong and his "Hello Dolly" – but he deserved it – I guess.
All told – 17 Beatles' tracks entered Billboard's Hot 100 during our final four months of high school.
It was a reprieve of sorts – Notice that none of the number 1's I have presented in this baby boomer journey even approached being rock and roll!
August 26th, 1964 – A Final Gathering for the Boomers!