Invasion-Era Musicians from the U.K.
Charting Singles/Extended Plays/Long Plays
These pages are listings of the lesser-known (for the most part – but not always) U.K. artists who managed to chart in the U.K.  I am listing singles both two-sided and extended play and long plays which entered the British music charts.
There were many different charts published in the U.K. including the New Musical Express, Melody Maker, Disc – and Record Retailer which became Music Week.  The data in these listings for those recordings charting – is drawn from Record Retailer.   Record Retailer published a more lengthy chart listing from week-to-week in it's heyday – up to 50 chart positions.  The publication started presenting it's chart in 1960.  It continued to run until 2002.
So the listings here are selective on my part but only run through the 1960's which seems appropriate enough.  And of course the artists chosen are generally from the U.K. with a few exceptions coming from other European countries.
I have also added some additional items such as extended plays and long plays which didn't reach the charts as well as some trade advertisements and sheet music to liven things up a bit.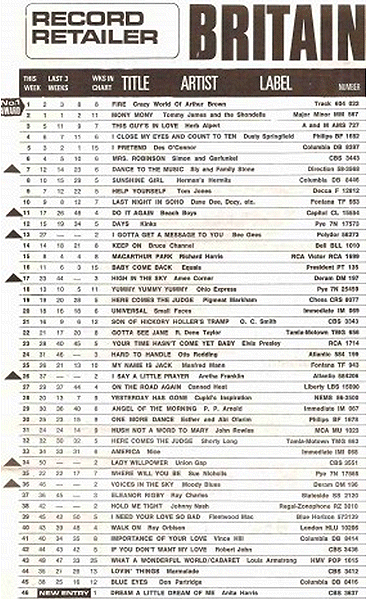 U.K. Chart Discography
Artists with fewer recordings are listed on the Alpha-Top Level Pages – and more mainstream UK artists each have their own page assigned