From Denver's Band Box to the Big Time!
Joel Whitburn's "Billboard Hot Country Songs" places his date of birth as November 12th, 1940 and his place of birth as Lewiston, Maine.  His Band Box debut was in 1966 with some of his first country recordings.  Prior to that he had been a rocker.  His birth name was Robert Frances Boulanger – a name he frequently used for production and writing credits.  Below is a photo of Van from his Memorial Page photo album – taken in 1953.
Bobby Boulanger would first record on the Swan label as a member of The Saturday Knights.  They would release two singles as a group – Swan 4075 "Ticonderoga" b/w "Tiger Lily" in April or May of 1961.  This release probably was recorded in the same session with The Saturday Knights backing Freddy Cannon on his national hit "Buzz-Buzz Buzz A-Diddle It" (#51 on the Billboard Hot 100 in May of 1961).
Their second single was Swan 4081 "Texas Tommy" b/w "Ticonderoga" recorded in September of 1961.  The Swan sides were all composed by Saturday Knight band members with Bob Boulanger contributing to all.  The band is shown below performing at "Twistland" in Connecticut.  The group would release records on multiple labels as the Saturday Knights with Van and then backing him.
His recording output for Band Box Records in Denver included Band Box 367 "Born to be In Love With You" b/w "It's So Good to Be Loved", Band Box 371 "Our Side" b/w "When You've Lost Your Baby" and Band Box 374 "Fool Called Me" b/w "He's Losing His Mind".  He also teamed up with Penny (DeHaven) Starr and Johnny Dollar to release Band Box 373 "Christmas in the Country" b/w "Holiday Driving – Holiday Safety" – which sounds like a public service release.  This makes sense since the Penny Starr releases on Band Box are cataloged in number sequence very close to Van Trevor's.
Van often worked with country music composer Hank Hunter and was produced on the Band Box session by noted country personality Dick Heard.
His first release "Born to Be in Love With You" would go on to the national Billboard Hot Country Charts in April of 1966 reaching a peak of #22 – with a chart run of 18 weeks, his biggest hit record during his six-year run on the charts.  "Our Side" would also chart nationally for Van and Band Box – coming in at #27 in the late part of 1966 with a 13 week run.
I think he probably had a single recording session with Band Box in the early part of 1966 producing Band Box 367 – and that session probably included both Penny Starr and Johnny Dollar joining in for the Christmas single.
There is a lengthy – in-depth article on his Memorial Site which I was excited about – thinking it would talk about his Band Box recording sessions.  He only talks about his song that he composed with Hank Hunter "Born to Be in Love With You" (Band Box 367) but doesn't speak at all about the recording session – Band Box  or Denver.  Most likely, as was the case  with other country artists his Band Box sessions were conducted in another town possibly his home state of West Virginia and of course, possibly Nashville.
Van Trevor also released a very hard-to-find Band Box LP "Come On Over to Our Side".  Note that Penny Starr's "A Grain of Salt" is included on this LP.
From Band Box it was onto a new label – Date in 1967 and finally Royal American in 1969 up until the end of his hit string in 1971.  At the end of this page is a YouTube video with Van performing "A Fling of the Past" on Vivid Records.  The Post reports that he was backed on this cut by Franki Valli and the Four Seasons!  The record is definitely a play for the Pop market.  The back-up voices don't sound like the Four Seasons – but they could be in there somewhere.  This release must have been after Band Box and probably before his Date recording sessions.
Van passed away in 2006.
The following note was sent in by Van Trevor's daughter:  "I enjoyed reading this article as this is my dad. I did not know a lot about his music career due to by the time I was born he had stopped singing. Thank you for sharing his history with the world." – Monica L. Boulanger-Williams
This comment arrived in December, 2014 from Trevor friend Paul Payton:
"This page is an unexpected treat! Thank you. I hadn't realized that Van had died so long ago; my condolences. I have associations of him with Connecticut, both as a rocker and a country artist. When Our Side came out, he was kind enough to do a verse of it as a custom jingle for me when I was working on WHIM in Providence RI. He was a really nice guy.
I'm looking for one he did on Canadian American, "The Girl From The Main Street Diner," which was always a personal favorite. You or one of your readers wouldn't happen to have an mp3 you could send, would you?!? Google Presence Productions to get an e-mail link if you have it. Thanks!"
This from one time Saturday Knight band member Bob Cosgrove (received January 19th, 2014):
"My name is Bob Cosgrove. I played drums for Bobby. With a group we formed called the Saturday knights. Bob Crewe named our band.  At first we were called the Joy Riders from new Britain, CT. We recorded for the Swan recording label. I remember Chubby Checker walked into our session. We were recording Ticonderoga. Monica please contact me on Facebook Robert Cosgrove Sr.. Or my email bobcos@cox.net thank you cos.b"
The Saturday Knights singles are pictured below.
Van Trevor Early Photos
These are all from the Van Trevor Memorial Site.
From the Van Trevor Facebook photo collection (sic)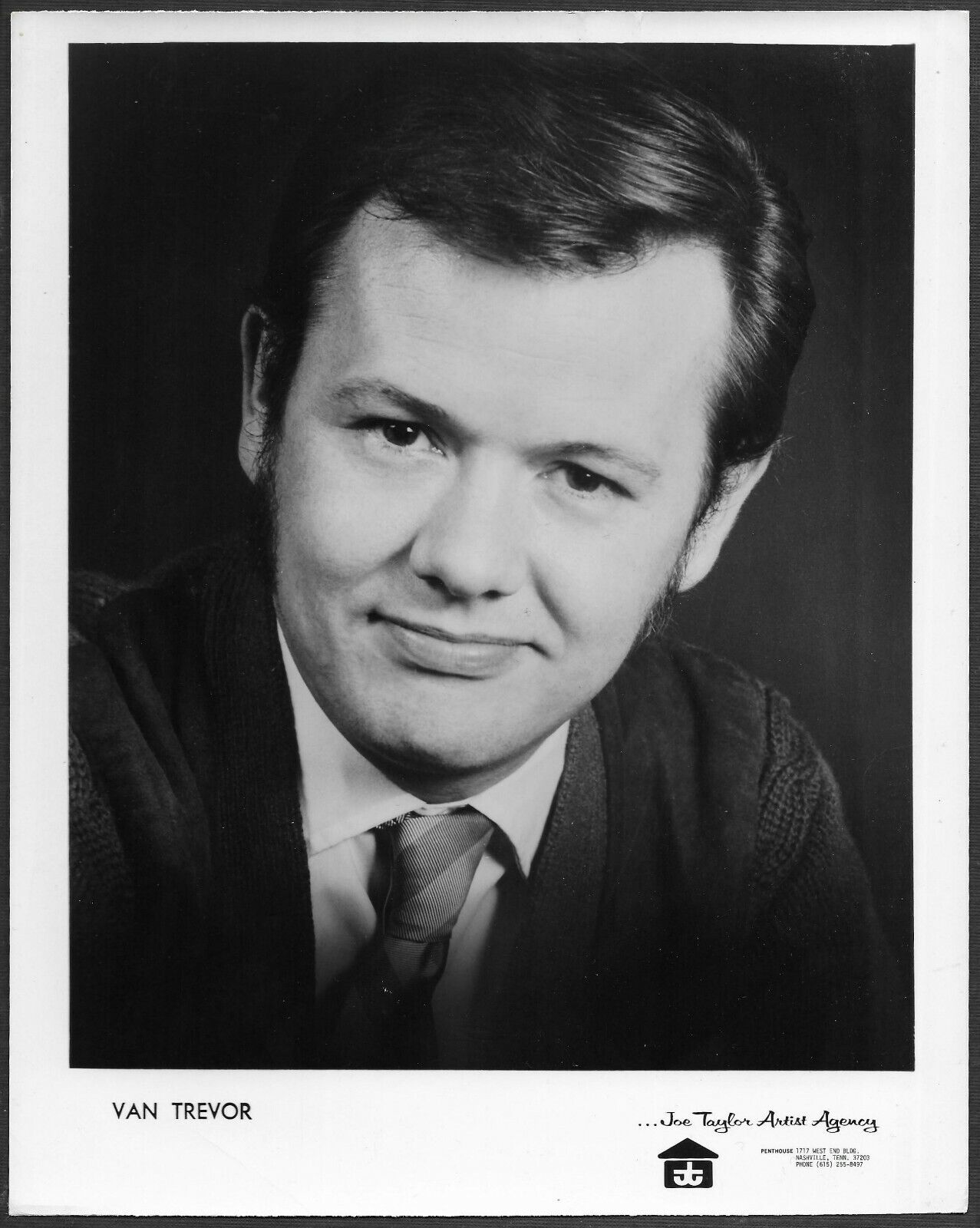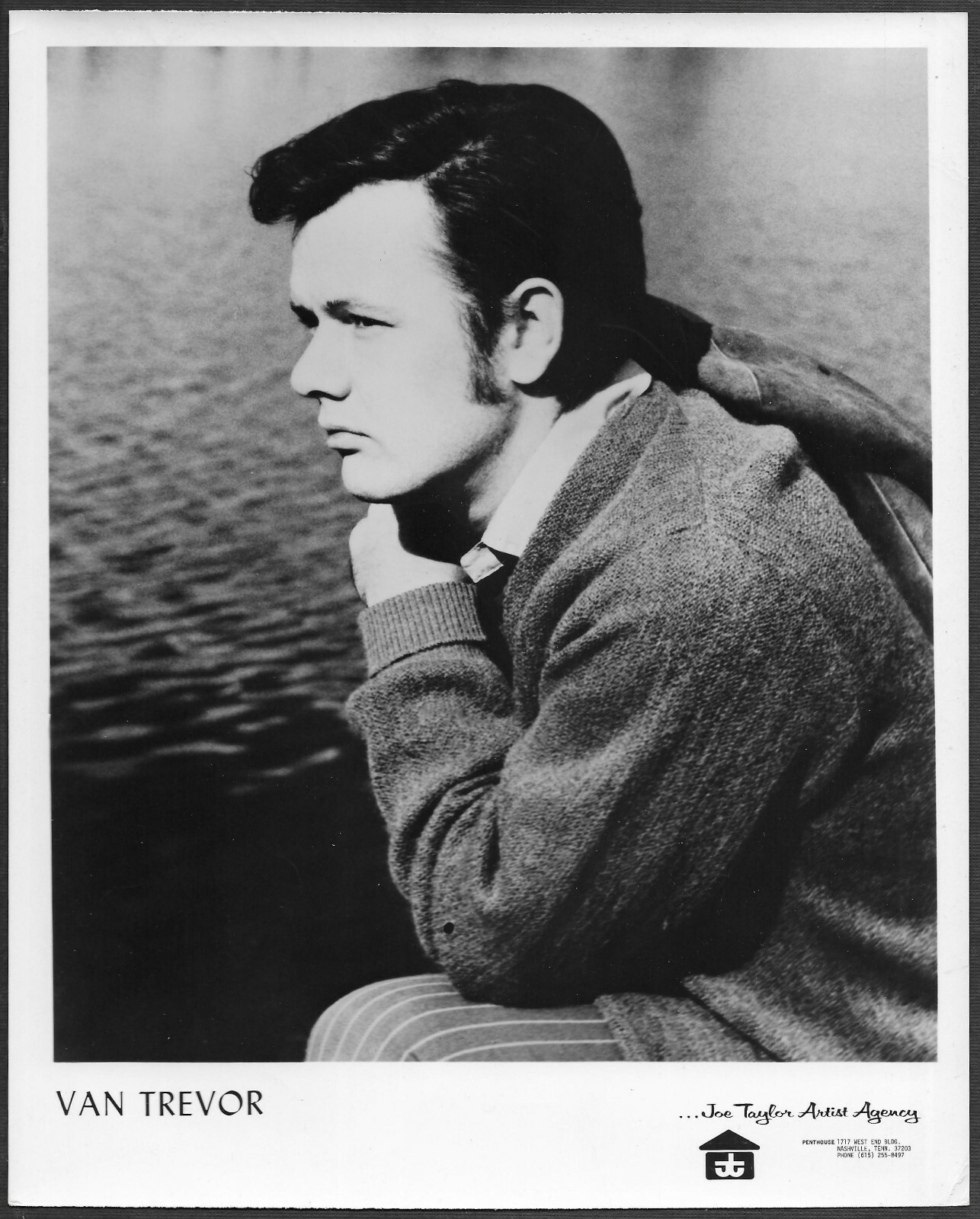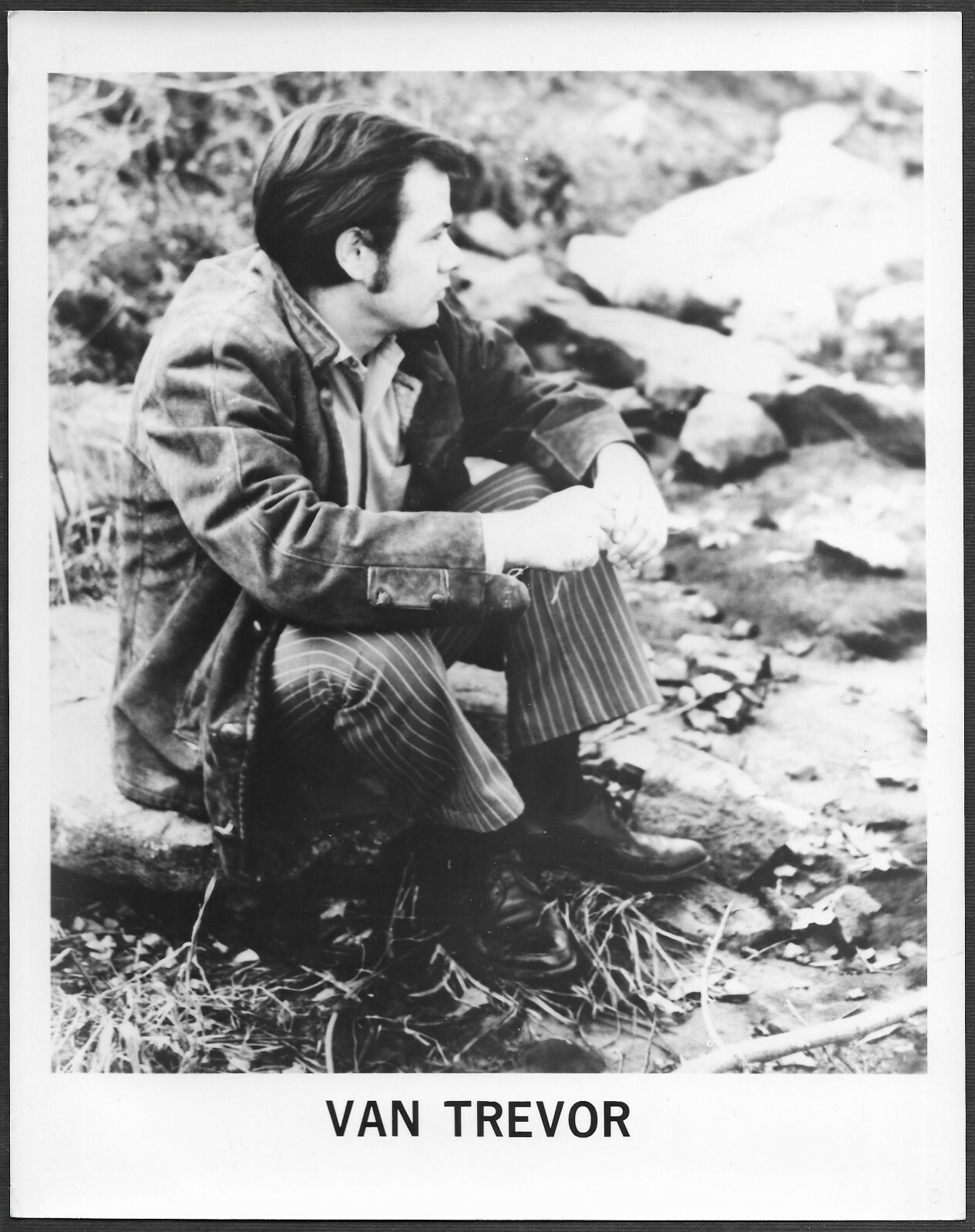 The ad below ran in the February 2nd, 1966 issue of Cashbox Magazine promoting Van's first Band Box release and his upcoming tour (image provided by Colorado Music History Blogger Lisa Wheeler)
Cash Box – January 11th, 1969
Cash Box January 19th, 1963
Van Tevor Discography
45 – Band Box 367 – Born To Be In Love With You* Number 22 Country Charts – b/w It's So Good To Be Loved By You – March, 1966
*Charted Pick Hit WNYR Rochester, New York March, 28th, 1966 – Charted Number 15 KWNT Davenport, Iowa April 28th, 1966 – Charted Number 24 KDKO Littleton, Colorado May 1st, 1966 – Charted Number 40 KOOO Omaha, Nebraska July 16th, 1966
45 – Band Box 371 – Our Side* Number 27 Country b/w When You've Lost Your Baby – October, 1966
*Number 48 WJRZ Hackensack, New Jersey October 23rd, 1966 – Number 26 WJJD Chicago, Illinois November 14th, 1966 – Number 1 WNYR Rochester, New Jersey January 9th, 1967 – Number 18 WZIP Covington, Kentucky December, 1966 – Number 20 KIEV Glendale, California December 18th, 1966 – Number 34 WOAH Miami, Florida December 25th, 1966 – Number 22 WKBN Youngstown, Ohio January 17th, 1967 – Number 9 WSEN Syracuse, New York February 12th, 1967 – Number 26 KFRM Salina, Kansas February 19th, 1967
Label Variation 1 (no bottom line)
45 – Band Box 373 – Christmas in The Country b/w Christmas Greetings by Trevor, Starr and Dollar – November, 1966
45 – Band Box 374 – He's Losing His Mind*  b/w A Fool Called Me – April, 1967
*Charted Hit Bound Long Beach, California March 19th, 1967 –  Charted Number 24 WWVA Wheeling, West Virginia – May 15th, 1967
The Saturday Knights – Swan 4081 – Texas Tommy b/w Hawaiian Tears – May, 1961
The Saturday Knights – Swan 4081 – "Texas Tommy" b/w "Ticonderoga" – September, 1961
45 – Atlantic 2175 – Tuesday Girl b/w I Want to Cry – January, 1963
45 – Vivid 1084 – A Fling Of The Past b/w C'Mon Now Baby – August, 1963
45 – Nocturne 1030 – Queen of the Nile b/w Sea Mist – 1963
Van Trevor & The Saturday Knights – 45 – Corsican 138 – Satisfaction Guaranteed – b/w Louisiana Hot Sauce – 1964
45 – Canadian American 181 – Satisfaction is Guaranteed b/w Louisiana Hot Sauce – November, 1964
(backed by the Saturday Knights out of New Britain, CT)
45 – Canadian American 305 – The Girl From the Main Street Diner b/w For This Girl – 1965
45 – Claridge CR 305 – Christmas in Washington Square b/w Melting Snow – November, 1965
45 – Date 1565 – You've Been Good to Me – Number 26 Country – b/w Sunday Morning – July, 1967
45 – Date 1594 – Take Me Along with You – Number 31 Country b/w Guitar – March, 1968
45 – Royal American 280 – The Things That Matter – Number 42 Country b/w Band of Gold – 1968
45 – Royal American 283 – A Man Away From Home – Number 56 Country b/w I've Got Today To Live For – April, 1969
45 – Royal American 289 – Funny Familiar Forgotten Feelings b/w Daddy's Little Man – September, 1969
45 – Royal American RA 3 – Mercy Hospital b/w Something's Missing In Me – February, 1970
45 – Royal American RA 9A – Luziana River Number 42 Country b/w Sweet Diana – April, 1970
45 – Royal American RA 23 – Wish I Was Home Instead Number 54 Country b/w Did I Have A Good Time – November, 1970
45 – Royal American RA 31 – Lonely Looking Woman b/w Johnny and Annie – April, 1971
45 – Swan 4075 – "Ticonderoga" b/w "Tiger Lily" – Van as a member of the Saturday Knights – April, 1971
45 – Royal American RA 67 – Shiny Penny New (both sides promo) – 1972
45 – Swan 4071 – Buzz Buzz A-Diddle It" – Number 51 Hot 100 – April, 1961
(Backing Freddy Cannon)
45 – Nocturne 1030 – Sea Mist b/w Queen of the Nile – (Year Unknown)
45 – Country International 114 – Goodbye, My Son, Goodbye b/w It All Adds Up To Love – 1974
45 – Country International 124 – I'll Be Home (both sides promo) – 1977
45 – Country International 126 – Who's Cheatin' Who b/w I'll Be Home – 1977
45 – Country International 131 – Luzianna River – (both sides promo – 1978
45 – Country International 136 – Nashville Magic (both sides promo) – 1978
The Saturday Knights – Jet 101 – Dum Diddly Dum b/w It's So Good To Be Loved
LP – Band Box 1001 – Come On Over to Our Side – 1966

LP – Date – "You've Been So Good To Me" – 1968
LP – Royal American 2800 – "Funny Familiar Forgotten Feelings" – 1969
LP – Country International Records 130 – Van Trevor's Greatest Hits – 1974