Billboard Magazine ran mini-biographies from 1959 into the early 1960's sometimes providing us with interesting tidbits – Each biography was generally tied to a current release on behalf of the artist
Sammy Davis Jr. ("What Kind Of Fool Am I")
Charted Number 17 Hot 100 –

Probably more so than any member of the 'Rat Pack', Sammy Davis Jr., moved with smooth precision from era to era, steeping himself in the pop standards beginning in the early 1950's and continuing on into the hip and turbulent 60's transitioning in the 70's as a frequent guest on Laugh-In and adopting a "peace and love" mantra for the younger crowd – something that 'Old Blue Eye's' probably did not consider doing – for a minute.
Sammy Davis Jr. was born Samuel George Davis Jr. in December of 1925 in Harlem, New York.  He entered the world of entertainment at the very young age of three teaming up with his father Sammy Davis Sr., as a vaudeville act.  There is some adorable film footage out there of young Sammy strutting his stuff – born to entertain.
Sammy would work his way into dancing in Vaudeville,  Broadway productions, motion pictures, television and, of course, a lengthy and productive recording career.
To Topps It Off
When I was about 12 years old I was walking with my father in Hollywood just exiting a pharmacy located close to Hollywood and Vine – We had gone in search of some late-series Topps Baseball Cards.  It was September, just before school began, and I was hoping to locate hard-to-find '7th series' cards.  Topps would issue their cards back in the 1950's in seven different series starting from the lowest numbers working up to the final series in September.
The challenge back in Denver, Colorado was locating a corner grocery store that would carry the 7th series.  By September the store owners no longer wanted to stock baseball cards – making room for the upcoming (and less popular) football cards.  And so – the coveted 7th series cards were hard to find (and later would be worth much more than series 2 through 6 – The first series was also rare because proprietors weren't ready to place orders for baseball cards because all of us collecting kids were still in school.
At any rate – Hollywood DID have the 7th series and so I was walking down Vine Street in radiant daze when we passed Sammy Davis Jr. on the sidewalk.  Mom and Dad were excited – I wasn't real sure who he was – He had a patch covering one eye – and eye he lost in 1954 in an accident – and so that day Sammy Davis Jr., for me – took a back seat to the Topps' 7th Series!
Willie Mays – Card Number 5 & Eddie Kasko – Card Number 8 – First Series 1958 Topps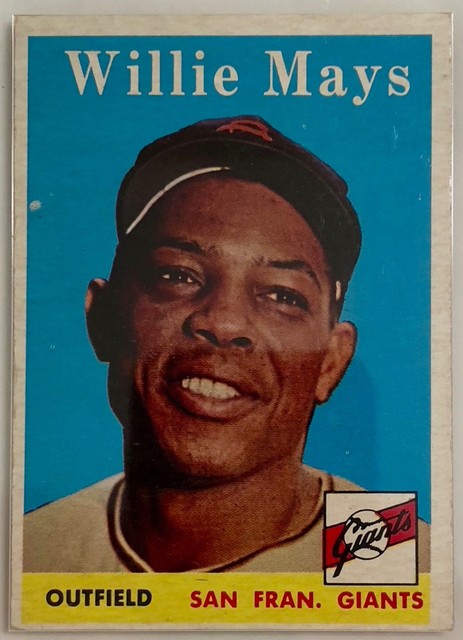 Well, back to Sammy Davis Jr. – He cut his teeth performing with his father and uncle Will in the "Will Mastin Trio".  At age 7 he appeared in the 1933 film "Rufus Jones For President" with Ethel Waters.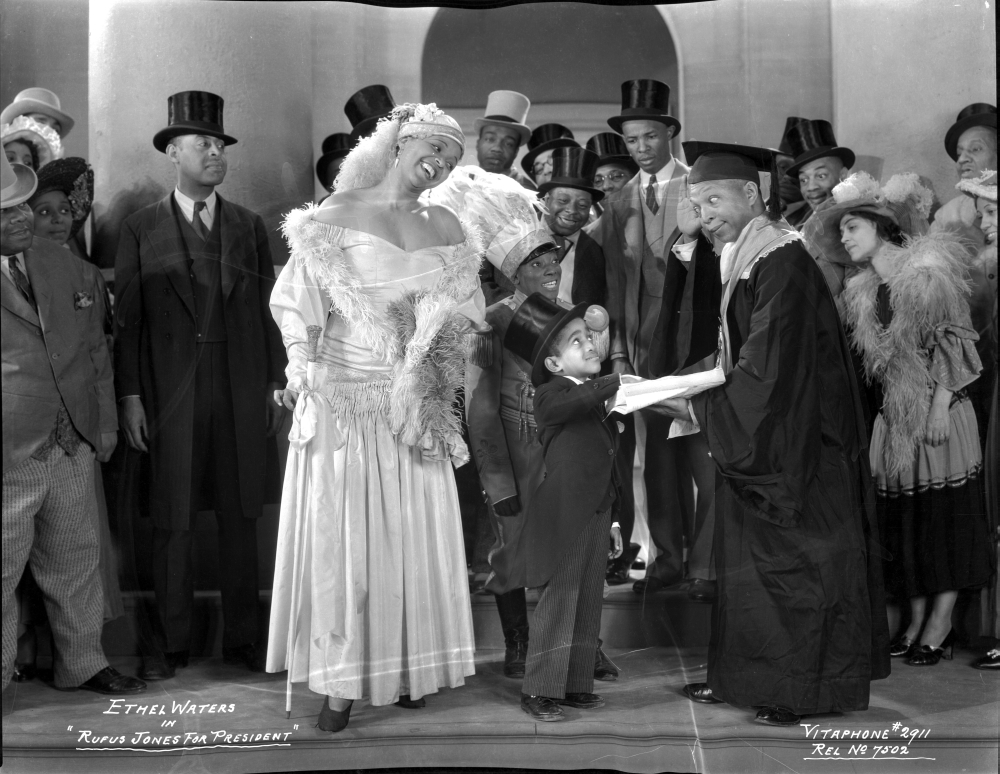 Davis served in the U.S. Army where he was assigned to the entertainment section – but was often accosted by southern white soldiers – After his stint in the armed forces he would sign on with Capitol Records recording as "Shorty Muggins" and also "Charlie Green".  He would rejoin his family working again in the Will Mastin Trio in the early 1950's.
In 1959 Davis would join up with Frank Sinatra, Dean Martin, Joey Bishop and Peter Lawford in what Sinatra originally called the "Clan".  Davis expressed concern for the name with the obvious comparison and so Sinatra renamed his group of comrades the "Summit".  It would be when actress Angie Dickinson (an honorary Summit member) would come across the gang early one morning after a night of their carousing that she said they looked like a "pack of rats".  It stuck. (Another version attributes the moniker to Lauren Bacall – and there are others)
Surprisingly for me the original Rat Pack was a loose amalgamation of Hollywood types with only Frank Sinatra from the more noted Pack among them.  Some of the 'members' were Judy Garland, Mickey Rooney, Robert Mitchum, Elizabeth Taylor and Jerry Lewis!
The 1960's version with the five shown below also included Rat Pack "mascots" among them Marilyn Monroe, Don Rickles, Shirley MacLaine, Buddy Greco and Juliet Prowse.
In Davis's early days in Vegas performing at the Frontier he was required to room in the black section of the city on the opposite side of town – as were all black performers.
His career would have it's ups and downs – comebacks – successes and set backs but Davis always seemed to land on his feet.  During the late 1960's Davis and Elvis Presley would become close during their overlapping time in Vegas.
Sammy's songs were never very well accepted by the black community – in fact – only one song during his career ever appeared on the R&B Charts the – to me – unlikely 1963 hit "The Shelter of Your Arms".
Davis's near marriage to Kim Novak was halted by organized crime – and he was threatened with great harm to end the relationship.  Davis certainly endured many harrowing race based incidents but managed to stand tall and keep moving forward.
At one point Davis was banned by President Kennedy from his inauguration because he was married to May Britt a white actress.  Where Kennedy spurned Davis, later on President Richard Nixon would became close friends with the entertainer.
Davis was a tireless performer on behalf of the U.S. armed forces stationed in Vietnam and championed helping soldiers addicted to drugs – very common in Vietnam.  His recording chart success would come to a halt as far as singles go after the release of "All of You" in late 1956.  It would be nearly six years before he appeared again coming on with "What Kind Of Fool Am I" on Sinatra's affiliated label Reprise.
Sammy's final charting single was something of an anomally – "Smoke, Smoke, Smoke (That Cigarette)" would be Sammy's one and only appearance on the nation's Country Charts.
Again – much of Davis' work was lost forever in the 2008 Universal Studio fire.
Sammy Davis Jr. passed away losing a battle to cancer in March of 1990 at the age of 1990.
Sammy Davis Jr Selected Discography
Pretty much sticking to Sammy's charting songs along with some milestone recordings.
78 – Capitol 943 – Laura!!! b/w Inka Dinka Doo – April, 1950
(The earliest recording I could locate for Sammy)
45 – Decca 29199 –
Hey There Number 16 Pop Charts – Number 19 UK

b/w And This Is My Beloved – June, 1954
45 EP – Decca 2285 – Sammy Davis , Jr. Sings Just For Lovers – 1955
45 – Decca 29484 –
Love Me Or Leave Me Number 12 Pop Charts – Number 8 UK

b/w

Something's Gotta Give Number 9 Pop Charts – Number 11 UK

– April, 1955
45 – Decca 29541 –
That Old Black Magic Number 13 Pop Charts – Number 16 UK b/w A Man With A Dream

– June, 1955
45 – Decca 29672 –
I'll Know Number 87 Pop Charts

b/w Adelaide – October, 1955
45 – Decca 29759 – In A Persian Market Number 19 Pop Charts – Number 28 UK Charts b/w The Man With The Golden Arm – December, 1955
45 – Decca 29976 –
Five Number 71 Pop Charts

b/w You're Sensational – June, 1956
45 – Decca 30035 –
Earthbound Number 46 Pop Charts

b/w Just One Of Those Things – July, 1956
45 – Decca 30111 –
New York's My Home Number 59 Pop Charts

b/w Never Like This – October, 1956
45 – Decca 29402 –
All Of You Number 28 UK

b/w Six Bridges To Cross – December, 1956
45 EP – Decca 2507 – Sammy Swings – 1957
45 EP – Decca 2562 – Mood To Be Wooed – 1958
45 EP – Decca 2647 – Porgy & Bess – 1959
45 – Decca 31136 – I Got A Woman Number 111 Bubbling Under Charts b/w Mess Around – September, 1960
45 – Reprise 20,003 – Back In Your Own Backyard Number 118 Bubbling Under Charts b/w I'm A Fool To Want You – April, 1961
45 – Reprise 20,048 –
What Kind Of Fool Am I Number 17 Pop Charts – Number 6 Adult Contemporary – Number 26 UK

b/w Gonna Build A Mountain – August, 1962
45 – Reprise 20,128 – Me and My Shadow (with Frank Sinatra) b/w Sam's Song (with Dean Martin) – November, 1962
45 – Reprise 20.138 – As Long As She Needs Me
Number 59 Pop Charts – Number 19 Adult Contemporary

b/w Song From Two For the Seesaw – A Second Chance" – January, 1963
45 – Reprise 20,126 – The Shelter Of Your Arms
Number 17 Pop Charts – Number 3 R&B – Number 6 Adult Contemporary

– October, 1963
45 – Reprise 0278 – Choose
Number 112 Bubbling Under Charts b/w Bee-Bom Number 135 Bubbling Under Charts

– May, 1964
45 – Reprise 0289 – Not For Me b/w Night Song – June, 1964
45 – Reprise 0322 – Don't Shut Me Out Number 106 Bubbling Under Charts b/w The Disorderly Orderly – October, 1964
45 – Reprise 0345 – If I Ruled The World Number 135 Bubbling Under Charts b/w Flash, Bang, Wallop! – February, 1965
45 – Reprise 0370 – No On Can Live Forever Number 33 Adult Contemporary – Number 117 Bubbling Under Charts b/w Unforgettable – May, 1965
45 – Reprise 0566 – Don't Blame The Children Number 37 Pop Charts b/w She Believes In Me – May, 1967
45 – Reprise 0673 – Lonely Is The Name Number 93 Pop Charts – Number 12 Adult Contemporary b/w Flash, Bang, Wallup! – March, 1968
45 – Reprise 0757 – Break My Mind Number 106 Bubbling Under Charts b/w Children, Children – July, 1968
45 – Reprise 0779 – I've Gotta Be Me Number 1 Adult Contemporary – Number 11 Pop Charts b/w Bein' Natural Bein' Me – October, 1968
45 – Decca 732470 – Rhythm Of Life Number 124 Bubbling Under Charts b/w The Pompeii Club (Rich Man's Frug) – April, 1969
45 – Reprise 0827 – I Have But One Life To Live Number 119 Bubbling Under Charts b/w The Goin' sGreat – May, 1969
45 – MGM 14320 – The Candy Man Number 1 Pop Charts – Number 1 Adult Contemporary b/w I Want To Be Happy – November, 1971
45 – MGM 14426 – The People Tree Number 92 Pop Charts – Number 16 Adult Contemporary b/w Mr. Bojangles – September, 1972
45 – MGM 14513 – (I'd Be) A Legend In My Time Number 29 Adult Contemporary – Number 116 Bubbling Under Charts – March, 1973
45 – MGM 14685 – Singin' In The Rain Number 16 Adult Contemporary b/w Chattanooga Choo Choo – February, 1974
45 – MGM 17436- That's Entertainment Number 41 Adult Contemporary b/w Singiin' In the Rain – March, 1974
45 –  20th Century 2160 – Chico and the Man Number 24 Adult Contemporary b/w (I'd Be) A Legend In My Time – December, 1974
45 – 20th Century – Song and Dance Man Number 32 Adult Contemporary b/w Snap Your Fingers – September, 1975
45 – MGM – Baretta's Theme (Keep Your Eye On The Sparrow) Number 101 Bubbling Under Charts – Number 42 Adult Contemporary b/w I Heard A Song – April, 1970
45 – Applause 100 – Smoke, Smoke, Smoke (That Cigarette) Number 88 Country b/w We Could Have Been Closest Of Friends – 1982
Sammy Davis Jr. Selected Long Play Discography
LP – Decca 8118 – Starring Sammy Davis Jr. – 1955
One of if not the earliest of Sammy Davis' long plays – did not chart
LP – Reprise 6051 – What Kind Of Fool Am I & Other Show Stoppers – Number 14 Hot 100 – October, 1962
LP – Reprise 6063 – Sammy Davis Jr. AT The Cocoanut Grove – Number 96 Hot 200 – March, 1963
LP – Reprise 6082 – As Long As She Needs Me – Number 73 Hot 200 – May, 1963
LP – Reprise 6095 – Sammy Davis Jr. Salutes The Stars Of the London Palladium – Number 139 Hot 200 – March, 1964
LP – Reprise 6114 – The Shelter Of Your Arms – Number 46 – April, 1964
LP – Verve 8605 – Our Shining Hour (with Count Basie) – Number 141 Hot 200 – March, 1965
LP – Reprise 6169 – Sammy's Back On Broadway – Number 104 Hot 200 – September, 1965
LP – Reprise 6324 – I've Gotta Be Me – Number 24 Hot 200 – January, 1969
LP – MGM 4832 – Sammy Davis Jr. Now – Number 11 Hot 200 – April, 1972
LP – MGM 4852 – Portrait Of Sammy Davis Jr. – Number 128 Hot 200 – October, 1972