CATHY JEAN & THE ROOMATES ("PLEASE LOVE ME FOREVER")
Billboard Magazine ran mini-biographies from 1959 into the early 1960's sometimes providing us with interesting tidbits – Each biography was generally tied to a current release on behalf of the artist
CHARTED NUMBER 12 HOT 100 – FEBRUARY, 1961
Cathy Jean's lone hit record came out a few months before the Roommates (or sometimes the "Roomates") struck with their sole charting single "The Glory of Love" which peaked at number 49.  The roommates started off a s a duo with Bob Minsky and Steve Susskind, both 15 years of age coming out of Queens in New York.
The two were 'discovered'  in a Queens' area talent show – finishing in second place behind two other New York up and comers, Tom and Jerry, aka Simon & Garfunkle.  Before long, Bob and Steve would be paired with two more singers, Jack Carlson and Felix Alvarez.  Next, their management team would start up their own record label – Valmor.
A 16-year old Cathy Jean Giordano would come into the studio to dust off a 1958 tune by Tommy Edwards, "Please Love Me Forever".  Cathy Jean recorded alone – and later their managers – Jody and Gene Malis would add the Roommates to the recordings' background.  The song would be released and at the time that it began to climb the charts, Cathy Jean and the Roommates had yet to meet one another.
"The Glory of Love" had been a number one hit back in the Great Depression recorded by Benny Goodman in 1936 and then later by the Five Keys – again going to number 1 – this time on the R&B charts.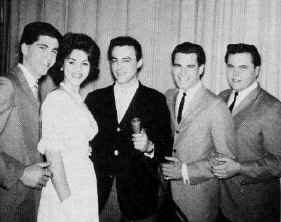 The five youngsters would hit the road to promote their two hit records and would enter the studio to release one album.  But the association was short lived.  In less than one year Cathy Jean departed, retiring from recording while still only 17 years old.  The Roommates would call it quits in 1965.
Of course there would be reunions down the road and revival performances – with various New York vocalists taking on the role of the Roommates.  Valmor Records carried on for just under two years before closing shop.  The first year of operations was exclusively devoted to releases by Cathy Jean and/or the Roommates.
The "Night Owls" – an instrumental group – were the first new group to be recorded by Valmor in early 1962.  Interestingly, before folding up, the label recorded a singer by the name of "Tony De Franco" not to be confused with Canada's Tony from the 1970's act "The DeFranco Family".