Setting Records!
Athletes finding their way onto vinyl over the years
Nate Archibald – 1976
(Played with the Kansas City Kings, Cincinnati Royals and the Boston Celtics)
Ernie Banks – Chicago Cubs – 1964 flexi
Ernie Banks – Chicago Cubs – 1981
(A true Hall of Fame Chicago Cub)
Yogi Berra New York Yankees – 1960's
George Blanda Oakland Raiders – 1971
(George was 48 when he played his final NFL game – One of the all-time leading scorers as QB and field goal kicker)
Terry Bradshaw – 1980
Ron Cey L.A. Dodgers – 1976
The Chicago Bears – 1985
Cassius Clay – 1964
Rocky Colavito – Kansas City Athletics – 1964 flexi
Tony Conigliaro Boston Red Sox – 1965
Dave Cowens The Boston Celtics – 1976
The Detroit Lions (Joe Schmidt Trio) – 1963
Joe Di Maggio New York Yankees – 1949
Don Drysdale Los Angeles Dodgers – 1963
Don Drysdale – Los Angeles Dodgers – 1964 (Flexi)
The Fearsome Foursome L.A. Rams – 1965
Curt Gowdy – Year Unknown
Giants Haystack – 1983
The Harlem Globetrotters – Year Unknown/Meadowlark Lemon – 1966
Spencer Haywood Denver Rockets/New York – 1976
First player to depart college early to be signed to the American Basketball Association from Trinidad Junior College in Colorado – He transferred to the University of Detroit where he led the nation in rebounding and average 32 points per game.  He won a gold medal on the U.S. Olympic Team – then led the Denver Rockets to a ABA semifinals spot.
In his Rookie Year he led the ABA in both scoring (30 points per game) and rebounding (19.5 boards per game) and was elected ABA Rookie of the Year and League MVP!  He was the 1970 ABA All Star Game MVP.  He was elected All NBA First Team in 1972 and 1973 and Second Team 1974 and 1975.  He won an NBA Championship in 1980.
Hulk Hogan – 1993
Al Kaline – Detroit Tigers – 1964 Flexi
The Kansas City Athletics – 1961
Danny Kaye – The Los Angeles Dodgers Song – 1962
Jon Keyworth Denver Broncos – 1977
Evel Knievel – 1974
Sandy Koufax – Los Angeles Dodgers – 1964 flexi
Sandy Koufax – The Los Angeles Dodgers – 1970
The Los Angeles Dodgers – 1959
The Los Angeles Dodgers – 1960
The Los Angeles Dodgers – 1981
The Los Angeles Rams – 1986
Henry Lawrence – The Oakland/Los Angeles Raiders – 1983
Mickey Mantle with Teresa Brewer – 1956 (Charted Number 87)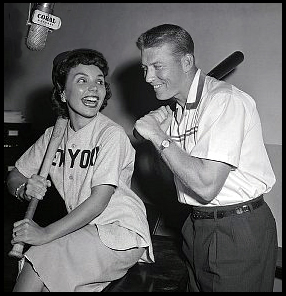 Mickey Mantle – New York Yankees – 1962 Flexi
Roger Maris – New York Yankees – 1964 flexi
Willie Mays – San Francisco Giants – 1964 Flexi
Bill Mazeroski – Pittsburgh Pirates – 1964 flexi
Tim McCarver St. Louis Cardinals – 1967
Mr. "T" – 1984
The Mudville Nine – Terry Cashman – 1961
Bobby Murcer New York Yankees – 1983
National Football League 50th Anniversary – 1969
National League All Stars – 1962
Phil Niekro – Terry Cashman – 1984
Hakeem Olajuwon Houston Rockets – 1987
Philadelphia Phillies – 1964
Jimmy Piersall Cleveland Indians (with the Heartbreakers) – 1960
Oscar Robertson (and the Rim Shots) Cincinnati Royals – 1965
Babe Ruth & Lou Gehrig New York Yankees (and others) – 1955
Babe Ruth New York Yankees – 1973
San Francisco 49ers – 1984
Warren Spahn – Milwaukee Braves – 1964 Flexi
Talkin' Baseball – New York Mets – Terry Cashman – 1983
Talkin' Baseball – San Fran Giants – Terry Cashman – 1982
Talkin' Baseball – Willie, Mickey and the Duke – Terry Cashman – 1981
Talkin' Baseball – Chicago White Sox – Terry Cashman/Steam – 1983
Talkin' Baseball/Football (University of Minnesota) – Rod Carew & Harmon Killebrew – 1985
Maury Wills Los Angeles Dodgers – 1962