The Singing Cowboy's Venture
In 1957 a two personalities known in the music business decided to form their own record label to be based in Los Angeles.  One was Joe Johnson, who had served as an A&R man for the prestigious Columbia Records label.
The second founder was none other than the singing cowboy star Gene Autry who had begun his recording career back in the early 1930's first recording for the Conqueror record label.  Throughout the 1930's Autry released 78's on many labels before settling in for a time on the Okeh label – a company that started producing recordings way back in 1918.
In 1926 Okeh became a subsidiary of Columbia Records and it was there – no doubt – where Autry would meet Joe Johnson.  Autry had remained with Okeh right into it's acquisition by Columbia and made the smooth transition onto the label in the fall of 1945.  Okeh had actually nearly ceased operations going into the Great Depression but was revived when Columbia relinquished the Brunswick label and opted to pick up Okeh as a replacement.
Autry's career as a record label mogul was short lived.  His involvement in the day-to-day operations was limited serving as more of a figure head.  Before selling out his shares in Challenge, Autry contributed a few tangible leave-behinds:
First, he cut four tracks for Challenge, those being issued as the 9th and 10th Challenge releases both in the spring of 1957.  Challenge CH-1010 was a noble effort dip back into Autry's bag of hits, with "Rudolph the Red-Nosed Reindeer" b/w "Here Comes Santa" ("Claus" being accidentally omitted) – both tracks re-recorded for Challenge.
Neither single would enter the charts.  More than a year later Challenge would greet the holiday season once again putting out the two Autry tracks on Challenge 59030 this time accompanied by a graphic picture sleeve.
Autry's holiday songs were his hallmark prior to forming Challenge Records.  "Here Comes Santa Claus" was first recorded by Gene in 1947 and resulted in a number 9 hit.  The song would chart two additional times – 1948 (#8) and 1950 (#24).  Autry's "Rudolph the Red-Nosed Reindeer" was introduced in 1949 and hit the number 1 spot.
"Rudolph would appear on the charts five more times 1950 (#3), 1951 (#16), 1952 (#13) and finally on Autry's Challenge debut in 1957 (#70).  Gene made a living from the Holiday Seasons charting 15 times on the pop charts from 1942 up through 1957 with 12 of the 15 being holiday hits – His other efforts included "Peter Cottontail", "Frosty the Snowman" and "The Night Before Christmas Song" – a duet with Columbia label mate Rosemary Clooney.
Gene was more of a staple act on the Country Charts – appearing 27 times with a mix of holiday and standard cowboy songs.  His biggest hit was "At Mail Call Today" – a World War II nod – which peaked at number 1 in 1945 and remained there for two months.
Dave Burgess & The Champs
By late 1958 Autry was long departed from Challenge (the cowboy always rides away you know) but not before inspiring a group of young studio musicians in late 1958 into coming up with a name due to the fact that an instrumental they recorded backing musician/composer Dave Burgess – took off – really took off in fact.
The group going forth would become known as "The Champs" drawing their inspiration from and giving a nod to Mr. Autry – taking their name in shorter form from the cowboy's famous horse Champion.
The Champs first effort at providing a hit for Challenge was a track called "Train to Nowhere" which had been composed Burgess.  But the "B" side – a spontaneous studio "jam" written by saxophone player Danny Flores – caught on with a Cleveland DJ (thank God for DJ's) and "Tequila" would go on to become the monster hit we all know – hitting the top of the charts in early 1958 and remaining in the number 1 position for five weeks (number 1 on R&B charts for 4 weeks).  Additionally, the instrumental sold over a million copies and received a Grammy.
Flores  headed up a combo called "The Danny Flores Trio".  Because he was signed to another record label at the time he opted for the name "Chuck Rio".
As was the case with a few other classic rockers ("Shout" in the 1978 motion picture "National Lampoon's Animal House" and "Twist and Shout" in "Ferris Bueller's Day Off" in 1986) – "Tequila" would captivate a new audience in "Pee Wee's (Herman) Big Adventure" in that 1985 flick. (After that movie I was always expected to bring out "Tequila" at oldies sock hops in order for dance participants to do that ridiculous Pee Wee shuffle step!)
The success of "Tequila" would provide Challenge with the inspiration and cash needed to move forward.  Dave Burgess would remain firmly rooted in the label's efforts.  Burgess, like Autry, had also recorded earlier with Columbia's Okeh subsidiary, and thus the connections to Autry and Johnson.
Dave Burgess was another California product born in 1934 in Beverly Hills – Burgess was his birth name but he came into the Challenge fold recording as "Dave Dupre'" releasing Challenge's first single "Don't Cry, For You I Love" b/w "Fire In the Eyes" in 1957.
Burgess had previously recorded on the Tampa record label in 1955 and appeared on one of the budget 45 releases on "Tops" appearing as "Dave Burgess and the Toppers".
The momentum gained by "Tequila" did result in some additional moments of chart success, but nothing to match that big-time smash.  The Champs charted seven more times on Challenge including a follow-up effort in 1960, "Too Much Tequila" (#30) – which this time was composed by Burgess.
The group of studio guys who first became "The Champs" were – as above – Danny Flores on sax (he was the voice exclaiming "Tequila!" three times on the hit); Cliff Hills on bass along with Flores Trio members Gene Alden on drums and Buddy Bruce on guitar.
When the group assembled to hit the road and promote their songs the first touring line up was Burgess, Joe Burnas, Dale Norris, Danny Flores and Gene Alden.
Other noted musicians would pass through the ever-changing line-up of Champs including Jimmy Seals and Dash Crofts both recommended by Texas country singer Slim Willet.  They had both been in a group called "Dean Beard and the Four Pals" and later "Dean Beard and the Crew Cats".
Seals and Crofts had recorded before coming to the Champs on the Carlton and Winston labels but with meager success.  Both remained with the Champs for some time – first recording with the band in the summer of 1958 but their former leader Dean Beard – who was also with the Champs was dismissed due to a fiscal charge.  All three appear on the cover of The Champs' long play "Everybody's Rockin'" released in 1958.
Other noted musicians to join the Champs were proficient and talented session guitar players Jerry Cole and Glen Campbell who came on in the summer of 1959.  So for a time the line-up was Burgess, Seals, Crofts, Cole and Campbell – a lot of talent gathered in one place.
45 – Challenge 1016 – "Tequila" – #1 Five Weeks Billboard Pop Charts – 1958
45 – Challenge 59007 – "El Rancho Rock" b/w "Midnighter" – #30 & 94 Billboard Pop Charts – 1958
45 – Challenge 59018 – "Chariot Rock" – #59 Billboard Pop Charts –  1958
45 – Challenge 59063 – "Too Much Tequila" – #30 Billboard Pop Charts – 1960
45 – Challenge 9131 – "Limbo Rock" b/w "Tequila Twist" – #40 & 99 Billboard Pop Charts – 1962
45 – Challenge 9162 – "Limbo Dance" – #97 Billboard Pop Charts – 1962
Jerry Fuller
Singer song writer Jerry Fuller – out of Fort Worth, Texas – came to Challenge in mid 1959 recording several dozen tracks and releasing at least 20 singles.  Beyond recording Fuller would also contribute as writer to several other Challenge artists.
Fuller first came to Los Angeles in 1959 and broke in with his Challenge minor hit "The Tennessee Waltz" – a rock-a-billy version which charted at number 63.  Fuller caught fire in the early 1960's when he penned a monster hit for Ricky Nelson, "Travelin' Man" – a song marked for Sam Cooke originally.  The song sold over six million copies for Nelson and Fuller would contribute many more songs to the young singer including "Young World" and "It's Up to You".
With Challenge – Fuller would chart four times in 1959 first with "Betty My Angel" (#90) and "Tennessee Waltz" (#63) which got a boost by an appearance on Dick Clark's American Bandstand; "Shy Away" (#71) and "Guilty of Loving You" (#94) both in 1961.
See a partial listing of other non-Challenge recordings written by Jerry Fuller for other artists at the end of this page.
Fuller's career was very diverse as both record producer (for Columbia) and as a composer contributing songs for many artists including Gary Puckett and the Union Gap, The Peanut Butter Conspiracy, Al Wilson, The Knickerbockers, Mark Lindsay and many, many more.
In his later career, Fuller would migrate back to his Texas roots, first hitting with O.C. Smith ("Little Green Apples") then moving on to compose for Willie Nelson, John Conlee and others.
45 – Challenge 59052 – "Betty My Angel" – #90 Billboard Pop Charts – 1959
45 – Challenge 59057 – "Tennessee Waltz" – #63 Billboard Pop Charts – 1959
45 – Challenge 59104 – "Shy Away" – #71 Billboard Pop Charts – 1961
45 – Challenge 9114 – "Guilty Of Loving You" – #94 Billboard Pop Charts – 1961
Artists Passing Through Challenge Records
Jerry Wallace
Beyond The Champs, Challenge Records was all over the board with the acts they selected and never really carved out a clear cut niche.  Their next most successful artist was Jerry Wallace who had 10 Billboard hit singles on the Challenge label.
Interestingly, Wallace never enjoyed a Country hit record on Challenge – was strictly viewed as "pop" all the way.  But then, starting in the fall of 1965, reinvented himself going country and over the next 15 years charting country 35 times – a return no doubt to his Missouri roots.
Challenge was never an LP mover – The Champs failed to place a long play on the charts and Wallace managed one appearance with his 1964 release of Challenge 619 "In The Misty Moonlight" reaching 96.  Wallace by the way – only experienced one other Hot 200 LP during his country run – 1973's "Do You Know What It's Like to Be Lonesome?" #179 on MCA Records.
The only other Challenge appearance on long play would be The Knickerbocker's going to number 134 in 1966 with "Lies" also the title of their big hit single of that year.
45 – Challenge 59013 – "How the Time Flies" – #11 Billboard Pop Charts – 1958
45 – Challenge 59027 – "Diamond Ring" – #78 Billboard Pop Charts – 1958
45 – Challenge 59040 – "A Touch of Pink" – #92 Billboard Pop Charts – 1959
45 – Challenge 59047 – "Primrose Lane" – #8 Billboard Pop Charts – 1959
45 – Challenge 59060 – "Little Coco Palm" – #35 Billboard Pop Charts – 1960
45 – Challenge 59082 – "Swingin' Down the Lane" – #79 Billboard Pop Charts – 1960
45 – Challenge 59098 – "There She Goes" – #28 Billboard Pop Charts – 1961
45 – Challenge 9171 – "Life's a Holiday" – #91 Billboard Pop Charts – 1961
45 – Challenge 9171 – "Shutters and Boards" – #24 – Billboard Pop Charts – 1962
45 – Challenge 59246 – "In the Misty Moonlight" – #19 Billboard Pop Charts – 1964
Willy Nelson
Nope – not "Willie" but Ricky Nelson's cousin with two tracks recorded in 1965 with Burgess and Fuller assisting.
Marty Balin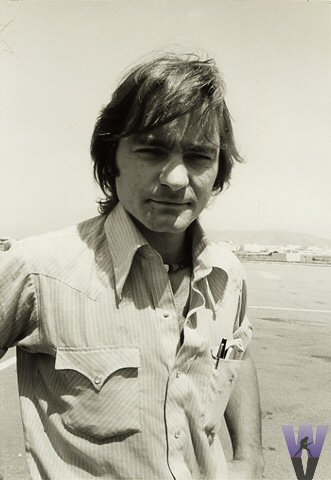 Jefferson Airplane member Marty Balin (Martyn Jerel Buchwald) released two singles on Challenge in 1962 with contributing tracks by both Fuller and Burgess.  Balin would depart Challenge and form a folk group called "The Town Criers" in 1964.  From there he would help form the notorious San Fran group in 1965 "The Jefferson Airplane"
The Kuf-Linx
The "Kuf'Linx" had their only hit being released on Challenge in early 1958 "So Tough" going to number 76.  The group – which included George McFadden, Leo Manley, John Jennings Gaines Steele and Zena Aya was backed on their hit by – who else? – The Champs – "So-Tough" would be their only Challenge release.  The Kuf-Linx released one additional Challenge single and that was that.  "So-Tough" did not dent the R&B charts.
45 – Challenge 1013 – "So Tough" – #76 Billboard Pop Charts – 1957
Diane Maxwell
Teenager Diane Maxwell enjoyed one chart success with "Jimmy Kiss and Run" reaching number 96 on the Billboard Hot 100 – Diane was born in Los Angeles in 1942.  After her brief Challenge career (six singles) she would move over to Capitol Records in 1961 releasing a couple of singles.
45 – Challenge 59039 – "Jimmy Kiss and Run" – #96 Billboard Pop Charts – 1959
Wynn Stewart
Steward came to Challenge Records in 1959 before hitting pay dirt with the Country crowd later – primarily Capitol Records.  He did place four Challenge singles on the Country Charts and would have a total of 17 chart hits – biggest being " It's Such a Pretty World Today" going number 1 Country.
45 – Challenge 9061 – "Wishful Thinking" – #14 Billboard Country Charts – 1960
45 – Challenge 9071 – "Wrong Company" – #26 Billboard Country Charts – 1960
45 – Challenge 9121 – "Big Big Love" – #18 Billboard Country Charts – 1961
45 – Challenge 9164 – "Another Day, Another Dollar" – #27 Billboard Country Charts – 1962
Jan Howard
Another very successful country star who had early roots with Challenge placing two of the labels singles on the Country charts in 1960 and then going on to a very good career for just over a decade mostly on the Decca Record label.
45 – Challenge 59059 – "The One You Slip Around With" – #13 Billboard Country Charts – 1960
45 – Challenge 59071 – "Wrong Company" – #26 Billboard Country Charts
Bobby Austin
Austin recorded with Challenge prior to going on to a country career charting five times C&W.  He was backed by Wynn Stewart's band on his Challenge cuts.
Margie Rayburn
Margie came to Challenge three years after her smash "I"m Available" which reached number 9 in 1957 Billboard – her only chart success.  She had been a member of a group called "The Sunnysiders".
The Blossoms
The backing vocal group The Blossoms made a stop at Challenge releasing four singles in the early 1960's.  Darlene Love was a member of this group and was with them during their brief career at Challenge.  They did have a minor hit with their "Son-In-Law" cut in 1961 – #79 Billboard Hot 100 – their only charting single while using their own name.  Their only R&B charter was " "Good, Good Lovin'" in 1967 on the Reprise label (#45).
45 – Challenge 9109 – "Son-In-Law" – #79 Billboard Pop Charts – 1979
Jan and Dean
Jan and Dean made a stop at Challenge between their Arwin/Dore/Dot label stop overs and their long running stay with Liberty.  "Heart and Soul" charted number at an impressive #25 Hot 100.
45 – Challenge 9111 – #25 Billboard Pop Charts – 1961
Ed Townsend
Ed Townsend's career peaked in 1956 with his recordings on Capitol Records of "For Your Love" and "When I Get Too Old To Dream" both charting in 1956.  He came to Challenge in 1962 after testing a few other labels such as Warner Bros.  The days of hit records were over however.
Jimmy Seals
While Jimmy Seals was with The Champs – he would manage to record four singles as a solo act with Challenge from 1962 into 1965.
Rochell and The Candles
Rochell and the Candles had a respectable hit in late 1960 with "Once Upon a Time" reaching #26 on the Billboard Pop Charts (#20 R&B).  That would be their only appearance on the charts.  They cut two singles for the Challenge label in 1962 and 1963.
Scott Engel
Scott Engel of course went on to fame as a member of "The Walker Brothers".  He first recorded on the RKO Unique label in 1957 and then cut several records for Orbit Records, stopped off at Liberty Records and landed in 1963 for one session at Challenge.
The Vernon Girls
The Vernon Girls were from England.  They recorded two tracks for Challenge in 1964 during the British Invasion.  One member joined "The Carefrees" of "We Love You Beatles" fame.
Wayne Newton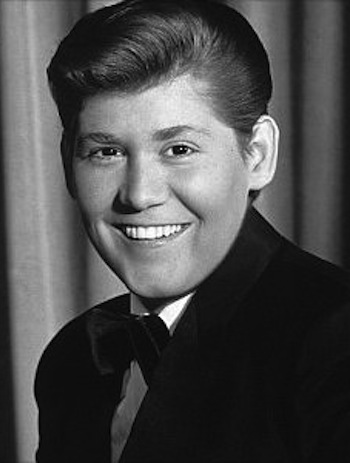 Wayne Newton would become a Las Vegas fixture – an icon of that city in the desert.  He started off with his family – "The Newton Brothers in 1959.  That group went nowhere and then Newton returned to Capitol  in 1963 and scored a minor hit with "Heart!" in 1963.  He followed that with a considerable hit "Danke Schoen" a song that eventually drove me crazy.
Somewhere wedged in between his Capitol sessions – he made a brief appearance at Challenge and actually scored a small hit.
45 – Challenge 59238 – "The Little White Cloud That Cried" – #99 Billboard Pop Charts – 1964
Jeannie Seeley
Jeannie Seeley enjoyed a strong Country career scoring 27 hit records between 1966 and 1972.  She was married to singer Hank Cochran for a time.  Before realizing country fame she kicked off her career at Challenge – cutting two singles in late 1964 and very early 1965.
Chris Crosby
Chris was one of many recording Crosbys – Chris the son of Bob Crosby who was a nephew of Bing's.  Christ recorded three singles on the Challenge label.  He earlier had his only chart hit "Young And In Love" in 1964 (#53).
Mary Ford
Mary Ford and husband/recording innovator were no strangers to the charts placing 42 songs there between 1945 and 1961.  They claimed two monster classics – "How High The Moon" #1 for nine weeks in 1951 and "Vayas Con Dios" in 1953 – #1 for eleven weeks!
Why she stopped off at Challenge in 1965 is beyond me.
Gene Vincent
Gene's career was all but over since his recording days at Capitol Records had ended three years earlier (He had gone without a charting record  since "Dance to the Bop" peaked at number 23 clear back in 1957).  Gene was trying to find the magic once again and his Challenge sessions were meant to be his comeback.
Donnie Brooks
Donnie Brooks was another L.A. area fixture – born and raised in Ventura – He had been with the Era label since 1958 first recording as "Dick Bush" and continuing on into late 1962 as Brooks.  He charted three times for Era with "Mission Bell" being his biggest success topping out at number 7.
After going nowhere with Frank Sinatra's Reprise label he came over to Challenge in the Spring of 1966 where he was placed under the tutelage Jerry Fuller – cut four tracks and was gone.  The Mission Bells had ceased to ring.
Jonie & Johnny Mosby
Husband and wife team Jonie and Johnny Mosby were one of the early acts signed to Challenge releasing three singles in 1958 and 1959 – Jonie would cut one additional Challenge single in 1960.  The pair would move on (as so many Challenge artists were prone to do) into country music where beginning in 1963 they placed 17 songs on the Country Charts.
Two of their biggest country hits – both reaching number 12 – are shown below.
Ron Holden
Ron Holden was a one hit wonder from 1960 – who had hit the charts in a big way in 1960 with the tune "Love You So" (#7 Billboard).  I was fortunate to see him perform his hit in 1971 in Fresno, California.  "Love You So" came out on Bob Keane's Donna label.
Holden came to Challenge for one session in 1967 also working with Jerry Fuller and recording one track written by Donnie Brooks.  Holden died at the age of 57 in 1997.
El Clod
El Clod was L.A. record producer/composer and member of "The Shacklefords" Marty Cooper – came to California from Colorado.  Marty was prone to do spoof recordings and placed one with Challenge – two more as "El Clod" on Mercury and Vee Jay.  Their Challenge release is from 1962.
Scat Man Cruthers
Scat Man Cruthers first recorded for Decca Records in 1953 – He found his way over to Challenge Records cutting two singles first in 1958 and the second in 1960.  Cruthers was a versatile performing – singer, dancer and actor in both television and motion pictures.  He passed away on November 22nd, 1986
The Trophies
The Trophies were another one of those studio concoctions with several session musicians participating and featuring Challenge mainstays Jerry Fuller and Dave Burgess.  The were augmented by Rick Nelson and Glen Campbell and other members of the Champs.  They recorded three singles for the Challenge label in 1962.
Micky Dolenz
Micky Dolenz was already firmly entrenched as a Monkee by the time a couple of singles were put out by Challenge Records in 1967.  His first release for Challenge actually charted.  His sessions at Challenge – as you would suspect – occurred prior to becoming a Monkee – laid down in 1965 and released two years later when fame hit for Circus Boy.
45 – Challenge 59353 – "Don't Do It" b/w "Plastic Symphony III" (an instrumental) – #75 Billboard Pop Charts – 1967
Bob Morris
Bob Morris was a country performer and composer who recorded for Challenge and composed songs for Jerry Fuller, Wynn Stewart and the Champs.   He placed a song on the Country charts in 1967 on the Tower label – "Fishin' on the Mississippi" (#62).  Morris cut eight singles for Challenge.
Big Al Downing
Al Downing (Big Al) recorded one single for Challenge in it's early days – 1958 – It would take him many years to find his niche – which finally came to be starting in the late 1970's when he would find chart success on the Country Charts – 15 times.
Downing did manage two Billboard Pop Chart appearances as well and also two charting records on the R&B Charts.  Downing passed away in 2005 succumbing to leukemia.
Donna Fargo
Donna Fargo enjoyed a fruitful country career between 1972 and 1991 by charting 38 times and landing five songs in the number 1 spot in the country.  Several of her hits crossed over to Pop including two giants – "The Happiest Girl in the Whole U.S.A. (#1 Country #11 Pop) and "Funny Face" (#1 Country and #5 Pop).
Before country success came along Fargo stopped by Challenge and cut four tracks releasing two singles both in 1968.  Her sessions were all produced by Challenge label founder Joe Johnson.  She contracted multiple sclerosis in 1979 and battled the illness successfully resuming her recording career.
The Rangers (Sunrays)
The Rangers were destined to become The Sunrays – who hit the charts in 1965/1966 with "I Live for the Sun", "Andrea" and "Still".  They were promoted by Beach Boys' father Murray Wilson sort of in retaliation for Murray being booted by his sons from their business affairs.
Before becoming the Sunrays they had performed as "The Renegades", "The Renegade 5", and "The Dirt Riders".
The Peanut Butter Conspiracy
The Peanut Butter Conspiracy were a California band achieving very limited fame with their debut recording of "It's a Happening Thing" on the Columbia label in 1967 (#93).  After several more tries they moved to Challenge Records for a single one-track session in the summer of 1969.  That would be their final effort.
The Knickerbockers
The Knickerbockers came to Challenge  – where they remained from late 1964 into the Spring of 1968.  "Lies" was included on their third Challenge single.  They would place three Challenge singles on the charts.
45 – Challenge 59321 – "Lies" – #26 Billboard Pop Charts – 1966
45 – Challenge 59326 – "One Track Mind" – #46 – Billboard Pop Charts – 1966
45 – Challenge 59332 – "High On Love" – #94 – Billboard Pop Charts – 1966
Challenge had it all – the investors with reputations, a recording Mecca locale in Los Angeles, access to the famous Gold Star Recording Studio, their pick of any seasoned session musician, the writers …… But the recording industry is tough.
Challenge Records folded up in the late 1960's with their catalog being picked up by "Sony/ATV Music Publishing".
Gene Autry passed away on October 2nd, 1998 at the age of 91.   Dave Burgess and Jerry Fuller continue on today.
Challenge Records Pictorial Discography
Challenge EP 7001 – The Champs – "Tequila"
Challenge EP 7101 – The Champs – "Caramba!"
Challenge EP 7104 – Jerry Wallace – "There She Goes"
Challenge LP 600 – Gene Autry – "Christmastime With Gene Autry"
Challenge LP 601 – The Champs – "Go Champs Go!"
Challenge LP 603 – The Buddy Cololette Quartet and Quintet – "Everbody's Buddy"
Challenge LP 604 – The Gerald Wiggins Trio – "The King and I Modern Jazz Renditions"
Challenge LP 606 – Jerry Wallace – "Just Jerry"
Challenge 607 – Diane Maxwell – "Almost Seventeen"
Challenge LP 609 – Yvonne Shubert – "To You, With Love"
Challenge LP 612 – "There She Goes"
Challenge LP 613 – The Champs – "Great Dance Hits"
Challenge LP 614 – The Champs – "Play Joshua Logan's All American"
Challenge LP 615 – Henry Mancini – "The Wild World of Henry Mancini" (soundtrack)
Challenge LP 616 – Jerry Wallace – "Shutters and Boards and Other Town and Country Hits"
Challenge LP 617 – The Rhythm Rockers – "Soul Surfin'"
Challenge LP 618 – "The Wit of John Kennedy"
Challenge LP 619 – Jerry Wallace – "In The Misty Moonlight"
Challenge LP 620 – Round Robin – "Lloyd Thaxton Presents the Land of 1000 Dances"
Challenge LP 621 – The Knickerbockers – "Jerk and Twine Time"
Challenge 622 – The Knickerbockers – "L:ies"
Challenge LP 2000 – The Peanut Butter Conspiracy – "For Children of All Ages"
Challenge LP 2001 – Various Artists – "It's Your Kind of Country"
Challenge LP 2002 – Jerry Wallace – "Greatest Hits"
Challenge LP 2002 (dupe cat number) – Various Artists – "Reflections from Tennessee"
Challenge LP 2003 – Pierre Andre & the Golden Leaves – "Here Comes Love Again"
Challenge LP 25000 – The Champs – "Everbody's Rockin' with the Champs"
Challenge PS 500 – The Peanut Butter Conspiracy – "Back in L.A." b/w "Have a Little Faith
Challenge PS 9103 – The Champs – "Play Two Selections from Joshua Logan's All American"
Challenge PS 59060 – Jerry Wallace – "Mission Bell Blues" b/w "Little Coco Palm"
Challenge PS 59372 – Micky Dolenz – "Huff Puff"
Challenge PS 59393 – Micky Dolenz – "Don't Do It"
Jerry Fuller Compositions (partial pictorial listing)