Colorado Musicians Index: Lew thru Johnny Neill
Chuck Lewey
45 – Spirit of '76 S-100 – "You're a Beautiful Girl" b/w "Footpaths to Yesterday"
Debra Lewis
LP – Soundmark R976 – "Trading Time" – 1982
Don Lewis/The Don Lewis Experience
Don Lewis came through Denver via Dayton, Ohio. He remained in the Denver for about 10 years and returned for awhile (and thus the LP title). He finally moved on to Santa Monica, California.
45 – Aquarius – And They'll Know b/w Little Girl Blue

LP – Denver Jazz – "In Denver One More Time"

LP – Aquarius AMC 2846 – "Aquarius Presents Don Lewis"
Gary Lewis and the Playboys
Cash Box July 20th, 1968 – Denver reference – number 1
Susie Lewis
Colorado Country Music Hall of Fame Inductee
Willie Lewis
Visit the Rock-A-Billy Records Label Page Here
The Lewis and Clarke Expedition
This group was headed up by Michael Martin Murphy – See the Michael Martin Murphy Page
Carl Sunny Leyland
Visit the Rock-A-Billy Record Label Page Here
The Lidos (Aurora)
See the Band Box Record Label Discography
LP – Archive International AIP 10027 – Highs in the Mid Sixties (Various Colorado Groups)
The Lighter Shades
LP – Garden Sight and Sound 720504 – "Lighter Shades"
Lightcraft (Colorado Springs)
LP – Startsong – Springs Music
The Lime (Pueblo)
Members:
Blaine Reininger – bass (Tycoons, Sands of Time, Lime, Wheat, The Ellis Brothers, The Flying Whale, The 25th Hour)
Mike Green – drums (Junk Yard Band – The Crew)
Don Debay
Ed Chapman
The Limeliters (Aspen)
The Limeliters have a subtle connection to Colorado with the trio, yet unnamed, of Lou Gottlieb, Alex Hassilev and Glen Yarbrough migrated to Aspen, Colorado in 1959 where they began their career performing at club which Yarbrough and Gottlieb had purchased on an earlier skiing trip to the mountain town, called "The Limelite".  They would soon move on to California where they adopted the name The Limeliters and then commenced on a career together lasting into 1963 at which time Yarbrough went solo and was replaced by Gateway Singers member Ernie Sheldon.  The group had no known recordings released during their time in Aspen.
Bob Lind – Colorado Music Hall of Fame Inductee
Hall of Fame Inductee Display Board
See the Band Box Record Label Discography & The Bob Lind Page
Linda Sue
45 – South Shore SSR-1001L – "Sugar (May I Borrow Some Sugar From You)" b/w "If I Told You" – 1988
Archie Liseo & The Cinaways
See the CLW Records Label Page
Little Ellis & His L 7"s
See the CLW Records Label Page
Little Fyodor
Real name Dave Lichtenverg
45 – Noisopoly NOP-02 – "Time Doesn't Move" b/w "Paper Tears" – 1998 (with The Haters)
45 EP – Ken 99 – "Truly Rejected" – 2015 (with Babushka)
33 1/3 EP – Rainbow Ventures -1985
Little Gracie
See the Band Box Record Label Discography
Little Joey
45 – Fasttrack FR-115 – "Pop Goes The Wee Zoooo" (both sides)
Little Ricky & The Roosters (Pueblo)
1960's band from Pueblo, Colorado
Member: John Grove (bass) – Grove was with many local bands including:
The Hi-Blues
Band-X
Joint Session
Kemikol
Arizona Nightingales
Rocky Rat Review/Aloha
Jan and Dean
Little Smoke
This band has a tie to country and gospel singer Blackie Minor who recorded on Jim Ward's CLW label in Edgewater, Colorado. Band member and drummer Dennis Minor was Blackie's son. Blackie's grandson – George Hendricks provided this information.
Band members: Dennis Minor (drums) deceased, Lynn Moris (banjo/vocals), Dick Hess (lead guitar/vocals), Dave Toland (bass/vocals), Carl (lead singer – last name unknown)
Lynn Morris now lives in Winchester, VA – Her current website is http://www.lynnmorrisband.com/ – Lynn attended college at Colorado College and then found her way to Little Smoke in Colorado before moving on to the national blue grass stage.
The Live Wire Choir
Members: Thom Brawley – Brian Woodrich
LP – Nova BMC-80104 – "Big Music America Contest" – 1980 (with various Colorado Artists)
The Livin' Ends (Colorado Springs)
July 13th, 2017 from Steve Hinman: "A couple of bands originated at at Thomas Jefferson High School in the mid to late 60's: The Outriggers (Bob Inman, Roger Maul, Buz Binkin, Paul Reginelli and a Dave Entsminger) and The Livin' Ends (Dave Sondrup, Bob Miller, Irving Andrews and ?)"
This band recorded in Norman Petty's Clovis studio as "American Mercury" in October of 1969 recording three tracks which went unreleased.
Atlantic 2622 – I Love You More Than You'll Ever Know/Jolyn – 1969
Lloyd & Jim
LP – RMR 16611 – Listen to This High Hopes

Loco Pony (Colorado Springs)
LP – Startsong – Springs Music
Logue & McCool
45 – HMS 58 – Lucky Ole Colorado – 1990 – Ireland
The Lollipops
See the Band Box Record Label Discography
Lonely Rider
Musicians included Joe McCurdy (drums), Dwayne Griffith (bass), Rich Ciparro (guitar), Bruce Wilson (keyboards), Gene Maceil (guitar), Tom Pittman (percussion) and Rhonda Emmons (vocals) – LP was recorded in Lafayette, Colorado
LP – CPG Records 6 – Lonely Rider

LP – Lonely Rider 0086 – Saturday Night Blvd.  – 1986
The Lords (Pueblo)
Group Members:
John Macklem – guitar (The Blues Agency – Band X)
Lou Sciortino – drums (The Blues Agency – Band X)
Mike Webb – organ (The Blues Agency – Band X)
The Lords of London (Durango)
The Lords of London went through to distinct stages. The original lineup formed somewhere in the mid 1960's – most likely in 1964. Rodger reports that they did visit Hollywood and recorded while there. The group at some point disbanded but apparently was reformed by leader Jerry Jimerfield. The new group made their way out to Hollywood and most likely this resulted in an much sought after LP called "Dragonfly". Controversy surrounds the recording of this LP (which occurred in 1968). Was there a group called "Dragonfly" or were they the reincarnated Lords? Read all about it here. – Also – the group was possibly also called "The Bundy's" and may have recorded "Stay Away" under both names. "Stay Away/She Belongs To Me" was first release on Stop Records 1001 then on the Shot label.
I was going through a box of memorabilia that I kept through the years and decided to scan several pieces. I came across this postcard which I kept because it is from the old Family Dog days in Denver and makes reference to The Soul Survivors (not the Denver group but the "Expressway to Your Heart" group) appearing with the Box Tops. Then I was looking closer and noticed the third group on the bill "Jimmerfield Legend" which absolutely has to be the reformed Lords! (Click on the backside of the card for a great Family Dog piece of art).
Jimerfield's name is misspelled on the Family Dogg postcard shown below.
Lords of London Post
I am a collector of all things British Invasion as is evident by my British Invasion habit (Blog) – Always on the lookout for the obscure groups from that time period – 1964 – 1968.  And so I was delighted when I came across a group called The Lords of London!
I posted them as Invaders but it was soon brought to my attention by a "45 Cat" subscriber ("TokenHippie") that I had discovered a Canadian group – which was okay by me.  They after all are cousins with the Brits.  Then Token followed up and sent me to YouTube where a discussion was going on about an entirely different group of Lords.  These Lords – it seems – were from the Western Slop town of Durango, Colorado – and pre-dated the Canadian Lords by a few years.
Dragonfly
Now the confusion sets in.  Up pops a Blog post from a site call Psychedelicized – presenting a long drawn out narrative about a group called Dragonfly – or better – a group that was not really called Dragonfly.  Seems that the group behind this very collectible LP was a group called sometimes The Legend and sometimes the Jimerfield Legend – but were in fact the Durango group – The Lords of London!  This was around 1968 or so.  The group apparently found their way to the Colorado front range (Eastern Slope) and played venues in the late 1960's including the famous Family Dog.
But at YouTube – there is a single being played by The Lords of London – "Little Lonely Summer Girl" and a discussion from a member of the band – the original bass player – Rodger Jones who went by "Lester Lukefodder".  I managed to get in touch with him and he kindly sent me the photo of the original Lords shown above which included Tommy Beuten (standing in back), group leader Gerry Jimerfield (guitar), Sid Leavell (drums) and Rodger on the right side.
Rodger has no knowledge of the Dragonfly LP or any of the members of the group who played on that LP.  According to the Psychedelicized Blog site – Legend (or The Lords) consisted of Jimerfield, along with Barry Davis, Jack Duncan, Randy Russ and Ernie McElwaine.  Davis, Duncan and Russ had their roots in Texas bands.
But Rodger is not aware of any of these members – who appear to be a second rendition of The Lords.  Rodger reports "We were the original members, forming the band after Gerry and the Bluetones, a beer joint band we had in Durango in the early '60's. After I left, the bass player was Jerry Shoenfield – not sure of the spelling. We had no keyboard man in the original Lords of London. I did not know Barry, Jack or Ernie. In 1964-65 we recorded under the Lords of London name."
The Psychedelicized article talks at length about the Lords time out in California in the late 1960's.  I asked Rodger about that and he told me "We lived in Hollywood and North Hollywood and recorded at Wally Heider, Sunset Sound and Moonglow as well as a studio in El Monte – the name escapes me.  I left in 1966 and we did not record any LP prior to that.  As for the Dragonfly LP – I looked at it on-line and have no knowledge about it."
Psychedelicized makes reference to the Dragonfly lineup working with Motown Records arranger Gene Page.  But the original Lords' recordings of "The Sit Down Place" on Domain Cat #1421 was recorded in 1965 in California and was arranged by – Gene Page!
Collectors today pay 100's of dollars for the Dragonfly LP.  Gerry Jimerfield has since passed away and no one knows where the other Dragonfly members might be.  Tommy and Sid both reside today in Durango.  My theory is that the Lords were reformed by Gerry in the late 1960's and may or may not have used the name again – but might have opted for other names such as The Legend.
Here is the entire Psychedelicized Post.  Sort it out if you can.
Group Members:
Rodger Jones – (ala Benjamin Stone) bass (Gerry and the Bluetones)
Tommy Beuton – guitar
Jerry Schoenfield
Jerry Jimerfield – lead guitar (Gerry and the Bluetones – The Bundys – The Legend – The Jimmerfield Legend – The Obvious – Dragonfly) deceased
Sid Leavell – drums
Recordings – 45's:
Domain 1421 – Broken Heart C.O.D./The Sit Down Dance – 1965

Domain 1423 – Little Lonely Summer Girl/The Cowboy – 1965
Valiant 725 – On The Road Again/She Belongs To Me – 1965
Shot 1001 – Stay Away/She Belongs to Me – 1966

Domain 1410 – Stay Away/I Don't Need You – (as The Bundys)
Recordings – LP's (as Dragonfly):
(Reissue on 180 gram vinyl also shown)
J. W. Love
45 – Metronone M 25 261 – Colorado River Song – 1970 – Germany
Nicky Love
See the Band Box Record Label Discography
The Love Revolution (Colorado Springs)
Jackie Lowell with Duane Diamond & the Astronauts
See the Band Box Record Label Discography
45 – Cactus Cac 45-003 – "Rocket Trip"
45 – RMA 1013 – "Rocket Trip" (UK)
Randy Loyd
Was a member of One Horse Blue, Millions and Pretty Rough
45 – Daybreak 1414 – Janis Won't Be Here Anymore b/w It's All Been Done Before – 1970
LP – Cartay 10927 – "The Moment" – 1976
Engineered and arranged by Colorado musicians Don and Maryruth Weyand

Laurie Lozach – "I Love Life"
LP – American Recording Studios 710 – I Love Life
This LP was released with a full 12-page illustrated booklet with art by contributing children
Doug Lubahn (The Doors)
Doug Lubahn attended Golden High School in the 1960's. He was recruited by the Doors to provide his bass playing talents. He had previously played in a Golden group called the Carpetbaggers. On a recommendation of Mama Cass Elliot who he met while in Aspen – Lubahn migrated to Los Angeles where he joined the group Clear Light in 1967. He auditioned with the doors and played with them on three of their long plays; "Strange Days", "Waiting for the Sun" and "The Soft Parade". It was decided from the beginning that he would only work with the Doors in the studio and not in live performances.
He was replaced by mutual agreement by bass player Harvey Brooks. In later years Lubahn would play with East Coast Group Dreams and would also work with Billy Squire and Ted Nugent.
Bernie Lucas & The Golden Boys/The Sapphires
Most likely the "Lucas" label was probably a spinoff of the Infal label in Commerce City. The Lucas single has sold on EBay for over $100. The Lucas label below is most likely an Infal release.
Recordings – 45's:
Infal 135 – Positively 4th Street/Blue Feeling

Lucas 1009 – You Better Change Your Ways/Nature's Boy
Joey Lucero/Joe Lucero Quartet
Appeared at the Tropical Acapulco Lounge on 20th Street in downtown Denver
45 – Lucero Enterprises 9222 – Denver Mile High Denver b/w Malibu Beach

Lucy (Idaho Springs)
Members: Gerry Lylvy – Chris Tallaferro – Joey Holland – Ronni Silva
45 – Dagger DR-001 – Break Your Heart b/w Was It Love – 1981
Warren Luening & The NORAD Dixietones
45 – NORAD 812 – Hello Dolly-That's A Plenty b/w My Kind Of Town-Indiana
Jimmy Luevano & The Five Lords
Appeared at Amoto's Capri Lounge on Broadway in 1960 – Notice the "Capri" label no doubt affiliated with the Venue!
45 Capri – Chittlin Pie b/w All Night Long
Hans J. Lull
Appeared at the Emporia Room in 1962 and earlier at The Red Slipper and The Tiffin Inn both in Denver
Lulu Belle
Appeared at Max Reeder's Limelite Lounge on East 9th Avenue in 1961
Jimmie Lunceford
Lunceford was another Denver resident (coming from Tennessee) who attended school here, studied music here and was yet another member of George Morrison's orchestra appearing at Denver's Empress Theater.  He recorded very extensively in the 1930's and 1940's on many prominent national labels.
While in Denver, he studied under jazz band leader Paul Whiteman's father, Wilburforce Whiteman.
Pete Luthman
Colorado Country Music Hall of Fame Inductee
David Lutken & David Reynolds
They were both Boulder transplants (as so many are – is there such a thing as a Boulder Native?) Lutken from Dallas, Texas and Reynolds from Middletown, Connecticut.
LP – Rainfall – "Old Hat" – 1980
The Luv Revolution
Need additional information on this 1960's Colorado garage band
Joseph H. Lyday
LP – Vanly C18480 – "The Sounds of Babies" – 1966
Joseph H. Lyday M.D. (Denver)
LP – Vanly – The Sounds of Babies In the Hospital Nursey – 1966
Steve Lynn
45 – Viking 32376 – "Song Long" b/w "Don't Say Love" – 1976
Gary Lynee
See the Band Box Record Label Discography
David T. Lyon – Evergreen
Musicians:
David T. Lyon (lead vocals)
Michael Golden (sax)
Guy Tittles (mandolin)
Tim McDonald (guitars)
Buz Murray (drums)
Jewel Wood (bass)
Steven Farl – (piano)
LP – Mountain 207084 – "If That Don't Beat All" – 1982
Jim Lyon
Jim recorded in Lakewood and resided in Denver. His group included Rich Sanders (bass, synthesizer), Joe Martinez (drums and percussion), Brett Wallace (cello), Terry Sines (acoustic bass), and Rod Garnett (horns).
LP – Dialog 101 – "Points of Contact"  – 1982

Jack Lyons
See the CLW Records Label Page
Eddie MacDonald
At the Paradise East
Mary MacGregor
See the Mary MacGregor Page (click here)
John Macy
Colorado Country Music Hall of Fame Inductee
Magenta
LP – WM Productions G1004 – "Music for Floor Exercise"
Magic of Christmas
EP – Western Cine WCS 6841 – "Christmas" (with picture sleeve)
The Magic Mice
Roger Maglio
LP – Gear Fab FG 103 – "Songs From the Rocks" – 1987
45 – Gear Fab 102 – A Cold Day in December b/w Flower Child

The Main Attraction
45 – Main Attraction 004 – Homeless b/w Sunday Getaway – 1975

Magic
Need more information on this 1960's Colorado garage bands
Recorded song not released on vinyl:
"Stomach"
The Magic Of Christmas
45 EP – Western Cine WCS 6841 – Magic Time of the Year
The Magicians
LP -Starstream RTR-8260 – "Colorado Rocks" – KPKE with various Colorado Artists
Majestic Savings
This is yet another promotional recording produced by Fred Arthur of Denver's premier production man.
45 – Western Cine 6841 – Original Christmas Songs

Tim Malchak
45 – Alpine APS 006 – "Colorado Moon" b/w "Let Me Down Easy" – 1986
Smiley Malcolm and His Western Playboys
78 RPM – Frontier 503 – Broken Hearted b/w Sissy (by Speed Hayworth with Shorty Thompson)
Peggy Malone with Countryside
45 – Spotted Hoss Music SPH 001 – "Appaloosa" b/w "Subway Singer" – 1979
At the Red Coach Inn – October, 1986
Mammoth
Located in the Capitol Hill region of East Denver – venue for rock and roll in the 1960's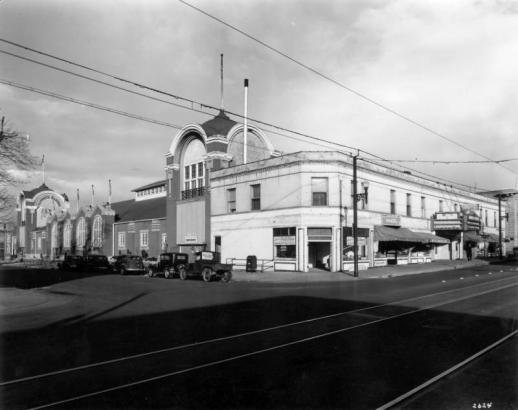 Tony Mandarin & The Mile High Rockers
45 – Stofer 101 – Mile High Rock b/w Bronco Rock

The Manderins (Denver)
See the Band Box Record Label Discography
Mando & The Chili Peppers
(The Chili Peppers shown with legendary musicians Ray Charles and Larry Williams – Photo from collection of Larry Higgins – drummer for Freddie and the Hitchhikers)
This Texas group made their way into the Denver area sometime around 1957 according to Mike Selek of Black and Read Records in Arvada, Colorado. "I have no idea why they landed here" Mike stated. Their bio page says they left Texas in 1957 and went on tour in the western states which corresponds to their time here in Denver.
Local radio personality and Band Box recording artist Dick Dedrick told me that he believes that Denver activist Rodolpho "Corky" Gonzalez was associated with the group. Dedrick states "Corky was a great guy. I remember back in the mid-50s, he brought a record to the station where I was working, by Mondo and the Chili Peppers. He was their manager, I think. Also remember him from "Festival Espanol", a TV show I worked on."
A member of the Band Box group The Master Tones – Jessie Garcia – joined up as a member during their time in Colorado.
Here is what the Denver Eye says about their Denver connection:
"While technically a San Antonio band, Mando and The Chili Peppers played Denver so much that many fans thought they were from here. All-Hispanic rock and roll bands weren't the norm back in the '50s, and for the band to put an album out, and it's a great album, in 1957 no less, seems like a miracle! And just look at that album cover! Golden Crest's head honcho Clark Galehouse discovered the band in Denver while stuck here in a snowstorm. He also released local jazz-tenor great Phil Urso's album The Philosophy of Urso shortly after the Chili Peppers LP, so he must have spotted Phil around the same time."
Mort Mann & His Orchestra (Denver)
EP – Century 35636 – Mort Mann & His Orchestra
The Manxx
45 – Snappy Little Fingers – SLN-103 – "Messin Around" b/w "Hard Lessons" – 2011
Manzanita Jungle
45 – Magnum 419 – Colorado Sun – 1968
Marc & The Mystics
Need additional information on this 1960's Colorado garage band
Marina & Ocean Fire
See the Finer Arts discography Page
The Mario Singers
This LP features the singer/servers from Marios Restuarant. Check out the back cover menu prices! Members who I can make out from their signatures are Mary Trout, Gene Everett, and John Sullivan – but it probably doesn't matter much.
LP – Century 19729 – "The Mario Singers"


LP – Century 28004 – The Mario Singers

Markley
Markley was the last formation of "The West Coast Pop Art Experimental Band".  Members were Michael Lloyd, Bob Markley along with the brothers Danny and Shaun Harris – who both came from Colorado Springs.  Markley died on September 9th, 2003.  Lloyd had been with many groups including "Boystown", "Friends", "Raw Edge", "The Chattanooga Cats", "The Smoke", "The Rogues" and more.
Danny Harris was with "Brigadune", "The Laughing Wind", "The Rogues", and "The Snowmen". Danny died on October 1st, 2012.  Brother Shaun Harris was also with "Brigadune", "The Rogues", "The Snowmen" with his brother Danny as well as "California Spectrum", and "The Laughing Wind".
LP – Forward ST-F-1007 – "Markley, A Group" – 1965
Billy Marsh
45 – Arrow 716 – "Don't Tell Me" b/w "Run and Tell"
Orea Marshall (Denver)
Orea Marshall was a very early vaudevillian performer in Denver – He worked as part of a team with his brothers performing in Denver's Five Points neighborhood.
The Marshall Brothers
Appeared at the Aurora Lounge's Starlite Room in 1959 located on East Colfax
Bobby Martin with Eddie Star's Band
45 – F&F 801 – Cotten Picken Relatives b/w Sky Over Memphis

45 – F&F 808 – "Could it Be" b/ w"The Road to the Right"
45 – F&R 809 – "In The Shadow of The Bighorn Mountains" b/w "Cowtown Jubilee"
Mike and Pam Martin
LP – Augustus – "Fernwood Pacific" – 1974
Ronnie Martin (Denver)
Photo below is from 1975
Vicki Martin/Vicki Martin Trio
See the Band Box Record Label Discography 
Also see the Finer Arts Record Label Discography 
Appeared with the Kurt Goletz Combo at the Red Dragon on West Colfax in 1960 and with her own combo at her own lounge "Vicki's Lounge" on West Colfax in 1961
Wanda Mae Martin
Wanda was a composer and instructor at the University of Denver Lamont School of Music – Accompanied here by Shirley Snyder and Phyllis Jones
LP – WM Productions 1007 – 10.0

LP – WM G1008 – "Tiffany" – 1978
LP – WMA Productions R912 – "Deja Vu"
LP – WM Productions G-1001 – "Aerial Fantasy"
LP – WM Productions G-1002 – "Crescendo"
LP – WM Productions G-1003 – "Collage"
LP – WM G1005 – "Music For Exercise – Magenta"
LP – WM G1007
Marty Martinez
At the Brass Lion Lounge – September, 1970
Tony Martinez
45 – Shag SS 5795 – "Sweet Bananas" b/w "It Will Take a Little Time"
The Marvells
See the Finer Arts discography Page
The George Marvin Trio (with Kathy Kohls)
Appeared at the Antlers Hotel Falcon Room in Colorado Springs
Richard Marx
LP – Rainbow Venture 102 – "Rocks The Foundation" – 1982
The Masons
Appeared at Sam's on Lookout Mountain
The Mastertones (Denver)
See the Band Box Record Label Discography
Paul Mateki
Colorado Country Music Hall of Fame Inductee
This may be the same country singer who immigrated to the U.S. from Leeds in the U.K.
Matthews' Southern Comfort
45 – Decca 32664 – Colorado Springs Eternal – 1971
Maul & The Cutups
From band member Tom Uharriet:
"This band started in 1960. They played in many venues including The Pussy Cat A-Go-Go, The Tiger A-Go-Go, The Merry Go-Round, The Seahorse in Greeley and others. They were one of Denver's "big hair" bands aka The Fantabulous Jags who came into the Denver area from Kansas and migrated to Las Vegas."
Group Members:
John Maul – sax, vocals
Bob Pickett – guitar – (from Texas)
Tom Uharriet – bass guitar (formerly with Dee and the Majestics)
Bill Martinez – drums, horns
Don May & the Gigolos (4 Gigolos)
See the Band Box Record Label Discography
Don May & The Venusares
Don May also fronted "Don May & The Gigolos who recorded on Band Box records.  Drummer Larry Higgins does not recall this group (Venusares) but believes they formed after the Gigolos.
See the Band Box Record Label Discography
The Maybe Handle (Colorado Springs)
Mazeville Crossing
Members included the duo of Scott Bruning and Cary Steinberg
LP – Strawberry Records 333 – Mazeville Crossing
Pete McCabe
Visit the Tumbleweed Records Discography Page
C.W. McCall
McCall was William Dale Fries Jr., born in Iowa and lived in Nebraska for a time. McCall hit pay dirt with his monster hit "Convoy" which peaked at #1 on the Country charts in 1975 and remained at the top for five weeks. It was his first chart success – He had entered the top 30 four times previously. The song also hit number 1 on the Billboard Pop charts for a single week. Later in 1977 his "Roses for Mama" would go to #2 Country. McCall made is way to Colorado where among other things he was elected Mayor of the Western Slope town of Ouray.
Visit the C. W. McCall Discography Page

Mac McClanahan & The Rhythm Busters (La Junta)
45 – Tiger 104 – "No Sweeter Love" b/w "That Nonsense Stuff"
Janice McClary
LP = WM F1001 – "Showtime!" – 1977
Dan McCorison
Dan performed in Estes Park with the Lazy D Wranglers dude ranch group as did many other local musicians.
Musicians include:
James Burton – Al Perkins – Skip Edwards – John Weir – Emery Gordy – Richard Marx – Bernie Leadon – Al Garth – Joe Lala – Herb Pederson – Steve Cropper
LP – MCA 2276 – "Dan McCorison" – 1977
Margie McCoy
The McCoys (Denver)
See The Brambles with Jerry Corbetta. Need more information on this 1960's Colorado garage band.
Daniel McCrimmon
See the Biscuit City Records Page
Hattie McDaniel (Denver)
Hattie McDaniel was born in 1985 in Wichita, Kansas.  Both parents were former slaves.  Her family moved to the State of Colorado in 1900 first settling in Fort Collins and then moving to Denver.  She started off her career working with her brother Otis in his traveling minstrel show.
She would then join up with George Morrison in a group called "The Melody Hounds" who performed regularly on KOA radio making her the first black woman to perform on radio.  Hattie enjoyed a recording career up until the stock market crash and fell on hard times.  Moving to Los Angeles in 1931 didn't bring film roles that she sought but found the door to Hollywood initially closed.
That changed in 1932 when she landed her first film role in "The Golden West" playing a maid.  More movie roles would follow and she stepped up the ladder several rungs when she appeared in a major movie "The Little Colonel" starring Shirley Temple, Lionel Barrymore and Bill Bojangles Robinson.
More would follow and often she would perform musical numbers.  Her acting career brought her close in friendship to many Hollywood stars including Clark Gable, Bette Davis, Henry Fonda and many more.  Audition time came for "Gone with The Wind" and Hattie won the part hands down even though there was stiff competition.
McDaniel would receive and win an Oscar for "Best Supporting Actress" in her role as "Mammy" in the film classic.  Her Academy Award was the first ever garnered by a black actor.
Her later years took her through more motion pictures, television, a radio show and so much more – not excluding becoming involved in activist causes.  At times Hattie received unjust criticism for depicting stereo types – coming from those who had not nearly walked a path in life in anything nearing a comparison to Hattie McDaniel's shoes.
Hattie received recognition via two stars on the Hollywood Walk of Fame – one for motion pictures and one for radio achievement.
Her career in total surpasses so many others, and a read of a Hattie McDaniel biography would be time well spent!  Hattie McDaniel died on October 26th, 1952 from breast cancer at age 57.
MCF
LP – Dolphin A-333 – "Softwave" – 1984
Jim McGraw (and The Western Sundowners)/The Jim McGraw Quartet
See the Band Box Record Label Discography
4 5- Double 808-50 – "A Letter to the President" b/w "Medicine Hat" – 1980
45 – Gold Standard 175 – "I Was Falling In Love with You" – 1966
45 – Gold Standard 226 – "I'm The One Accused" b/w "My Love" – 1967
45 – Gold Standard GS 246 – "Hummingbird" b/w "You've Got Me Running" – 1967
45 – Gold Standard GS 255 – Gonna Have Myself a Party b/w Don't Mix Your Bitter Tears With Mine
45 – Gold Standard GS 265 – "I've Had It" b/w "My Mistakes" – 1968
45 – Gold Standard GS 270 – "Can't Tell The Do's From the Don'ts" b/w "Too Many Places" – 1969
45 – Happy Tiger HT 565 – "Just a Girl I Met Along the Way" b/w "I Don't Know Me Anymore"
45 – Jemkl 4000 – "Hind Ends and Elbows" b/w "Cassie" – 1974
Michael McGuffy
45 – U.S. Eagle LTD 69 – "Young Man's Blood" b/w "In My Soul"
Gentle Ben McGuire Choir
LP – VonFeldtk 1039 – Northern Colorado Son Shining

Sam McIntosh
45 – Scotch Country 0518B CSR – "Mr. I'm Your Son" b/w "If Only For Our Children"
The Fabulous Fay McKay (Loveland)
LP – 1021 – Fay McKay A-Live At the Dunes

45 – Halo 1003 – Old Lang Sigh-In b/w Christmas Medley


Pax 7002 – 12 Daze of Christmas b/w

45 – Graceful 3122 – The 12 Daze of Christmas b/w  Jingle Bells
45 – Belaire 5025 – 12 Daze of Christmas b/w 12 Daze of Christmas
Brian Elroy McKinely
LP – Media Co. TMC 114201 – "Lightning On the Mountain" – 1983
Rod McKuen
45 – Warner Bros. WB 7636 – Guess I'd Rather Be In Colorado – 1972
Doug McLain
See the CLW Records Label Page
45 – Kaye K-5003 – "When It Rains It Pours" b/w "I'll Be Standing By"
Julie McClain
See the CLW Records Label Page
Gary McMahon
With Eric Weissberg (guitar), Bob Nolan, Bob Rose (guitar), Herb Bushler (bass), Richard Crooks (drums) Ernie Reed, Harry Lookofsky, Lew Eley (all on fiddles), Jan Tyson, Buddy Emmons (steel guitar), The Jordanaires (vocals), Tom Malone (sax), Steve Gibson (guitar), John Simon (piano)
LP – Tomato 7024 – "Colorado Blue" – 1980

Gerard McMahon & Kid Lightning
LP – ARC NJC 36986 – "Blue Rue"
McPullish
45 – Charlie's – Colorado Springs Blackout b/w Dub Inna Tesla Stylee – 2005
Mead & Joan Metcalf & Chorus – (Aspen)
Assisted by singers Jan Rowley, Jan Stevenson, Carole Weldin, Sharon Faff, Laurie Loeb and Lucy Metcalf – all who doubled as waitresses at the Crystal Palace.
LP – Jackson Sound 1383 – "An Evening at the Crystal Palace"
LP – Jackson Sound – Crystal Palace In Aspen 1965
Mean Uncle Man
Flexi – Evatone – "Close the Door"
Medeski, Martin & Wood
This group was fronted by Chris Wood who grew up in Colorado and attended Boulder High School (a 1988 graduate).  He met his two band mates in New York City (John Medesk and Billy Martin)
The Medicine Bow Quartet
Recorded this LP in 1985 on the Medicine Bow record label in Boulder, Colorado. Members include George Weber (vibes), Paul Glessner (bass), Scott Springer (drums) and Tom Read (piano).

Marvin Meiers
Marvin recorded for the predecessor label to Band Box Records – Columbine,
78 – Columbine WC 51 – "Will You Remember" b/w My Lovely Lady" – (with Johnny Neill and His Orchestra)

Golda Meir
LP – Buddah 73 – The Yom Kippur War

John Meishlahn
45 – Tundra – A Song for Colorado Part 1 b/w A Song for Colorado Part 2

Randy Meisner
(See the Randy Meisner page)
The Mel and Dawn Duo
Appeared at the Gaslite on Alameda
Dr. Alan Melinger
A doctor who treated mental illness in the State of Colorado
LP – Wall Records 117 – "Art Of The Gifted" – 1988
The Melody Men
Appeared at the My-O-My Supper Club in Commerce City in 1959
The Men Of Notes
Appeared at Earl Brewer's Evergreen at the Lake in 1959
Felipe R. Mendoza
45 – Roca 17421 – Maravillosamte b/w Serca De Dios

Pat Mendoza
LP – WSM Productions – The Dreamer

Ted Mentry
LP – Dagger DR 002 – "Illustrated Victims" – 1981
Merlin
45 – RCA 481 – Colorado b/w Oh My Soul – 1971

The Mersey Beats (Aurora)
Need more information on this 1960's Colorado garage band.
The Mesa Verde Story
Flexi – Interpark 37079 – "The Mesa Verde Story"
The Mescalero Space Kit – 1970
Group Members:
Veeder Van Dorn – Surfin' Classics 1963 – Moonrakers 1964
Sam Fuller (bass)
Kip Gilbert (drums)
Mark Kincaid (guitar)
Mestizo
45 – No 1 – In the Moonlight b/w  Creation – 1973
Al Meyers
45 – Ricca R-116 – Colorado – 1987
Vaughn Meyers
Colorado Country Music Hall of Fame Inductee
Billy Lee Michaels
45 – Extra Terrestrial ET 1010 – "E.T. Rock E.T. Roll" b/w "Twas The Night Before Christmas"
LP – Spin City SOS 101 – "Date on the Corner" b/w "Can't Help Falling In Love"
The Mid Westerners (Jack-Bud-Don-Scrappy)
45 – Ranger (Colorado Springs) 1106 – The Waltz of the Colorado Hills b/w Tossel Headed Girl

The Middle of It All
LP – Naroh 40919 – "Working Day Woman"
Members:
Dennis Roe (drums)
Donna Roe (bass)
Jimmy Owens (guitar)
Others:
Dave Adams – Rod Taylor – Dave Marghiem – Scotty Rogers – Dave Adams – Randy Miller – Bud Smith
Also backed by The Denver Affair
Midland Federal Savings
45 – DSS 10006 – "Flight of Apollo 11" b/w "Flight of Apollo 11 Part 2"
The Midnite Jammer Band
LP – "Deep In the Night"
The Mid Westerners
45 – Ranger Recordings KCMS 1106 – "The Waltz of the Colorado Hills" b/w "Tossel Headed Girl
Middle of the Road
45 – Music Plant 611 Let Her Cry b/w Back On My Feet – 1976
George Mier
At the Shangri-La – September, 1970
The Mighty Quick Band (Pueblo)
(Information from Colorado music historian Lisa Wheeler at Elks Bugle web site)
Dan Abeyta
Fred Tafoya
Dennis Moore
Clark Romero
Chris Castro
Leroy Tafoya
Mike and Fran (Pueblo)
They are Mike Dunn and Frances Love – Mike joined the New Mobile Strugglers briefly in 1966 while attending college in Pueblo – This probably isn't the same group that came out of Loveland High School graduating in 1967.
LP – "When First Unto This Country"
Jeffrey Milburn – Boulder
LP – Catnap Records – "Fatigue" – 1983

The Milehighlites
45 – Stanaco 45-SS-1 – "I'm Thinking of You" b/w "Teenage Jamboree"
Ron Miles
Colorado Music Hall of Fame Inductee (2017)
Miles formed a trio with fellow Colorado Music Hall of Fame member Bill Frissell along with drummer Brian Blades.  He was born in Indianapolis, Indiana in 1963 coming to Denver in 1974 attending East High School and then the University of Denver.  He is co-ordinator of Jazz Studies at Metropolitan State University of Denver.
The Milkmen
Dairyland – Lolita b/w Desmond Grey Go Away

Ann Miller (Denver) with other Artists
45 – Hallmark 1690 – "On Top of It All" b/w "Freed From Satan"

Art Miller
45 – Oddball 86-69 – "Buster Boogie"
Buddy Miller (and the Hi Lo's)
See the Band Box Record Label Discography
45 – Felsted 8557 – "(I've Been) Thinking It Over" b/w "Buddy Boy" – 1959
45 – VEM 2226 – "Teen Twist" b/w "Those Two Brown Eyes" – 1960
45 – VEM 2228 – Little Bo Peep b/w I Found My Love  – 1960
Cynthia Miller
At the Coffee House
Eddie Miller
Eddie Miller performing at the Keyboard Lounge at 5640 West Colfax.  The Keyboard was owned by Denver's Morey Bernstein who also owned the Finer Arts label in Denver.
Jerry Miller and Vega Banjos
LP – Banjo Mart 1936 – Salute to America
Scott Miller
45 – Push 0333-01 – "I Got Custody of the Memory" b/w "Honky Tonk King of Denver"
Stewart Miller (Colorado Springs)
LP – Startsong – Springs Music
EP 33-1/3 – Renegade 1001 – Love's Come Back – Ain't It Amazin' – 1982
Terry Miller
Terry Miller was a late 1950's recording artist who just couldn't find his mojo though given opportunities by several labels. Denver composer and Finer Arts label owner composed a few sides for this obscure Denver artist.
Cavalier 877 – Teen Age Lingo Jive b/w Too Lonesome To Cry – 1958
Arwin 877 – Teen Age Lingo Jive b/w Too Lonesome to Cry – 1958
Liberty 55146 – Single 'N Searchin' b/w Walkin' With the Blues – 1958
Lute 5903 – I'm Available b/w Please, Somebody – 1960
Reveille 1001 – Sweet Lovin' b/w Later, Let Me Know – 1962
Reveille 105 – For Stealing Her From Me b/w Open Sesame – 1962
Scott Miller
45 – Push 333-01 – I Got Custody of the Memory b/w Honky Tonk King of Denver

The Millers Quartet
Appeared at the Rendezvous on East Colfax in 1960
Chuck Mills & The Monarchs
See the Band Box Record Label Discography
45 – Toppa 45-1099 – "How Lonely Is Lonesome" b/w "Play Your Part, Broken Heart" – 1963
45 – Toppa 45-1116 – "What a Place To Call a Home" b/w "You Name It (The Time, The Place)" – 1966
Monte Mills
LP – Lucky Horseshoe LP-3 – "Steam and Steel" – 1978
Travis Mimms & The Country Boys
Members: Travis Mimms, Henry Stzelecki (bass), Bob Moore (bass), Buddy Harmon (drums), Hargus "Pig" Robbins (piano), Ron Gates (piano), Lloyd Green (steel guitar), Harold Bradley (rhythm guitar), Pete Wade (guitar), Bobby Thompson (guitar), Dave Kirby (guitar), Johnny Gible (fiddle), Buddy Spicher (fiddle), The Nashville Edition (vocals)
LP – Mountain Top 9575 – "Colorado" – 1978
Mindy Lou
LP – Nova BMC-80104 – "Big Music America Contest" – 1980 (with various Colorado Artists)
George "Blackie" Minor & The Floyd Sisters
See the CLW Records Label Page
Blackie Minor & the Floyd Sisters
See the CLW Records Label Page
Denny Mintle & The Evergreen Dixelanders
Denny and group were of course from Evergreen, Colorado a community residing in the front range foothills just west of Denver. Denny came to Denver from Waterloo, Iowa in 1966. He purchased a bar in Evergreen and renamed it the Red Ram.
The Evergreen Dixielanders were Dale Wall (electric bass), Derwayne Stoner (banjo), Dick Voorhees (horns and vibes), Don Grant (guitar) Dawn Arlene (drums) and George Young (trumpet). Denny played piano and trombone.
LP – Location Records 4421 – Denny Mintle with the Evergreen Dixielanders – 1970

The Mirrors
Group Members:
Neil Markham – vocals/keyboards/guitar
Gary La Duke – drums
Chuck Taylor – bass
LP – Back to Back – 1988 Colorado Songwriter's Awards – 1988 (various artists)
The Miserlous
Recorded songs not released from the 1960's:
"Barney Oldfield"
"Who Killed The Goose That Layed the Golden Egg?"
Embert Mishler
Colorado Country Music Hall of Fame Inductee
See the Band Box Record Label Discography
Mishler released this single on Denver drummer Ronnie Kae's Drum City Records in Wheat Ridge, Colorado.  Visit the Band Box pages to view Embert's Band Box releases.
Appeared at the Caravan West in Wheat Ridge
45 – Drum City UMC 2857 – "One Mile High" b/w "Two Little Shoes"
45 – Rock Studio 40-6082-30 – "I'll Love You Forever Today" b/w "Nursery Rhyme Rock"
45 – Big M M-101 – "Crickets" b/w "My Mama Spank Me"
The Mission Viejo Singers
45 – Mission Viejo Company – 2145 – Christmas Make Our Home A Hometown Again b/w The Mission Viejo Story

The Mistic Moods
With Earth, Wind and Fire's Philip Bailey
Clifford Mitchell (Label Graphic Designer)
See the Band Box Record Label Discography
Eric Mitchell & The Shadows of Dawn
See the Finer Arts discography Page
Malcolm Mitchell
Malcolm was a member of Denver's Boenzee Cryque in 1966
45 – Dot 17230 – "Feather" b/w Sightseer" – 1969
The Mitchell Trio
Featured John Denver at the helm replacing Chad. Later Denver's Michael Johnson would team up with Denver to form Denver, Boise and Johnson. Visit the John Denver Discography Pages for the Mitchell Trio releases.

The M and M Connection
At Heinz Steinmann's Ranch Restaurant – September, 1970
The M.O.B. featuring D. J. Magic
12-Inch Single – Solid Sound SSR 1001 – "Tell Me What's On Your Mind (vocal)" b/w Instrumental version
Moby
Colorado Country Hall of Fame Inductee
The Modern Men Quartet
At the Aurora Lounge
Katy Moffatt
Katy worked around the Denver front range area as a struggling musician for about four years during the 1970's before landing a recording contract and moving on to greener pastures.
LP – Columbia 34774 – Kissin' In The California Sun – 1978
Clark Moffitt
At the Exodus
Christopher Mohr
LP – CM 8783 – "August Light" – 1987
Hal and Gracie Mollison
Appeared at the Bear Valley Inn on South Sheridan Blvd. in 1959
Mom's Apple Pie
I have absolutely no idea what connection this group may have to Colorado other than the fact than whenever a copy comes into the used vinyl store Wax Trax in Denver, they always file it in the "Colorado" section.  I have asked them what the connection is and they don't seem to know – Strange.  PS: The cover is a bit controversial – that's another story.
The group is from Warren, Ohio
LP – Brown Bag 14200 – Mom's Apple Pie – 1972
State Representative Robert Mondragon
See the Band Box Record Label Discography
Money Is To Burn
45 – Elba 13980 – "Money is to Burn" (single sided)
The Monocles (Greeley)
The group formed in 1964. Listen to "Can't Stand It"
Here is a an extensive biography on Bob Yeazel's site.
Group Members:
John Floth – lead guitar – (The Higher Elevation – Deep Rock) – deceased
Don Hirschfield
Rick Hull – bass (The Higher Elevation)
Gary McMahon – drums
Kevin McIlhenny – drums – replaced McMahon – deceased (Attended Aurora Central High)
Robb Casseday
Tom Behm – drums (The Status Seekers)
Peter Johnson – keyboards (The Status Seekers – The Higher Elevation – Fat Emma – Brother Son) (Attended Aurora Central High)
Bobby Saunar – replaced Behm
Recordings – 45's:
Norman Petty Studios (demo) – Let Your Lovin' Grow/You Don't Know (not released) – 1965
Denco 926 – Psychedelic (That's Where It's At)/Boogie Man – 1966

Chicory 407 – The Spider and the Fly/On the Other Side of Happiness – 1967
LP – Released in 2015 – High Fidelity Label
LP – Archive International AIP 10027 – Highs in the Mid Sixties (Various Colorado Groups)
The Monroe Doctrine
LP – Falls River 2 – "The Monroe Doctrine"
Musicians: Dick Schroeder, Wayne Beezley, Larry Barnwell and Steve Carnes
Toni Monti
At the Kona-Kai
Ronnie Montrose (Denver)
Ronnie grew up in the Mile High City.  He went on to do session work recording with Van Morrison, Boz Scaggs, Edgar Winter and others.
The Mood Express
45 – Crossroads 1001 – Turn Me Down Blues b/w A Mere Reflection – 1982 (with picture sleeve)

Hal Moore & Charlie Martin
From their days at Denver radio station KHOW – These guys had a huge following and top rating in the Denver market. Charlie Martin moved to Arizona after his retirement and passed away in 2013.

Matthew Moore
LP – Caribou 36118 – The Sport of Guessing – 1979
Mel Moore (Trinidad, Colorado)
45 – DeCicco – "The Allen Mine" (both sides)
45 – Sterling 750 – "The Allen Mine" b/w "Little White Church House"
45 – Sterling 839 – "Sing Your Song" b/w "A Ride In The Moonlight"
Bob Moran
See the Band Box Record Label Discography
Michael Moran
LP – Colorado Gold CGA-5001 – "Michael Moran" – 1978
45 – Colorado Gold – "Dream Girl" b/w "Ride Away" – 1977


Colorado Gold 1051 – Send Me No Wine b/w Midnight Straight Lady – 1978

The Pat Moran Trio
At the Cameo Lounge
Kelly Moreland
45 – AARD 70011 – "For The Children" b/w "I'm In Love"
The Hal Morgan Combo
At the Idle Hour Lounge
The Morning Rain (Colorado Springs)
The Morning Rain competed in radio station KIMN's 1967 Battle of the Bands. Need more information on this 1960's Colorado garage band.
Vicky Morosan (Band Box Label Owner)
See the Band Box Record Label Discography
Dale Morris
LP – LPS 1003 – "Fiddlin' In the Rockies"
LP – Fiddler 82-96 – Old Time Fiddlin' – 1978
George Morrison Orchestra (Denver)
Morrison was a major musical figure in Denver going back into the 1920's a prior.  He formed his band and they entertained in various configurations and numbers.  The band journeyed to New York City in 1920 at the invitation of Columbia Records recording as "Morrison's Singing Jazz Orchestra" with their tracks designated to be released on Columbia's "race records" series.  Oddly, I have not been able to locate any Columbia releases by Morrison.
Their Columbia contract was cancelled after several years and so the Morrison band returned to Denver and in 1930, his orchestra became a mainstay at the Lakeside Amusement Park performing at the El Patio Ballroom changing their name to "Morrison and the Rigadooners".  His band was permitted into the park for these performances even though black citizens were prevented from entering (same policy was in place at Elitch's Gardens).
Other ethnic groups including Italian, Jewish and Russian were also banned from entering either of Denver's amusement parks – as pretty much was the practice all across the United States at that time.  Around 1948 after WWII the bans were lifted in the Denver Parks.
Morrison was a music instructor in Denver working with youth of his neighborhood – often for free when income presented a challenge for his student's family.  He played violin in Denver's Shorter AME Church and was the founder of "The Black Musicians Local No. 623" in Denver.  Morrison owned the Five Point night club "The Casino Caberet Ballroom" which he opened in 1948.
Morrison holds the distinction of being Columbia Records' first black musician signing.
78 – Hum 2 – "Since You're Gone" b/w "Now That You're Mine"
Michael Moryc
LP – Wind Rose WR 612 – "A Stop Along the Way" – 1978
Carl Morse – (deceased)
Colorado Country Hall of Fame Inductee
George Mosse
See the Band Box Record Label Discography
The Mother Folkers (Denver)
This is a long-time Colorado folk group, still going strong in 2016.
Members include: Deborah Schmit-Lobis, Elena Klaver, Eileen, Niehouse, Bonnie Phipps, Rebecca Leonard, Liz Barnez, Carla Sciaky, Pamela Robinson, Suzy Nelson (with dog), Ellen Audley, Julie Hoest, Mary Stribling, Angie DeFrancis-Cox, and Bonnie Carol
CD – Minnesota Public Radio MPR-111 – Keepers – 2000
(Various Artists CD with one track by the Mother Folkers "Shut De Do"
Mother's Children
Mother's Children appeared at the RUG-ged Room on Alameda just next to Roller City – Members included Corky Young
This from The Wayne 21 Blog:
"When I was discharged and went home to Denver I took my old job back and started to catch up with my friends. Corky Young was in a group called the Mothers Children and he was playing every night at the LePichet 3.2 bar on Mississippi Ave in Denver.  Ron Morgan was in California recording with the Association and was doing studio albums.
One night when I was at the LePichet listening to Corky young I met a guitar player named Harvey Richardson from Westminster Colorado that was looking for a drummer.  He was a part of a group with Bob Yaezel and Roger Bryant both from Westminster. Harvey played the keyboard and rhythm guitar, Bob played lead guitar and Roger played Bass. Harvey asked me if I wanted to try out for the band.  It was called The Leather Souls after the Beatles Rubber Soul album. "
The Motivation Machine (Denver)
The Motivation Machine was active from 1974 until 1984 – Members were Joe Aparicio (guitar), Pete Luthman (drums), Larry Goedert (keyboards, Art Dasis (guitar), Ray Sekara (bass) and Steve Stevenson (sax) – all pictured below:  (photos all courtesy of Pete Luthman)
Mountain Flyer (Colorado Springs)
LP – Startsong – Springs Music
Dave Moyer & John Dozier
45 – IM Records 10491 – Calumet Sounds – 1971 – From KLZ Radio Denver
Gary Muledeer
45 – Spearfish GMD 9854 – "The Battle Nuke War Dreams" b/w "Mule Skinner Blues"
Rob Mullins
LP – Flying Piano 101 – Dancing Through the Day – 1981


LP – RMC 1006 – Nite Street – 1986


LP – Flying Piano 102 – Red Shoes – 1982

LP – RMC 1005 – Soulscape – 1985
Kerri Munkres (Colorado Springs)
LP – Garden Sight and Sound 72116 – The Words and Music of Kerri Munkres
Connie Munson
Colorado Country Music Hall of Fame Inductee
Tony Muro
At the Ranch Manor Motor Inn
Michael Martin Murphey (Caribou Ranch)
The following LP's and hit Single's were recorded at the Caribou Ranch outside of Nederland:
(Also see the Michael Martin Murphey page)
Arthur Murray – (Denver)
Arthur Murray was heavily involved with commercial production and recording around the Denver area during the 1950's and 1960's (and probably beyond) – Not to be confused with the dancing Arthur Murray who had studios throughout the land including for in Colorado.
Acetate Pressing – Promotional Spot for KVOR Radio Denver
Tom Murray
Colorado Country Music Hall of Fame Inductee
The Musart Trio (Colorado State University Based)
Members:
Will Schwartz (violin)
Wallace Rushkin (cello)
Wendel Diebel (piano – harpsichord)
LP – Century 17789 – "The Musart Trio"
Myzar
Bob Tracy (keyboards); Coz Dugger (bass); Tom Fickle (drums); Steve Duefrene (guitar)
LP – PMA Records
Mystic Blue (Denver)
Members:
Joe Marquez
David Case
Infal 154 – Queen of the Night/How Can It Be
Myth of Freedom
Group Members:
Nick Fanelli – vocals/keyboards
Dave Chmela – bass
Dave Robles – guitar
Norman Deltufo – drums
LP – Back to Back – 1988 Colorado Songwriter's Awards – 1988 (various artists)
Myzar
45 – Peak U 20775M – "Bad Way" b/w "Take Me On" – 1988 (with picture sleeve)
45 – S4U – "Anyway Today" b/w "You Think You Got It Made"
Johnny Nace
45 – Hornet HR 009 – "Country Runs Deep (In My Blood)" b/w "Love's Memories"
The Nacho Men
45 Mantuna – C'Mon' Everybody b/w In The Still of The Night

The Nails
Members:
Mark Campbell (vocals) – David Kaufman – Connie Garcia – Douglas Guthrie – Jon Comany – Mike Ratti – Tommy Cotogna – Al Leis
EP – Screwball SBX-001 – "Cops Are Punks/Big Star" b/w "Another Lesson" – 1977
45 – Screwball Records SBX-1003 – "Rock and Roll Show" b/w "Back Street Boys" – 1978
45 – Jimbco & City Beat CJN 222 – "Reel World (Beat Boys & Girls)" b/w "Eighty Eight Lines About Forty Four Women" – 1982
45 – RCA PB-13993 – "Let It All Hang Out' b/w "Home of the Brave" – 1984
45 – RCA PB-14084 – "88 Lines About Women" b/w "Dark Brown" – 1984
Nino Nanni
Nino Nanni performing at Denver's Top of the Park lounge in Denver's Park Lane Hotel at 450 South Marion Street.
Negative Man
45 – Rum Dummy – Nobody Cares b/w No Way to Treat a Lady (by La Donnas) – 1998
The Johnny Neill Trio (& Orchestra)
Columbine Records would evolve eventually to become Band Box Records in Denver.
At the Aeroplane Club
78 – Columbine WC-51 – "Will You Remember" b/w My Lovely Lady" (Vocal by Marvin Meiers)


45 – Do-Ray-Don 1876 – I Did It And I'm Glad, So There b/w I Wonder Why

Johnny Neill & His Orchestra (Fort Collins)
45 – Walco 61 – Colorado b/w I Want To Go Back To The Manhattans
45 – Walco 62 – Where The Sun Is Always Shining b/w Dream

45 – Walco 62 Extended Play – The Men of the West/Pixie Davis b/w Where the Sun is Always Shining/Dreams
78 – Rinx 482 – Lazy Daddy b/w Tom Dooley