KIMN – "The Denver Tiger"
Hall of Fame Inductee Display
(Note:  I have added literally hundreds of newly located KIMN Surveys to my site – thanks in great part to many contributions of past KIMN Boss Jocks including early Jock Gene Price.)
KIMN has it's roots in radio station KFEL in 1922 and eventually became KIMN (Inter Mountain Network) in 1954. Here is the entire history of Fabulous KIMN radio. Below is an autograph to my wife from "Jumpin' Jock" Pogo Poge! – I am listing the KIMN long plays which were released throughout the hears followed by the KIMN survey sheets which I have managed to round up.
KIMN Rocky Mountain News – July, 1960
KIMN – Rocky Mountain News March, 1961
KIMN El Jebel Shriner's Circus Ad – 1962
KIMN Pogo Poge Hi Fi Club Key Ring
Baby boomers everywhere marked their pre-teen and teen years to the soundtrack laid down by their favorite local "Top Forty" radio station.  The jocks provided a non-stop narrative relating to our world – a world off limits to our parents.  At KIMN the heat was turned up in the very early 1960's when a KIMN Jock would periodically "flush" a competing station "down the toilet" on air using a rattling chain sound effect each time much to our delight!
That competing station was KICN ('Kissin') and I recall minor divisions in loyalty ranks among my friends and schoolmates but the scales were always tipped heavily in favor of "The Denver Tiger".  (Reportedly that KIMN Jock was let go from the station because of the incident – but that goes unconfirmed living on as urban legend.)
These were the days well before teen activism and looking over the KIMN survey sheets, only one stood out in the early days where KIMN asked it's listeners to help "stop bull fighting"!  I now recall that a local TV show used to air a weekly bullfight program live – I want to speculate that it was Channel 2 but not certain.  But it was shocking to watch the brave and gallant bull fighting for everything he was worth only to meet the same end each time!.  And to top it off – the bull fight program was being televised from somewhere in Colorado!
Beyond that it was "Teen Queen of the Week" promotions – teen dances – KIMN's notorious "Battle the Ba
nds"  – local high school featured on surveys and the Saturday weekly "Top 50 Countdown" which at the time seemed almost more important than life itself.
There were "KIMN Comers" and "Pick Hit's of the Week".  Some of those pick hits were very curious because they could run the gamut from Boulder's Astronauts to David Seville – Ernie Fields to Dodie Stevens.
These were also the days when local bands and singers could break into the Top 50 right along side say Elvis!
Cruising 16th Street long before it was a walking mall was a must for Friday and Saturday nights and was a sure fire way for all of us in high school at the time to witness first hand just how entrenched our fellow baby boomers from schools all across the Denver area were in living to the sounds of Boss Radio KIMN.  Driving three lanes across on the one-way 16th Street at slow and cool cruising speeds, the sound of KIMN vibrated from the car radios like a huge surround sound system installed in downtown Denver.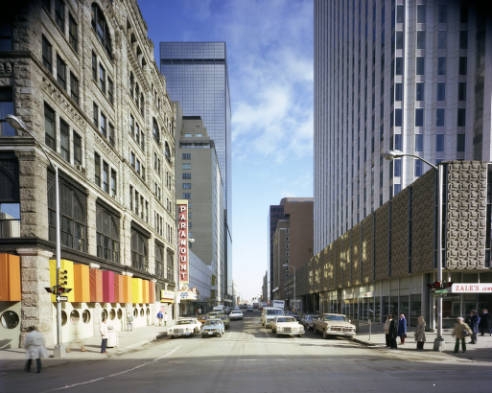 It was four or five runs down 16th to check out the girls (and avoid the boys from other schools) and then it was off across the bridge at the far end of 16th, over the "Valley Highway" (now I-25) and into North Denver onto Federal Blvd., to hit the "Scotchman" a North High Viking hangout but not entirely off limits to the West High Cowboys.
From there it was about a ten minute cruise down Federal turning west onto Alameda into more secure ground at the A&W Root Bear Drive-In.  If you had attracted the attention of hostiles from another part of Denver – a quick shot into the A&W was always a sure bet to send them on their way.  West High had it's own divisions but those evaporated quickly when a threat was posed by "outsiders".
And just a few blocks west of the A&W was the premier Denver  west side 3.2 night spot – "The Galaxy" which featured non-west side bands – but fully accepted and appreciated such as The Soul Survivors and The Police.
The Soul Survivors' "Can't Stand to Be In Love With You" hit the number one position on KIMN.  When it was at it's peak, the Survivors would play it repeatedly during a single evening at the Galaxy!
Good old KIMN.  They rode along with us the entire way providing just what we needed at that time in our young lives…… a little rock and roll and the freedom of being young…..
KIMN DJ Gary Owens
The famed announcer for "Rowan and Martin's Laugh-In" television show did a brief stint with KIMN in 1957.
LP – Pride 0002 – "Put Your Head On My Finger" – 1972
The ad below appeared in the December 30th, 1967 issue of Cash Box magazine provided by Colorado Music Historian Lisa Wheeler of the Blog sites  "North of Pueblo" and "Pueblo City Limits".
KIMN Billboard Article – October 1st, 1966
KIMN Teen Festival – 1967
KIMN Beatle Trip Sticker
Cash Box – April 29th, 1967
Cash Box Ad for Brian Hyland with KIMN Presented – January 11th, 1969
Jim Fulcher – The "KIMN Chicken"
Farewell to KIMN
KIMN All Time Top 300 (1955-1966)
(Provided to me by my brother-in-law back in 1966)
KIMN T Shirts
KIMN Goes FM (bumper sticker)
KIMN Long Play Records
LP – KIMN 9566 – "KIMN Classics – Oldies But Goodies" – 1966
LP – Take 6 2015 – KIMN 21 All Time Classics
LP – Take 6 2029 – 21 All Time Hits from 95/KIMN
LP – Take 6 2048 – "KIMN's Denver Presents 21 Great Hits"
LP – Post 108 – The KIMN Goldmine
LP – Darby 900 – KIMN Gold 18 Classic Hits
LP – Fair West Enterprises 85 – A KIMN Christmas – 1985
This was most likely KIMN's final release before the famed station ceased broadcasting
Here are links to the currently revised 1950's and 1960's KIMN Surveys:
KIMN 1954 through 1959 Surveys
KIMN 1960 through 1961 Surveys
KIMN 1962 through 1963 Surveys
KIMN 1964 through 1965 Surveys
KIMN 1966 through 1967 Surveys
KIMN 1968 through 1969 Surveys
KIMN 1970 through 1971 Surveys
KIMN 1972 through 1973 Surveys
KIMN 1974 through 1975 Surveys
KIMN 1976 through 1985 Surveys
The early KIMN "Hit Parade" survey sheets from the earliest days in 1955 well into 1962 generally featured only Boss Jock photos for promotional purposes and little else.
Early Years Long Running KIMN Survey Sheet Backside DesignThen in February of 1962 KIMN began featuring items of local interest such as the "Teen Queen of the Week" namely girls from local Denver area high schools.
The Teen Queens continued to be featured into the early Fall of 1962 and then on September 12th, 1962 KIMN featured it's very first recording act – The Rivingtons – and as was the usual practice the musician spotlights were generally based on the artists being scheduled to perform in Denver – complements of KIMN!  A few weeks later – Jimmy Clanton was featured.
On November 7th of 1962 – Boss Jock Johnny Mitchell had the distinction of being the first KIMN DJ to be individually featured on a Survey Sheet.  The following week a very young Don Martin would be introduced as the station's "News Director" – Martin would stay on for many years piloting "Sky Spy" and heading up KIMN's news staff.
With the school year well under way – many additional "Teen Queens" would again be featured.  Kicking off 1963 – the extremely popular "Robert E. Lee" Boss Jock would appear riding his "civil war" horse.
KIMN took time to feature one of their popular "weather girls" – a title for Lee Andersen who was anything but a "girl" in February of 1963.
Ms. Andersen was followed by a string of the early 60's young pop singers – not very rock and roll oriented but very popular teen idols.  Dee Dee Sharp would become the first female pop artist to be featured in March of 1963
The legendary Pogo Poge would grace the April 3rd, 1963 survey sheet.  His antics and promotional stunts long held the interest of Denver area teens.
The First Pop Duo to be featured would be Dick and Dee Dee who were former California high school classmates Richard Gosling and  and Mary Sperling.  Richard would become Dick St. John and Mary Dee Dee Phelps.  Dick died from the result of a fall in his home in December of 2003.  The first white pop group to appear on KIMN's surveys were the Dovells (who were actually preceded by a male folk group – The Kingston Trio.
KIMN's Jay Mack – perhaps the most popular Boss Jock ever  – appeared in July of 1963.  His dry humor and use of many character voice clips rendered his show irresistible.
Singer Andrea Carroll would be a typical example of KIMN promoting somewhat lesser known artists appearing at the end of July in 1963.
KIMN's first promotional contest appeared on the August 14th '63 survey sheet along with The Four Seasons who would soon come to Denver appearing at Elitch Gardens at the famous (and long gone) Trocadero Ballroom.
KIMN kicked off a Back-To-School dance also at the "Troc" in September with a rather strange mix of acts including The Castells, The Beach Boys, The Astronauts and Bobby Vinton!  These dances were the occasions for all the high schools to converge at a common venue.  Trying to imagine the teens rocking out to Bobby Vinton and The Castells (slow dances for them most likely)
At times KIMN would lapse a little with their target listening audience featuring artists who would be better served by a Las Vegas Billboard Ad!
And in case you've ever wondered what in the world The Singing Nun was telling us – KIMN published the lyrics in December of 1963.
That was about it for the first early years up through 1963!  The year ended with KIMN's traditional Top Hits listin