Bob Keane's Rock and Roll Journey
Bob Keane was born in January of 1922 over on the in Manhattan Beach – Southern California – Robert Verrill Kuhn.
Bob's dream was to front a big band – and actually did form a decent sized band at the very young age of 16 – first appearing live at an area college.  A Los Angeles radio station employee was attending the performance and promptly approached Bob which resulted in a short-lived record contract.
He entered the armed forces but was quickly discharged due to a physical condition and so returned to the L.A. area where he played with several band combos around town working in nightclubs for the most part.
In 1955 he was approached by John Siamas – an area entrepreneur who talked Keane into partnering up to form a record label which was called "Keen".  Working as the label's A&R man, Bob came into contact with a gospel singer, Samuel Cook and was presented with a demo acetate.
Keen Records Hits Pay Dirt!
The acetate contained an old standard "Summertime"  composed in part by the acclaimed George Gershwin but the diamond in the rough was "You Send Me".  Sam was the composer of the song but credited his brother "L.C. Cook" with label credits – in an effort to steer royalties away from his contracted publisher.
Keen Records was on it's way and so it seemed , Bob Keane was going to enjoy the ride.  The song skyrocketed to the top of both the R&B and Pop charts (number 1 for six weeks R&B and number 1 Billboard Pop for three(.
Keen Records was suddenly flush with cash from the million seller.  Bob was under the impression via a verbal agreement with Siamas that he would be rewarded for his efforts with stocks – just as soon as Keen organized as a corporation.  Siamas floored Keane by demanding a significant cash buy-in to make the corporation happen.
That was it for Bob.  He was forced to depart for lack of funds – and seek another way to make a living.
A lawsuit was filed again Siamas – but Keane was urged by his wife to just move on a perhaps start up his own record label.  He did.  His new label was launched in late 1957 and took it's name "Del-Fi" from the Greek god of music – "Delphi".
Keane Moves On
Then in 1958, Keane would witness a performance by a hispanic teen at the Los Angeles' area movie theater.  The teen was Richard Steven Valenzuela – who would become – of course – Ritchie Valens (at Keane's suggestion to gain radio airplay).
The Valens' story is more than well-documented.  Valens anchored Del-Fi Records for a short time with a few monster hits, selling well in both single and long play format.
Ritchie's tragic death on February 3rd, 1959 – while still only 17 years old – pulled the rug out from under Keane – at least temporarily.  But Valens left behind something beyond a few hit recordings – namely a sound.
Surf's Up at Del-FI
According to surf historian and writer Kent Crowley – author of "Surf Beat – Rock 'N' Roll's Forgotten Revolution" – the day that Ritchie traded his Harmony Stratotone guitar for a new basic but extremely well-made model , Fender's "Stratocaster" – the way was paved (when coupled with Fender's exemplary amplifiers) for the new West Coast revolutionary sound – surf music".  (Fender's earlier "Telecaster" was the preferred axe for country artists).
The Stratocaster became the choice of surf music's legendary Dick Dale – who Keane aggressively pursued for Del-Fi bringing him in for two tracks but almost as quickly letting him go due to the overpowering personality of Dick's father.  Dick and father would go on to form their own label – "Del Tone" which would put out just a little more than a dozen singles – nearly all featuring Dick and his Del-Tones.
Dale would take up the Stratocaster as well and what would follow would be an explosion of Southern California beach bound instrumental groups who began putting out a new sound that would eventually grab hold firmly in 1962 and vanish nearly as quickly within two years time.
Surf music as it would begin to be called – would be Keane's impetus for his next wave of recordings – conducted at the famous Gold Star Recording Studio the home of a seemingly endless procession of hit records. – including Ritchie Valens.
Keane turned out one surf LP after another sometimes by actual surf groups – such as the Lively Ones and sometimes by accomplished studio musicians (think the Wrecking Crew) or combinations of both.
Del-Fi was bolstered briefly by the signing of television star Johnny Crawford who managed to place a couple of long plays on the charts as well as eight hit singles from 1961 into 1964.  By contrast the surf bands didn't tear up the charts but sold in respectable numbers carrying Del-Fi for a time.
Keane would also form the "Donna" label and eventually when the surfing craze subsided, and Crawford's hits petered out, Keane made the decision to retire the Donna and Del-Fi labels and make a move to 'modernize' forming the Mustang and Bronco labels.  Mustang's premier act would be The Bobby Fuller Four coming over from Keane's Donna label.
The group had been around for awhile since the early 1960's recording for numerous small labels including Yucca and Todd.  Keane would bring about a dozen acts to Mustang but only the Fuller Four would crack the charts with two great tracks "I Fought the Law" and "Love's Made a Fool of You" (I also latched onto "Let Her Dance" which actually preceded the two Fuller hits.
The Bronco label started up in 1966 after Mustang but failed to muster any success.  A young Barry White cut a few tracks for the label and an unknown group called "The Versatiles" would cut the first single for the label.  That group would do a bit better on down the road when they signed with Johnny Rivers' "Soul City" label as "The 5th Dimension".  White would work for Bob producing and composing for artists appearing on the Bronco label.
By 1967 Bob Keane was pretty much out of the record business closing down both Bronco and Mustang especially after the death of Bobby Fuller in 1966.  Bob would start up a burglar alarm business drawing his customer base primarily from the Los Angeles stars.  For a time during the 1970's into the early 1980's Bob helped promote a brief recording career for his two sons John and Tom – They managed one charting single in the U.S. "Sherry" (not a Four Season remake).  The record reached number 84 on Billboard.
Bob Keane passed away on November 28th, 2009 at the age of 89.
Del Fi Records Selected Discography
(Long Plays and Pictures Sleeves from Del Fi Records)
LP Del Fi 1201 – Ritchie Valens – "Ritchie Valens"
LP Del Fi 1202 – The Bob Keene Quintet – "Unforgettable Love Songs of the Fifties"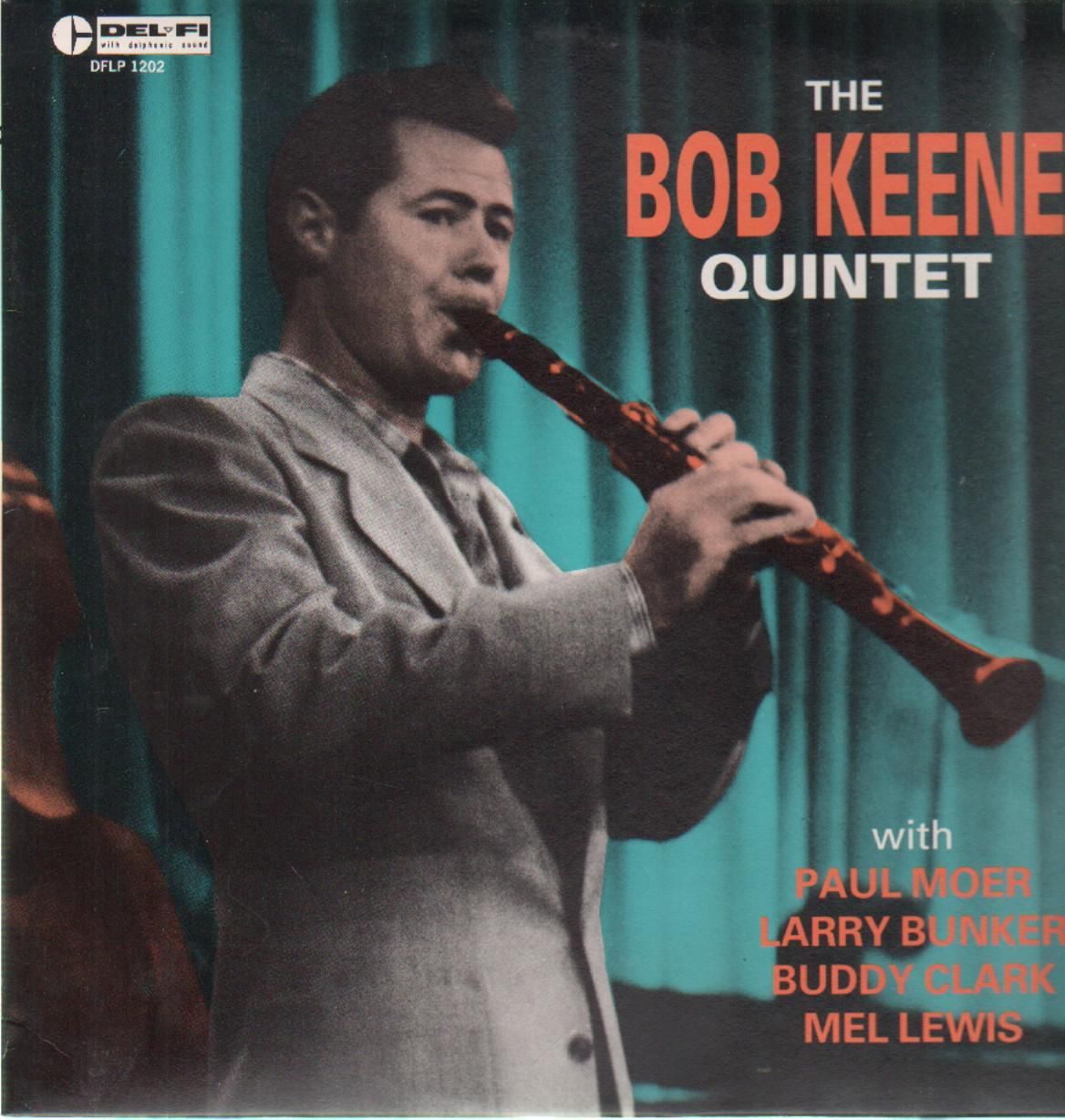 LP Del Fi 1203 – "Maxquel D, Afrique"
LP Del Fi 1204 – The Balladeers – "Alive-O!"
LP Del Fi 1205 – Pepino – "The Many Sides of Pepino"
LP Del Fi 1206 – Ritchie Valens – "Ritchie"
LP Del Fi 1207 – Various Artists – "To Mother With Love"
LP Del Fi 1208 – Various Artists – "To Dad With Love"
LP Del Fi 1209 – Ron Feur – "Vital Organ"
LP Del Fi 1210 – Various Artists – "Del Fi Record Hop"
LP Del Fi 1211 – Eden Abbez – "Eden's Island"
LP Del Fi 1212 – The Paul Moer Trio – "The Contemporary Jazz Classics Of"
LP Del Fi 1213 – Sheldon Allman – "Sing Along With Drac"
LP Del Fi 1214 – Ritchie Valens – "In Concert at Pacoima Jr. High"
LP Del Fi 1215 – Ron Feuer – "Hammond Cheese"
LP Del Fi 1216 – Emil Richard's Yazz Band – "Yazz Per Favore"
LP Del Fi 1217 – Sheldon Allman – "Drunks"
LP Del Fi 1218 – Little Caesar and the Romans – "Memories of the Oldies But Goodies"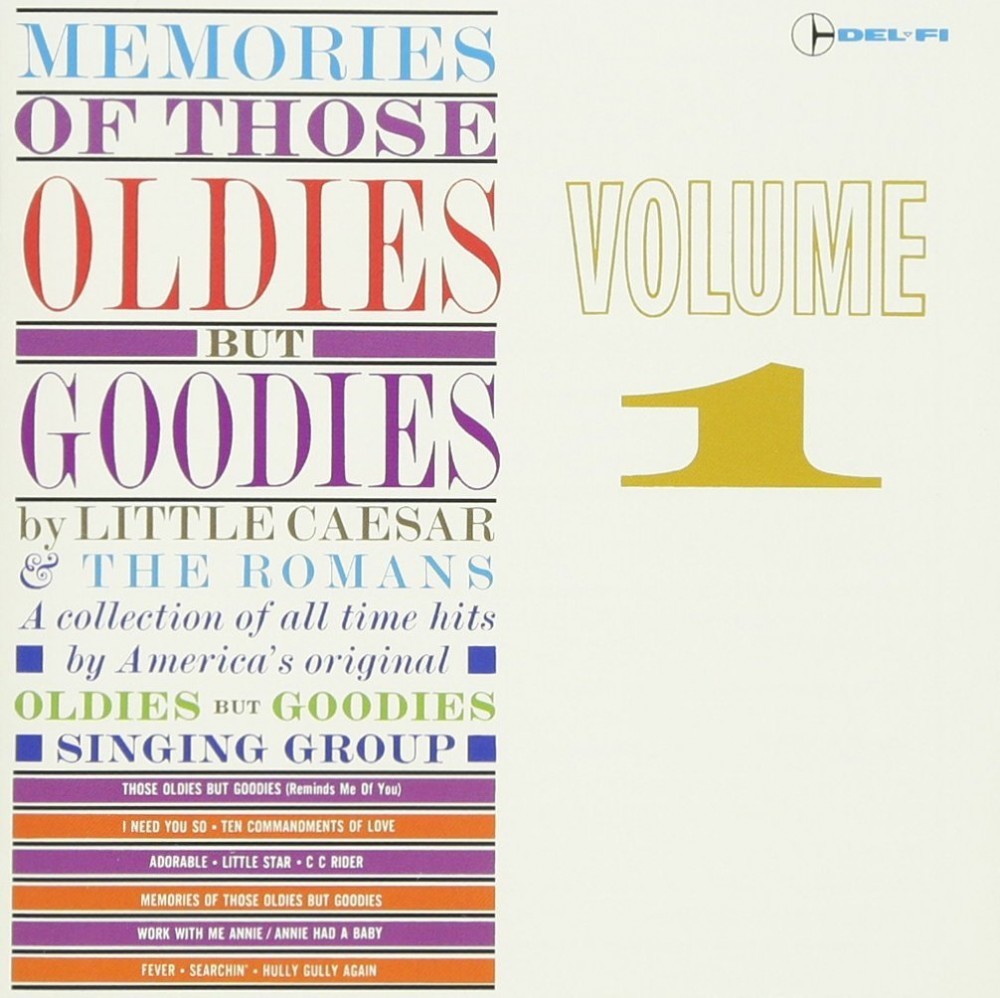 LP Del Fi 1219 – Various Artists – "a Barrel Of Oldies"
LP Del Fi 1220 – Johnny Crawford – "The Captivating Johnny Crawford"
LP Del Fi 1222 – Bob Keene Big Band – "Twist to Radio KRLA" (and others)
LP Del Fi 1222 – The Bob Keene Big Band – "Military Twist"
LP Del Fi 1223 – Johnny Crawford – "A Young Man's Fancy"
LP Del Fi 1224 – Johnny Crawford – "Rumors"
LP Del Fi 1225 – Ritchie Valens – "Memorial Album" – "His Greatest Hits"
LP Del Fi 1226 – The Lively Ones – "Surf Rider!"
LP Del Fi 1227 – Various Artists – "The Very Best of the Oldies"
LP Del Fi 1228 – The Bruce Johnston Surfing Band – "Surfer's Pajama Party"
LP Del Fi 1229 – Johnny Crawford – "His Greatest Hits"
LP Del Fi 1231 – The Lively Ones – "Surf Drums"
LP Del Fi 1232 – The Sentinals – "Big Surf!"
LP Del Fi 1233 – Stan Ross – "My Son the Copy Cat"
LP Del Fi 1234 – The Impacts – "Wipe Out"
LP Del Fi 1235 – Various Artists – "KFWB's Battle of the Surfing Bands!"
LP Del Fi 1236 – The Surf Stompers – "The Original Surfer Stomp
LP Del Fi 1237 – The Lively Ones – "Surf City"
LP Del Fi 1238 – The Lively Ones – "The Great Surf Hits!!"
LP Del Fi 1239 – Dave Myers and the Surftones – "Hangin' Twenty"
LP Del Fi 1240 – The Lively Ones – "Surfin' South of the Border"
LP Del Fi 1241 – The Sentinels – "Surfer Girl"
LP Del Fi 1242 – The Defenders – "Drag Beat"

LP Del Fi 1243 – The Deuce Coupes – "Hotrodder's Choice"
LP Del Fi 1244 – The Darts – "Hollywood Drag"
LP Del Fi 1245 – The Romancers – "Do The Slauson"
LP Del Fi 1247 – Ritchie Valens – "His Greatest Hits Vol 2 featuring La Bamba!"
LP Del Fi 1248 – Johnny Crawford – "His Greatest Hits Vol #2"
LP Del Fi 1249 – Various Artists – "Big Surf Hits"
LP Del Fi 70231 – Ritchie Valens – "Ritchie Valens (reissue) – 1987
LP Del Fi 70232 – Ritchie Valens – "Ritchie" – 1987
Del Fi EP 111 -Ritchie Valens – "Ritchie Valens Sings"
Del Fi EP – PR1 – Ritchie Valens – "Memorial Month"
Del Fi PS 1287 – Ritchie Valens – "La Bamba '87"
Del Fi PS 4117 – Ritchie Valens – "Little Girl" b/w "We Belong Together"
Del Fi PS 4128 – Ritchie Valens – "Stay Beside Me" b/w "Baby Blues"
Del Fi PS 4162 – Johnny Crawford – "Daydreams" b/w "So Goes the Story"
Del Fi PS 4165 – Johnny Crawford – "Your Love Is Growing Cold" b/w "Treasure"
Del Fi PS 4174 – Desda – "Splish Splash" b/w "Sittin in the Corner"
Del Fi PS 4178 – "Cindy's Birthday" b/w "Something Special"
Del Fi PS 4181 – Johnny Crawford – "Your Nose Is Gonna Grow" b/w "Mr. Blue"
Del Fi PS 4182 – Bobby Curtola – "I Cry and Cry" b/w "Big Time Spender"
Del Fi PS 4185 – Bobby Curtola – "Aladdin" b/w "I Don't Want to Go On Without You"
Del Fi PS 4188 – Johnny Crawford – "Rumors" b/w No One Really Loves A Clown"
Del Fi PS 4191 – The Crawford Brothers – "Good Buddies" b/w "You Gotta Wear Shoes"
Del Fi PS 4250 – The El Caminos – "How!" b/w "Exotic"