From Northern Colorado to Hollywood
Eddie Kirk was born in 1919, Edward Merle Kirk, residing with his family in a ranch nearby the northern Colorado town of Greeley.  He began his venture into entertainment and music at the very young age of 9, He remained in Colorado for most of his growing up years, finally relocating to California in 1934 as a teenager.
He began working with a group called the Beverly Hillbillies and was crowned as the "National Yodeling Champion" for 2 consecutive years in 1935 and 1936.  During that same time period, Kirk entered the ring as an amateur boxer.  In Hollywood he found his way into motion pictures with minor rolls.
Kirk signed up with the U.S. Navy during WWII, returning to Hollywood in 1945 where he joined the "Hollywood Barn Dance Choir".  The Barn Dance was made into a motion picture in 1947, starring Ernest Tubb.  Not sure if Kirk appeared in this film uncredited.
Later in the 1940's, Kirk appeared on Gene Autry's radio program and a few years later (1952) appeared on the country and western TV show "Town Hall Party" along with fellow cowboy singer Eddie Dean.  Kirk made appearances on a TV series called "Hometown Jamboree" broadcast out of Pasadena, California and hosted by country singer Cliffie Stone, which ran from 1949 until 1960.  The show featured some of the biggest names in country music including Tennessee Ernie Ford, Johnny Horton. Kirk was a regular supporting musician throughout the entire run of the program.
He kept busy, working as a DJ on KXLA out of Los Angeles in 1948 and at the same time heading up his own band in Long Beach, California on Friday nights
Kirk embarked on a tour of the Northwest in the summer of 1949 sponsored by Capitol Records through Oregon, Washington, Idaho and Utah.  Earlier in the year Kirk, along with Cliffie Stone, Tennessee Ernie Ford and Merle Travis bought stock in Capitol Records country subsidiary, Capitol Americana.  The label issue records for only a year with some big names and many upstarts.
Other appearances for Kirk included the Legion Stadium in El Monte, CA, weekly appearances on the Armed Forces Radio Services show (1949)
Eddie wrote this note to fellow Town Hall Party country performer George Sanders.  Notice that Eddie refers to the music as "Folk".
Hometown Jamboree – 1949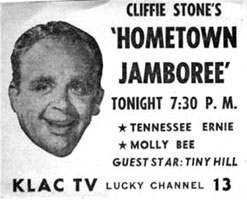 Kirk in The Movies
Eddie Kirk crossed paths with Colorado's Ozie Waters when he picked up an uncredited part in the 1947 motion picture "Prairie Raiders" – one of the movies in the "Durango Kid" series.
Recording Career & The Charts
In 1947, Kirk was contracted by Capitol Records.  His debut recording was released on Capitol's country subsidiary label Capitol Americana, "Judy" backed with "Memories Are My Souvenirs".  Kirk managed to place two recordings on the Billboard Country Charts.  In all, Capitol released 17 singles on 78 rpm format by Kirk up to late 1951.  He teamed up with Capitol country recording artists Merle Travis, Tennesse Ernie For and Cliffie Stone's Band to record two sides in late 1949.
On local stations, Kirk would only manage to chart on radio station KYA out of San Francisco with his "The Gods Were Angry With Me" reaching the number one position on October 16th, 1948
Kirk moved over to RCA Victor in early 1953 cutting six sides.
Eddie Kirk passed away on June 27th, 1997
Eddie Kirk Discography
78 – Capitol Americana 40046 – Judy/Memories Are My Souvenirs – November, 1947
78 – Capitol Americana 40069 – Those Dark Clouds Don't Bother Me/Sad and Blue – January, 1948
78 – Capitol 15176 – The Gods Were Angry With Me/You Little Sweet Little You – August, 1948 – Charted Number 9 Billboard Country Charts
78 – Capitol 15310 – No Tears Tomorrow/You Drove Me To Another's Arms (And Now I'm Happy There) – November, 1948
78 – Capitol 15369 – When My Castles Came Tumbling Down/I've Lived A Lifetime For You – January, 1949
78 – Capitol 15391 – Candy Kisses/Save The Next Waltz For Me – March, 1949 – Charted Number 9 Billboard Country Charts
78 – Capitol 40092 – What's Another Heart To You/A Petal From A Faded Rose – 1949
78 – Capitol 40116 – Born To Lose/How Do You Mend A Broken Heart – 1949
78 – Capitol 40127 – Tomorrow The Sun Will Shine Again/A Little White House (With You Inside) – 1949
78 – Capitol 57-40188 – You Can't Pick A Rose In December/Promise Me – July, 1949
78 – Capitol 57-40226 – I'd Rather Hear Most Anything (Than Hear You Say We're Through)/I Wouldn't Take A Million – September, 1949
78 – Capitol 57-40254 – Blues Stay Away From Me/Philosophy – November, 1949 (with Merle Travis, Tennessee Ernie Ford and Cliffie Stone)
78 – Capitol 57-40260 – Dear Hearts and Gentle People/Careless Kisses – November, 1949
78 – Capitol 40285 – A Year Of City Livin'/Away Out On the Mountain – February, 1950
78 – Capitol 877 – The Two Years We Were Married/Unfaithful One – 1950
78 – Capitol 974 – Four Hearts/Saturday Nightime Blues – April, 1950
78 – Capitol 1048 – Sugar Baby/An Armful Of Heartaches – June, 1950
78 – Capitol 1175 – Puppy Love/Somebody's Crying – August, 1950
78 – Capitol 1275 – Bryant's Boogie (with Jimmy Bryant)/Leetle Juan Pedro (with the Cliffie Stone Band
78 – Capitol 1287 – Blue Bonnet Blues/In The Shambles Of My Heart – November, 1950
78 – Capitol 1372 – Solitary Blues/(My Love For You) Rolls On Like The World – January, 1951
78 – Capitol 1445- Honey Costs Money/Sowing Teardrops – 1951
78 – Capitol 1591 – Drifting Texas Sand/Alone In A Tavern – June, 1951
78 – Capitol 1790 – Freight Train Breakdown/I'll Save My Heart For You – September, 1951
78 – RCA Victor 20-5149 – Five Star President/Hit and Run Lover – January, 1953
78 – RCA Victor 20-5287 – Wanderin' Eyes/Country Way – May, 1953
78 – RCA Victor 20-5412 – Caribbean/As God Is My Witness – September, 1953
45 – Capitol F877 – Unfaithful One/The Two Years We Were Married – 1950
45 – Capitol F1175 – Puppy Love/Somebody's Crying – August, 1950
45 – Capitol F1287 – In the Shambles of My Heart/Blue Bonnet Blues – November, 1950
45 – Capitol F1377 – Solitary Blues/(My Love For You) Rolls On Like The World – 1951
45 – Capitol F1591 – Drifting Texas Sand/Alone In A Tavern – June, 1951
45 – RCA Victor 47-5149 – Five Star President/Hit and Run Lovers – February, 1953
45 – RCA Victor 47-5287 – Wanderin' Eyes/Country Way – May, 1953
45 – RCA Victor 47-5412 – Caribbean/As God Is My Witness – September, 1953
LP – Castle 8107 – Eddie Kirk – Country Memories of the Late 40's and Early 50's – 1981
CD – Blue Bonnet Blues
CD – Eddie Kirk Vol. 2
CD – Cattle Compact 270 – The Gods Were Angry With Me (Germany)