Beatlemania – Why?
"Beatlemania" – not surprisingly – has it's own Wikipedia entry – The British press placed the term into usage first in about October, 1963.  Wiki offers that the term had it's roots more than 120 years earlier when fans (were there "fans" in the 1840's?) of composer/pianist Franz Listz exhibited a level of fanaticism supposedly approaching what was to come in 1963.
A poet of that faraway time, Heinrich Heine, offered up "Listzomania" as a definition of the behavior of Franz's minions.
Two female author activists offered this explanation for the frenzy: (The pair) "argued that the Beatles' famous moptop haircuts signaled androgyny and thus presented a less threatening version of male sexuality to teenage girls, while their presentable suits meant that they seemed less "sleazy" than Presley to middle-class whites."
A UK journalist in 1964 flatly asserted: "the mania was a modern incarnation of female hysteria and that the wild fans at the Beatles' concerts were "the least fortunate of their generation, the dull, the idle, the failures". (ouch!)
A November 2nd, 1963 story in the U.K. publication appeared under the screaming banner "BEATLEMANIA!" and may have been the first do so.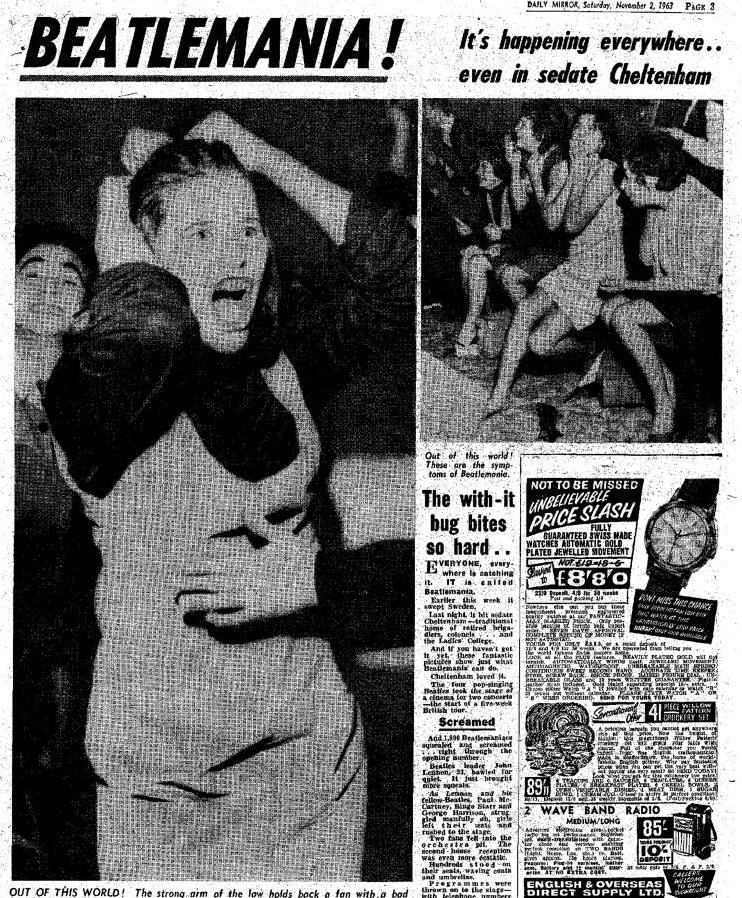 This from the journalist, Larry Kane from his book "Ticket to Ride" relating to the Beatles-based hysteria: "Girls and some boys, close together, standing , screaming, moaning, groaning, ripping at their hair, pushing, shoving, falling on the floor and crying, real tears streaming down hundreds of faces, smearing their mascara and lipstick, ….." 
"For the first time I started wondering whether these kids were in a state of trance. What was making them go?  Was this part of a bigger picture?  Was there no love in their lives, or were they just "tweeners" trapped in a time warp, caught between fantasy and reality, stuck between puberty and adulthood?"
Go Forth Baby Boomers and Conquer
This was my generation – some a few years younger – but 'baby boomers' all.  As the 1960's marched onward, Beatlemania would subside but their popularity would soar and appreciation for their music would skyrocket.  The times would become volatile, turbulent, and often tragic…
Some of these kids wouldn't emerge on the other side – some lost to drugs, some to the that futile conflict far away….
Beatlemania…… something exciting and dramatic – unexplained, a signal perhaps that the world was changing forever for all of us.
So here is a glance at many of our peers.  Perhaps you were one of them….
This first photo was a prophetic image – from the "A Hard Day's Night" which was completed before the arrival of the Beatles on our shores….