Black Musician's Rich History – Denver
Denver's "Five Points" neighborhood was first occupied in the 1880's predominantly by upper class white families, and with the approach of the 20th Century, migration by black families into Five Points increased to fill vacancies left as whites departed for new outlying neighborhoods in Denver.
Today, we couldn't imagine those "outlying" neighborhood being anything other than "inner city" but time marches onward.
The Five Points neighborhood provided thousands of blacks with an opportunity to call a neighborhood their own primarily due to other parts of the Denver area being "off limits".
And so, going forward from 1910, a rich new culture would emerge within a tightly knit community – giving rise to people of many talents and skills, not the least of which was music!.
Following is a look at several musicians which I came across upon locating a book entitled "African Americans of Denver" by Ronald J. Stephens, La Wanna M. Larson and The Black American West Museum".
The entire pictorial presentation is fascinating, introducing me to some whom I had prior knowledge but to so many who I was happy to finally meet – ranging from old west cowboys, pioneer women, miners, inventors, politicians, activists and the people who made the music in Colorado.
The setting in the book is often the Five Points neighborhood owing to the overwhelming majority of Denver's black residents residing there.
George Morrison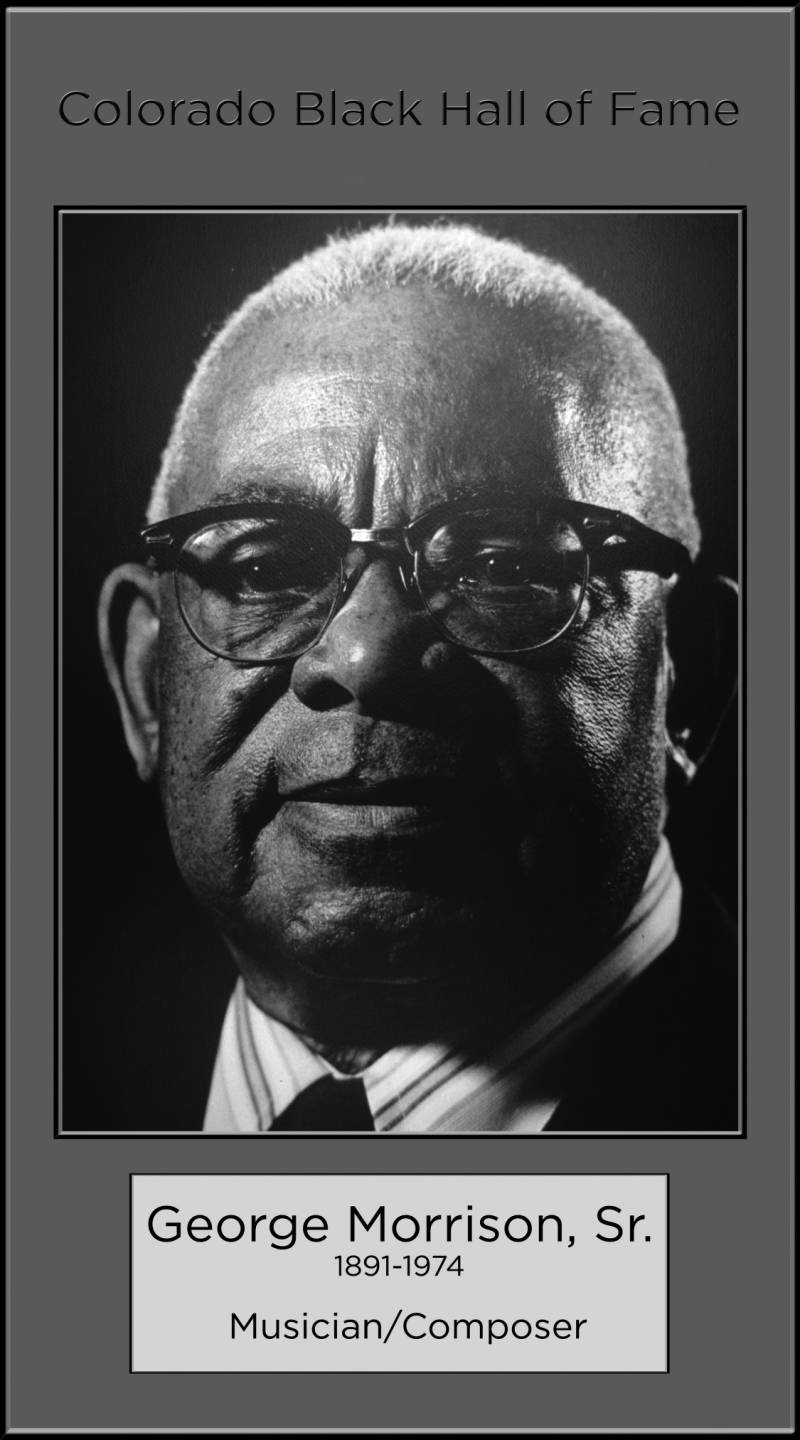 Morrison was a major musical figure in Denver going back into the 1920's a prior.  He formed his band and they entertained in various configurations and numbers.  They journeyed to New York City in 1920 at the invitation of Columbia Records recording as "Morrison's Singing Jazz Orchestra".
Morrison was a music instructor in Denver working with youth of his neighborhood – often for free when income presented a challenge for his student's family.  He played violin in Denver's Shorter AME Church and was the founder of "The Black Musicians Local No. 623" in Denver.  Morrison owned the Five Point night club "The Casino Caberet Ballroom" which he opened in 1948.
Morrison holds the distinction of being Columbia Records' first black musician signing.
Hattie McDaniel – An East High Angel
One young lady who would join his band in 1924 was East High graduate Hattie McDaniel, who would become his featured vocalist for a time, before moving on to a career in motion pictures which culminated in a starring role in 1939's "Gone With the Wind".
Hattie McDaniel was born in 1985 in Wichita, Kansas.  Both parents were former slaves.  Her family moved to the State of Colorado in 1900 first settling in Fort Collins and then moving to Denver.  She started off her career working with her brother Otis in his traveling minstrel show.
She would then join up with George Morrison in a group called "The Melody Hounds" who performed regularly on KOA radio making her the first black woman to perform on radio.  Hattie enjoyed a recording career up until the stock market crash and fell on hard times.  Moving to Los Angeles in 1931 didn't bring film roles that she sought but found the door to Hollywood initially closed.
That changed in 1932 when she landed her first film role in "The Golden West" playing a maid.  More movie roles would follow and she stepped up the ladder several rungs when she appeared in a major movie "The Little Colonel" starring Shirley Temple, Lionel Barrymore and Bill Bojangles Robinson.
More would follow and often she would perform musical numbers.  Her acting career brought her close in friendship to many Hollywood stars including Clark Gable, Bette Davis, Henry Fonda and many more.  Audition time came for "Gone with The Wind" and Hattie won the part hands down even though there was stiff competition.
McDaniel would receive and win an Oscar for "Best Supporting Actress" in her role as "Mammy" in the film classic.  Her Academy Award was the first ever garnered by a black actor.
Her later years took her through more motion pictures, television, a radio show and so much more – not excluding becoming involved in activist causes.  At times Hattie received unjust criticism for depicting stereo types – coming from those who had not nearly walked a path in life in anything nearing a comparison to Hattie McDaniel's shoes.
Hattie received recognition via two stars on the Hollywood Walk of Fame – one for motion pictures and one for radio achievement.
Her career in total surpasses so many others, and a read of a Hattie McDaniel biography would be time well spent!  Hattie McDaniel died on October 26th, 1952 from breast cancer at age 57.
Paul Quinichette
Jazz trumpet player extraordinaire, Paul Qunichette, was a native of Denver – born in the Mile High City in May of 1916.  Over the course of his career Quinichette played with a literal 'who's who' during the golden age of jazz.
He fronted his own combo – appearing often in Denver – which included Count Basie on piano, Gus Johnson on drums, Freddie Green on guitar and Joe Neuman on trumpet.  Quinichette would record primarily on Mercury's jazz subsidiary label EmArcy and also appeared on Decca, Bethlehem, Brunswick and more.
Below, Quinichette is shown with a local Denver group called "The Swingin' Swankies" (he sits in front row – second in from right – from Paul W. Stewart Collection).
Paul Quinichette passed away on May 25th, 1983 at the age of 67 in New York City.
"African Americans of Denver" …
Is well worth the purchase and could well lead to further journeys into Denver's musical past.  There are museums and historical buildings throughout the Five Points neighborhood featuring photographs and historical documents more fully relating the importance of the early black musicians who graced the Mile High City.  Here are a few more…
The Struttin' Sam Minstrels
The Queen City Jazz Band
Predecessor to the latter day QCJB
Mary Lou Williams (Denver pianist)
Esther Mae Barnett
She performed with Denver's Harmony Singers
The Holmes Blue Melody Orchestra
I am almost certain that is the band fronted by George Holmes (Jr.) who was a member of one version of the Ink Spots who recorded one LP on the Band Box label in Denver.  George Holmes Jr. was a close friend of fellow Denver Ink Spot Joel Cowan.
The Leonard Chadwick Band
Chadwick's jazz band played often at Denver's "Aeroplane Ballroom"
Jimmie Lunceford
Lunceford was another Denver resident (coming from Tennessee) who attended school here, studied music here and was yet another member of George Morrison's orchestra appearing at Denver's Empress Theater.  He recorded very extensively in the 1930's and 1940's on many prominent national labels.
While in Denver, he studied under jazz band leader Paul Whiteman's father, Wilburforce Whiteman.
Shelley Rhym
Shelley Rhym fronted his own band in the 1940's performing at the Rossonian Lounge in Five Points (Rhym sitting in middle)
The Sweethearts of Rhythm
The Sweethearts of Rhythm performed at Denver's Rainbow Ballroom and the Rossonian Lounge in the 1940's and distinguished themselves by becoming the first all black female orchestra to tour the world.