Virginia Mazarro
Ginny Arnell was 18 years old when she scored her first Hot 100 hit record – "Dumb Head".  But by 1963 Ginny was already an experienced 'veteran' of the recording studio having recorded 16 sides released on eight records dating back to March of 1959 when she was only 16 years-old.
Ginny was born Virginia Mazarro on November 2nd, 1942 in New Haven, Connecticut and remained in that town right up into her recording days attending East Haven High School.  She performed around New Haven and was recognized as "the most talented teenager in the U.S." in a national competition while still a student.
Ginny initially recorded as part of a duo with a just starting out Gene Pitney on Decca Records recording as "Jamie and Jane".  The songs failed to garner any air play and so the two went their separate ways with Gene going over to Blaze Records in New York and recording one single as "Billy Bryan".
Tunes from the "A" Teams
Virginia would stay on with Decca Records  now recording as Ginny Arnell.  She would record three additional singles for Decca and certainly has some composition fire power behind her.  Her first "A" side "Mister Saxophone" was written by famed Brill Building team Neil Sedaka and Howard Greenfield.  The "B" side "Brand New" was written by Don Covay.
Her next release included "Carnival (Manha De Carnaval)" written by a quarter of writers with Hugo Peretti and Luigi Creatore among them.
Another big-time Brill team provided her with her next effort "Look Who's Talkin'" by Gerry Goffin and Carole King.  The "B" side "Tell Me What He Said" was written by yet another Briller – Jeff Barry.  That song would go all the way to number 2 in the U.K. when released by Helen Shapiro.
It's a tough world out there in the land of hit records – none of the Decca's would draw any attention.  So it was off to Warwick Records for Ginny in the fall of 1961 where she would stay on for two singles.   Another talented writer – Bob Gaudio – contributed one track "No One Cares".  Warwick didn't work out so next stop would be her final – MGM.
Things started slowly in June of 1963 with a pair of tracks released on MGM K 13146 one composed by Bob Crewe "I'm Crying Too".
Finally, in late 1963 – along came good old "Dumb Head".  The song took the teenager to number 50 in the nation and also warranted the release of a long play by MGM recorded in the city of Nashville using many of the famed locals including The Jordinaires, Floyd Cramer and Chet Atkins.
David Hess Dumb Head Composer
"Dumb Head" was co-written by David Hess – then a young song writer and singer and later on a motion picture actor.  Hess has the distinction of having sang "All Shook Up" which was released under his alias "David Hill" in March of 1957 on the Aladdin record label. That release came ahead of the Elvis version which came out a few weeks later and went to number 1.
Speaking of Elvis – Hess was the co-writer of the big Elvis hit "I Got Stung" which peaked at number 8 in 1958.
Besides composing and recording as "David Hill" he also performed as "Billy The Kid" and "David Dante" releasing 10 singles on RCA Victor and seven on Kapp records.  On the novelty side, Hess co-wrote Pat Boone's 1962 number 6 smash "Speedy Gonzales".
Hess wrote "Start Movin" a number 9 Hot 100 hit in the spring of 1957.  He also wrote "Rockin' Shoes" a number 64 hit for the Ames Brothers in the summer of 1957.
When the 1970's arrived, Hess changed directions – moving into motion pictures – his first being a 1972 Wes Craven production "Last House On the Left" taking a lead role as "Krug Stillo".  Along the way he would appear in several other horror films.
Back to Ginny Arnell
Ginny made an appearance on American Bandstand – was introduced by America's oldest teenager Dick Clark – prepared to lip sync on the opening note – but alas!  The tune which came over the studio speakers was Bobby Rydell's "Wild One".  Everyone recovered and Ginny had what she described as the "highlight of my career".
In January of 1965 Ginny recorded a Motown-Mary Wells-styled song called "Just Like A Boy" – the comparison was intentional but – the song flopped.
Her last single was released in October, 1965 – But Ginny decided to call it a day – turning to marriage – raising a family and getting on with life.  She never signed on to any of the oldies' revival shows – and only emerged on a couple of brief occasions to grant an interview – one in 2006 and the last in 2010.
Ginny Arnell 45 Discography
Decca 9-30862 – March, 1959
Decca 9-30934 – July, 1959
Decca 9-31033 – January, 1960
Decca 9 – 31104 – June, 1960
Decca 9-31190 – December, 1960
Warwick M 671 – October, 1961
Warwick M 680 – February, 1962
MGM K 13146 – June, 1963
MGM K 13177 – November, 1963
MGM K 13226 – March, 1964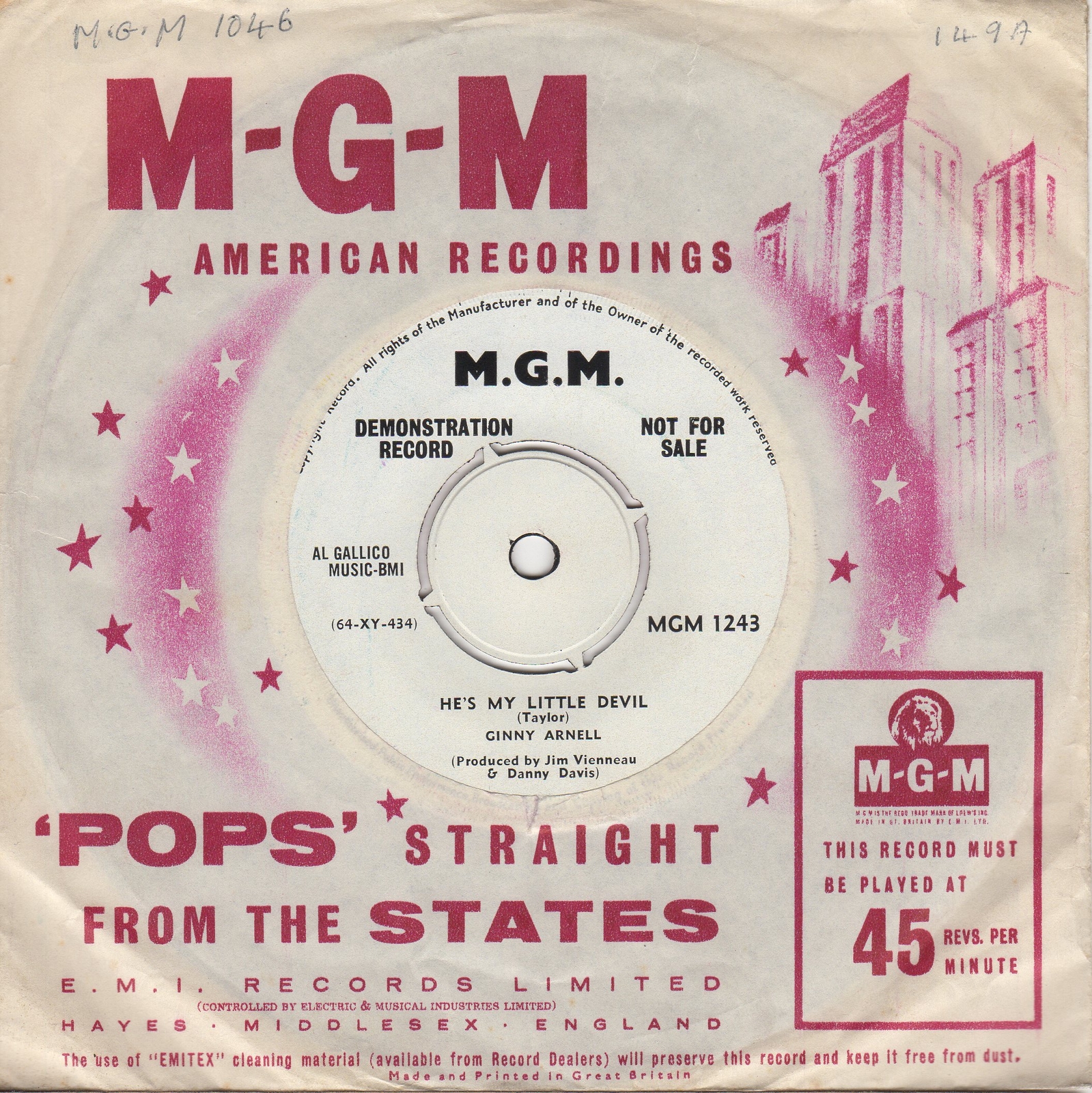 MGM K 13248 – June, 1964
MGM K 13309 – January, 1965
MGM K 13362 – May, 1965
MGM – K 13403 – October, 1965