Going Country….
Welcome to Huntsville…
Home of the Sharpshooter Saloon
Mormons & The Hells Angels' Resistance!
Growing up in the West certainly provided ample opportunity to pick up on country music regardless of residing in an urban environment as I did being born in Denver, moving to Longmont then Greeley – both just to the north of Denver and finally back to Denver during my elementary school years.
My parents certainly were overly exposed to country music although very early forms during their growing up years in the heartland of America in the towns of Downs and Woodston, Kansas.  Nearly all of my father's kin were wheat farmers with their roots in Pennsylvania migrating to Kansas in the later 1800's.
My mother's roots were in New York, from which her ancestors traveled via covered wagon to Kansas very early on.
But if country/country-folk ever caught my parent's ears I guess I will never know for certain.  As a teenager in the 1920's my father was captivated by the early big bands, with Blue Steel being his favorite – which he picked up late at night on a crystal radio set from his small bedroom in Woodston.  As for mom, I don't believe I ever heard her mention anything near country during her lifetime.
She loved the big bands as well and with my dad would enjoy their weekends in Greeley joining friends at a local American Legion or Elks Club as well as other quaint venues for a night of dancing to the endless number of bands traveling the western and mid western circuit.
My dad's only "hobby" during the 1940's was employing his home radio/recorder combination console to cut tracks directly from distant radio broadcasts (as I have Posted previously).
When my family made the move to Greeley in 1953 to a west Denver neighborhood, this brought with it the opportunity for my parents to enjoy larger venues with big name bands such as the famous Trocadero Ballroom at Elitch Gardens and the El Patio Ballroom at Lakeside Amusement Park.  But just no country….
My First Country Era
….around our household that I can recall.  There were many country music venues located throughout Denver such as Ollie's Roundup, The Four Seasons, The Club Corners and so many obscure night clubs located up and down the grand boulevard of Colfax,  but I had no idea what the interior of any of those was like.
It would take a summer exile to the state of Utah before I would have my first serious taste of country music.  It was the summer of 1965 and I had just unsuccessfully complete by first year at Colorado State University in the far northern Colorado town of Fort Collins (talk about country!).
Through the string pulling efforts of my mother who was employed as the secretary for the very largely populated Jefferson County Methodist Church in Lakewood, I landed at summer job with the Federal Bureau of Public Roads.  A BPR engineer of some elevation attended our church.
So one early June morning I found myself situated on a train (my first ever train ride) heading across the Rocky Mountains destination Salk Lake City where I was to rendezvous with the Project Engineer chief and then be toted off to the heartland of the Mormon Church, Huntsville, Utah birthplace of David O. McKay, the ninth president of the Mormon Church as credited as leading the Church into the modern era with all the challenges that presented.
I landed in a two story boarding house right in the middle of the small town of Huntsville in a very attractive mountain setting.  There were two other summer student employees residing with me at the house along with a road construction worker.  I remember joining Scott who was about my age on my first day there (a weekend) walking ar0und the town (you could walk from town limit to town limit in less than 10 minutes) to check out the lay of the land.
I remember a small town park with an unkempt tennis court (weeds springing up through the asphalt) and then the next thing I distinctly remember is the purr of a V-8 engine coming up from behind us – moving slowly – a car filled with four or five teenage boys.  They pulled up along side us with their windows down.  They were drinking beer and they delivered a few crass greetings.  One of them tossed his empty beer can at us and they sped away.  Welcome to Huntsville.
The Sharpshooter
Moving ahead, it didn't take the four of us long to discover the very small local dive, situated directly across the street from our boarding house.  It was one of the only commercial establishments within the town limits – in fact the only one I can remember – and through a bit of research I was pretty surprised to see that the "Sharpshooter Saloon" is still going strong today!
It is hailed these days as the "oldest saloon in Utah" and seems to be a tourist destination.  How things have changed.  Back in 1965 the Sharpshooter as a real isolated small town bar, that seldom, if ever, had a tourist stop by to enjoy a hamburger.  In fact, tourist seldom – if ever – stopped with the sleepy town of Huntsville back then.  I never saw anyone other than the locals belly up to the bar back then.
The Sharpshooter was located just across the street from our old two story farmhouse – boarding house.  We would come in after a day of running survey stakes on the federal mountain road just outside Huntsville, have a quick dinner at the family dinner table with family members and boarders, then head across the street to partake in 3.2 beer (that is all that was served in Utah) and listen to – yes – country music of the day on the jukebox (the jukebox was all country – all the time).
The Sharpshooter didn't have a menu back then – just a bar – a bunch of stools, a central wood burning stove and a pool table.  The regular patrons were all "jack Mormons" with the balance of the town population frowning on the presence of a bar in their little town.  You had to be 21 to drink 3.2 beer and two of us on the road crew were only 18.  But somehow I passed the age test and was never questioned about an ID.  My friend Scott spent the summer drinking cokes at the Sharpshooter.
Today's reviews of the Sharpshooter rave about their hamburgers and their "old jukebox" – Wondering if it could possibly be the same one.  The interior has changed a lot – cleaned up and more trendy now.  But there is that jukebox.
In 1965 we would regularly listen to Buck Owens and the Buckaroos, Roy Clark, Merle Haggard and all the others – giving me my first taste of classic country.  There wasn't a single non-country 45 on the jukebox – For rock and roll I had to beg my parents to haul my portable stereo player from Denver on a summer visit – along with a couple of boxes of my 45's.  1965 was an exciting year for pop and rock – with many of the American bands forming and striking back against the British Invasion.
Call to Arms
One Friday evening we entered the Sharpshooter for an evening of pool and 3.2 beer.  The usual patrons were abuzz about something and we soon learned that an event was taking birth which had the potential for a horrendous apocalypse for the sleepy burg of Huntsville.
A couple of ranchers had stopped in to the Sharpshooter with a terrifying bit of news.  Apparently a large contingent of the notorious Hells Angels had been reported on area radio channels (most likely nearby Ogden down in the valley) and word had it that there was a very good chance that the sinister and dreaded bikers were headed for – you guessed it – Huntsville.
Why?  Who could even begin to guess.  Huntsville wasn't exactly the gateway to anywhere back then.  But no matter.  If the Angels were indeed heading toward David O. McKay's stomping grounds logic had it they would certainly converge on the town watering hole – The Sharpshooter.
So town residents and outlying farmers and ranchers were alerted – a town meeting was slated for the next night – Saturday – and putting aside fears of demon rum and the evils of a pool hall – The Sharpshooter was chosen as the meeting place.
Saturday came and sure enough – Ford pickup trucks lined the streets and inside the Sharpshooter it was standing room only.  As guest regulars of the Sharpshooter, the four of us squeezed into the bar, more out of curiosity than out of a sense of duty to the town.
The meeting leader was a cowboy who worked during the day as the Miller Beer distributor and delivery driver.  There was some heated discussion on what approach to take to defend Huntsville which I can't recall having had a town constable back then.  It seems that a sheriff was present as I recall but not certain.
At any rate the finalized plan for defense called for the one route into and out of Huntsville to be heavily guarded by the ranchers and farmers, forming a blockade, with residents positioning themselves around the outskirts of town in strategic observation points.
An advance scout team would descend down toward Ogden on highway 39 to serve as forward observers and then would use a relay system of outlying ranchers' land lines to warn the town.  Then the local Mormon Church in Huntsville would sound the warning bell that the biker's arrival was imminent.
And I suppose it goes without saying that there was no gun control in Huntsville!  The citizens were armed to the teeth!  Small towns thrive on sticking together in times of crisis.  Up until that Saturday night call to arms meeting I had no comprehension of how tightly knit and bonded a mostly invisible community could be.
The meeting broke up – and after a few more days without any further radio dispatches, the moment faded into history – perhaps the most exciting non-event to ever hit Huntsville.
I made a mental note to self:  "If I were ever to join the Hells Angels later on – I would be sure to tell Sonny Burgess to steer clear of the home of David O. McKay! the next time we set out to pillage, loot and worse."
Good Old Country Music
I doubt if David O. McKay ever journeyed from his farm just outside of Huntsville to mosey into the old Sharpshooter, belly up to bar, grab a cold Millers, then mosey over to the pool table where he would rack em up!
But Haggard, Clark and Owens filled out night time and weekend soundtrack during our time in good old Huntsville, Utah.  I returned home in late August, riding along Interstate 80 in Wyoming, through Rock Springs, heading back to Denver and in short order, Fort Collins for a second bumpy year in college – with the fading sounds of country in my mind.  It would be nearly a decade before I entered my second Country Era….
Merced, California
May, 1971 – September, 1972
I'm not sure how my wife and I came into what would be her first and my second country era.  When I entered the United States Air Force in October of 1968 things were going along smoothly.  Woodstock hadn't hit yet and – while the music was changing – not drastically so.
We were both pretty happy with "Abbey Road" while stationed in a then much more laid back and sleepy town of Albuquerque, New Mexico.  Janet loved 1969's "Spirit in the Sky" by Norman Greenbaum – a song which Norman in no way intended to be a Christian anthem – Says he just needed it to "be about something".
Greenbaum had earlier released the zany "The Eggplant That Ate Chicago" along with Jack Carrington, Evan Engbar and Bonnie Zee Wallace in 1966 recording as "Dr. West's Medicine Show and Junk Band".
Greenbaum would later join Jim Kweskin's Jug Band under the name Bruno Wolfe – a band which was a nice fit for him.  But we get side tracked.
So it was off to Viet Nam in October of 1970 by which time the music was definitely taking a turn for directions not yet clear to me.  A year in Phan Rang AFB didn't provide a lot of exposure to the current music scene.  The base did have a library and was stocked with commercial reel-to-reel tapes and I remember listening to Crosby, Stills, Nash and Young (or maybe it was sans Young at that time).
So the year came and went and it was back home – this time landing in Merced, California in the San Joaquin Valley now equipped with my new reel-to-reel recorder acquired duty free while 'in-country'.  So not being compensated enough by Uncle Sam to pursue vinyl – I changed directions spending hours in our small apartment rental tuning into FM stations – those who's DJs wouldn't interrupt the music with jibber jabber into the track or at the fade out.
Singer/Songwriters
I was struck by how things had dramatically changed.  Coming over the airwaves was an endless string of sweetened and not too exciting sounds which reflected the latest "thing" – the "Singer-Songwriter".
James Taylor, Carly Simon, Joni Mitchell, Brits Elton John and Cat Stevens,  joined by some faces from the not-too-distant past – Carol King (Queen of em all), Paul Anka, even Neil Sedaka for gosh sakes! – Probably all inspired by the shenanigans of the Beatles and the lead taken by George Harrison and John Lennon out on their own without a group behind them.
And there was something else that was permeating the airwaves……  Poco, a group anchored by long-time Coloradoans Rusty Young and George Grantham and future resident Ritchie Furay.  The Byrds and Poco led the way for others to explore strongly country influenced sounds during those early years of the 1970s.
So I suppose I was just a bit stymied on where to turn for my musical cravings when we returned to Colorado after my discharge in September, 1972 moving into the eastern suburb of Aurora.  And while I was not one hundred percent locked into the country, I started listening – and then began resuming my pursuit of 45 recordings.
Was captivated by Charley Pride in particular – Maybe it was the motion picture based on the novel by Colorado native Ken Kesey who earlier wrote the classic "One Flew Over the Cuckoo's Nest" that got me going – The film featured a tune composed by Marilyn and Alan Bergman titled "All His Children".  That got me going on Charley Pride and I went back a year or so in time and located a copy of "Is Anybody Going to San Antone" from 1971 and then "Kiss an Angel Good Mornin'" from that same year.
The dyke was broken and so I embarked on listening to the current country hits, purchasing many of them, and once that was underway it was only natural that I would jump back into the past combing the few used record outlets around Denver at the time for country gold.
Tammy Wynette was right up toward the top and George Jones to a lesser extent.  Got real weepy over Tex Ritter's 1967 B side hit "Just Beyond the Moon".  That plunged me back into my past obsession with all things Johnny Cash.  This was followed by Johnny Rodriguez, Bobby Bare (and son), Tom T. Hall, Tommy Cash, Tanya Tucker and even Hank Williams Jr.  Don Williams from the Poco Seco Singers couldn't miss and on and on it went!
My collection already contained all his Sun recordings and many of his very early Columbia tracks – and Janet had curiously latched onto a copy of "Ring of Fire" in 1963 while a junior in Catholic High School.  "Sunday Morning Coming Down", "Ira Hayes", "It Ain't Me Babe", "The One on the Right Is On the Left", "Rosanna's Goin' Wild", "See Ruby Fall" and "What is Truth" all ranked up very high for me.
I became more thankful that I had been able to attend a Johnny Cash concert back while stationed in Albuquerque in 1969 – a show that co-featured his wife June, The Statler Brothers and Carl Perkins!  So my second country run was – now looking back – the most satisfying of the three stages I went through – The next would come nearly two decades later when Country exploded into the mainstream – spurred on by an unanticipated source – my teenage daughter who went country in a big way!
Country Is – Living in the City (Tom T. Hall)
I expect that Part 3 will be my final sojourn into country music.  I occasionally catch a listen to a current country tune or two.  The fire is gone for me.  Seems country has been influenced by the "American Idol Fits All" approach to music.
I call it all "Opera Warbling".  I'll swear now more than ever the artists sound so much alike – That's a generalization which would hold water but it's my generalization – my choice – and that's okay….
So my final journey into country came at the hands of a source I didn't see coming….  My teenage daughter Ronnie!  In her earliest stages she worked her way first from Mickey Mouse and proceeded from there into Kiss!
Over a period of about two years ours was the pursuit Kiss novelties – games – coloring books – shirts – school binders – pencils – records of course (I was able to best assist her in that category) and then there were the Kiss Dolls!  Came the holiday season we were able to easily locate three of the four – but number four – Gene Simmons – could not be found in Denver.  We were frantic.
We must have traveled about five thousand miles and went through gosh knows how many tanks of gas searching every possible outlet.  Somehow – just before Christmas Simmons was found – I can't remember where.  But placing only three members of Kiss under the Christmas tree would have been the equivalent of placing three Beatle Dolls under the tree – admitting finally that Paul indeed was dead!
Then came musical and motion picture in 1982 – "Annie" – Oh God the Annie phase was something to behold.  Her mom accompanied her to the motion picture and upon her return – Annie officially resided in our home.  There were nightly performances in our living room featuring "Annie" (our daughter) and little "Molly" (our then four year-old song).  Molly came complete with a little flowered dress and an adorable bonnet.
Annie knew every song in the soundtrack – God did she know every song – and Molly was delegated to mostly a backup singer roll – with the exception of taking the lead on the song "Maybe".  This was poetic license on the part of my daughter – who relinquished the song in order to spotlight her little brother.
So for what seemed like about 10 years – around our house it was All-Annie-All-The Time.
Babbling Brooks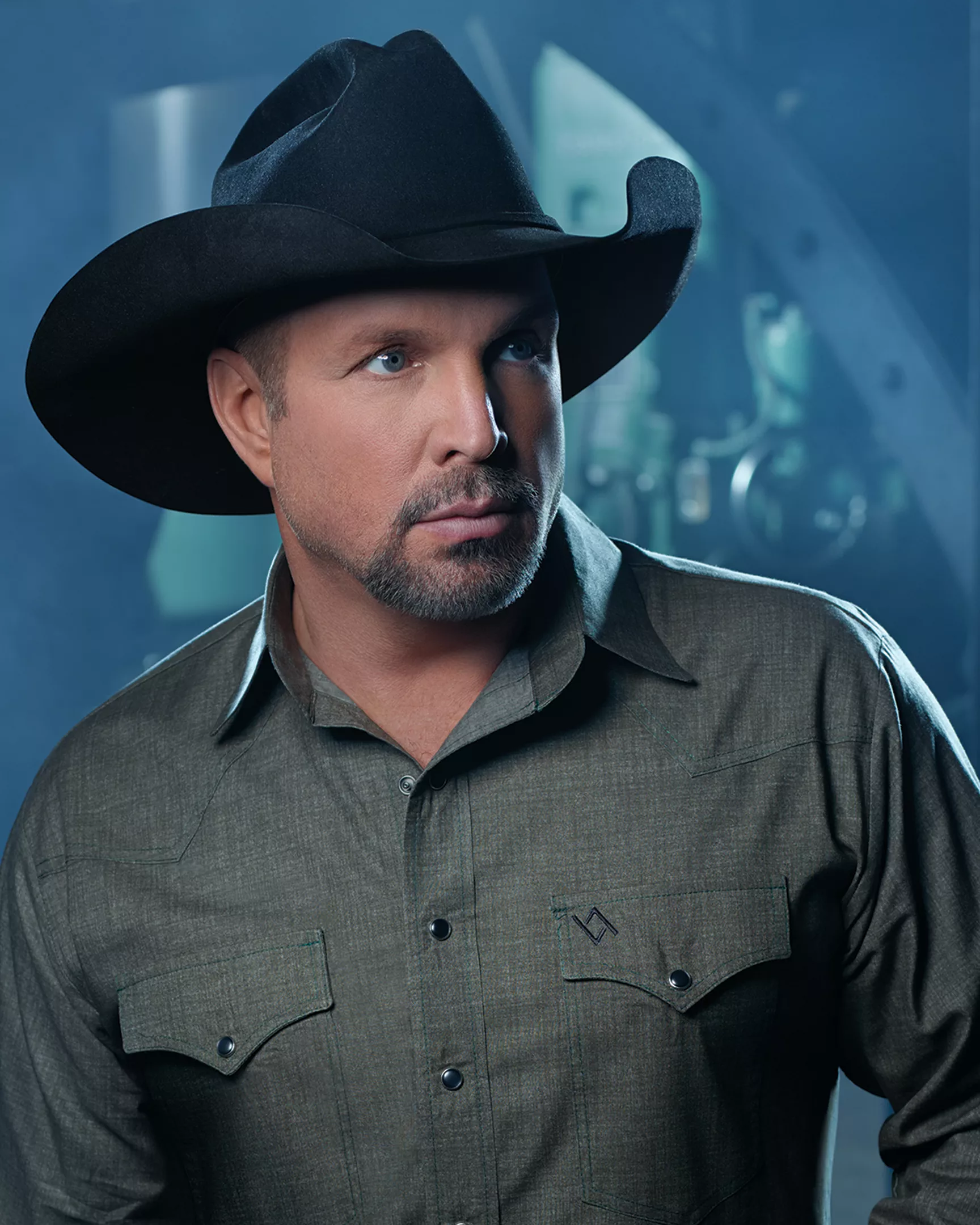 Ronnie moved on eventually, became a "dancing girl" in middle school and then came her high school years.  I'm not sure what happened.  We have never really talked about it.  But in the Spring of 1990 country singer Garth Brooks landed on the Hot 200 LP charts with "Garth Brooks" which reached number 13.  Brooks entered the country charts a year earlier with a number eight hit "Much Too Young" – a nice beginning – but then things exploded.  He would go on a tear with 11 straight top ten country hits and within five years time would have 15 number one country singles.
Interestingly he wouldn't really be considered a successful singles "crossover" country star.  His first Hot 100 hit would come later in 1994 "Hard Luck Woman" reaching only number 45 on the "Adult" charts only.  His singles success was very modest with his best showing coming in 1999 recording as the fictional character "Chris Gaines" a role which Brooks was to take on in a proposed motion picture called "The Lamb".  That project never made to production.  After "Hard Luck Woman" Brooks would never again enter the Top 20 on the Pop Charts.  But it was a whole different story on the Billboard Hot 200.  His fanatic following elevated him to super star status scoring 13 Top Ten LP's including eight number one's.
Incredibly – when the smoke finally cleared, Brooks would rank in the top three recording artists of all time – along with Elvis and The Beatles! (that up and down story is fodder for another Post)
And so with the corral gates wide open, others would stampede through into the pop mainstream not the least being Clint Black (13 Country number 1's), Randy Travis (16 Country number 1's) and Alan Jackson (24 Country number 1's).  Around our house Clint Black was my daughter's king country guy.  There were large portions of Dwight Yoakam, Vince Gill and Mark Chestnut – There was a little bit of Alabama and John Anderson and a tad of Marty Stuart for good measure.
Although Brooks ranked number 1 country for the decade of 1990's – it would be hard to top George Strait's 43 number one country hits!  By comparison Eddy Arnold had 28 but also 143 charting country singles compared to 107 for Strait. Johnny Cash logged 135 country chart hits and did far better than Garth on the Billboard Pop Charts with 48 hits.
(Brooks ranks number 3 all-time country behind number 1 Eddy Arnold and number 2 George Jones.  Johnny Cash is number 4 and Brooks number 23.  Top country female is Dolly Parton (number 8 overall) followed by Reba McEntire (11), Loretta Lynn (#21) and Tammy Wynette (#30).
I remember my daughter drilling my wife down in our basement on the intricate steps of the dance accompanying "Achy Breaky Heart" (number 1 Country for five weeks).  Ronnie talked me into taking her to a Randy Travis concert at the Auditorium Arena in Denver.  I agreed to go only because the queen Tammy Wynette was on the bill – I was very disappointed when she was scratched due to an illness.  But that night was rewarded by a artist I didn't know sharing the bill with Travis – Alan Jackson.  He would pretty much become my own favorite along side of Dwight Yoakum who's songs rocked out with that big twangy guitar!
The Grizzly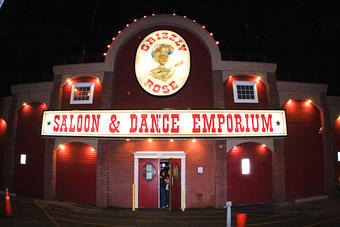 My daughter started dressing the part, hat, boots – and found creative ways to ride horses including a few rentals and sweet talking a nearby cow hand into letting her ride one of the older mares housed on his ranch.  We lived in the outer eastern reaches of the metro area and horse properties were nearby.
A few years later we would auction off her Kiss memorabilia collection and netted enough for her to buy her own horse – "Elway" – who started off as a riding horse but as he aged became a great big old pet!  Ronnie talked her friend from high school into going country also and the of them would beg either my wife or myself into taking them out to Denver's premier country dance venue "The Grizzly Rose" on Sunday nights when they opened the doors to accompanied minors.
I would sit and watch for several hours as urban cowboys and cowgirls would fall into the never ending line dances.  The DJ would usually dip back into the "country oldies" stash of 45's to play the flip side of his hit "Workin' Man's Blues" – "Silver Wings" a song which never charted but was held in high reverence by the country crowd – clamoring to do "The Cowboy Cha Cha".  Ronnie seemed to me to be absolutely the best dancer of all throwing in extra moves, twists and turns, getting lots of attention out on the dance floor!  In later years she would form a retro 80's dance troupe in Denver called "Fire Fox".
The country craze would never really end – there was always some room for country music – still is – but not like that run in the 1990's.  I haven't purchased a country song for over two decades.
Occasionally I'll hear one of the old tunes.  Gets my toe to tappin'.. and if I need to get a dose of country music – I bypass the 1990's I just pull out "Monday Morning Secretary", "Understand Your Man", or "(Old Dogs and Children) and Watermelon Wine" and I'll do fine – just fine – thank ya mam!