Country Is – Living in the City (Tom T. Hall)
I expect that Part 3 will be my final sojourn into country music.  I occasionally catch a listen to a current country tune or two.  The fire is gone for me.  Seems country has been influenced by the "American Idol Fits All" approach to music.
I call it all "Opera Warbling".  I'll swear now more than ever the artists sound so much alike – That's a generalization which would hold water but it's my generalization – my choice – and that's okay….
So my final journey into country came at the hands of a source I didn't see coming….  My teenage daughter Ronnie!  In her earliest stages she worked her way first from Mickey Mouse and proceeded from there into Kiss!
Over a period of about two years ours was the pursuit Kiss novelties – games – coloring books – shirts – school binders – pencils – records of course (I was able to best assist her in that category) and then there were the Kiss Dolls!  Came the holiday season we were able to easily locate three of the four – but number four – Gene Simmons – could not be found in Denver.  We were frantic.
We must have traveled about five thousand miles and went through gosh knows how many tanks of gas searching every possible outlet.  Somehow – just before Christmas Simmons was found – I can't remember where.  But placing only three members of Kiss under the Christmas tree would have been the equivalent of placing three Beatle Dolls under the tree – admitting finally that Paul indeed was dead!
Then came musical and motion picture in 1982 – "Annie" – Oh God the Annie phase was something to behold.  Her mom accompanied her to the motion picture and upon her return – Annie officially resided in our home.  There were nightly performances in our living room featuring "Annie" (our daughter) and little "Molly" (our then four year-old song).  Molly came complete with a little flowered dress and an adorable bonnet.
Annie knew every song in the soundtrack – God did she know every song – and Molly was delegated to mostly a backup singer roll – with the exception of taking the lead on the song "Maybe".  This was poetic license on the part of my daughter – who relinquished the song in order to spotlight her little brother.
So for what seemed like about 10 years – around our house it was All-Annie-All-The Time.
Babbling Brooks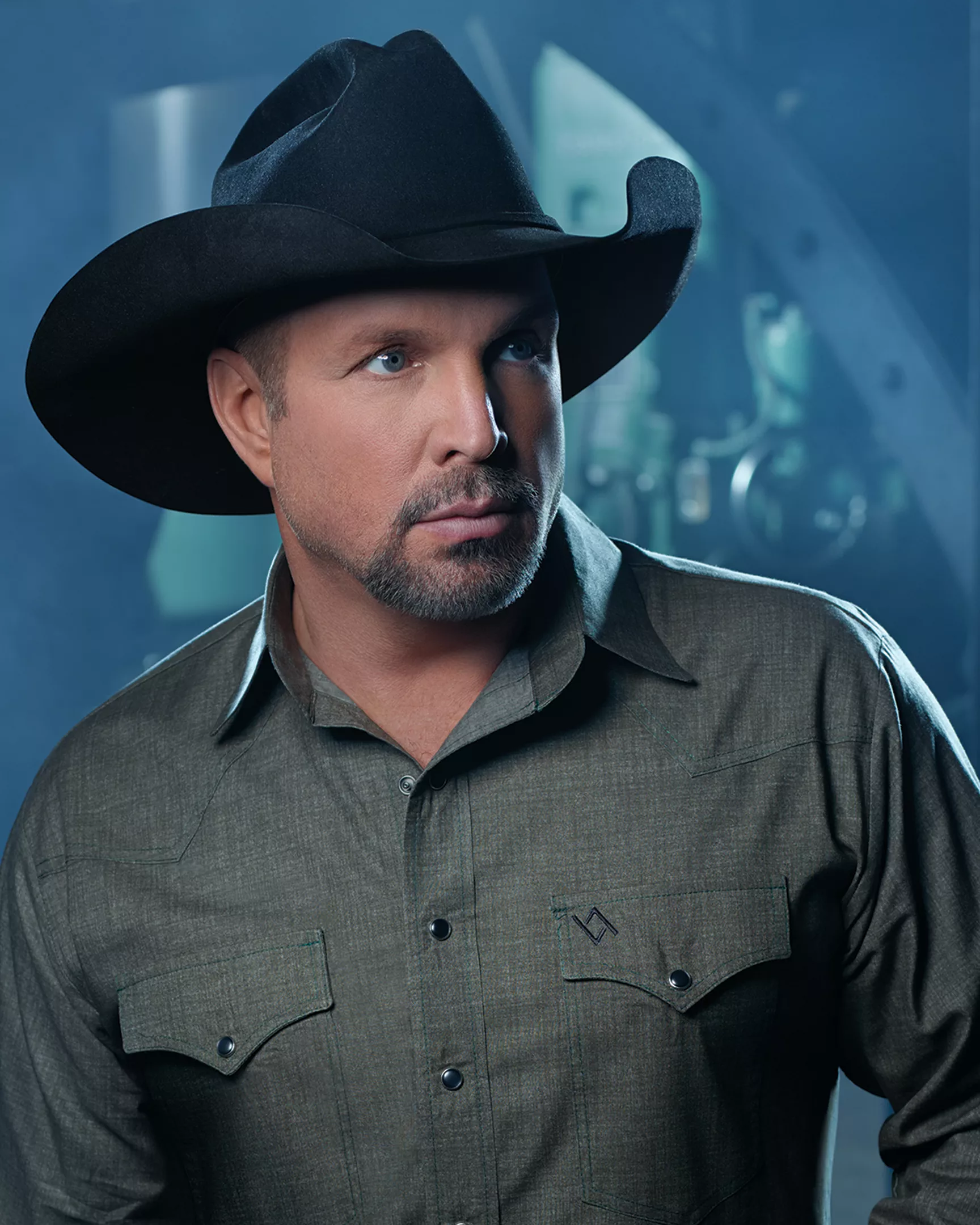 Ronnie moved on eventually, became a "dancing girl" in middle school and then came her high school years.  I'm not sure what happened.  We have never really talked about it.  But in the Spring of 1990 country singer Garth Brooks landed on the Hot 200 LP charts with "Garth Brooks" which reached number 13.  Brooks entered the country charts a year earlier with a number eight hit "Much Too Young" – a nice beginning – but then things exploded.  He would go on a tear with 11 straight top ten country hits and within five years time would have 15 number one country singles.
Interestingly he wouldn't really be considered a successful singles "crossover" country star.  His first Hot 100 hit would come later in 1994 "Hard Luck Woman" reaching only number 45 on the "Adult" charts only.  His singles success was very modest with his best showing coming in 1999 recording as the fictional character "Chris Gaines" a role which Brooks was to take on in a proposed motion picture called "The Lamb".  That project never made to production.  After "Hard Luck Woman" Brooks would never again enter the Top 20 on the Pop Charts.  But it was a whole different story on the Billboard Hot 200.  His fanatic following elevated him to super star status scoring 13 Top Ten LP's including eight number one's.
Incredibly – when the smoke finally cleared, Brooks would rank in the top three recording artists of all time – along with Elvis and The Beatles! (that up and down story is fodder for another Post)
And so with the corral gates wide open, others would stampede through into the pop mainstream not the least being Clint Black (13 Country number 1's), Randy Travis (16 Country number 1's) and Alan Jackson (24 Country number 1's).  Around our house Clint Black was my daughter's king country guy.  There were large portions of Dwight Yoakam, Vince Gill and Mark Chestnut – There was a little bit of Alabama and John Anderson and a tad of Marty Stuart for good measure.
Although Brooks ranked number 1 country for the decade of 1990's – it would be hard to top George Strait's 43 number one country hits!  By comparison Eddy Arnold had 28 but also 143 charting country singles compared to 107 for Strait. Johnny Cash logged 135 country chart hits and did far better than Garth on the Billboard Pop Charts with 48 hits.
(Brooks ranks number 3 all-time country behind number 1 Eddy Arnold and number 2 George Jones.  Johnny Cash is number 4 and Brooks number 23.  Top country female is Dolly Parton (number 8 overall) followed by Reba McEntire (11), Loretta Lynn (#21) and Tammy Wynette (#30).
I remember my daughter drilling my wife down in our basement on the intricate steps of the dance accompanying "Achy Breaky Heart" (number 1 Country for five weeks).  Ronnie talked me into taking her to a Randy Travis concert at the Auditorium Arena in Denver.  I agreed to go only because the queen Tammy Wynette was on the bill – I was very disappointed when she was scratched due to an illness.  But that night was rewarded by a artist I didn't know sharing the bill with Travis – Alan Jackson.  He would pretty much become my own favorite along side of Dwight Yoakum who's songs rocked out with that big twangy guitar!
The Grizzly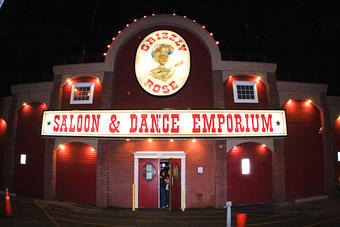 My daughter started dressing the part, hat, boots – and found creative ways to ride horses including a few rentals and sweet talking a nearby cow hand into letting her ride one of the older mares housed on his ranch.  We lived in the outer eastern reaches of the metro area and horse properties were nearby.
A few years later we would auction off her Kiss memorabilia collection and netted enough for her to buy her own horse – "Elway" – who started off as a riding horse but as he aged became a great big old pet!  Ronnie talked her friend from high school into going country also and the of them would beg either my wife or myself into taking them out to Denver's premier country dance venue "The Grizzly Rose" on Sunday nights when they opened the doors to accompanied minors.
I would sit and watch for several hours as urban cowboys and cowgirls would fall into the never ending line dances.  The DJ would usually dip back into the "country oldies" stash of 45's to play the flip side of his hit "Workin' Man's Blues" – "Silver Wings" a song which never charted but was held in high reverence by the country crowd – clamoring to do "The Cowboy Cha Cha".  Ronnie seemed to me to be absolutely the best dancer of all throwing in extra moves, twists and turns, getting lots of attention out on the dance floor!  In later years she would form a retro 80's dance troupe in Denver called "Fire Fox".
The country craze would never really end – there was always some room for country music – still is – but not like that run in the 1990's.  I haven't purchased a country song for over two decades.
Occasionally I'll hear one of the old tunes.  Gets my toe to tappin'.. and if I need to get a dose of country music – I bypass the 1990's I just pull out "Monday Morning Secretary", "Understand Your Man", or "(Old Dogs and Children) and Watermelon Wine" and I'll do fine – just fine – thank ya mam!