The "Female Elvis" – a Little Bit Country a Little Bit Rock n' Roll
Janis Martin was born in Sutherlin, Virginia in March of 1940 – Janis Darlene Martin.
Her earliest influences (beyond her own musical family) were country stars Hank Williams (of course) and Eddy Arnold.  Entering a singing contest a very young age  in her home state – she walked away the winner out of a competing field of over 200 contestants.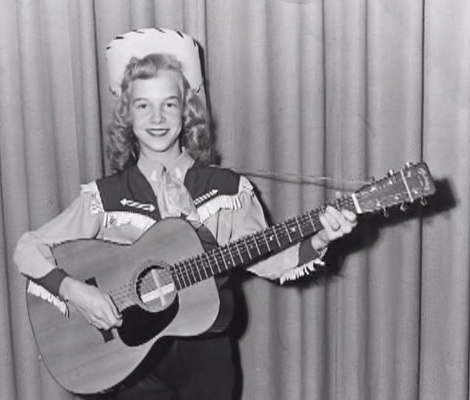 This placed her on a path to further her career traveling and performing with Cowboy Copas along with country singer Mary Workman who performed as "Sunshine Sue" on the "Old Dominion Barn Dance" out of Richmond, Virginia.  Young Martin would join Sue on the Barndance as a regular member.
Country music would hold her for a couple of years but then it was time to cut loose and take a shot at rock and roll.  Her entry way into rockabilly was a song titled "Will You Willyum".  She recorded the song to help out radio station WRVA DJ Carl Stulz – providing him a demo record for him to pitch.  When RCA executives listened to the demo they requested that the girl on the demo be given the opportunity to formally record it for RCA.
Although the song did not dent the national Hot 100 or the country charts – it enjoyed steady sales and over time sold more than three quarters of a million copies.
Because Martin had signed on with RCA just a couple of months behind Elvis Presley, it was only natural that the label would hype her as "the female Elvis".   Presley's manager, Colonel Tom Parker (never really a colonel) approached Martin's family about taking her under his wing.  The Martin's had learned that Elvis had recently collapsed after a performance from exhaustion and so made the decision not to place their daughter's fate in his hands.
Janis would sign on with a Jim Reeves tour and continue to record for RCA.  She made at least one appearance on American Bandstand as well as Steve Allen's "Tonight Show" and also appeared at the Grand Ole Opry – as she was also recording country music.  In 1957 Janis would join a large troupe of RCA artists touring Europe – including The Browns, Hank Locklin, Jim Reeves and Del Wood all pictured below.
Trouble For Janis
Janis stayed on with RCA  into 1958 cutting 11 singles – before a controversy struck.  Martin married at the young age of 15 – something that her parents attempted to keep quiet but when RCA learned of her marriage (and a pregnancy) she was promptly dispatched.
A 10-inch RCA Victor LP titled "Janis & Elvis" on RCA in South Africa somehow made it to the record stores in that country.  But the parent company in the States quickly squashed it – having it pulled from the shelves.  South African copies of that LP are hard to locate – a 1984 French release is shown here – an unauthorized reproduction.  The LP provided the public with an idea that Elvis and Janis were actually singing together – which they were not.
She released a few more singles  two on Palette in 1960 – and that was pretty much the end of her recording career.  She did gain favor in Europe later on in the 1970's and 1980's in Europe as so many American rockers have done – toured awhile and appeared on some compilation albums and such.
Sadly Janis Martin passed away in 2007 losing a battle to cancer at the age of 67.  She wasn't our first female rocker, but she was a good one – making her rockabilly forerunners proud.
Janis Martin Singles Discography
RCA 47-6491 – April, 1956
RCA 47-6560 – June, 1956
RCA 47-6652 – September, 1956
RCA 47-6744 – November, 1956
RCA – 47-6832 – March, 1957
RCA 6983 – July, 1957
RCA EP – EPA 4093 – July, 1957
RCA 47-7104 – November, 1957
RCA 47-7184 – March, 1958 (B side "Good Love")
The Cash Box ad below (Martin shown lower left) announced that Janis had released this single as well as appearing on March 8th, 1958 on the "New Dominion Barn Dance".  Further announces a national tour including "American Bandstand", and the Wisconsin State Fair.
RCA 47-7318 – August, 1958
Palette PZ 5058 – August, 1960
Palette PZ 5071 – September, 1960
Big Dutch Label BD-2085 – October, 1977
Big Dutch Label BD-2086 EP – December, 1977
Fluke 1003 – 1980
Rockabilly and Rocking Gals
Only a select few managed to break through with chart success:
Wanda Jackson
Wanda Jackson generally alone but sometimes with others ("The Party Timers" and duets with Billy Gray) managed 30 charts recordings on the Country & Western charts between 1954 and 1970.
She cracked the Country Top 10 three occasions with "In the Middle of a Heartache" being her most successful at number 6.  Three of her singles "crossed over" to the Hot 100.
Rose Maddox
Rose successfully transitioned from her time with her brothers in "The Maddox Brothers and Rose" to go solo.  Her family group was credited on the Ken Burns' documentary with being the first 'rockabilly' recording/performing stars.  None of their recordings from 1948 on into the later 1950's would reach the country charts but their popularity transcended their recordings – They broke out of the poverty of migrant workers who had traveled from Alabama to California – when – according the the Burns program – one of the brothers had enough of migrant misery and decided that music would be their escape.
Rose – beginning in 1959, placed 14 songs on the country charts – She teamed up with Buck Owens who had migrated to Bakersfield, California for four of those tracks.
Brenda Lee
Brenda Lee – born Brenda Mae Tarpley – from the beginning was a rockabilly ball of fire – who smoothly proceeded on to achieve a career on the charts which places her near the top of all female artists.  Brenda placed 55 songs on the Hot 100, achieving two number one's ("I'm Sorry" and "I Want To Be Wanted" both in 1960 and 12 Top Tens.
Brenda had only one country charting single during her first 13 years with Decca Records – "One Step at a Time" in 1957.  But then in 1969 Brenda again made the cross over with "Johnny One Time" and then again in 1971 with "If This Is Our Last Time".  From there on – Brenda was 'country' all the way – placing 33 songs on the C&W charts – none of which went Hot 100.
Appropriately enough perhaps – her "Rockin' Around The Christmas Tree" – which had first charted at number 14 in 1960 on the pop charts (and again in 1961 and 1961) would be Brenda's final chart appearance – reaching number 62 Country in 1998.  The picture sleeve shown below on the left was actually issued in 1958 – a year in which it did not chart – The sleeve on the right is the 1960 reissue.
Click Here to visit my Brenda Lee Page "A Rock-A-Billy Journey"
Linda Gail Lewis
Linda Gail Lewis, younger sister of pioneer rocker Jerry Lee Lewis – never dented the Hot 100 charts with a rockabilly song – but rockabilly is indeed how she kicked off her career.  Her first release on ABC-Paramount "Break Up The Party" was a hard rocker – followed in 1966 with "Jim Dandy" on Columbia.  In short order she would settle down and turn to traditional country – with limited solo success – placing three songs on the C&W charts – and placing two more singles on those charts – teaming up with big brother Jerry.
Following is a selective presentation of some of the ladies who gave us rock and roll!
CHARLINE ARTHUR – RCA VICTOR – 1955
(Texas)
BABETTE BAIN – RENDEZVOUS – 1959
(Riselle Babette Bain – starred in a handful of motion pictures)
BETTY BARNES – TNT – 1955
LILLIAN BROOKS – EPIC – 1955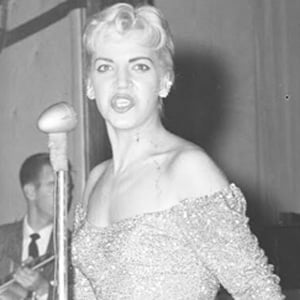 JO ANN CAMPBELL – ELDORADO – 1957
(Jacksonville, Florida – Placed 4 songs on the national Hot 100 charts)
JEAN CHAPEL – SUN – 1956
(Opal Jean Amburgey – Neon, Kentucky)
LORRIE COLLINS – COLUMBIA – 1959
(Lawrencine May Collins – Tahlequah, Oklahoma – former girl friend of Ricky Nelson – teamed with brother Larry in the "Collins Kids".)
JACKIE DEE – GONE – 1957
(Jackie DeShannon)
LORRAE DESMOND & HER REBELS – PARLOPHONE (UK) – 1957
JOYCE HARRIS – DOMINO – 1960
(Bowling Green Kentucky – also performed as "Sinner Strong" – she recorded with the Texas group "The Slades"  singing on their 'answer song' to "You Cheated" titled "I Cheated" show below – She started off singing with her sister Judy and recording together as Joyce and Judy)
WANDA JACKSON – CAPITOL – 1957
(Wanda Lavone Jackson – Maud, Oklahoma)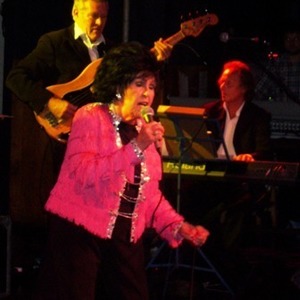 BRENDA LEE – DECCA – 1957
(Brenda Mae Tarpley – Atlanta, Georgia)
ALIS LESLEY – ERA – 1957
(Alice Lesley – Chicago, Illinois – the "female Elvis")
LINDA GAIL LEWIS – ABC-PARAMOUNT – 1965
(Ferriday, Louisiana – sister of Jerry Lee Lewis)
MARGARET LEWIS – RAM – 1959
(Margaret Ann Lewis – Snyder, Texas – with "The Thunderbolts" – sang back-up on some Dale Hawkins recordings
ROSE MADDOX – COLUMBIA – 1955
SPARKLE MOORE – FRATERNITY – 1956
(Barbara Morgan – Omaha, Nebraska)
BUNNY PAUL – ESSEX – 1954
(Detroit, Michigan)
LAURA LEE PERKINS – IMPERIAL – 1958
(Alice Faye Perkins – Virginia)
BARBARA PITTMAN – SUN – 1956
(Memphis, Tennessee)
SALLY STARR – CYMAX – 1959
(Sally Beller – Kansas City, Missouri)
SUE THOMPSON – MERCURY – 1952
(Eva Sue McKee – Nevada, Missouri)
THE TRACEY TWINS – RESERVE – 1955
(Eudi and Euni – Cleveland, OH)