Brian-less Beach Boys
In the beginning there were the Beach Boys ("Pendeltones/Surfers") with Al Jardine – Then there was the Beach Boys without Jardine – replaced by David Marks.
And then David Marks was gone replaced by Al Jardine…. Well, not quite.
Because along the way with these comings and goings – there was Al Jardine AND David Marks….. without Brian Wilson!  An interesting side note – very early on in the career of the Beach Boys, it was the young Dennis Wilson who the band considered not retaining in the group.  Dennis didn't particularly like to rehearse was not a drummer of any considerable merit…..
But!  He was a surfer and was the driving spirit behind the group – first suggesting that the group needed to record a surfing song with words because – in general – no one was recording anything but instrumentals.
Sometime into 1963 David Marks' parents began to not trust Murry Wilson when it came to fairly paying their son.  A lot of friction was brewing
In the meantime the Beach Boys were now occasionally venturing outside of the their California stomping grounds performing in Arizona (January) and the State of Washington (March) – with Brian Wilson part of the group.  These excursions were brief – usually with just a few performances before heading home.
Then came the time to take the act to other States based on considerable recording success – Their debut long play "Surfin' Safari" had made it to the number 32 chart position on Billboard and five of their singles had found their way onto the Hot 100 – with "Surfin' U.S.A." going all the way to number 3.
So the Beach Boys were all set to hit the road big time but their was a hiccup:  Group leader Brian Wilson did not want to go!  And indeed he would not go.  This rocked the band's confidence – How could they tour without Brian's leadership and his soaring lead falsetto's?  Brian was much more interested in diving into the recording studio or working on his compositions – or working with other artists.
So Brian placed a call to Al Jardine and asked him to take his place on the tour.  Al agreed and recalled that when he showed up at the airport in California to join the group he thought he would receive a hero's welcome – but a suspicious Murry Wilson provided him with a frosty reception – like he was an outsider.
The tour proceeded – with Al taking Brian's vocal parts – and so we now had Dennis, Carl, Mike and Al along with David Marks!  Publicity photos run by newspapers on the tour route would naturally show the usual five Beach Boys without Al Jardine such as this May 3rd ad from Excelsior Park, Minnesota.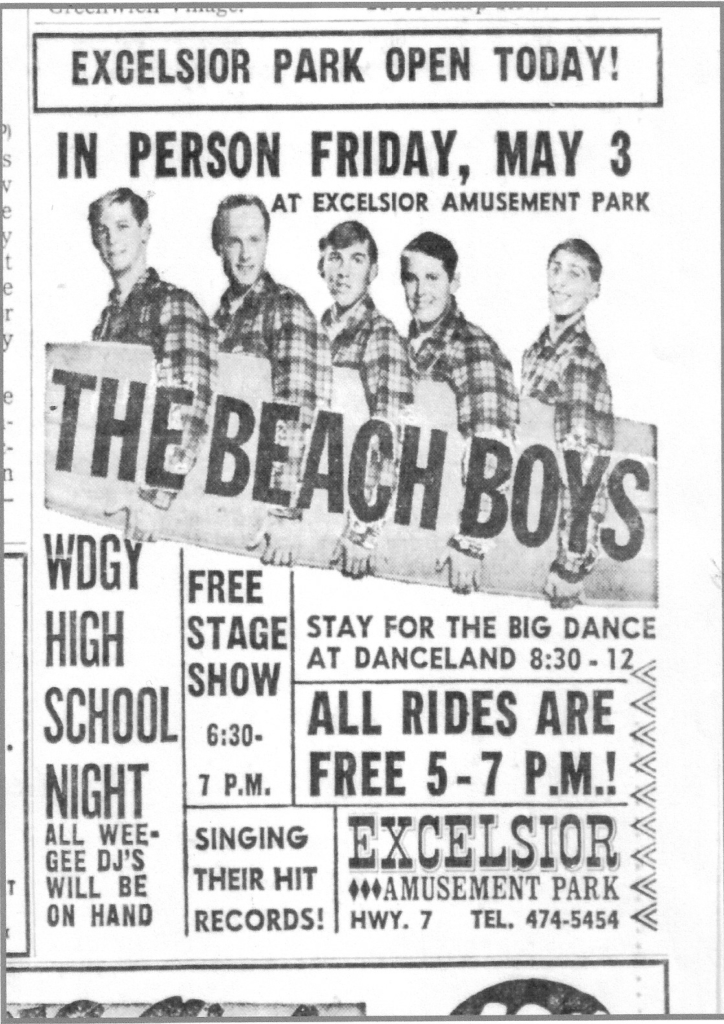 Capitol Records never publicized the Jardine replacement and certainly didn't release photos of the group sans Brian.  But a few shots taken during various performances outside California indeed show the Jardine/Marks tandem without Brian.
In fact, there were a few California performances during this period of time which attest that Brian sometimes skipped performances in his home State.
The Explosion between Marks and Murry came on August 22nd, 1963 – when Marks during a rage quit the Beach Boys.  But his resignation didn't take affect immediately – He remained on for more than a month – and 10 more performances.Below he is shown just three days after quitting, on August 25th in Sageville, Iowa – again with Jardine and minus Brian who again had remained home.
And so the Beach Boys would carry on – Touring still was difficult for Brian and that coupled with his personal problems would often interfere with his participation.  The band would get a big boost in April of 1965, taking the place of temporary member Glen Campbell – who was with the group from late 1964 until the Spring of 1965.
It was a testament to Carl Wilson guitar talent that Campbell assumed Brian's bass duties – with Glen being one of the premier guitar players in the world!
Glen had been serving as the lead falsetto singer a role that Bruce would assume.  Johnstons' first big lead vocal part would be on the hugely successful "California Girls".  Bruce would remain with the Beach Boys from 1965 into 1972 before once again going solo.
And finally, on February 12th, 2012 – Bruce Johnston, Brian Wilson, Al Jardine, Mike Love and David Marks would come together to record one final time and appear on 2012 Grammy Awards.  From there is was back to feuding and fightin'…