Ken Maynard – The First Buckaroo to Croon on the Silver Screen
Cited as the 'silver screen's' first singing cowboy – Maynard was born Kenneth Olin Maynard in 1895 in Vevay, Oklahoma.  His first foray into the entertainment world came by working in circuses and traveling carnivals as a labor hand and doubling as a horse rider/performer.
He took time off to serve in World War I and upon his return to the U.S. joined up with Ringling Brothers Circus when the famed circus came through Los Angeles.
He kicked off his motion picture career in the silent films of the 1920's appearing first as a stunt man and then in bit roles.  His extreme good lucks and riding prowess soon earned him spots as the leading man.  His horsemanship and stunts were accomplished and daring – and so he continued to do all of his own riding in films.
Maynard was often filmed 'close up' by directors to convince viewing audiences that it was indeed he doing the riding.  He was so skilled that later down the road directors would insert Maynard riding footage from his earlier films into films of upcoming stars such as John Wayne and others in 1930's pictures with sound – going so far as to have the star cowboy actors dress exactly as Maynard had been dressed in the earlier1920's film clips.
Maynard appeared in more than 30 silent films in the 1920's but then in 1929 it was Maynard's time to enter talking pictures, becoming America's first singing cowboy.  His first singing role came in a "short" film titled "The Voice of Hollywood" with Ken crooning a song called "Drunken Hiccoughs".  That song was first recorded two years earlier in 1927 by Harvey Watson on the Challenge record label – a label launched by Sears-Roebuck Company in 1926 featuring recordings which were contracted from other labels – to be sold in the S-R stores (to be the subject of an upcoming Post).
The Wagon Master
Most historians like to cite "The Wagon Master" as the first full-length motion picture featuring a singing cowboy – Maynard of course.  The film was released in 1929 by Universal Films.  Maynard was referred to in the picture simply as "The Rambler".
This movie is not be confused with the 1950 picture of the same title directed by John Ford – a movie which gave birth the the "Wagon Train" TV series.  Ward Bond was the sole actor from "The Wagon Master" who was brought over to the "Wagon Train" TV series.
In spite of his status of the premier singing cowboy – Maynard found his way onto vinyl only once – with both tracks coming in 1930 on the Columbia record label, tracks coming from the motion picture "The Wagon Master".  On the 78 Maynard is cited as "The American Boy's Favorite Cowboy".
Rough Riding Ahead
Maynard continued on in films starring in more than 40 westerns leading up to the 1940's.  But his acting path was a stormy one – Maynard fought alcoholism accompanied by a violent temper – which cost him his contract with Universal Pictures in 1934 being dismissed by Universal from their planned "Mystery Mountain" film series.  His place would be taken by an up and comer – Gene Autry.
Ken did continue to appear in films after his dismissal – in lesser roles.  Then, after a few years sabbatical, he returned to the screen signing on with Monogram Pictures appearing in a series called "The Trail Blazers", paired up with fellow singing cowboys Bob Steele and "Hoot" Gibson.  Maynard's explosive temper again surfaced – based on his dislike of Steele – and again he was dismissed.  This time, his place was taken by singing cowboy Eddie Dean. (Autry and Dean shown below)
From there Maynard took jobs appearing in local rodeos and state fairs – and then took a crack at forming his own circus – a failing adventure.  He went through his entire earnings which represented a fortune – continued to drink – a led a desolate life residing in a small trailer – all but forgotten.  Articles speculate that Maynard received an anonymous stipend to keep him afloat – speculated to be one of the most famous singing cowboys of all – and a one-time Maynard replacement – Gene Autry.
The Last Roundup
Ken made one last attempt at a comeback in 1970 appearing in "Bigfoot" – a somewhat ridiculous "B" movie which exploited the "Sasquatch" legend portraying it as  a raving monster.  It was a "B" film all the way in spite of a cast which featured the renown John Carradine as well as Robert Mitchum's son Christopher and one of Bing Crosby's four sons – Lindsay.
Note the lower frightening caption "Breeds with Anything"! (Whew!!!)  On the promotional poster it appears that "Big Foot" is terrorizing the Hells Angels, the U.S. Army and all of mankind.  Should have just left him alone in the remote forests of the northwest seeking out berries foraging for insects and grubs.
"Bigfoot" would be Maynard's final moment on the screen – and sadly he passed away three years later in 1973 losing a battle to cancer.  Thankfully, before he died, he was honored in the Hollywood Walk of Fame in 1960.
Selected Filmography for Ken Maynard
Cameo Kirby – 1923 Silent – Uncredited Role
Silent Reward – 1924 Silent – Maynard as "Tex Sherwood"
Northstar – 1925 Silent Film – Maynard as "Noel Blake"
Senor Daredevil – 1926 Silent Film – Maynard as "Don Luis O'Flaherty" (the daredevil)
The Red Raiders – 1927 Silent Film – Maynard as "Lt. John Scott"
The Canyon of Adventure – 1928 Silent Film – Maynard as "Steven Bancroft"
The "Talkies" Arrive!
The Sons of the Saddle – 1930 Film – Maynard as "Jim Brandon"
Arizona Terror – 1931 Film – Maynard as "The Arizonian"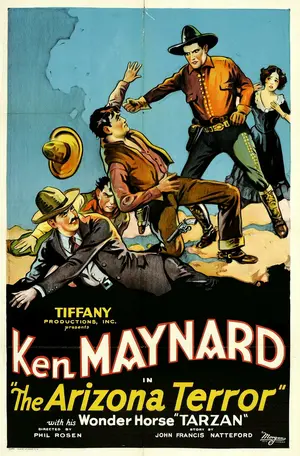 The Texas Gunfighter – 1932 Film – Maynard as "Bill Dane"
Phantom Thunderbolt – 1933 Film – Maynard as "The Thunderbolt Kid"
Honor of the Range – 1934 Film – Maynard as "Sheriff Ken & Brother Clem"
The Heir To Trouble – 1935 Film – Maynard as "Ken Armstrong"
The Cattle Thief – 1936 Film – Maynard as "Ken"
Trailin' Trouble – 1937 Film – Maynard as "John Friendly Fields" & "Blackie Burke"
Six Shootin' Sheriff – 1938 Film – Maynard as "Jim Trigger Morton"
Death Rides the Range – 1939 Film – Maynard as "Ken Baxter"
The Phantom Rancher – 1940 Film – Maynard as "Ken Mitchell"
Wild Horse Stampede – 1943 Film – Maynard as "U.S. Marshall Ken Maynard"
Arizona Whirlwind – 1944 Film – Maynard as "U.S. Marshall"
(This film included Ken's nemesis Bob Steele)
The Marshall of Windy Hollow – 1972 Film – Maynard as "The Texas Ranger)
Ken Maynard's final motion picture