A Short Tale of Jay, Freddy & Audrey (and Marni)
The other night I found Janet upstairs watching "Turner Classic Movies" and there about a third of the way in was a scene with Audrey Hepburn reeking emotional havoc with bet-taker and societal London man-about-town Rex Harrison.
It all came back to me – the sound track to "My Fair Lady" was one of about a dozen of my mother's favorites at our home in west Denver.  When mom brought a soundtrack home from wherever she may have obtained it – this would have marked the beginning of stretch of say two or three months of marathon spins on our small portable hi-fi.
Side note:  Funny – I spent a huge portion of my waking time in the record stores and departments in and around our part of Denver but never once recall going into one with either of my parents – and never learning of just where they may have gone to pick up a long-play…… "Monkey" Wards?  J.C. Penny's?  "Sears?
Onto Lerner & Loewe
A chance meeting in a New York night spot brought the lyricist Frederick Loewe and song composer Jay Lerner together.  It happened when Fred was returning from the gentlemen's room passing by the seated Jay.
Jay recognized Fred – confirmed that he was a creator of lyrics – and there and then invited Fred to join him as a song team.  That was that! "Lerner & Loewe" was born.
My Fair Lady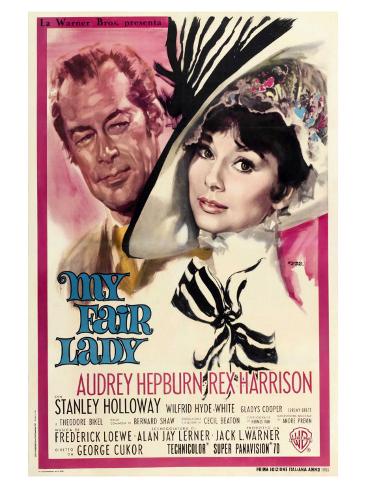 The original Broadway release of "My Fair Lady" debuted in 1956.  The film came along in 1964 – same year the Fab Four graced our shores.
At any rate I have to say that all of those marathon spins of "My Fair Lady" have stuck with me all of these years.  While watching the other night I slipped right back into 1964 singing along to "I Could Have Danced All Night", "With a Little Bit of Luck", "Get Me to the Church On Time" and all the rest.
I loved Stanley Holloway – his voice – his persona – in the role of Alfred Doolittle – rough edged father of equally rough edged daughter Eliza (Audrey Hepburn).
As often was the case in motion pictures – Eliza's vocals were dubbed in by vocalist Marni Nixon – with Hepburn permitted a single performance on "Just You Wait" where she was basically drowned out by a rowdy chorus of voices.
Marni Nixon was also the featured lead lady voice in the motion pictures "The King and I", "West Side Story" filling in for Maria and "Gentlemen Prefer Blondes".
The public was kept in the dark about the lead vocalist substitute in "My Fair Lady" for a few years.  Interestingly Hepburn did in fact lay down tracks to all of the film's numbers during he filming of the movie but the were placed in the can until 1990 when they were finally released.
Many listeners argued that the originals could well have been left in tact.  I adored Audrey Hepburn in this role and equally in her role as "Holly Golightly"  in "Breakfast at Tiffany's" – Tiffany's of course featured a the masterpiece composition "Moon River" a collaboration of the song writing giants – Henry Mancini and Johnny Mercer.
Rex Harrison on the other hand refused to pre-record his vocals arguing that he could not possibly replicate the delivery since it varied on his every take – based on him actually "talking-singing" his lines.
And so the film's sound people devised something entirely new for motion pictures – a wireless microphone!  This innovation resulted in an Academy Award!
Lerner and Loewe would also team up to compose for "Brigadoon" (1947), "Camelot" (1960), "Gigi" (1958) and "Paint Your Wagon" (1951).
Audrey Hepburn sadly passed away in 1993 losing a battle to a rare form of cancer.  She is buried in Switzerland.  She was 63.
Lerner and Loewe's final collaboration came in 1973 with "The Little Prince".  They remained close friends until the end. Jay Lerner died in 1986 at age 67.  Fred Loewe followed in February of 1988 at the age of 88.
But a soft spot for a good old fashioned musical remains with me today – sort of buried but itching to break out into a chorus of "On the Street Where You Live".
Now wouldn't that be loverly?