Many Moods and "Becoming the Beach Boys"
The introduction to Murphy's book took me a little by surprise.  Murphy relates a day in October of 1966 in the Bronx when his brother Richie breathlessly raced home to find James excited beyond description, and to head out to locate a record he had just heard on the radio.
Richie exclaimed, "I don't know what I just heard on the radio, but I've never heard anything like it.  We've got to find that record.  We've got to find it right now."
So here we are in 1966 after 26 recordings by the Beach Boys have hit the charts beginning back in early 1962 when "Surfin'" on the Candix record label peaked out at number 75 – and after 12 Beach Boy songs had entered the Top 10 including two number one's – we have Richie and James 'discovering' perhaps America's greatest rock and roll band.
But this was the Bronx – about as far away as you could get from Hawthorne, California.  The Richie discovery was "Good Vibrations" and so "Becoming the Beach Boys 1961-1963" begins.
Murry and the Wilsons
Murry Wilson in Beach Boys biographies generally doesn't receiver kind treatment.  Usually he is portrayed as at best somewhat abusive and at worst as someone bent on control and a total dictatorship towards' his sons.  James B. Murphy's "Becoming The Beach Boys 1961-1963 takes perhaps the most in-depth look at the man – the family and the dynamics from which one of our most treasured American groups gave rise.
There is much more to the story regarding Murry Wilson than we have been given previously.  Murry composed many songs far before we had the Beach Boys, and he registered more than two dozen songs with the publishing firms of the day, in particular BMI.
Murry would make the acquaintance of the song writing and promotion team – husband and wife Dorinda and Hite Morgan.  It was a meeting which would pay off in very big dividends for the Wilson family eventually and for all of America in time.  Hite Morgan would work hard to place Murry Wilson's songs with publishers.  Murry, for his part would travel around the Los Angeles area pitching his songs to DJ's.
Eventually, Morgan was able to obtain a recording session for young Brian Wilson for Art Laboe's new Original Sound label.  Art liked what he heard but thought that Brian was too young (just 15) and so he passed on the song "Chapel of Love" and gave instead to a singer by the name of Rodney Gooden backed by the "Hitmakers" in July of 1958.  The song was composed by Hite Morgan.
Other members of the group were Bobby Adams who had been with "The Calvanes" and the "Dundees" and Val Poluito of "The Jaguars".  (Bobby Adams shown)
"Becoming the Beach Boys" is so darned well researched and presented – with James Murphy digging in far deeper than where others have traversed.  So much history here and inside glimpses of the Wilson's finding their way to California and the Love's – the boys in their high school years and tons of precious tidbits.
Murry Wilson gets a fair treatment here.  Not all the stories are bad and his son's genuinely share fond memories of their early growing up days and they do have praise for their parents and the musical gift they received.
So that is enough for this review – The book is just to darn good to give any more of it away!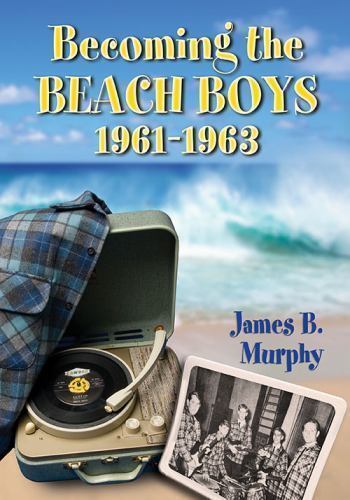 78 – The Four Flames – "Tabarin" – November, 1951
The Four Flames' "Tabarin" was the first Murry Wilson composition to be released on vinyl – It was brought to the attention of Specialty Records' founder Art Rupe and released on his then-new "Fidelity" label.  The record failed to dent the R&B charts.
At around the same time, Bob Williams accompanied by the Red Callender Sextette also released the same Murry composition but with a different title "Tabor -Inn".
78 – Hollywood 166 – The Red Callender Sexette with Bob Williams on Vocals – "Tabor-Inn" – November, 1951
(Red Callender shown)
78 – Unique 005 – The Hollywood Four Flames – Tabarin – January, 1952
This was another attempt to breath some life into Murry's "Tabarin" but met with less success than the Fidelity release – The group had modified their name by this time. The recording is very scarce and I could only locate this YouTube image.
45 – RCA Victor 47-5449 – Johnnie Lee Wills & His Boys – Two Step Side Step – June 11th, 1953
Hite Morgan first brought this record to the attention of Alfred Schlesinger who had just started up a new label, "Palace Records" and he had it recorded by a group called "The Bachelors".  Then, later in Oklahoma, Johnnie Lee Wills would enter a radio station in Tulsa, Oklahoma and record it for RCA Victor.
Johnnie Lee was the younger brother of the famed Bob Wills.
78 – Palace PA-116 – I'll Hide My Tears' – Summer, 1953
The Bachelors apparently earlier in 1953 recorded "Two Step Side" also on Palace – That is a difficult record to locate.
45 – Aladdin 45-3247 – The Jets – I'll Hide My Tears" – June, 1954
The Jets were yet another version of the Flames or Hollywood Flames – A bootleg is shown below on 7-11 Records – apparently was never released.
45 – 7-11 2110 – The Flames – "I'll Hide My Tears" 1954
78 – King 1373 – Bonnie Lou – "Two Step Side Step" – August, 1954
Bonnie Lou – born Mary Joan Kath Okum in Towanda, Illinois – was a very early rock-a-billy musician
45 – Decca UK F-10423 – Susie Miller and the Johnston Brothers – "Two Step Side Step" – November, 1954
Group led by Johnny Johnston out of the UK
45 – Excel 106 – The Bachelors – "TE-E-E-E-EX-AS" – April, 1955
45 Decca 9-29603 – The Tangiers – "Tabarin"- July, 1955
Yet another version of the "Four Flames" – Notice that Wilson is now "Murray" and sharing credits with William York who was actually Don Pierce who headed up the Los Angeles branch of Starday Records.  Pierce was also half owner of the "Hollywood" label shown above.
Murry Wilson was not at all pleased with sharing the composition credits and it hardened him a bit toward the industry.
So that was the vinyl output for Murry Wilson – all coming to a halt in the mid 1950's – He would return one day as we all know – riding on the success of his Brian's tremendously successful Beach Boys.
45 – Tower 101 – The Sunrays – "Car Party" b/w Outta Gas" – September, 1964
Both sides composed and produced  by Murry/Murray Wilson
45 – Tower 148 – The Sunrays – I Live For the Sun" – Charted Number 51 Hot 100 –  b/w "Bye Baby Bye" – July, 1965
Murry composed the "B" side and produced both sides – The Sunrays would provide Murry with his only charting songs during his lifetime.
45 – Tower 191 – The Sunrays – "Andrea" – Charted Number 41 Hot 100 – b/w "You Don't Phase Me" – December, 1965
Murry was the producer on this two sides.
45 – Tower 224 – The Sunrays – "Still" – Charted Number 93 Hot 100 b/w "When You're Not Here" – March, 1966
Murry co-wrote and produced both sides
45 – Tower 256 – The Sunrays – "Don't Take Yourself Too Seriously" b/w "I Look Baby I Can't See" – July, 1966
Murry Wilson produced both sides of this record – Colorado's Denny Rockwell of "Denny and Jay" fame ("H-U-R-T") composed the "B" side.  (Denny & Jay/John Cubbage shown below)
45 – Tower 290 – The Sunrays – "Hi, How Are You" b/w "Just 'Round The River Bend" – November, 1966
Both sides produced by Murry Wilson
45 – Tower 340 – The Sunrays – "Loaded With Love" b/w "Time (A Special Thing") – May, 1967
LP – Tower 5017 – The Sunrays – "Andrea" – 1966
LP – Capitol 2819 – The Many Moods of Murry Wilson – October, 1967
45 – Capitol 2063 – Murry Wilson – "The Plummer's Theme" b/w "Leaves" – December, 1967
45 – Capitol UK 312 – Murry Wilson "The Plumber's Song" b/w "The Happy Song" – December, 1967
45 – Capitol UK 15525 – Murry Wilson – "The Plumber's Song? b/w "Love Won't Wait" – December, 1967
45 – Bolt 09 – George Faulkner – "George Faulkner Sings Murry Wilson)"
"Two Step Side Step" b/w "Two Step Side Step backing track)"
Only 500 copies were pressed of these two Faulkner records
45 – Bolt 2016 – George Faulkner – "George Faulkner Sings Murry Wilson Vol. 2)"
"Happy, Happy Holiday" b/w "Te-e-e-e-ex-as" – November, 2019