Brother Sister Duo – Nino and April – The Tempio's!
Brother and sister duo Nino Tempo and April Stevens were an overnight sensation bursting onto the pop scene with a monster hit in 1963!  Right?
Not quite.
They were born in Niagara Falls, New York – Antonino Lo Tempio on January 6th, 1935 and big sister Caroline Vincinette Lo Tempio on April 29th, 1929.  The two were born to entertain and entertain is exactly what they did – with careers that stretched from the early 1950's into modern times – Sometime solo – sometimes together – Antonino and Caroline were relentless in their pursuit of delivering music to the world.
April
The gorgeous – ever youthful looking Caroline would be able to travel through the latter days of the big bands and slide effortlessly into the 'girl group' era without missing a beat and then reinvent herself again – teaming up with her little brother as purveyors of classic standards for the most part.  NOTE:  April had early on in her career taken several years off of her 1929 birthday – in order to fit in with the young girl singers of the 1960's – Not a difficult task for the ever youthful Caroline!
The article below alludes to April finishing high school back east but there are conflicting dates presented by various sources – one stating that April attended high school in Los Angeles and started recording when she was 15.   We do know that Nino attended Hollywood High School in 1951 due to his/their web site showing him at age 16 performing at the school.
On that same site – the discovery of April is documented as a "young teenager still in high school" coming into contact with Laurel Records' owner Tony Sepe in a music store.  Hmmm??  Her first recording came out in 1951 which makes "young teenager" 22 at the time.  Well, it really doesn't matter much…
At any rate – for sure the Lo Tempio's migrated from the East Coast to Los Angeles – but we may never know the exact year.
Sister Caroline was pretty much a 'typical' teenager – and – as referenced above –  while searching for records by the pop stars of the day – was approached on the streets of Hollywood by a record industry executive who – captivated by her looks – asked her if she could sing.  She answered eagerly in the affirmative and in short order – while still in high school – cut a track titled "Don't Do It" – not a great beginning as the lyrics were so suggestive and delivered by Caroline – who had now changed her name to "April Stevens", was banned by local radio stations.  (The song, back in 1951 mind you, contained the lyrics "I need it, how I need it ….. ooooh I want it"!  Yikes! Not your grandfather's lyrics.)
Her next move was switching to RCA Victor, being 'discovered' by AR man Henri Rene.  April would join the Rene band as a vocalist and was immediately featured as a soloist in concert and on recordings.  April's school mates were all talking about the singer they were hearing on friends's turntables – without knowing that it was their classmate Caroline.
April would cut a half dozen singles for RCA Victor, then move onto King Records in 1953, then to Imperial Records after a 5-year dry spell, United Artists with her brother in the fall of 1960 – and then finally signing on with Atco in early 1963.  April would only find her way onto the Hot 100 once before her first charting Atco single  – that being "Teach Me Tiger" which charted at the far ends of the charts reaching number 86.
And wouldn't you know, "Teach Me Tiger" was just suggestive enough to also garner some radio station's bans!
Nino
Nino was a bit of a prodigy – catching on first with band leader Horace Heidt at while still 13 and then moving from clarinet to saxophone and playing with Maynard Ferguson.
Nino would work in Hollywood as a saxophone session man, would compose songs for pop artists of the day and take a shot at acting, appearing as "Wilbur Schwartz" – a minor role – in the Glenn Miller Story.  He would team up with sister April to compose her charting single "Teach Me Tiger".  (In 1961 Nino would pick up a minor role in "Breakfast at Tiffany's" – very minor as it turns out with Nino playing the part of a "customer" receiving no credits on the big screen).
Nino Tempo would have his composition "Teach Me Tiger" in three motion pictures including "North Seas Texas" in 2011, "Woman in Love" in 2011 and"Black & White Sex" in 2012.  In sang songs in the movies "The Idolmaker" (1980) and "Kiss My Grits" (1982).
Nino's earliest film performance came in 1956 singing "Tempo's Tempo".
Together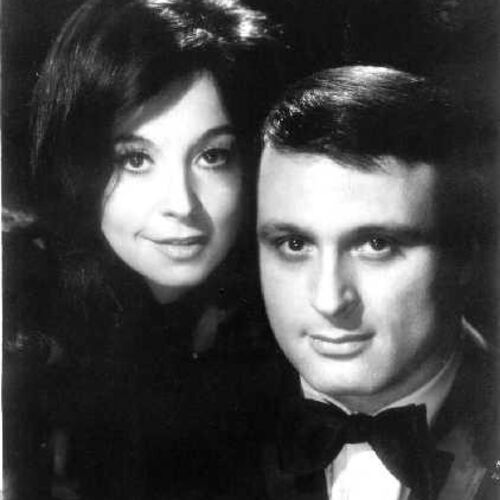 The Tempio siblings would always stay close – but continued their individual careers in recording, acting and so on.  Then in October of 1960 the two would team up to release their first duo single "" on the United Artists record label – with "April" listed first.  The single failed to attract attention and so early the following year they released their second duo on the Capitol label singing as "Carol and Anthony" – again – without chart success.
Then the duo would sign with Atlantic record's subsidiary Atco – This came about during a recording session which Nino was assisting with – a Bobby Darin session where "You Must Have Been a Beautiful Baby" was being cut.  Attending that session was Atlantic Records executive Ahmet Ertegun.  Within a day, Nino and April would be presented with an Atco contract.
When they entered the recording studio many top session men went in with them and background vocals were enhanced by the likes of Philles Record's artist Darlene Love – compliments of Phil Spector who had become a friend of Nino's.
Nino and April made five appearances on American Bandstand from 1964 to 1965, two on "Where The Action Is", and one each on "Hollywood A Go Go" and "Shindig!".
As time marched on and the hits and recordings subsided the two would reunite often to entertain and Nino would turn his attention to jazz music.
"Deep Purple" earned a Grammy in 1963 for "Best Rock and Roll Recording". They were inducted into Buffalo, New York's Hall of Fame in 1999.  Both are alive and well today (February, 2020) – Nino is 80 years old and April is a feisty 91!.
April Stevens & Nino Tempo Discography
April Stevens – January, 1951

April Stevens – May, 1951

April Stevens – April, 1951

April Stevens – September, 1951

Nino Tempo – 1952

Nino Tempo – 1952

April Stevens – 1952

April Stevens – October, 1953

April Stevens – 1954

Nino Tempo – November, 1958

April Stevens – September, 1958 "Teach Me Tiger" Charted Number 86 Hot 100

Nino Tempo – November, 1959

Nino Tempo – February, 1960

April Stevens – May, 1960

Nino Tempo – September, 1960

April Stevens and Nino Tempo – October, 1960

Candy Canary – (Nino Tempo Composer) – December, 1960

Carol and Anthony – (Nino Tempo Composer) – January, 1961

April Stevens – May, 1961

April Stevens – June, 1961

Steve Lawrence – (Nino Tempo Composer) – December, 1961

April Stevens & Nino Tempo – April, 1962

April Stevens – April, 1962

April Stevens & Nino Tempo – January, 1963 – "Paradise" Charted Number 126 Bubbling Under Charts

April Stevens & Nino Tempo – May, 1963

Nino Tempo & April Stevens – August, 1963 – "Deep Purple" Charted Number 1 Hot 100 – Number 4 R&B

Noreen Cocoran – (Nino Tempo Composer/Co-Composer with Phil Spector) – September, 1963

Nino Tempo and April Stevens – December 1963 – "Whispering" Charted Number 11 Hot 100


April Stevens – January, 1964

Nino Tempo & April Stevens – February, 1964 – "Stardust" Charted Number 32 Hot 100
Nino Tempo & April Stevens – April, 1964 – "Tea For Two" Charted Number 56 & "I'm Confesson" Charted Number 99 Hot 100
Noreen Corcoran – (Nino Tempo Composer) – April, 1964

Nino Tempo & April Stevens – July, 1964
Nino Temp & April Stevens – August, 1964 – "Oh La La" Charted Number 113 Bubbling Under Charts
Nino Tempo & April Stevens – November, 1964
Nino Tempo & April Stevens – January, 1965
April Stevens – April, 1965

Nino Tempo & April Stevens – April, 1965 – "Swing Me" Charted Number 127 Bubbling Under Charts
Nino Tempo & April Stevens – June, 1965
April Stevens – October, 1965

Nino Tempo & April Stevens – September, 1965
Nino Tempo & April Stevens – December, 1965
Nino Tempo & April Stevens – February, 1966 (and Nino Tempo Orchestra)
Nino Tempo & April Stevens – August, 1966 – "All Strung Out" Charted Number 26 Hot 100 – "I Can't Go On Living Baby Without You" Charted Number 86 Hot 100
Nino Tempo & April Stevens – December, 1966 – "You'll Be Needing Me Baby" – Charted Number 133 Bubbling Under Charts
Nino Tempo & April Stevens – March, 1967 – "My Old Flame" Charted Number 101 Bubbling Under Charts
Nino Tempo – May, 1967

Nino Tempo & April Stevens – July, 1967 – "I Can't Go On Livin' Without You Baby" Charted Number 86 Hot 100
April Stevens – October, 1967

Nino Tempo & April Stevens – April, 1968 – Charted Number 127 Hot 100
Nino Tempo & April Stevens – June, 1968
Nino Tempo & April Stevens – March, 1969
Nino Tempo & April Stevens – October, 1969
Nancy Sinatra and Frank Sinatra – (Nino Tempo Co-Composer) – December, 1970

Nino Tempo & April Stevens – June, 1971
Chad Everett – (Nino Tempo Co-Composer) – October, 1971

Nino Tempo & April Stevens – January, 1972
Nino Tempo & April Stevens – July, 1972
Nino Tempo & April Stevens – December, 1972 "Love Story" Charted Number 113 Bubbling Under Charts
Nino Tempo & April Stevens – May, 1973 – "Put It Where You Want It' Charted Number 122 Bubbling Under Charts
Nino Tempo and 5th Ave. Sax – September, 1973 – "Sister James" Charted Number 53 Hot 100

Nino Tempo and 5th Ave. Sax – 1974

April – June, 1974 – "Wake Up and Love Me" Charted Number 93 Hot 100

Nino Tempo and 5th Ave. Sax – June, 1974

April Stevens – November, 1974

Nino and April – March, 1975
Nino Tempo & April Stevens – 1976
Nino Tempo & April Stevens – September, 1976
John Travolta – (Nino Tempo Co-Composer) – 1977

Tommy Dee (This is Nino Tempo) – November, 1980

Nino Tempo & April Stevens – 1980
Nino Tempo and April Stevens Long Play Discography
April Stevens – 1960
Nino Tempo & April Stevens – October, 1963 – Charted Number 48 Hot LP Charts
Nino Tempo & April Stevens – April, 1964
Nino Tempo & April Stevens – February, 1966
Nino Tempo & Eddie Cano – April, 1966
Nino Temp & April Stevens – 1967
Nino Tempo & the 5th Avenue Sax Band – 1974