IN THE 8TH YEAR OF ……THE SONGWRITER'S HALL OF FAME
,,inducted only two composers into the Hall. The year was 1977. ( In the inaugural year of 1970 there were more than 120!)
But in 1977 the Hall elected to honor two song writing partners who, through their initial collaborations certainly seemed like two guys stepping right out of New York's Tin Pan Alley.
Raymond Bernard Evans and Harold Jacob Levison met each other while attending college in Pennsylvania where they were both members of a dance band called the Continentals.  Pursuing their collective dream of continuing on in music – the pair headed for New York City where song writers naturally congregated.
Evans would serve as the song composer and Levison (who morphed into 'Jay Livingston') would provide the lyrics.
I selected these two based on not so much on their early successes but on some of their post-1940's hits.  From their initial chart appearance in 1941 with a song called "G'bye Now" through their blockbuster smash in 1948 "Buttons and Bows" Ray and Jay landed on the charts 18 times – and as was generally the case – their hits were often covered by multiple artists of the day.
I conjured up an image of two guys sitting together in a cubicle – perhaps even the Brill Building in New York, exchanging ideas back and forth and then turning out a tune to be peddled to the music industry.
That's not how it happened for Evans and Livingston.  Their journey to song writing success was slow and arduous.
Upon arriving in New York, the pair were soon to learn that song writing was not an easy ticket.  It was the late 1930's, the country still in the grips of the Great Depression.  They made the rounds to publishers offices and generally received a few tertiary compliments but then told that they needed to 'mature' – to come back again some time.
One publisher told them "you have chosen a tough racket" but told them to keep plugging away if they were determined to do so.  Ray worked as an accountant in the day and Ray as a rehearsal pianist.
They plugged along – generally receiving the same response 'nice stuff but not quite up to measure'.
PUBLISHING WARS
Then a big change occurred in the music publishing industry of which I have mentioned in an earlier Post:  During the Depression sheet music sales plummeted as did record sales.  This left musicians and writers dependent upon radio broadcast royalties which were collected by ASCAP – the American Society of Composers, Authors and Publishers).
ASCAP had been a blessing for the industry in the beginning but began to fall out of favor in 1939 when their fees to broadcasters reached 2.75 percent.  In response, the Broadcast industry formed BMI (Broadcast Music Inc.  Unfazed, ASCAP announced a staggering fee increase in 1940 – up to 7.5 percent.
Radio station networks responded in kind launching a massive boycott of any music represented by ASCAP.    This of course immediately created a huge demand for material for broadcast.  BMI scurried to meet the demand as the radio stations were grabbing almost anything – classical – spoken word – children's music – to put on the air.
What followed was the unveiling of a largely ignored and shunned by the arrogant and ASCAP, namely country – folk and jazz. (Down the road rhythm & blues and early rock and roll would be welcomed through the BMI doors.)
(Above: America benefits from the ASCAP boycott)
HELLZAPOPPIN' (1941)
Meanwhile Evans and Livingston were tapped to compose a series of tunes for an ice musical.  They jumped at the chance completing a host of songs – but alas – the project fell through and the songs were set aside.  Then, in 1941 the song was picked up for the 1941 motion picture "Hellzapoppin'" starring Martha Rae.
With BMI on the prowl for material – one number from the revived number was dusted off and given new life
Within a few weeks several big bands recorded the number including Russ Morgan and Jan Garber – Vaughan Monroe and Woody Herman.  The song landed Ray and Jay in the top 20 with Horace Heidt and His Musical Knights taking it all the way to number 2.
BEYOND 'G'BYE'
With their initial success under their belts – Ray and Jay were now focused on providing music for the big screen as well as stage and later television.
TO EACH HIS OWN (1946)
The motion picture "To Each His Own" was released in 1946 starring Olivia de Havilland and John Lund.  The film featured the theme song performed by Victor Young and his orchestra.
The song was quickly covered by several big band with the flagship version being Eddy Howard's going to number 1.  This would become his band's iconic theme song.  The Freddy Martin Orchestra also took the song to number 1 a few months later in 1946 after the Howard release.
GOLDEN EARRINGS (1947)
The movie starring Marlene Dietrich and Ray Milland spotlighted the Evans & Livingston song of the name performed by Victor Young.  Peggy Lee would take the song to number 2 in the U.S.
BUTTONS AND BOWS (1948)
"Buttons and Bows" was composed for the motion picture "Paleface" starring Bob Hope who also performed the song in the picture.  The song landed in the top twenty by six different artists with the most successful being Dinah Shore's number 1 version. "Buttons and Bows" would also capture an Academy Award.
CAPTAIN CAREY U.S.A. (1950)
So along comes the 1950's – Ray and Jay had headed west and were now firmly entrenched in Hollywood, always available to the motion picture industry.  The pair landed a gig composing for a 1950 movie titled "Captain Carey, U.S.A." starring Alan Ladd.  From that assignment emerged the wonderful "Mona Lisa".
Initially, Evans and Livingston took it upon themselves to locate the right voice for their song – and so they visited the home of Nat "King" Cole.  During that visit Nat was quite distracted from listening to the song being demonstrated due to the presents of his rambunctious little daughter Natalie.
But fortunately Nat would turn his attention back to the song – and a classic was in the making.
Ironically the song would first be designated a "B" side for Capitol recording artists Nat "King" Cole.  Capitol's early trade magazine placements didn't even bother to mention "Mona Lisa" instead pushing for "The Greatest Inventor of Them All".  Capitol was wrong – "Mona Lisa" shot to number 1 and remained there for eight straight weeks.
That same year hit versions were released by Harry James, Victor Young, Dennis Day and Ralph Flanagan to mention a few.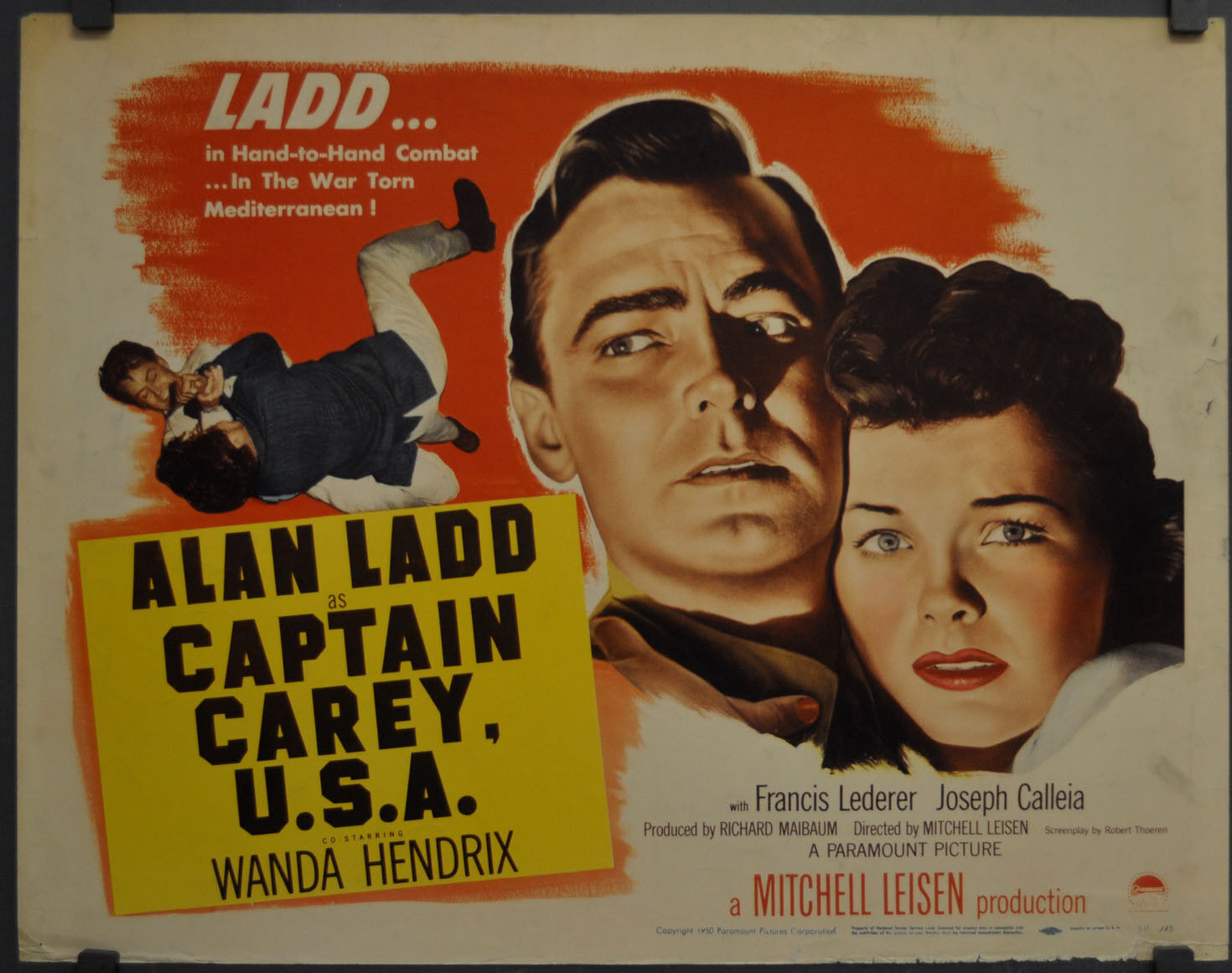 THE LEMON DROP KID (1951)
The duo delivered a holiday classic in 1951's "The Lemon Drop Kid – "Silver Bells".  Bob Hope performed the song in the film.  The song started off with the title "Tinkle Bells" but was fortunately altered when Jay's wife told him he must be 'out of his mind' to burden that song with the silly title.
Bing Crosby and many others would record the song and over the years royalty checks appeared during the holidays.
QUE SERA SERA (1956)
"Que Sera Sera" seemed an unlikely choice for an Alfred Hitchcock thriller – but the song did the trick for the motion picture "The Man Who Knew Too Much" starring Jimmy Stewart and Doris Day.  Doris enjoyed a number 2 U.S. hit with the tune following the movie.  The song topped the U.K. charts.
TAMMY (1956)
"Tammy" has always been a sentimental favorite of mine – coming out of the film "Tammy and the Bachelor".
Debbie Reynold  played the lead role as a 17 year-old even though she was 24 at the time.  She recorded the song for Coral Records and took it to number 1.  The Ames Brothers' version peaked at number 5.
DEAR HEART (1964)
Glen Ford and Geraldine  Paige starred in this 1964 motion picture.  Henry Mancini composed the soundtrack and realized he needed lyrics for the theme song so he turned to Johnny Mercer.  Johnny was too busy to help out and so Henry contacted Jay and Ray – and another hit was born.
Henry Mancini, Jack Jones and Andy Williams all recorded charting versions – with Williams winning out at number 24.
There would be nearly 50 additional chart appearances along the way for Evans and Livington.  Their songs appeared in more than 100 motion pictures – 15 stage plays and 16 television programs.
BONANZA (1959)
On the Television side of things it would be composing "Bonanza" (number 19 by Al Caiola in 1961).
MISTER ED (1961)
On a light note, Evans and Livingston provided the the 1961 TV theme for "Mister Ed".  Livingston delivered a rare vocal performance performing the song himself.
ROCKING WITH JAY AND RAY
The closest the song writing pair ever got to good old rock and roll would be when Carl Mann and Conway Twitty would cover "Mona Lisa" in 1959 (number 25 and number 29 respectively).  The Platters would present Jay and Ray with a pop/R&B hit with "To Each His Own" going to number 21 in 1960.
Livingston's brother was Alan Livingston was a Capitol Records executive and the creator of "Bozo the Clown".  Alan made his mark in the music world signing Frank Sinatra, The Beach Boys and The Beatles to Capitol Records.
Ray and Jay composed more than 700 songs during their lifetime.
Jay Livingston passed away in 2001 in Los Angeles.    Ray Evans died in 2007 also in Los Angeles.