Mary Frances Penick & The Davis Sisters
Skeeter Davis was certainly 'country' – born and raised – but for many teens in the early 1960's – Skeeter was country's early entry into the girl group genre. And for my money, her brief run at that genre, beginning with "The End of the World" and ending 16 months later with "Gonna Get Along Without You Now" was the "Skeeter Davis Legacy" I am fond of.  Six songs charted Hot 100 during that run and a couple more, which were obviously targeted for the teen pop audience, failed to chart.
Skeeter Davis was born Mary Frances Penick on December 30th, 1931 in Dry Ridge Kentucky. Her parents were William Lee and Sarah Rachel Penick.  She acquired her nick name "Skeeter" from her grandfather, comparing the vivacious little girl to a pesky but lovable flitting mosquito.  Mary Frances was given to putting on dancing and singing performances in her backyard fancying herself after actress Betty Hutton.
Her family life as a young girl was tumultuous at best.   Things went south for Skeeter who was only in her toddling years when an uncle murdered her grandfather, her mother's father.  The incident plunged her mother into a deep and often suicidal depression which drove a lasting a sad wedge between mother and daughter.  As a young girl, Mary Frances was always on guard to protect her mom during the deep bouts of depression and the repeated attempts at ending her life.  Sarah's deep depression and then alcohol would drive a wedge between mom and daughter that had life-long lasting effects.
After several moves out of Kentucky and then to the north in Ohio, Skeeter and her  family would eventually return to the South to the town of Erlanger, Kentucky where she would finish her high school years.
It was at Dixie Heights High in Erlanger that Mary would form a close friendship with Betty Jack Davis.  Both of the young teenagers shared a love of music and so the two didn't miss any opportunity to perform as a duo, singing and both playing guitars.  As juniors in high school they won a talent competition – entering and performing for the first time as the "Davis Sisters".
After graduating the two moved to Detroit, Michigan where they secured their first recording session at Fortune Records.  That session would result in several tracks all released in 1953 on three singles.
This got the attention of RCA Records who offered the pair a contract.  The girls headed for RCA's Nashville studios definitely seeing themselves as country artists, where the label would release a dozen 45's over the next three years.  Their RCA venture would begin with a bang with "I Forgot More Than You'll Ever Know" leaping to the top of the country charts and holding the top spot for eight consecutive weeks and even logging in a very impressive number 18 ranking on Billboard's Hot 100 – an impressive feat for an debut country act.
Tragedy Strikes
Everything looked promising.  Skeeter and Betty were working hard to promote the record, making appearances – everything was going well.  Then tragedy struck.  Late one night on August 2nd, 1953, the two were driving back from an appearance in Wheeling, West Virginia.  A car coming the opposite way crossed over the center line – the driver having fallen asleep, hitting the girls' car head-on.
Skeeter was seriously injured.  Betty was killed instantly.
There was some confusion from early accident report accounts – some stating that both Mary Frances and Betty Davis were fatally injured.  The pair were returning from after making a radio appearance in Wheeling, West Virginia.  Their car was struck head-on by a member of the armed forces who apparently fell asleep at the wheel.  A witness reported that he had followed the solider for several miles and that during that time the car was weaving and driving at a high speed.
There were two other male friends in the vehicle with the Davis Sisters – They both survived the crash as did Mary Frances and the soldier.
Skeeter moved into Betty's mother's house to recover. Ollie Davis.  Somewhat against Skeeter's wishes, the mother, Ollie, managed to convince Skeeter to take on Betty's younger sister as the next "Davis Sister which, reluctantly, she finally agreed to.  Skeeter and Georgia or "Georgie" Davis resumed the act, releasing several singles over the next two years with RCA Victor.
(In an interview on the "Car City Country" web site – Georgie related that Betty and Skeeter had future plans to bring her into the fold becoming a trio. They were just waiting for her to become a little older.)
The songs they recorded together were okay, but not up to the level of "I Forgot More Than You'll Ever Know".  By the spring of 1956, with no chart success either country or pop, the Davis Sisters called it a day.
Going Solo
Beginning in 1958, Skeeter, who remained on the RCA Victor roster as a solo artist, found her place among the country artists ranks.  Her first effort, "Lost to a Geisha Girl" made it to number 15 on the country charts – although remaining on the charts for a very brief time.
Then there would be a lull in the chart action, with her next four singles all failing to chart.  She ended that streak nearly a year after her solo debut with "Set Him Free" – this time going into the number 5 position country.   From there on Skeeter became a constant hit maker, scoring seven top 20 country hits into 1961.
Things began to take a turn for Skeeter upon the release of her 10 solo RCA single in August of 1960.  The song was an "answer" to Hank Locklin's big crossover hit, "Please Help Me I'm Falling" which held down the number 1 spot on the country charts for 14 weeks and topped out on the Hot 100 at number 8.
Skeeter's "(I Can't Help You) I'm Falling Too" – would go to number 2 Country, but more important, would be her pathway onto the Hot 100 for the first time since her duet in 1956 with Betty.  Skeeter would follow up immediately with another 'answer' song of sorts with "My Last Date (With You)" in response to the Floyd Cramer instrumental crossover "Last Date".
Skeeter would be credited on the single as a co-composer, having provided the lyrics to the Cramer/Boudleaux Bryant tune.  This one would cross over and go number 26 Hot 100 (number 5 Country).  What an appropriate choice for Skeeter with her sorrowful voice over duet style – lending it to one of the most emotion invoking tunes of all time!  ("Last Date" was voted into the Grammy Hall of Fame).
Beginning of the World
So with these two successes under her belt, Skeeter would settle in – back on the Country charts with a string five hits and that brings us to the big one – "The End of the World".
This one came along in very late 1962 and jumped onto the Hot 100 Charts on January 26th, 1963.  The timing was perfect.  The 'girl group sound' was getting well under way and Skeeter, although nearing 30 years of age, would fit right in with her youthful lilting voice.  "End of the World" began it's steady climb culminating on March 23rd, 1963 peaking at number 2 – held off by Ruby and the Romantics "Our Day Will Come".
(The lyric writer for "End of the World" interestingly had emerged a veteran of Tin Pan Alley, and had composed many hits from back in the day, the biggest by far being "Too Young" recorded by Nat King Cole and several other prominent artists of the 1940's – Her name was Sylvia Dee. "Girl group lyric contributions weren't Sylvia's stock and trade but beyond "End of the World" she was the lyric provider for Diane Ray's 1963 hit "Please Don't Talk to the Lifeguard".
After the success of "End of the World", the pop hit factory was paying attention.  Another country tune would follow with minor chart success but right on it's heels was a definite 'girl group' genre target song – "I Can't Stay Mad at You".  This one came right out of the 'Brill Building' from the pens of the legendary hit makers, Carole King and husband Gerry Goffin.
During the week of November 2nd, 1963, when "I Can't Stay Mad at You" peaked at number 7, the 'girl group' sound singles on the chart included:
You Don't Have to Be a Baby To Cry – Caravelles
A Fine, Fine Boy – Darlene Love
I Adore Him – The Angels
My Boyfriend's Back – The Angels
Hello Heartache, Goodbye Love – Little Peggy March
Then He Kissed Me – The Crystals
A Love So Fine – The Chiffons
Heat Wave – Martha & The Vandellas
Down the Aisle – Patty LaBelle and the Blue Belles
Wild! – Dee Dee Sharp
Sally Go 'Round the Roses – The Jaynetts
Crossfire! – The Orlons
She's A Fool – Lesley Gore
Be My Baby – The Ronettes
By any measure – the girl group sound was definitely riding a strong wave.
This one had the bounce and excitement of the girl group sound and would best it's Country position of number 14 by going to number 7 Hot 100.
Skeeter would enjoy two more hits aimed at the teen record buying public, "He Says The Same Things To Me" – (number 47 Hot 100, Number 17 Country and a revival of the 1950's Patience and Prudence hit "Gonna Get Along Without You Now".  It would be her final appearance on the Hot 100.
Gerry Geld and Peter Udell, writers of "He Says the Same Things To Me" were also 'Brill Building' mainstays.  They had struck gold earlier with Brian Hyland's "Sealed With A Kiss", and penned several more for Hyland including "Ginny Come Lately", and "Warmed Over Kisses (Left Over Love)".  "Sealed With A Kiss" would hit again in 1968 by Gary Lewis and the Playboys.
All of these pop songs were vigilantly looked after by legendary guitarist and producer Chet Atkins – probably assuring that Skeeter would not stray too far from her roots.  Skeeter would take another shot with a King/Goffin tune "Let Me Get Close To You" a quintessential 'girl group' sound – in fact – moving further into the genre.
The song did okay Country going to number 45 but only dented the pop charts 'bubbling under' at 106.  Next song up was one from the novelty pop song tune smith – John D. Loudermilk – a composer who was comfortable working in the "Brill" tradition or going country.   "Sunglasses" missed the mark – failing to chart.  On "If I Had Wheels" the stops were pulled out to replicate a sort of silly girl group sound.  Skeeter had enough.
Chet Atkins' instincts paid off for Skeeter.  When the pop hits began to dwindle, Skeeter was able to slide right back into Nashville, picking up where she left off.  She would chart 25 more singles between 1964 and 1976.  She ranks in the top 150 country singers of all time for chart performance.
In 1973, RCA elected to take another stab with Skeeter's classic hit, "The End of the World" – releasing it for a second time in the spring of 1973 – but with little success.
A side note:  For my money, Skeeter's 1973 "I Can't Believe It's All Over" rates right up there with "End of the World".  1973 was a year that witnessed several country mainstays 'crossing over'.
Skeeter Davis Scrap Book
April 4th, 1970 with Arlo Guthrie
September 26th, 1970 with Kitty Cat
Skeeter with Colorado native Jaye P. Morgan October 17th, 1970
Skeeter Davis May 20th, 1972
Skeeter takes to the streets to deliver her records in music shops and sign autographs due lack of sales via retail
Skeeter Davis Release December 16th, 1972 (did not chart)
Skeeter Davis Signs with Mercury Records – October 16th, 1976
(Skeeter departs RCA Victor after two decades)
Skeeter Appears on Mercury Records Promotion with John Hartford – at Ernest Tubb Record Store – November 20th, 1976
RCA Victor Promotional Page – October 15th, 1977
Skeeter Davis Autobiography
Skeeter Davis Selected Discography (& The Davis Sisters)
(Listing her charting recordings here – both Country and Hot 100 and a few extras)
45 – Fortune 45-170 – Jealous Love (flip side by Roy Hall and His Cohutta Mountain Boys) – January, 1953
(This was the Davis Sisters first recording – cut in Detroit, Michigan – where they relocated to after high school)
45 – RCA Victor 47-5345 – I Forgot More Than You'll Ever Know – Charted Number 1 Country – 8 Weeks on Top Spot – August, 1953
45 – RCA Victor 47-5460 – You're Gone b/w Sorrow and Pain – October, 1953
(Betty and Mary co-wrote these two tracks together – released after Betty's death)
45 – RCA Victor 47-5701 – Foggy Mountain Top b/w You Weren't Ashamed To Kiss Me Last Night – April, 1954
(Probably the first record cut by Skeeter with Betty's younger sister "Georgie")
45 – RCA Victor 47-7084 – Lost to A Geisha Girl – Charted Number 15 Country – February, 1958
45 – RCA Victor 47-7471 – Set Him Free – Charted Number 5 Country – March, 1959
(Co written by Skeeter Davis)
45 – RCA Victor 47-7570 – Homebreaker – Charted Number 15 Country – September, 1959
(Co-written by Skeeter Davis)
45 – RCA Victor 47-7671 – Am I That Easy to Forget – Charted Number 11 Country – March, 1960
45 – RCA Victor 47-7767 – (I Can't Help It) I'm Falling Too – Charted Number 2 Country – Number 39 Hot 100 – August, 1960
45 – RCA Victor 47-7825 – My Last Date (With You) – Charted Number 5 Country – Number 26 Hot 100 – December, 1960
(Skeeter Davis provided the modified lyrics)
45 – RCA Victor 47- The Hand You're Holding Now – Charted Number 11 Country – April, 1961
45 – RCA Victor 47-7928 – Optimistic – Charted Number 10 Country – October, 1961
45 – RCA Victor 47-7979 – Where I Ought To Be – Charted Number 9 Country – b/w Something Precious – Charted Number 23 Country – March, 1962
45 – RCA Victor 478055 – The Little Music Box – Charted Number 22 Country – September, 1962
(Skeeter Davis was co-composer)
45 – RCA Victor 47-8098 – The End of the World – Charted Number 2 Country – Number 2 Hot 100 – December, 1962
45 – RCA Victor 47-8176 – I'm Saving My Love – Charted Number 9 Country – Number 41 Hot 100 – May, 1963
45 – RCA Victor 47-8219 – I Can't Stay Mad At You – Charted Number 14 Country – Number 7 Hot 100 – October, 1964
45 – RCA Victor 47-8288 – He Says The Same Things To Me – Charted Number 17 Country – Number 47 Hot 100 – January, 1964
45 – RCA Victor 47-8347 – Gonna Get Along Without You Now – Charted Number 8 Country – Number 48 Hot 100 – May, 1964
45 – RCA Victor 47-8397 – Let Me Get Close To You – Charted Number 45 Country – Number 106 Bubbling Under Charts – September, 1964
45 – RCA Victor 47-8450 – What Am I Gonna Do With You – Charted Number 38 Country – Number 123 Bubbling Under Charts – November, 1964
45 – RCA Victor 47-8496 – (with Bobby Bare) – A Dear John Letter – Charted Number 11 Country – Number 114 Bubbling Under Charts – March, 1965
45 – RCA Victor 47-8642 – Sun Glasses – Charted Number 30 Country – Number 120 Bubbling Under Charts – September, 1965
45 – RCA Victor 47-8932 – Goin' Down The Road (Feelin' Bad) – Charted Number 36 Country – October, 1966
45 – RCA Victor 47-9058 – Fuel to the Flame – Charted Number 11 Country – January, 1967
45 – RCA Victor 47-9242 – What Does It Take (To Keep A Man Like You Satisfied) – Charted Number 5 Country – Number 121 Bubbling Under Charts – July, 1967
45 – RCA Victor 47-9371 – Set Him Free – Charted Number 52 Country – December, 1967
(Skeeter Davis is a co-writer of this song)
45 – RCA Victor 47-9415 – For Loving You – *with Don Bowman) – Charted Number 72 Country – February, 1968
45 – RCA Victor 47-9459 – Instinct For Survival – Charted Number 54 Country – March, 1968
45 – RCA Victor 47-9543 – There's A Fool Born Every Minute – Charted Number 16 Country – June, 1968
45 – RCA Victor 47-9695 – The Closest Thing To Love (I've Ever Seen) – Charted Number 66 Country – January, 1969
45 – RCA Victor 74-0292 – I'm A Lover (Not A Fighter – Charted Number 9 Country – October, 1969
45 – RCA Victor 47-47-9789 – Your Husband My Wife (with Bobby Bare) – Charted Number 22 – January, 1970
47 – RCA Victor 47-9818 – It's Hard To Be A Woman – Charted Number 65 Country – May, 1970
45 – RCA Victor 47-9871 – We Need A Lot More Of Jesus – Charted Number 69 Country – August, 1970
45 – RCA Victor 47-9893 – Let's Get Together (with George Hamilton IV) – Charted Number 65 Country – September, 1970
(Skeeter with Hamilton front right)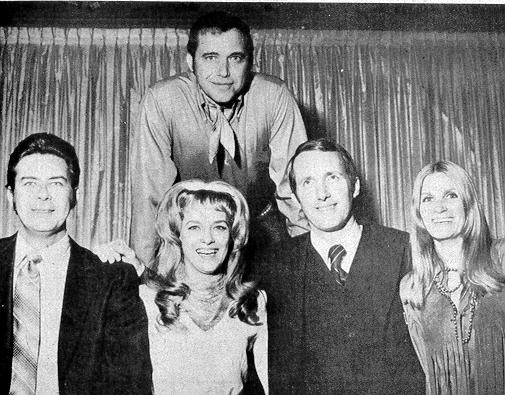 45 – RCA Victor 47-9961 – Bus Fare To Kentucky – Charted Number 21 Country – March, 1971
45 – RCA Victor 47-9997 – Love Takes A Lot Of My Time – Charted Number 58 Country – July, 1971
45 – RCA Victor 74-0608 – One Tin Soldier – Charted Number 54 Country – January, 1972
45 – RCA Victor 74-0681 – Sad Situation – Charted Number 46 – May, 1972
45 – RCA Victor 74-0968 – I Can't Believe That It's All Over – Charted Number 12 Country – Number 101 Bubbling Under Charts – June, 1973
45 – RCA Victor APBO-0188 – Don't Forget To Remember – Charted Number 44 – December, 1973
45 – RCA Victor APBO-0277 – One More Time – Charted Number 65 Country – May, 1974
45 – Mercury 73818 – I Love Us – Charted Number 60 Country – September, 1976
(This would become Skeeter's final charting single and her only one not on the RCA Victor label – She remained with RCA for over 20 years)
Skeeter Davis LP Discography