"Music History 101" from Summit County Colorado
(The Fabulous Rhondells Meteor Like Climb To Fame)
On a beautiful summer day in the Summit County Colorado mountain town of Frisco – altitude just over 9,000 feet above sea level – we basked in the warmth of the day at the village's "Foote's Rest" open air bar and barbecue stand enjoying the stylings of Keith Synnestvedt a long-time resident/musician of the Summit (since 1981).
At the Foote's Rest, Keith delivers his tunes – taking requests and fills in between with "Music History 101" – tales such as I appreciate.  His first tale was this:
Back in the mid 1960's there was a group of college kids who got together while attending a
college in Pennsylvania and they named themselves "The Rhondells" initially.  During one of their performances at a college (maybe their own) a record producer watched them perform and took notice of one of the songs they played.  But – according to "Music History 101" the song was far from finished.
The producer had contacts and told the group that he could – with their permission – get the song completed by an upstart singer songwriter who had already experienced some serious success – to which the Rhondells agreed to.
The producer came back with the finished product and the Shondells were good to go.  But "Music 101" must have left out some pieces to the story.  The same group came to the attention of a New York lawyer named Nathan Weiss – who watched them perform in Atlantic City in 1964 by some accounts, 1965 by others.  Weiss was a business associate of Liverpool businessman Brian Epstein who just happened to be the manager for you-know-who.
One thing led to another and so Brian signed the group to his stable of musicians which included U.K. acts – Gerry and the Pacemakers, Billy J. Kramer and the Dakotas, Cilla Black and the Fourmost – all residents of Liverpool.
The new group needed a name  (perhaps because of the presence of "Bill Deal and the Rhondels) and so naturally that task was handed over to John Lennon who was good at naming things (rumor has it that he named "The Beatles").  John decided that a British vehicle roundabout would be a proper name and so "The Cyrkle" was born.  Brian placed them as the Beatles' opening act for their 1966 U.S.A. tour where they were joined by The Ronettes, Bobby Hebb and The Remains.
Oh, and that little tune that was completed for them?  "Red Rubber Ball".  And the composer – according to "Music History 101" was Paul Simon.  But a look at the credits and reading the bio's – Paul was joined by another composer – Bruce Woodley of the Seekers!  Now it seems a bit strange that the Rhondells would even bother to perform a song which wasn't complete especially at a live performance.
And what in the world was Paul Simon doing co-writing with Woodley?  Seems that Simon was over in England looking for work – somewhat disappointed that he and Art's initial LP didn't fair as well as expected.- But that in itself seems strange since the LP did manage a number 30 showing on the Billboard Hot 200.
In reality – the Cyrkle went into a temporary hiatus when Dannemann entered the Coast Guard.  Dawes hooked up with Simon and Garfunkle becoming their bass player.  It was during his stint with Art and Paul that a tune Paul had composed with Bruce Woodley of the Seekers while in England came to Dawes attention.
The Seekers had taken a Paul Simon composition "Someday One Day" into the studio and it promptly climbed to number 4 in their native Australia.  So Paul and Bruce must have carved out some time in a local pub where they penned three or four songs together.
So Dannemann returns to from military service – The Cyrkle reunites – and they record  "Red Rubber Ball".  Brian Epstein and Nate Weiss teamed up to pressure Columbia Records to record and release the song – which they did.
And yes, the Seekers did record the song as well – including it on their "Georgy Girl" LP in the U.S. released in February of 1967.
So there you have it – an uncompleted ditty – Epstein and Weiss – John Lennon providing titles – Paul and Bruce composing in a pub or somewhere – and you have a genuine number 2 million seller.
And the Roundabouts? Oops I mean the Cyrkle?  They continued on only until late 1967.  Their follow up "Turn-Down Day" managed a respectable number 16 showing and then it was a steady stair step down pattern after that – Four more charting singles none entering the top 50 – their last coming in the early fall of 1967 "Penny Arcade".  Their "We Had A Good Thing Going" – a 1967 minor hit (number 72) was composed by Brill Building writers Neil Sedaka and Howard Greenfield.
Original band members Tim Dawes and Don Dannemann turned to writing commercial jingles.  Wikipedia credits Dawes with composing the Alka-Seltzer "Plop Plop Fizz Fizz" jingle – even though other sources identify it as having been written way back in 1953 by Paul Margulies.  It was revived in 1976 and perhaps Dawes had a hand in that.  He then he went on to produce a couple of long plays for the British act "Foghat".  Dannemann worked on the 7-Up "Un-Cola" campaign and apparently the two worked together on other jingles as well.
The other band members departed music all together.  He passed away in 2007 at the age of 64.  Other members are still living.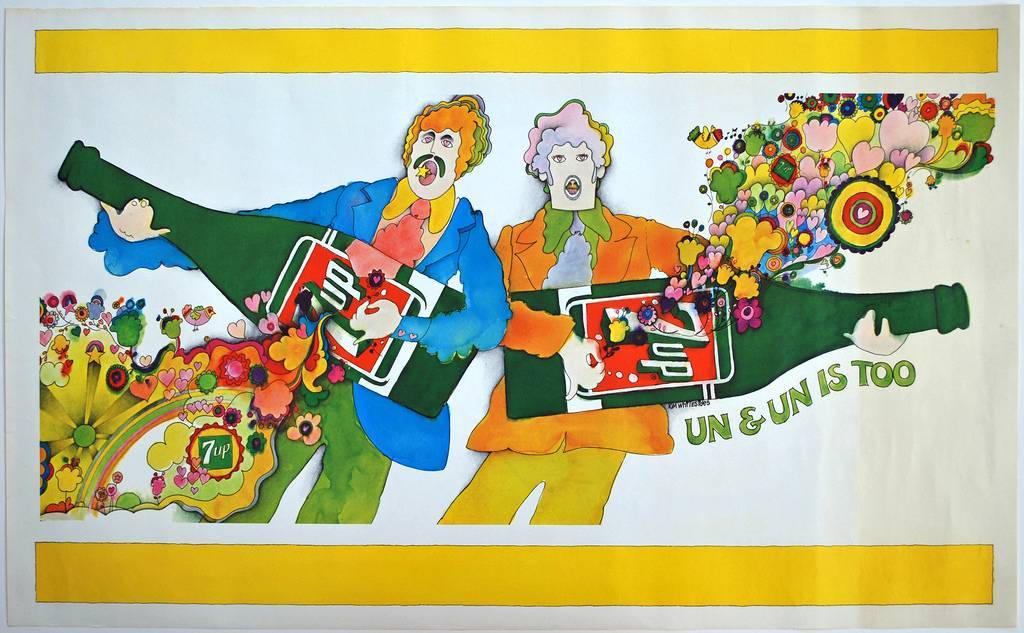 7 Up – 1969 Promotional CampaignThe original Rhondells also included keyboard player Earle Pickens and Marty Fried on drums. There were personnel changes with Pickens departing for medical school being replaced by Mike Losekamp.  Marty Fried would become a successful lawyer.
Cyrkle Discography
(Note) Not sure why the Cyrkle are depicted as a trio on the LP cover and 45 sleeve – perhaps but the three on that cover are Dannemann, Dawes and Fried.  On the second LP they are joined by Losekamp who replaced Pickens.
Simon is credited as the sole composer of "Red Rubber Ball" on the LP but accompanied by Woodley on the 45 release.  Simon and Woodley also provided "Cloudy" on the debut LP and "I Wish You Could Be Here" on "Neon".
I was surprised to learn that the group first found their way onto vinyl as "The Rondells" in the summer of 1965 on the ABC Paramount label most likely due to the efforts of Nate Weissman before presenting the group to Epstein.
LP – Columbia 9344 – "Red Rubber Ball" – August, 1966 – #2 Billboard Charts
LP – Columbia CL 2632 – "Neon" – April, 1967 – #164 Billboard Charts
45 – ABC-Paramount 45-10690 – Parking In The Kokomo b/w Don't Say That You Love Me – June, 1965
45 – Columbia 4-43589 – Red Rubber Ball b/w How Can I Leave Her – April, 1966 – #2 Billboard Charts
45 – Columbia 4-43729 – Turn Down Day b/w Big, Little Women – August, 1966 – #16 Billboard
LP Cut from "Neon" LP – I'm Not Sure What I Wanna Do – October. 1966 – #104 Regional Combined Charts
45 – Columbia 4-43871 – Please Don't Ever Leave Me b/w Money To Burn – December, 1966 – #59 Billboard
45 – Columbia 4-43965 – I Wish You Could Be Here b/w The Visit (She Was Here) – May, 1967 – #70 Billboard
45 Flexi Disk – Teen Scoop – Interview Record – 1966
45 – Columbia 4-44108 – We Had A Good Thing Going b/w Two Rooms – April, 1967 – #72 Billboard
45 – Columbia 4-44224 – Penny Arcade b/w The Words – July, 1967 – #95 Billboard
45 – Columbia 4-44366 – Turn of the Century b/w Don't Cry, No Fears, No Tears Comin' Your Way – November, 1967 – #112 Billboard Bubbling Under
45 – Columbia Hall of Fame 4-33103 – Red Rubber Ball b/w Turn-Down Day – 1967
45 – Columbia Special Products CSM 466 – Camaro b/w SS 396 (by Paul Revere and the Raiders) – 1967
45 – Columbia 4-44426 – Reading Her Paper b/w Friends – January, 1968
45 – Columbia 4-44491 – Where Are You Going? b/w Red Chair Fade Away – April, 1968
45 – Sundazed KS7-03 – 7 Up The Uncola/Their Hearts Were Full Of Spring b/w Sigma Stomp/Waiting In The Rain – 2002