Sgt Pepper's Journey
For so many musicians, when asked "Where were you when you first listened to Sgt. Pepper's Lonely Hearts Club Band", they usually don't even hesitate.  Pepper's was simply a game changer.
The LP came following the Beatles' decision to cease touring and turn their attention to the recording studio where they immersed themselves in their craft logging in tremendous amount of studio time leaving their following salivating at the thought of what might emerge.
Little did we know.  Pop music would never be quite the same.  The first hints came in the way of a single release in mid February of 1967 with Capitol 5810 containing "Strawberry Fields Forever" b/w "Penny Lane".  Then in May of that year the cat came out of the bag with a couple of radio stations somehow obtaining cuts from a yet unreleased Beatles LP – yet to be named.  Although the American stations were legally blocked, A London station followed suit with unauthorized spins of tracks.
The dam was about to burst, still yet unreleased in either continent, the anticipated album racked up advance orders in excess of a million units.  Then finally on June 1st, 1967, Parlophone in the U.K. released "Sgt Pepper's Lonely Hearts Club Band.  In the U.S. Capitol followed quickly on June 2nd.
The LP went Gold in 14 days and debuted on Billboard at number 8 on June 24th.  The next week Pepper's knocked off the Monkees' "Headquarters" at the number 1 slot.   The album would enjoy a 175 week-run on the Billboard Top LP's Charts with 29 weeks in the Top Five and would sell over 11 million units.  Pepper's also held the number one position on Billboard for 15 weeks.  It brought home Grammy Awards for Best Engineered Recording, Graphic Arts, Non-Classical, Best Contemporary Album and Best Album Cover – and finally, Album of the Year – a first for a rock and roll album.
Sgt Pepper's was somewhat unique in that no official single releases on 45's were released to accompany the album.  Both Strawberry Fields Forever and Penny Lane were part of the Sgt Pepper's project but as related above were pulled in order to obtain a single release for the marketplace.
Concept?
The album is reverently alluded to as one of the first "concept" albums but it may not have been a conscious effort on the part of the Beatles to accomplish that when they began working on the tracks.  Paul has related that more than anything the group was just looking to enjoy growth and move beyond what was expected.  They pulled out the stops – calling up childhood memories and allowing their collective imagination to 'free flow'.
But my favorite review of the Beatles and Sgt Pepper's occurred many years ago – 1971 – when I was stationed at Phan Rang Air Base in Vietnam.  The critic was a young black airman from Philadelphia who delivered an unbelievably in-depth analysis of every track on not-only Sgt. Peppers, but also Revolver and Rubber Soul as well!  I sat mesmerized for several hours while – accompanied by animated gestures and body movements – Vernon set forth his technical and subjective take on the Fab Four's body of work.  The session alone almost made the one year tour of duty worthwhile!
How much has been written about "Sgt Pepper's"?  Entire treatises and volumes.  Critics salivated when writing about Sgt. Pepper's – And it continues on to this day!
Interestingly upon final completion of the album, the Beatles themselves debuted the tracks at Cass Elliot's flat in London – playing an acetate at full volume from an open window – waking nearby residents – but now drawing criticism from them – apparently due to their recognition as something new from the Lads was 'in the air'.
A 1979 critic's poll conducted by Greil Marcus for "best album of all time" – found Sgt Pepper's out in the cold – Only "Rubber Soul" received mentions.  "Melody Maker" magazine voted Sgt Pepper's "the worst record ever made" in 1998 – polling DJ's, journalists and pop stars.  hmmmmm….. (small people attempting to be big people maybe?)
Whatever – after Sgt Pepper's – the world entered into and forever would benefit and enjoy "The Album Era".
The "Cover"
The Sgt Pepper's Cover created nearly as much attention as the LP itself – The designers were Peter Blake and Jann Haworth working from a sketch provided by Paul McCartney.  The photographer was Michael Cooper, noted for his photography of the Rolling Stones during the 1960s.  They assembled life-sized cardboard cut-outs of the various icons featured in the collage.
The Fab Four elected to sport clothes which "spoofed" what was then in vogue in Great Britain – military garb.  The designers borrowed the group's wax likenesses from Madame Tussaauds Wax Museum which was located in London.  There were many innovations in the entire project – right down to the inner protective sleeve which broke away from the traditional white paper instead featuring abstract arrangements of colors.  The designer's for the sleeve was designed by Dutch theatrical ensemble "The Fool" who themselves would follow with a dazzling album cover in 1968.
The final Sgt Pepper's assemblage included 57 photographs and nine wax figures.  Two of John's choices were excluded – Jesus and Hitler.  Elvis was not included due to the high degree of reverence the Beatles held for the King.  The LP cost came to about $50,000 in today's dollars at a time when the average LP cover would seldom exceed a thousand dollars (again in today's currency).
Following is the illustration key for the Sgt Pepper's LP cover along with Wikipedia listings of the figures with links to each person providing bio information.
Top row
Second row
Third row
Front row
Sgt Pepper's Mania
Sgt Pepper's Discography
Long Play Discography
Parlophone PMC 7027 – June 1st, 1967 – Mono Issue – U.K. Release
Parlophone PCS 7027 – U.K. Stereo Release
Capitol MAS-2653  – June 2nd, 1967 – Mono Release
Sgt Pepper Sleeve
Sgt Pepper's Insert
Sgt Pepper's Original U.S. Mono Pressing
Sgt Pepper's Original U.S. Stereo Pressing
Sgt Pepper's Stereo Reissue – 1968 – US
Sgt Pepper's Stereo Reissue – 1969 – US
Sgt Pepper's Stereo Reissue – 1971 – US (Apple)
Sgt Pepper's Stereo Reissue – 1976 – U.S.
Sgt Pepper's Stereo Reissue – 1978 – U.S.
Sgt Pepper's Stereo Reissue – 1983 – U.S.
Sgt Pepper's Stereo Reissue – 1988 – U.S.
Sgt Pepper's Picture Disk – Capitol 11840 – Released 1978 – U.S.
Sgt Pepper's Mobile Fidelity Sound Lab MFSL 1-100 – Sgt Pepper's Lonely Hearts Club Band – Released June, 1983
Sgt Pepper's Mobile Fidelity Sound Lab MFQR 1-100 Sgt Pepper's Lonely Hearts Club Band – Released June, 1983 (5000 pressed)
Capitol/Parlophone C1 0777 7 46442 1 1 – Sgt Pepper's Lonely Hearts Club Band – Released November, 1995
(released in conjunction with "The Beatles Anthology")
Parlophone 5099969942617 –  Sgt Pepper's Lonely Hearts Club Band – Released November, 2012
Sgt Pepper's 45 RPM Releases
45 – Parolophone R 6022 – Sgt Pepper's Lonely Hearts Club Band/With A Little Help From My Friends b/w A Day In The Life – Released September, 1978
45 – Capitol P-4612 – Sgt Pepper's Lonely Hearts Club Band/With A Little Help From My Friends  Promotional – Mono/Stereo – Released August, 1978
45 – Capitol 4612 – Sgt Pepper's Lonely Hearts Club Band/With A Little Help From My Friends b/w A Day In The Life – U.S. – August 14th, 1978
Reissue – Capitol CAP 4612 – Released from 1983 thru 1987
Reissue – Capitol 4612 – Released 1988 (Identified via "Manufactured" wording in rim print)
Reissue – Capitol 4612 – Released 1994 (For Jukeboxes Only)
Sgt Pepper's – Non-Vinyl Media
Capitol Reel-To-Reel L 2653 – Released June 1st, 1967
Capitol Play Tape No. PTP 0542.01 – Released 1967
Capitol Play Tape No. PTP 0542.01 – Released 1969
Capitol 8-Track Tape – 8XT 2653 – Released 1967
Capitol 8-Track Tape – CAP 2653.8T2 – Released 1969 thru 1982
Capitol Cassette Tape  CAP 2653 CST1 – Released 1968
Capitol Cassette 4XT 2653 – Released 1969
Capitol Cassette 4XT 2653 – Released 1978
Capitol Cassette 4XAS-2653 – Released 1986
2nd Version
Mobile Fidelity Sound Lab MFSL C-100 – Original Master Recording – Released 1986
Capitol Cassette C4-46442 – Released 1992
CD – Parlophone CDP 7 46442 2 – UK – 1987
CD – Parlophone CDP 7 46442 – US – 1987
CD – Parlophone 0946 3 82419 2 8 – International Release – September, 2009
Sgt Pepper's Memorabilia
Sheet Music – USA – 1967
Apparel Patch – UK – 1967
Sgt Pepper's Drum – 1967
Badge – UK – 1970's
Comic – Netherlands – 1978
Sgt Pepper's Dolls – 1988
Sgt Pepper's Lunch Box – 1999
Refrigerator Magnet – UK – 2009
Mug – UK – 2010
Mouse Pad – USA – 2012
Sgt Pepper's Jukebox – Current New Model
Sgt Pepper's At 50 – People's Magazine – 2017
Sgt Pepper's 50th Anniversary Figure Set – Titan – 2017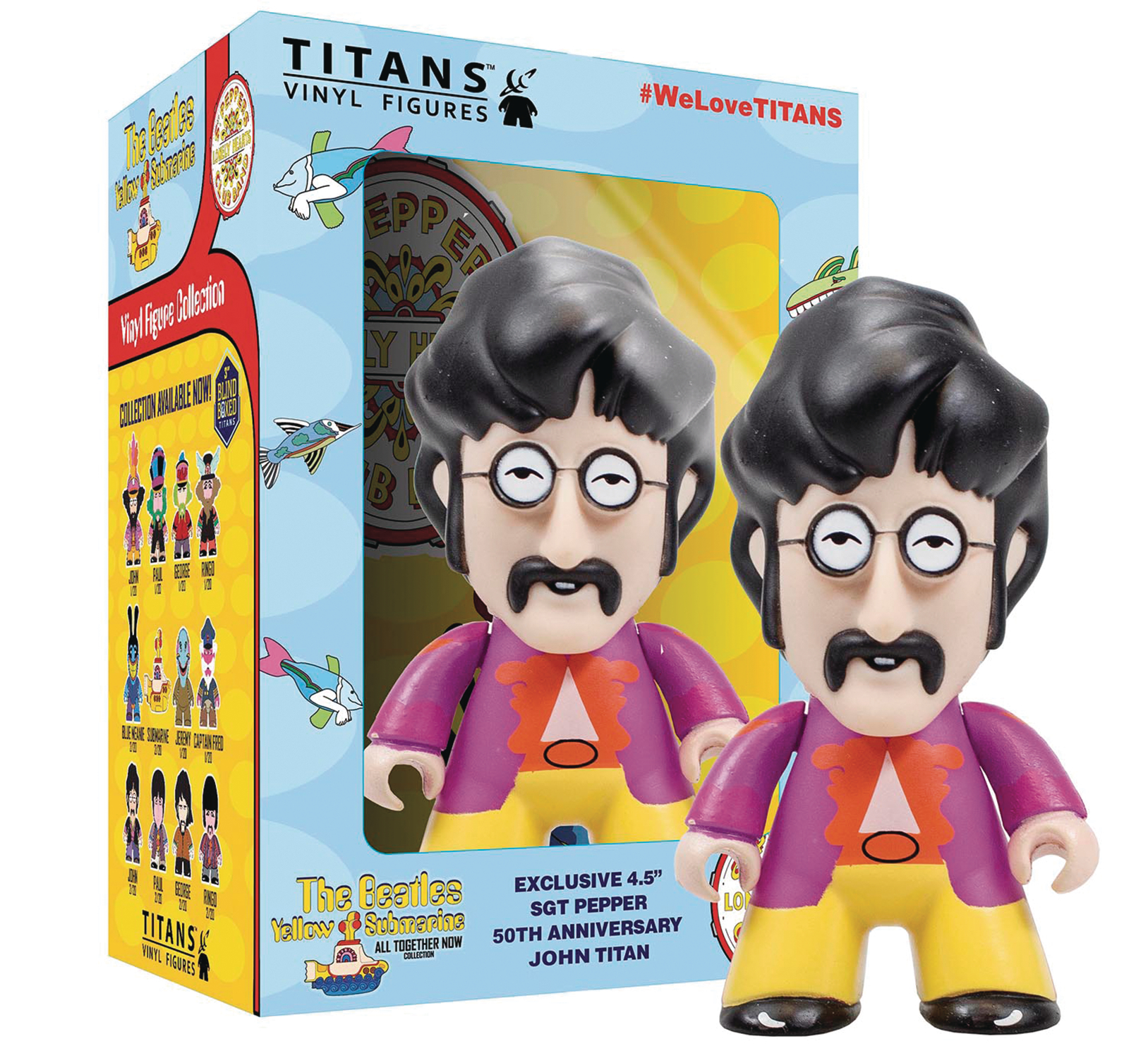 Sgt Pepper's T-Shirt – Contemporary
Sgt Pepper's Shopping Bags – Contempory
Sgt Pepper's Vinyl Sticker – Contemporary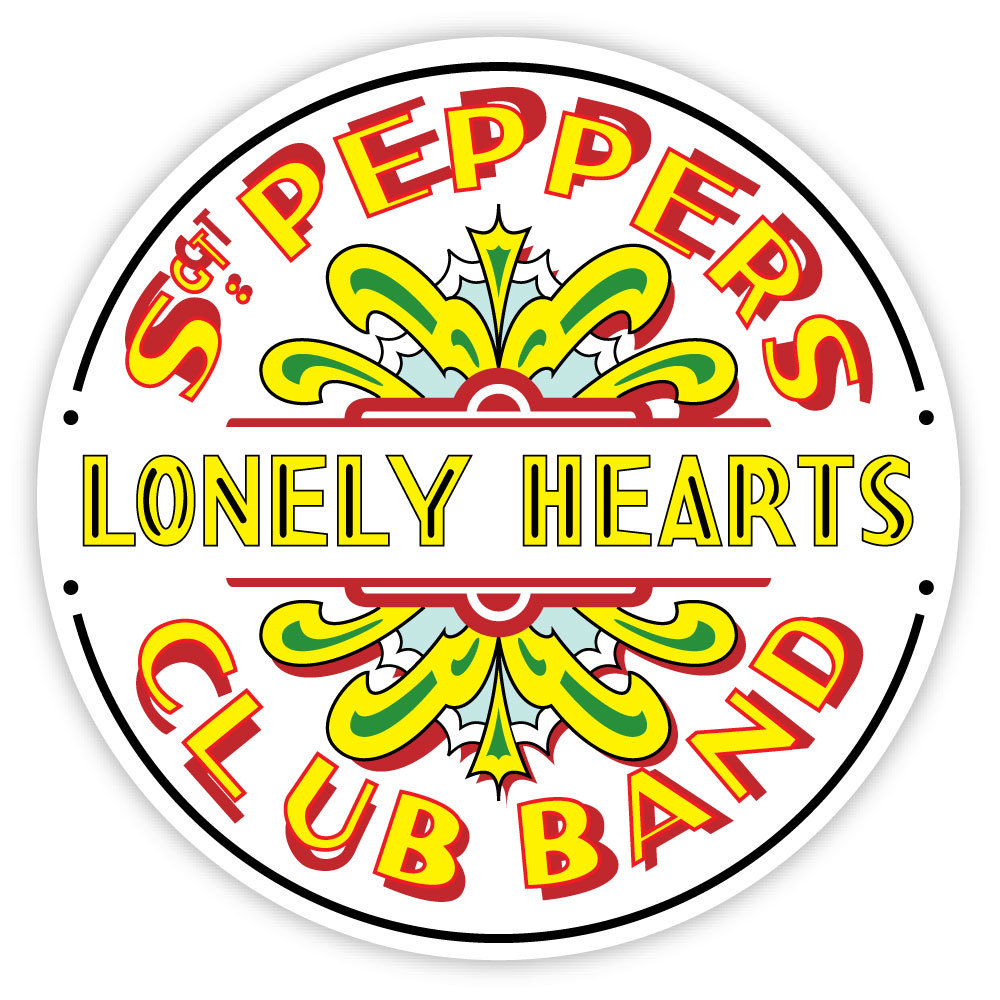 Sgt Pepper's Salt and Pepper Shakers – Contemporary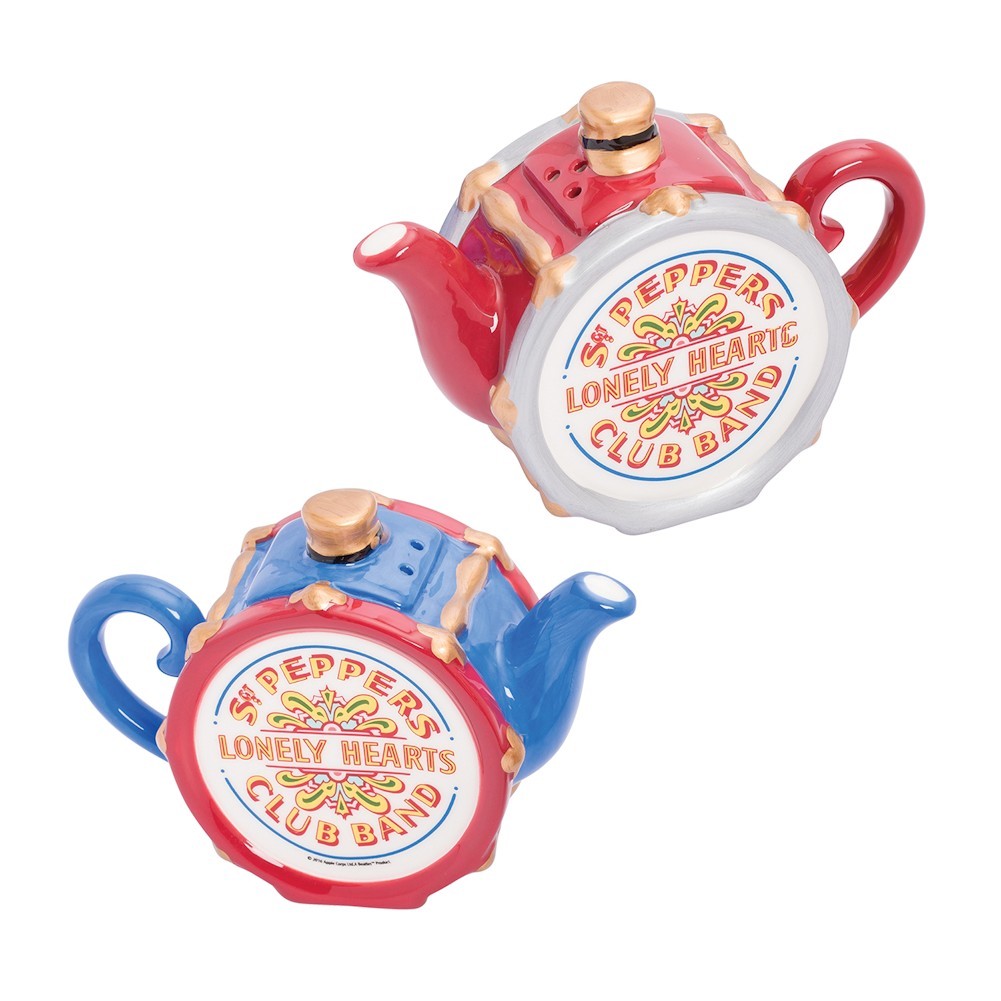 Sgt Pepper's Crystal Plate (selling for $400 Plus) Year Unknown