(NOW WITH OVER 300,000 VISITORS!
THANKS TO ALL & KEEP ROCKING!)
Nor Your Father's Tyrtles!!
While doing some snorkeling at Carl Smith Beach in Hilo, HI I was immediately greeted by a giant old sea turtle when I first entered the water.
The grand old fellow likes to come up on anyone first entering the water – approaching them from the backside and giving them a loving nudge.
Very strict rules about not touching nor feeding the sea turtles but obviously this fellow has managed to beg a treat here and there and thus the greeting.
Cash Box April, 1967So I began thinking about the Turtles out of Los Angeles, California.  What a great band – very commercial but in a style unique to them for the most part.
The group started off in 1965 as a surf group – calling themselves "The Crossfires" releasing two singles under that name.
On Becoming the Turtles
The were signed on to an upstart record label – "White Whale" and immediately elected to change their name to something more in step with the times – and thus we got "The Tyrtles" (think "Byrds").  That name gave way quickly to the The Turtles – and so White Whale was onto something big – for a while at least.
Right out of the box the Turtles quickly established themselves as a pop force with "It Ain't Me Babe", "Let Me Be" and "You Baby" in the space of six months staring off in July of 1965.  I was working for the Bureau of Public Roads that summer during my school break – assigned to a road project in Huntsville, Utah – and "It Ain't Me Babe" was right at the top of an American 'protest' barrage which included Dylan – Sonny (Laugh at Me) Bono – Barry McGuire, and P.F. Sloan to name a few and the Dylan influenced Byrds.
The first lineup of Turtles included Howard Kaylan and Mark Volman sort of a dual lead vocal team but I do recall Volman referring to himself as a "rhythm" singer . The two were joined by high school mates Jim Tucker, Don Murray, Al Nichol and Chuck Portz.
All six had been "Crossfires" and managed to stay together until 1966 when both Portz and Murray departed to be replaced by Joel Larson and John Barbata – In addition, a yet-unkown Chip Douglas would come on board as a bass player but his real talent would be discovered when he stepped forward to take on arranging duties.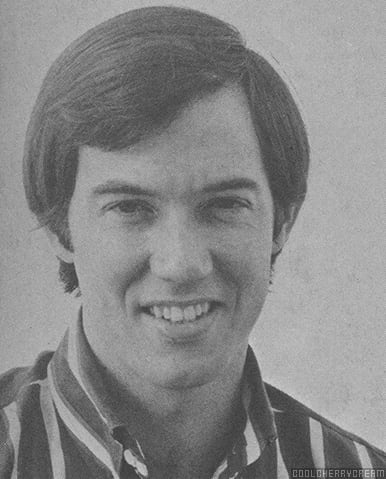 Chip Douglas (Douglas Farthing Hatielid) started his musical journey as a folk singer – growing up in Hawaii and forming "The Wilcox Three".  Douglas would next form "The Modern Folk Quartet" with Jerry Yester (also with the New Christy Minstrels and The Lovin Spoonful).
Under Chip's guidance the Turtles continued to flourish until he was lured away to work with The Monkees.
The Turtles would place 18 singles on the U.S. Pop Charts up into 1970 at which point they decided to call it quits disgruntled with White Whale's efforts to keep them firmly planted as pop hit machine.
The Turtles – for all their commercial appeal – reined primarily as a pop hit single band – During their time together they released seven long plays on the White Whale label – and only one – "Golden Hits" from 1967 managed to crack the Top 10 at number 7 Billboard and number 5 Cashbox.
The Turtles quit White Whale – and with their cash cow gone – the label would soon close it's doors as very few other White Whale acts managed to do anything beyond dent the pop charts (see below).
Kaylan and Volman – along with Turtles Jim Pons would to on to team up with "The Mothers of Invention" performing as "The Phlorescent Leech and Eddie".  They would quickly morph into "Flo & Eddie".
The duo of Volman and Kaylan provided back up vocals for T-Rex on "Get it On (Bang a Gong) – very easy to pick out their voices on that one.  Lots of work would follow – backing Alice Cooper, Bruce Springsteen while securing rights to "The Turtles" name and acquiring the masters.
They regrouped in the mid 1980's and joined up with Gary Lewis & the Playboys, The Buckinghams and the Grassroots on an oldies tour.  Films would follow – more tours – lots of reissues – a long and prosperous career for two great singers and performers who certainly helped bring the Americans back to the forefront in the summer of 1965!
Mark and Howard stayed together for many years and by all accounts seemed to always get along very well – Both were born in 1947 and both are alive today.
Turtles Discography – Singles
45 – White Whale 222 – Number 8 – August, 1965
45 – White Whale 224 – Number 29 – October, 1965
45 – White Whale 227 – Number 20 – February, 1966
45 – White Whale 231 – Number 81 – June, 1966
45 – White Whale 234 – July, 1966
45 – White Whale 237 – July, 1966
45 – White Whale 238 – Number 89 – October, 1966
45 – White Whale 244 – Number 1 U.S. – Number 12 U.K. – February, 1967
45 – White Whale 249 – Number 3 U.S. – Number 4 U.K. – May, 1967
45 – White Whale 251 – June, 1967
45 – White Whale 254 – Number 12 – August, 1967
45 – White Whale 260 – Number 12 – November, 1967
45 – White Whale 264 – Number 57 – March, 1968
45 – White Whale WW 273 – Number 48 – June, 1968
45 – White Whale WW 276 – Number 6 – Number 7 U.K. – June,1968
45 – White Whale 292 – Number 6 – December, 1968
45 – White Whale – WW 306 – May, 1969
45 – White Whale WW 308 – Number 51 – June,1969
45 – White Whale WW 326 – Number 91 – October,1969
45 – White Whale WW 334 – Number 78 – November, 1969
45 – White Whale WW 340 – (As "The Dedications" ) – February, 1970
45 – White Whale WW 341 – March,1970
45 – White Whale WW 350 – April, 1970
45 – White Whale WW 355 – Number 100 – June,1970
45 – White Whale WW 364 – Number 105 – October, 1970
Turtles Discography – Long Plays
LP – White Whale WW 111 – It Ain't Me Babe – Number 98 Billboard – Number 35 Cashbox – September, 1965
LP – White Whale WW 112 – You Baby – Number 71 Cashbox – April, 1966
LP – White Whale WW 114 – Happy Together – Number 25 Billboard – Number 15 Cashbox – April, 1967
LP – White Whale WW 115 – The Turtles Golden Hits – Number 7 Billboard – Number 5 Cashbox – October, 1967
LP – White Whale WW 118 – The Turtles Present The Battle of the Band – Number 128 Billboard – Number 43 Cashbox – November, 1968
LP – White Whale WW 124 – Turtle Soup – Number 117 Billboard – Number 105 Cashbox – October, 1969
LP – White Whale WW133 – Wooden Head – September, 1970
Flo and Eddie Discography
45 – Reprise Pro 533 – 1972 Radio Promotional (Phlorescent Leech & Eddie)
45 – Reprise REP 1113 – September, 1972
45 – Reprise REP 1142 – January,1973
45 – Reprise PRO 564 – February, 1973
45 – Reprise REP 1160 – February, 1973
45 – Columbia 3-10028 – September, 1974
45 – Columbia 3-10204 – September, 1975
45 – Columbia 3-10425 – October, 1976
45 – Columbia 3-10458 – December, 1976
LP – Reprise MS 2099 – The Phlorescent Leech and Eddie – July, 1972
LP – Reprise MS 2141 – Flo & Eddie – April, 1973
LP – Columbia PC 33554 – Illegal, Immoral and Fattening – August, 1975
LP – Columbia PC 34262 – Moving Targets – 1976
LP Epiphany ELP 4010 – Rock Steady with Flo and Eddie – 1981