Red Rocks Amphitheater Musical Memories
Beautiful Red Rocks Amphitheater was slow to welcome anything slightly resembling a rock and roll act. In fact, it wouldn't be until 1959 when a 19 year-old show business prodigy appeared that the barrier would finally be broken down.
Ricky Nelson appeared at Red Rocks on August 14th of 1959 making him the very first rocker!
Ray Charles – not actually a rocker but a musical 'genius' would be next in August of 1962. Then we had a dry spell of sorts which was brought to a solid end on August 26th, 1964 when the Fab Four arrived (they were actually preceded by their Liverpool label mates Peter and Gordon by more than a month – who appeared on July 23rd, 1964.
Today the story line persists that Red Rocks was the Beatles' only U.S. appearance not to sell out.  It just ain't so….  The photos attest to that as will any attendee you may come into contact with – for me – my wife Janet who was there and my very dear friend Ken Aldrich – also in attendance.
The throngs gathered at the ticket barriers and in an overenthusiastic fever surged and crashed through the entry ways – charging into the Amphitheater – with many tickets not being taken for lack of gate personnel.  Janet still has hers today.
Red Rocks would return to dragging their feet with rockers after a few bad experiences with Ray Charles and a Jethro Tull concert – but would finally come around as time marched on.
Garden of the Titans
In the very early days, Red Rocks was known as the "Garden of the Titans".
There is a photo of a quartet of musicians at the Red Rocks museum – identified as the very first musical act at the venue – but unknown by name – The first identified act was Pietro Satriano's Brass Band in 1906!  Satriano came from Italy and found his way to Denver in the 1880's and became a resident.  There is actually a book documenting his life shown below.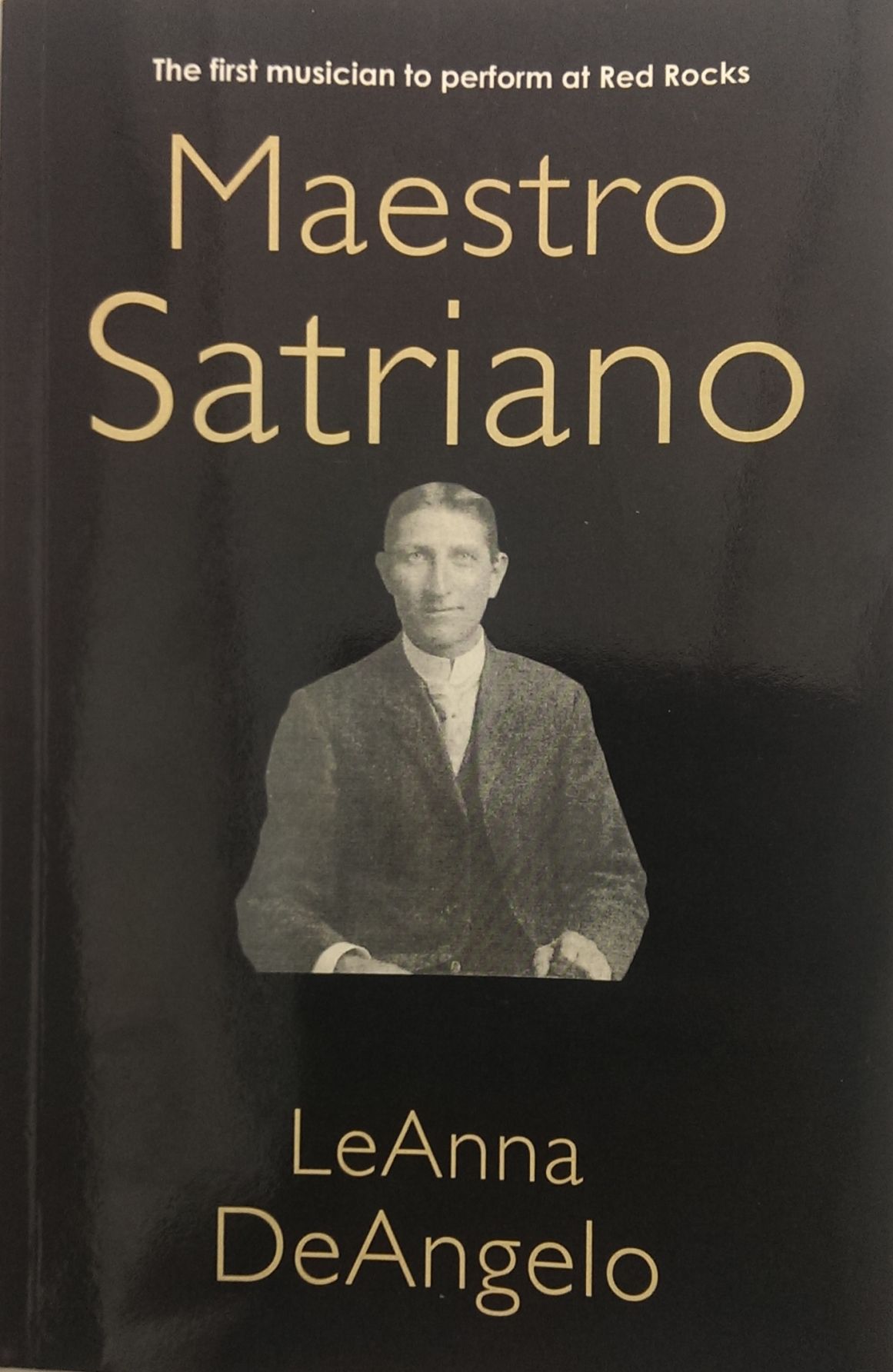 The act acknowledged as putting Red Rocks on the "musical map" was opera singer Mary Garden in May of 1911.  Garden was born in Scotland in 1874 before moving to the U.S. at the age of nine.
In the early years, musical performances were few – generally four or five a year.  Some brass bands – a little opera – some harmonizing combos…As time marched on national acts would grace the stage but through the 20's, 30's and 40's, performances were held to little more than a handful annually.  The Big Bands occasionally graced the stage, and many top pop singers of the day arrived – Jeanette MacDonald in 1952, Snooky Lanson and Dorothy Collins from the "Lucky Strike Hit Parade" in 1956, Nat "King" Cole also in '56 and the great Louis Armstrong in 1957.
The Hendrix Experience at Red Rocks
Perhaps the first Red Rocks concert to totally abandon any pretense of 'safe' rock and roll came at the September 1st concert in 1968 when The Jimi Hendrix Experience would be the headliner accompanied by English band Soft Machine and Eire Apparent from Ireland – along with Long Island's Vanilla Fudge – all in all a genuine 'psychedelic' extravaganza.
Colorado Artists at Red Rocks
Rather surprisingly, not too many local acts took the stage at Red Rocks. The first Colorado native born musician would be Paul Whiteman with his orchestra in 1954, well past his recording fame.
Of course John Denver was there often – not really a roots-resident – he appeared at least 17 times.  East High's Judy Collins appeared first in August of 1970.  Sometimes Colorado resident Michael Martin Murphy performed on July 30th, 1970.
Other transplants would include Nederland's Daniel Fogelberg in 1977, the Nitty Gritty Dirt Band in 1978 and Firefall in 1979.  Poco with former Boenzee Cryque members Rusty Young and George Grantham made their debut in 1979 as well.
Perhaps the most obscure Colorado musician to be featured would be Pearle Rae and her "Music Men" – taking the stage on July 8th, 1967 a few weeks ahead of Simon and Garfunkle and about a month ahead of the Mamas and Papas.
Pearle only recorded one long play released on her own Raemax record label based in the Western Federal Savings Building in downtown Denver in the 1970's.  Pearle was Lorraine Di Julio – her husband being featured on her album – Identity of the "Music Men" not known but most like Max and company.
Classical musician prodigy Eugene Fodor – born and raised in Denver, appeared at Red Rocks in 1977.  Eugene could have debuted much earlier.  He performed with the Denver Symphony Orchestra at age 10 in 1958!  His career skyrocketed after graduation from the famed Julliard school in New York City.  He was a member of the Philadelphia Orchestra as a soloist and a member of the New York Philharmonic.
At his height, Fodor was earning more than $350,000 annually.  He traveled the world in concert – recorded scores of long plays – and was bestowed with many honors up until 1989 when drug brought down his journey.
Marriages ending in divorce and continued drug and alcohol use spelled his early demise – passing from a failed liver in February of 2011 at the age of 60.
Red Rocks Amphitheater thrives today featuring a full summer long bill of diverse genres and performers.  Making the short drive up to the park and museum is always worth it.  And while you are there jog down the theater stairs to the nearby Colorado Music Hall of Fame in the Red Rocks Trading Post which is situated just off to the lower south!