Band Box Discography A through K Artists

(Visit the Band Box Artists Page L through Z)
Bobby Allen
Band Box 317 -1962 – "Good Night Twist" b/w "Jim Dandy" (release not verified)
45 – 10-4 1035 – with the Southern Comforts – "C.B. Baby" b/w Golden Guitar
Tom Allen & the Saints
Little is known of Tom Allen – who recorded three singles on Band Box. I have asked Dave Barhite and Joe Holenbek – both original members of The Saints if it was their band who is credited on this single. Neither one remembers a Tom Allen and both are certain they did not record with him.
Additionally they are not familiar with the two cuts on his Band Box release 249 "Never" b/w "Lone, Lonely One". The cuts are definitely rhythm and blues all the way. His "Lone, Lonely One" has a doo-wopish ballad feel complete with female chorus back-up.
Band Box 249 – Lone, Lonely One b/w Never – 1959
Band Box 314 – 1962 – "Everybody's Doing The Twist" b/w Please Wait For Me" – Release not verified
Band Box 315 – 1962 – "Stormy Weather" b/w "Until I Met You" – Release not verified
Max Allison
Band Box LP 1008 – Rocky Mountain Jamboree – "A Stranger Came To Town"
The Alpine Polkadots
The Polkadots were most likely Denver based band – not sure if they were male or female.  This was a tribute album to the late Paul Weingardt.
Paul perished in a tragic car crash  along with his spouse – Anna – band member Hank Schneider and his wife Frieda near Torrington, Wyoming coming home from a gig.  His 10-year old son was also injured seriously in the accident.
I came across this Band Box LP on a mere chance. I decided to head up one later summer day to Idaho Springs to look through a couple of shops on the main drag. There were a couple of antique stores and a rather large thrift store. No luck at either place.
While walking down the main drag I came upon a very small pawn shop. I entered immediately thinking that this was a mistake. But at the far end of the room was a box of long plays. I began sorting through them and came upon a CLW label – another polka band. I realized they were all polka recordings. For some reason when I came across the LP below – I decided to pull it clear of it's cover. There were absolutely no label markings on the cover and the back cover was completely blank. Glad I did. There before me was previously not known to me!
Band Box LP 1017 – "A Tribute To Paul Weingardt"

VISIT THE COLORADO POLKA/HOP PAGE FOR PAUL WEINGARDT DISCOCRAPHY
Stanley Anderson & The Sundowners Band
Yet another Band Box country and western act.
Band Box 257 with the Sundowners – Gotta Travel On b/w You're Gone – 1960
The Avalons
Band Box 247 – Listening Ear/Going to the Dance  1960
Gar Bacon
Band Box 291 – "The Gift of Time" b/w "The Ghost of Love – 1962

Dick Bailey
Dick Bailey appeared in Denver lounge clubs in the early 1960's and had this one single on Band Box.  His release is the only Band Box extended play I am aware of.
Band Box 350 Extended Play – Dick Bailey at the Hammond Organ – 1964
The Balladiers
Nothing is known of this Band Box recording act who released one single on the label.  "Lonesome Traveler" was recorded by Lonnie Donegan but not released as a single.
Band Box 263 – "Lonesome Traveler" b/w Don't Hurry Worry Me"  1961
Leigh Baron
Leigh Baron was a Chicago pianist who moved to the Denver area.  He appeared at the Sheraton Hotel Chicago regularly and after his move to Denver – opened a dining establishment "Little Bohemia" where he and associates would entertain.  He released a Band Box LP (catalog #1001).  Leigh also recorded one side of Band Box single "You'll Never Walk Alone".  The flip side of Band Box 346 was recorded by Carlin Lark – another lounge-type artist.  The song was taken from his Band Box LP.
The liner notes indicate that he was somewhat reknown in the Chicago area prior to coming and living in Denver – where he owned the "Little Bohemia" restaurant and nightclub. A 1999 Denver Post obituary reported:
"Band leader Leigh Barron, whose trio performed show tunes on KOA radio, broadcasting from the Park Lane Hotel until its demolition, died in February. Barron was also known as the man who gave folk singer Judy Collins her first professional engagement at his Little Bohemia Supper Club on West 38th Avenue." 
And so there is his lifetime summed up in a tidy little paragraph.  Reference is made to Judy Collins, who traveled to Denver in 1939 with her family.  Later she would attend and graduate from East High School off Colfax Ave.
Band Box LP 1001 -The Continental Touch 1964
Band Box 346 – In Dear Old Denver Town (by Carlin Lark)  b/w You'll Never Walk Alone – 1964
Other Colorado Local Recordings:
LP – Accent ACS 5037 – "Street of Dreams"
LP – Accent 5047 – To You With Love
LP – Omega 1001 – "The Best Of Leigh Barron"
LP – Omega 1002 – "Leigh Barron and Doris Merritt On Stage"
Leigh also recorded on the Accent Label which was Hollywood based
45 – Accent 1238 "Yellow Bird" b/w "Alley Cat" – 1968
Grant Beckett
Band Box Test Pressing – Ozy b/w Litttle Heart
Cindy Bertram & Her Band
Members: Cindy Bertram (accordian), Rachel Bertram (keyboards), Tom Schell (trumpeter) and Paul Strickline (drums)
This came in from Lisa at the North of Pueblo Blog site:
"Found this LP on a dig in Colorado last spring. Standard issue vanity pressing with no year noted, and no markings whatsoever (but pressed on groovy blue vinyl!).  I really didn't need yet another Colorado polka record, but then I flipped over the album, and saw this pasted picture. I totally want to hang out with these people.  Back of the album is autographed by Cindy (on accordion), keyboardist Rachel Bertram, Tom Schell on trumpet, and on dulcimer, Paul C. Strickline.
Quick Internet search finds that Cindy attended Adams City High, in Commerce City (the same school that hatched the surf-rockers, The Shelltones), and graduated in 1971 (NOTE:  Commerce City was home to the prolific Infal label).  In 1968 Cindy and her band released an EP on the Band Box label (Band Box 386: "Forever and Ever"/"Shpitzkoph" and "Somewhere My Love"/"Gary's Polka").  Label on the disc shows "Record #2." The album above indicates "Volume 1."   Newspaper archive searches show that Cindy and her band were active through 1974, performing at the Blue Willows Lounge (formerly the Dutchman Inn), in Greeley."
Visit the North Of Pueblo Blog to view the entire Post.
Band Box 386 Extended Play – Forever and Ever/Shpitzkoph b/w Somewhere My Love/Gary's Polka  – 1968 (Extended Play)
LP – Cindy Bertram and Her Band Volume 1
Bill & Joyce
Band Box 312 – "Conscience" b/w "When The Band Begins to Play" – Release on Band Box not verified- 1962
Valerie 2001 – "Conscience" b/w "When the Band Begins to Play" – 1962
The Blue Rhythms
The Blue Rhythms recorded six singles for Band Box – two of which have not ever surfaced as far as I know.  Visit the Blue Rhythms Biography page which includes an interview with Marvin Ross.
LP – Band Box 1004 – The Blue Rhythms at the Koko
Band Box 224 – Tree Top b/w Consideration – 1959
An autographed sleeve compliments of  "Doc" Krieger – Colorado Hall of Fame
Band Box 234 – I'll Step Aside b/w Old Lonesome Times – 1959
Band Box 242 – That's the Way of Love – b/w How Much – 1959
Band Box 243 – Ebony b/w The Roll – 1959
Band Box 250 – (by Lee Chandler with Lew Gaither Orchestra) – Sweet Dreams b/w Your Cheatin' Heart – December, 1960
Band Box 298 – "Buona Note" b/w Echoes of Your Love" Release not verified – 1962
Band Box (Unreleased) – Marvin Ross & The Saints – "Trixie" b/w "Interchange" – 1958
Bob and Shirley & The Valiants
Bob and Shirley were a married couple from Denver – the Christys – They released two singles on Band Box – one backed by The Valiants (shown above) and another with The Saints.
Band Box 225 – Your True Love b/w Consideration – 1959
Band Box 282 – Everybody Knows b/w Brigitte Bardo – 1961
Bob and Sylvia (Love)
Bob and Sylvia Love released two singles on the Band Box label as well as the zany comedy LP on the Band Box subsidiary label Spicy titled "Ma and Pa Snort Blaster".  They did a lot of clowning around but released two straight ahead singles on Band Box – 239 and 240.  Their Spicy 45 is the only known 45 released on that comedy label.  Notice the "Silvia" spelling.
On the Band Box Instagram page Valerie relates how her grandmother Vicky often went to see Bob and Sylvia perform live around Denver and would make it a practice to visit late night clubs to scout possible recording acts.

LP – Spicy 5002 – "Ma & Pa Snort Blaster"
Band Box 239 – "The Arabian Cowby" b/w "Don't Touch" – 1959
Band Box 240 – "King Size Lies" b/w "Lonely and Longing" – 1959
Band Box  258 – 1961 – "Gillyboat Song" b/w "Old Fashioned Ride" – 1959 Unreleased
Band Box 259 –  "Streets of Laredo" b/w "Ellen, Ellen" – 1959 Unreleased
45 – Spicy 500 – Castration of The Strawberry Roan b/w The Surrey Song-Blackbird
45 – Durty 006 – Quips and Auntie Mable b/w Bye Bye Blackbird
The Boltz Family Five
Visit the Boltz Family Five Page Here
LP – Band Box 1007 – Hawaiian Masterpieces
The Bravados
(See "The Valley Men" & "The Prickly Pair" entries)
Mother Brown
This is a later day Band Box artist or group – don't know if Mother Brown is a solo act or not.  This act was one of the last to record on Band Box.  Nothing is known of her/their whereabouts.
Band Box 392 – When You Got It Flaunt It b/w Knees Up Mother Brown – 1969
Burnt Mill Road – Pueblo
Known Group Members:
Joey Rodriguez
Dave Trujillo
Ray Sandoval
Jose "Martin" Ortega (Also with Pueblo groups The Fabulous Fremonts – The Ortega Brothers – The Soulmen – The Gents – The Chevelles – Deceased 2001)
Tony Ortega (Also with The Ortega Brothers)
The Calvary Choristers (Estes Park)
This gospel group released one Band Box LP "The Calvary Choristers" on Band Box 1013.  This is an assemblage of gospel singers who recorded the LP in Estes Park during a Gideon Retreat during the mid 1960's.  Images by Doc Krieger.
Musicians: Elaine Clark – Mary Ellen Clark – Marian Knott – Albert Knott – Merl Koch
LP – Band Box 1013 – Calvary Choristers
The Capriccios
This is almost certainly the same Denver area group who recorded on the Inn Timate label – as did Band Box artist Chuck Mills.  Although Band Box moved ahead with a publicity photo, apparently no tracks were recorded by The Capricios at the North Denver label.
From East Denver – If someone can verify the spelling for Jimmy or Jeff please do so.
Jeff Olivas – lead guitar
Jimmy Peritos – Attended East High School
Bill Martinez – drums
John Maul – sax (John Maul & The Cutups)
45 – Inn Timate IT-100 – Tink b/w I Found A New Love – (year unknown)
Cee Cee/Ce Cee Carol
Cee Cee released one single on Band Box and also recorded for Denver label owner and composer Morey Bernstein on his Trans-World and Finer Arts label.  She was Denver's "Brenda Lee". Cee Cee was married to the rhythm guitar player for Dean Carr's band The Corvettes, Bill Dyker.
Band Box 292 – Crazy Little Old Feeling b/w The Right Guy – 1962
45 – Trans-World T6907 – Tag-A-Long b/w Oh! Mr. Judge – 1960
45 – Finer Arts FA-1009 – Oh! Mr. Judge b/w Tag-A-Long – 1966
Dean Carr & The Corvettes
Left-to-Right: Pete Tracey – Bill Dyker – Dean Carr
Members:
Dean Carr (lead vocals)
Pete Tracey (lead guitar) – with Pete Tracy Trio
Mike McAdams (drums)
Bill Dyker (bass)
Band member Bill Dyker was married for a time to Cee Cee Carol.  The group released one single on the Band Box subsidiary – Valerie.  Pete Tracey passed away in 2020 – Pete Tracey is a Pop Bop Rock Honor Roll Inductee
45 – Valerie 2002 – "I Was a Fool" b/w "Too Many Tears"
Sammy Cee & The Penzmen
Sammy Cee along with 9 other Band Box artists – is an inductee in the Colorado Country Music Hall of Fame.  A "Sam Cee" (shown below) released one side on Bell Records budget label – Could this be the same guy?
Band Box 229 – Malaguena b/w Dark Eyes – 1959
Stephen Chandler
The identity of this Band Box artist came to light at the Fall 2018 Denver Record Expo where the Band Box family revealed a 45 picture sleeve (without record – apparently unreleased) – as being Stephen Chandler.
Chilly Charlie
A rare documentary type release on Band Box "Crisis at Ole' Miss".  A rather flippant name for an artist for a serious topic – however the style on this single is a "break-in" imitating the works of Buchanon & Goodman – but falling far short in the clever category.  The single is excruciatingly long!
Band Box 329 – Crisis at Ole Miss Parts 1 and 2 – 1963
Johnny Chase
Band Box LP 1008 – Rocky Mountain Jamboree – "One Sided Love Affair"
I am assuming that this 45 is by the same Johnny Chase – taken from the 1963 motion picture "Lonnie".
45 – JAF 2506 – Lonnie b/w Road House – 1963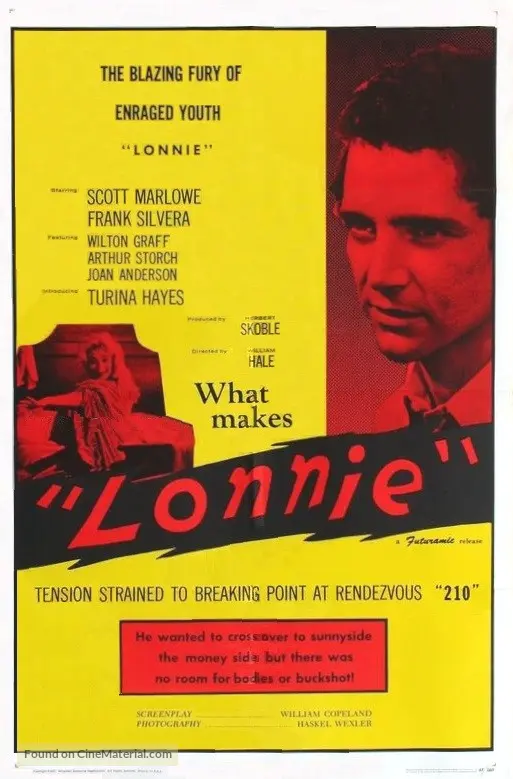 Fred E. Cole & the Northsiders
I like the sound of the Northsiders on the B side of this song!
Band Box 284 – "Little Boy" b/w "Don't Be Mad" – 1961
Skip Cole & His Fabulous Hi-Spots
"Twist and Freeze is side is actually Orlie and the Saints who recorded the song on Band Box 253 several versions.  According to Denver singer/performer Frankie Rino, Cole recorded with a variation of the Hollywood Argyles sometime perhaps in the 1970's.  The group did come through Denver and did release a record on Morey Bernstein's Finer Arts label although without the services of Argyle's creator Gary Paxton.
Skip Cole was also a Denver night club owner and promoter
Band Box 353 – Twist and Freeze b/w Who's Gonna Win the Election – 1964
Skip Cole & His Hi-Spots – Suave 718 – "You're The One" b/w "Do The Whip" – 1964
Colorado Country Music Hall of Fame
Band Box Inductees
Band Box owner Vicky Morosan would be proud of the impressive list of country artists who recorded for her label and found their way into the Colorado Country Music Hall of Fame!
Sammy Cee
Joe Holenbek (Saints)
Randy King
Dewey Knight
Steve Laneer
Jim McGraw
Embert Mishler
Bob Perry
Ray Sekera (Daleks)
Lee Sims
Dave Conley
Released one single on the Band Box label – Dave is featured on this great 1964 advertisement for Band Box Records (provided by Lisa Wheeler at Elksbugle Blog
Band Box 338 – The World You Live In b/w They're Gonna Put Me In the Hoos Gow – 1963
Walt Conley
Walt was one of the first to record on Band Box.  He was a pure folk and blues singer and continued to perform in the Denver area until is retirement.  He was a friend of  Denver folk singer Juldy Collins and also Band Box artist and local media personality Dick Dedrick.  Walt passed away in 2006.
Walt was with Band Box in the early days when the label was headquartered at 220 Broadway in the "Band Box Building" – long since demolished.
Band Box 222 – The Colorado Story b/w Colorado Queen of the West – 1959
45 Band Box 223 – Passin' Through b/w Worried Man Blues – 1959
Countess Edee
The Countess had a single release single on Band Box.  I obtained my copy of the record from a European.  The Countess appeared in Denver area night clubs as a stripper!
Band Box 267 – "Once in a Lifetime" b/w "Will You" – 1961
The Cordova Brothers
Members:
Billy Cordova
Frank Cordova
Herb Frederizy
Fred Bergamo (spelling?)
Singer and former Denver Police Department Frankie Rino recalls going into the Band Box studio on North Sheridan with the Cordova Brothers in sometime in the 1960's.  Frankie was young and went along to watch the session.  The group recorded "Somewhere There's a Someone" and perhaps another track or so.
Frankie recalls that composer and eventual owner of the Denver record label Finer Arts was with the group – Morey Bernstein – representing them at the time.  This would be about the time that Morey would join up with bandleader Al Kavelin in California to begin working with Al on his recording endeavors.
It is not known if this Band Box session was simply a vanity session or if any copies of the recording/s were produced beyond a test pressing.
It is not clear in what year "Somewhere There's a Someone" was actually written, but it was recorded in 1966 by Dean Martin – the song penned by Baker Knight who wrote several hits for Ricky Nelson.
Sonny Covington & The Original Valiants
Sonny was also a member of Band Box act The Mastertones with Milt Watson.
Band Box 228 – Hey-Hey-Hey-Hey b/w We Two – 1958
Band Box 265 – Run Red Run b/w Saving My Love For You (unreleased)
The Crazy Crickets
They had one 45 release on Band Box.
Update on the Crazy Crickets: March, 2017
The New York Band on Denver's Band Box Label
I have never been successful in efforts to identify the members of the Band Box recording group "The Crazy Crickets" who released one single on the Denver label in 1962.  But thanks to a reader that has changed.  On March 17th of this year Marc Coulavin wrote:
"I've tried to get in touch with one of the members of the Crazy Crickets.
From what I've found out so far, the band seems to have been from Rochester, NY.  Judging by the songwriting credits, the members appear to have been Carl Foti (guitar), Wesley "Wes" Huff, Terrance "Terro" O'Donnell, and Richard "Dick" Kasper.  The credits are not on the record, but I found them in an old book I have from Canadian BMI called "Yes, There is Canadian Music," which lists both songs from the 45, with writer's credits.
Foti went on to form a group called The Gallant Men, with one of his brothers, then later on Gunther's Bus.  Dick Kasper went on to cut a 45 in a country vein for Fine Records, confirming the Rochester connection.  So not Canadian, as I had thought at one point (in spite of being listed in the BMI book), and not from Colorado, I would venture to say.  How they got released on Band Box is a mystery for now."
The Gallant Men recording is shown below.  Interestingly a second version was released with "Lost Romance" being credited to "The Untimates" which must be the same group I assume.
Marc's reference to the Canadian resource matches up with the fact that "The Crazy Crickets" released their two Band Box tracks initially on the Canadian Barry record label "B-3040X" in 1961.
I suspect that Band Box owner Vicky Morosan most likely acquired the two tracks via her East Coast dealings with co-composer of "Rock Around the Clock" Jimmy DeKnight (James Myers).  DeKnight not only contributed to tracks for Band Box in the Fall of 1961 "Whistlin' Willie" and "Rock-A-Billy" (not the Guy Mitchell hit), but provided access for Band Box as well to a several other artists who he personally represented through publishing rights including rock-a-billy artist Little Gracie, Artie Picozzi, Nicky Love, Buddy Kain, Gar Bacon who was a New Jersey native, Sue Leban, Dean Hayden, Steve Gibson and the Red Caps, Terry Sawyer, Bobby Latin and Joe Valino.
All of these releases on Band Box came about in the early 1960's.  Later Vicky seems to have secured local Colorado talent for most of the releases going forward.
Back to the Crickets. Marc reports:
"The Dick Kasper record I found information about is this:
Broderick and Eddie Fontaine
The composer on the Gallant Men recording, Dick Broderick, is the most likely same fellow who wrote a track for recording artist and one-hit wonder Eddie Fontaine (another New Jersey native), "The Years Before" on Decca 9-30108 in 1956.
Ironically, Fontaine played a minor role in the TV series titled "The Gallant Men", (1962) then later landing a part on Television's hugely successful "Happy Days" playing the part of the Fonz's father!  The group which evolved from the Crazy Crickets, "The Gallant Men" also came about the same year as the TV Series, 1962.  Hummm??
Band Box 290 – "Honey Walk" b/w Expressway" – 1962
45 – Gallant Men – Ford 117 – Lost Romance b/w Foreign Girl – July, 1962
45 – Gallant Men – Roma 210 – Blue Canyon b/w Why Am I Blue – 1961
"Daddy" Ed
Daddy Ed was one of – if not the first – artist to record for Band Box Records.
His records were released on 78 rpm – 45 rpm – extended plays – and flexi disks.
But now we have this great dual pack featuring four tracks – children's tales – accounting for one half of the tracks recorded for Band Box back in either 1958 or 1959 by Daddy Ed.
And now we have a photo (we can assume) of the real Daddy Ed  most likely with his children?  Looks like another release was in the planning with the back cover exclaiming "Watch For Daddy Ed's Future Releases".  Did that ever happen?  Who knows – sure didn't have any evidence of this 7-inch album existing.  And there is Hazel Hedges once again – providing the organ background music for the narration by Daddy Ed.
The back cover is interesting referring to the Band Box office at 220 Broadway as "The Band Box Building".  That structure is long-gone.
Band Band 45 Dual Pack 21/22 – "Sammy the Skunk" b/w "The Black Pony" – & "Freddy The Fish" b/w "Dummy the Duck" – 1958
Released on colored vinyl – the only such Band Box releases in that format as far as is known
Band Box 7-Inch 78 – #7B-27/29 – Dummy The Duck/Sammy The Skunk – 1959 (colored vinyl)
Band Box 7-Inch 78 – #7B-27/29 – Freddy the Fish/The Black Pony – 1959 (colored vinyl)
Band Box 10-Inch 78 – #29 – "Sammy The Skunk"/Dummy The Duck – 1959
Band Box Cardboard Flexi's – Daddy Ed's Original Kiddy Stories
Yet another Daddy Ed format discovered in the archive vaults of Band Box
The Black Pony Flexi
Ronnie Davis
A one-shot Band Box artist – recording on the label in late 1962.
Band Box 320 – Deed I Do b/w Love Is The Thing – 1962
Gale Day & The Jim Trumbo Trio
Gale Day appears on Band Box LP with the Trio including Jim Trumbo piano, Jerry Kearley drums, and Bill Schneider string bass.  Dolores Osborn accompanies the group on organ.  Day performs vocals. Images by Doc Krieger
LP – Band Box 1014 – Gale Day Sings
Jimmy De Knight & The Knights of Rhythm
Jimmy is the composer of the anthem "Rock Around The Clock" a song that was recorded by more than 500 artists and that sold over 200 million copies according to one Meyers' interview (in another he estimates 100 million)  which would easily make it the biggest hit song of all time if those statistics are valid.  But according to Wikipedia realistic estimates are probably 30 million on the high end.  His birth name was James Myers.  He released one single in Denver on Band Box label in 1961 (shown below).
This single was undoubtedly recorded in Philadelphia and somehow picked up by Band Box owner Vicky Morosan.  The first release of "Rock Around The Clock" was released in 1954 by Sonny Dae & His Knights, but this was an entirely different group than De Knight's own band ensemble.   Jimmy penned other Band Box releases for Little Gracie and Bobby Latin, indicating he and Band Box owner Vicky Morosan must have maintained contact via a recording agreement of some kind.  Vicky was quite prone to traveling far and near to promote her music business as best as she could manage with limited resources.
His "Knights of Rhythm" were more than a rock combo – often featuring as many as 20 musicians during performances depending on how many were readily available in any given venue.  James was a drummer/leader of the group but abandoned the drum kit after WW II and concentrated more on the business end of music starting up Cowboy Records (all 78 rpm) and establishing "Meyers Music" out of New York City.  Long after the initial success of Rock Around the Clock De Knight continued to plug away with his various music interests – giving them up for a time due to health issues but returning eventually and starting up "James E. Meyers Enterprises" as his re-entry into the business focusing on country music and some gospel – releasing his artists on CD's.
I have learned much more about James Meyers – He had heavy involvement with Bill Haley and The Comets.  He labored long and hard to get east coast DJ's to listen to and play "Rock Around The Clock" traveling far and wide handing out samples.  It took more than a year for it to finally break big – due to it's inclusion in "Blackboard Jungle".
Band Box 281 – Rock-a-Billy b/w Whistlin' Willie – 1961
45 – Peak 105 – Rock Around the Clock b/w Rock Around the Clock Cha Cha – March 1959

45 – Apt 25034 – Rock Around the Clock b/w Rock Around the Clock Cha Cha – May 1959
45 – Arzee RZ-130/131 – Rock Around the Clock b/w Rock Around the Clock Cha Cha – 1979
Dick Dedrick
Dick Dedrick's Band Box LP is a curious release – apparently a little league baseball fundraiser effort with songs composed by Dick and Sue Dedrick.  I stumbled across a copy of the LP in a junk shop – unplayed!  The title is "Animal Tales And Tunes" and it is on Band Box 1018.
Dick Dedrick contacted me with this great update: (He also sent along the photo above)
"I recorded a kiddie album for Band Box in the mid-60s.  Learned some time later that it had been released as a little league fund raiser.  I'm producing spoken-word CD's today on the Nostalgia Road label.  Check out our Nostalgia Parade at NostalgiaRoad.com."
Please visit "Nostalgia Road".  It is a great site where can purchase audio memories via download or CD!  Will be soon posting an entire Band Box Artist page based on my communication with Dick Dedrick.
LP – Band Box 1018 – Animal Tales 'n Tunes – 1965
Herman Dinges
Herman was a local polka star who has long-performed his music for the Denver audience.  He released many LPs for the polka crowd through the years and one LP on Band Box – 1010 "Beettoppers".  His Facebook page states that he attended Hays High School in the mid section of Kansas.  He played extensively throughout the mid west States.
Band members included Ray Sanders (trumpet), Kenneth Johnson (trombone), John Karlin (sax), Lauraine Dinges (piano) Hal Peirce (bass), and Severin Pfannenstiel (drums).  I was surprised to learn that Herman lived about three blocks from where I grew up in West Denver.  Visit the Polka/Hop/Dance Page for a full Dinges discography.
LP – Band 1010 – The Beettoppers
The Dixieland Chain Gang
The Dixieland Chain Gang Played with George Moss on his Band Box long play
Chuck Dockery
(shown with The Highlighters)
A one-time Band Box artist in the rock-a-billy vein – He performed in the late 1950's with the Highlighters
Band Box 383 – Don't Cry Tonight b/w Turned On, Tuned In and Dropped Out – 1967
45 – New Song 117 – Baby Let's Dance b/w I Love Just You – 1958
45 – New Song 129 – Rock While We Ride b/w Knock On My Door – 1960
45 – Dearborn 522 – Nashville Tennessee b/w Pappy Once Said – 1960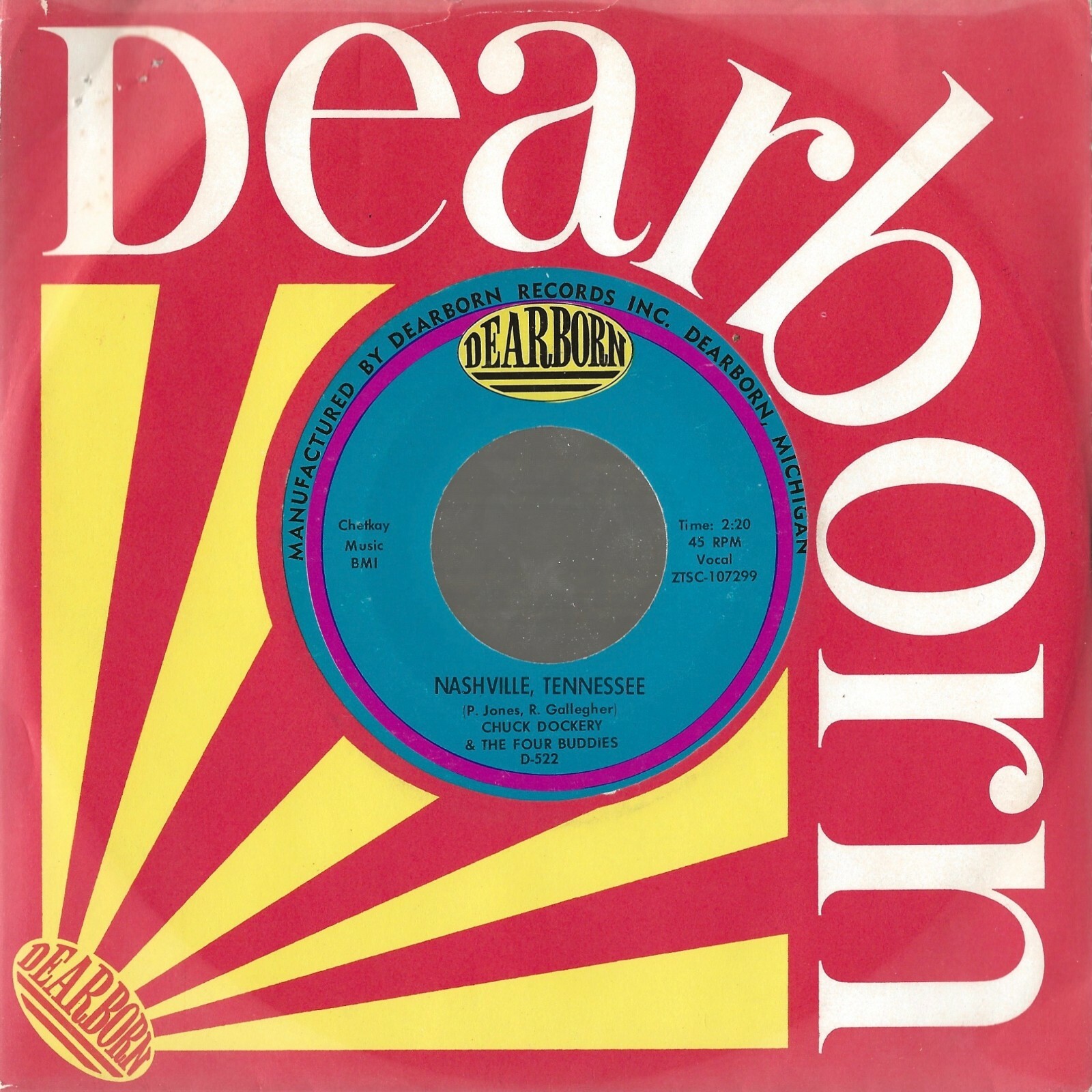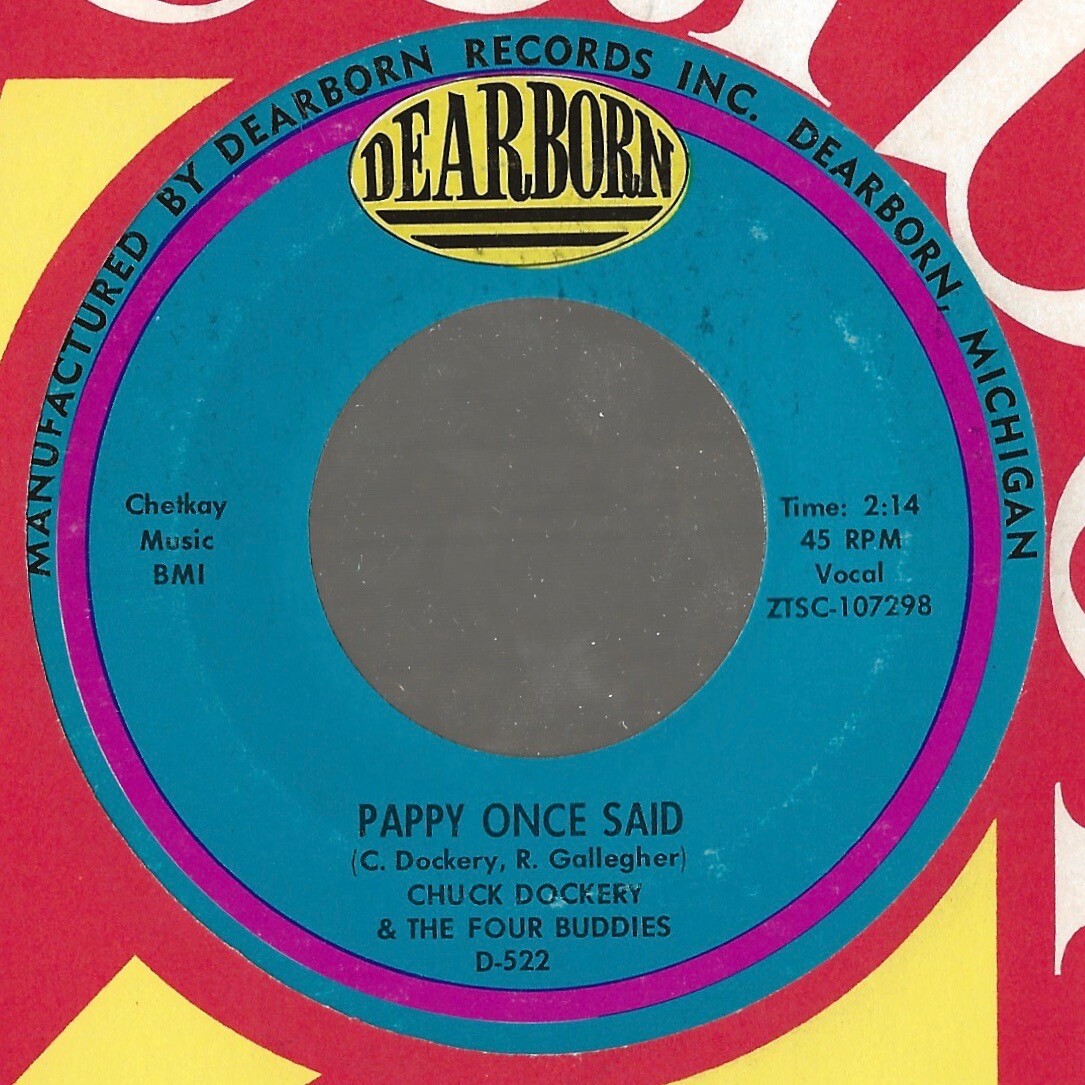 45 – Dearborn 545 – Chuck Dockery and His Four Buddies – I'd Rather Fight Than Pay b/w Soldier's Last Letter – July, 1966
Ico Doro
A total mystery artist on Band Box.  He/She had one release in 1968.
Band Box 390 – Oh, Love Divine b/w Out In the Cold Again – 1968
The Echoes with  Nick Vitale
This group had two releases as a group on Band Box in 1960 and 1961.  They may be the same group who backed Nancy Kae on the Band Box 305 "Don't Let Our Love" b/w "Popcorn Twist"  but doubtful since it was released several years later.  Vitale also had a solo single on Band Box 241 from 1960.
Band Box 241 "Behind the Bamboo Curtain" b/w "Engagement Waltz" – 1958
Band Box 244 – "Goodnight Again" b/w "Stranger to Love" – 1958
Euphoria
One of the last bands to record on Band Box – 1969 – Euphoria band members were from Lafayette and Boulder Colorado
Band Box 392 – "Somebody Listen" b/w Dedication of Sally & Cher" – 1969
The Fabulous Cyclones
The Cyclones performing "Cyclone"
Band Box 231 – Cyclone b/w Texas Cucaracha – 1959
C.B.G. 104 – LIttle Bossa Nova b/w I've Found The Girl I Love – January, 1963
C.B.G. 1011 – Chilli Beans b/w Cycle Ride – 1965
C.B.G. – 1106 – Wait A Minute b/w Cloudy Day – 1965
The Fabulous Fremonts (Pueblo)
Known Group Members:
Irenez Chavez (later with Pueblo Group "Sugar n' Spice – now deceased)
Henry Garcia
Vic Macheto
John Rivera
Jose Ortega (Also with The Ortega Brothers – The Soulmen – Burnt Mill Road – The Gents – The Chevelles – now deceased)
John Trujillo
45 – Valerie 2003 – Gee Whiz b/w Watermelon Man – 1964
(A 2001 obituary appearing in The Pueblo Chieftan states that Jose "Martin" Ortega was an original member of the Fabulous Fremonts)
The Fabulous Fremonts were from Pueblo, Colorado recording on the Band Box subsidiary Valerie Records.  Their one single was released around 1963.  All of the following information is provided by Colorado record collector and writer Doctor George Krieger:
The Fabulous Fremonts formed in the early 1960's and were headed up lead singer and bass guitar player Irene Chavez.  Irene started playing guitar at the age of 7 and would occasionally join her mother as a duet performing on local radio in Pueblo.  Irene – with help from her mother – assembled the Fremonts which included Henry Garcia on lead guitar, Vic Macheto on saxophone and John Rivera on drums.  They took their name from a Las Vegas night club ash tray "The Fremont".  They usually performed as "The Fabulous Fremonts" but would also go by "The Fremonts".
Krieger: "In 1961, while attending Central High, Irene entered the GI Forum competition which was a talent and beauty contest.  She won the Pueblo competition, the state of Colorado competition and placed third in the national competition in Las Vegas."
Vic Macheto and John Rivera both departed the band with Rivera being replaced by drummer John Trujillo.  The Fremonts continued as a trio performing at Pueblo's Honey Bucket and Tony's Danceland.
Next came the opportunity to cut a record – Krieger: "Since many of the other (Pueblo) bands were recording songs, the Fremonts asked their manager (Irene's mother) if they could cut a record.  A session was scheduled with Valerie Records (the Band Box subsidiary) and the band made the long drive north to Denver accompanied by Irene's soon-to-be-husband, Tano Roybal. 
Irene remembers recording as being a scary experience as each member of the band was isolated behind a screen in a large room.  After recording several songs on tape, "Gee Whiz" and "Watermelon Man" were deemed the best and pressed as a record.  For around $500 the band received the master tape and 300 records."
"Gee Whiz" received local airplay and did chart #38 on the local charts.  Shortly after this, according to Krieger, Garcia departed the group when he got married and Irene elected to stop performing in order to begin a family.
Later in the 1960's Irene reformed the band with Henry Garcia once again on guitar but this was a short lived endeavor.  Irene next went into nursing obtaining her degree from SCSC and eventually working in Pueblo nursing homes and then Peakview Hospital.
In 1980 Irene joined a local group called "Sugar and Spice".  Krieger: Irene recalled "Music had really changed by then and bass playing had become more complicated.  Disco came in and that ruined it for live musicians since most of the clubs would just play records.  People didn't go out as much as they did before, either."
Irene was diagnosed with cancer in 1992 and doctors told her she probably had about six months to live.  But she continued on – beating the disease.  Then tragically, Irene was killed in a traffic accident in the mid 1990's along with her parents.
(Visit Doctor Krieger's excellent Blog – "Rock and Roll Reviews & Trivia"  or click on graphic)
The Fabulous Fremonts performing "Gee Whiz" – a really solid teenage sound from 1962 – This was formerly done by Bob and Earl.
Visit Lisa Wheeler's "Pueblo City Limits" Blog Site to view this historic poster and many more from the Pueblo area (click here)
Little Joey Farr
A raucous rock and roller from the South – somehow she found her way onto the Band Box label – most likely as result of one of Vicky Morosan's excursions into the South.
Band Box 286 – "Big White Cadillac" b/w Rock and Roll Santa" – 1961
45 – Band Box 286 Reissue – "Big White Cadillac" b/w "Rock & Roll Santa" – 1977
This release was a 1977 reissue by Band Box carrying the P.O. Box 15477 – Lakewood, Colorado 80215 address after Band Box owner Vicky Morosan moved from her Reed Street address.
45 – RM Band Box 1011 UK – "Big White Cadillac" b/w "Rock & Roll Santa" – 1976
45 – Eagle 1002 – Movin' On Down b/w Devotion – October, 1958
45 – Kangaroo KA-111/112 – "(I Want a Big White) Cadillac For Christmas" b/w "Rock n Roll Santa" – 1959
45 – Band Box and Bat Recordings EP – Rock and Roll Santa (by Farr) and Christmas Party by Brendan Hanlon & The Bat Men – 1964
LP – Wendi 2 Australia – Action Packed – with "Rock & Roll Santa" – 1980
LP – Esoldun 2007 France – Hop, Skip and Jump – with "Rock & Roll Santa" – 1986
LP – Sunjay 600 Sweden – Crazy 'Bout An Automobile – with "Big White Cadillac" – 1994
LP – Collector 4433 Netherlands – Automatic Bop Volume 1 – with "Rock & Roll Santa" – 1996
LP – Buffalo Bop 55095 Germany – Rockabilly Xmas – with "Rock & Roll Santa" – 2000
LP – Presto Unknown Country – Hot Rods and Cadillacs – with "Big White Cadillac" – Unknown Year – No Image Available
LP – Zomboco 7 United States – Real Rare Rockabilly Volume 7 – with "Rock & Roll Santa" – Unknown Year – No Image Available
The Fast Brothers
A North Denver rock and roll band – recording for the Valerie label in 1964.
45 – Valerie 2003 – "Shadows On the Wall" b/w I Loved You So Much I Let You Go"
Doris Fischer
This from Doris Fischer's son – David on September 11th, 2018:
"I saw your website and noticed that my mom's music was on it. She was on The Rocky Mountain Jamboree album Band Box LP 1008. Her name was Doris Fischer and she wrote three songs and sang one of them on the album. She wrote( Sang by Max Allison) A Stranger Came to Town,( Sang by Edie Hammons) Dark Side of the Street and also wrote and sang For the First Time. The album came out in 1962. We had to leave the Denver area because of my older brothers health and go back to Kansas. Mom still played in bands around here. She passed away last month at the age of 81. I tried to click on her music on your site but it doesn't have a YouTube link. Let me know what you think."
Band Box LP 1008 – Rocky Mountain Jamboree – Performs "For the First Time" and composed "A Stranger Came To Town" by Max Allison, and "Dark Side of the Street" by Edie Hammons.
Sab Florence E. (Espinoza)
Sab Florence had a single 45 release on Band Box in 1968.  This from a Blogger: "Why Must It Be" is one of my faves of all time, with its half mumbled, half groaned vocals, mixed with the strange "Sirenes"-like female backing vocals. If you are into the very weird, but somehow listenable, score yourself a copy, if you can locate one."
Band Box 389 – "Why Must It Be" b/w I Need Love" – 1968
The Flying W Ranglers
These guys are probably one in the same as the "Flying W Wranglers" out of Colorado Springs
Band Box LP 1008 – Rocky Mountain Jamboree – "Cimmeron"
Ray Ford and The Echo Valley Boys
A country release on Band Box from 1963.  This one shows up quite often on EBay.  Update – April 2nd, 2019:  Now we know that Ray Ford was a country music radio DJ out of Coldwater, Michigan on radio station 1590 WTVB.  Here is requesting some industry support in September of 1963 for the promotion of his one Band Box release.  From my research it doesn't appear that the memo paid off – I can't locate any radio survey listings for Ray and his Echo Valley Boys.
WTVB was founded in 1949 and was for several years called "16TVB" radio.  The station migrated from country music in the later 1960's swinging over to pop/rock.  That format held on into the early 1970's at least as we see below
Band Box 337 – Bluegrass b/w Wildflowers On the Hillside – 1961
The Four Chevelles
The Four Chevelles were a rhythm and blues group recording briefly on Band Box in 1964 with two releases.  I have not been able to track down any biographical information on the group.  Their releases on Band Box were evidently penned by Chuck Thomas – who recorded solo as well on Band Box (see separate entry).  On at least one release, his lead voice seems very evident with The Four Chevelles.  I believe the Delft recording is also a Denver-based label.  I show two different versions of the Band Box label for this release – "Band Box Publishing" and "Valjean Music".  The "Band Box Pub" version is a legitimate reissue
There is a chance that this group came from the Pittsburgh area where the song gained a lot of air play.
Band Box 357 – This Is Our Wedding Day b/w Darling Forever – 1964
This Cashbox advertisement (supplied by Colorado Music History Blogger Lisa Wheeler) appeared in a October 31st, 1964 issue of Cashbox magazine – "Then Only Then" is a reference to a cut by J.B. Love on Kapp Records.
Band Box 357 Bootleg Blue Vinyl – This Is Our Wedding Day b/w Darling, Forever
Band Box 358 – I Can't Believe b/w I Know – 1964
Label variation shown)
45 – Delft 6408 – This Is Our Wedding Day b/w Forever

The Four Gigolos/Gigolos (Don May & The Four Gigolos)
This group was fronted by Don May – a member of Denver's Valiants and included drummer Larry Higgins from Freddie and The Hitch-Hikers, The Daleks and other groups.  In addition to Don May – there were actually only three other Gigolos.  They released three singles on Band Box.  Releases 317 and 318 are scarce and to my knowledge – copies have not surfaced and actually they should have been referred to as "Don May & the Three Gigolos".
Band Box 296 – Don't Let the Sun Catch You Crying b/w Twist Around the Clock – 1962
Band Box 297 – Dark Shadows b/w Blues In J – 1961 (unreleased)
Band Box 318 – Limbo Dance b/w Waiting – 1962 (unreleased)
Band Box Test Pressing – Around the World In 80 Days b/w Summertime – 1962
Band Box Test Pressing – Blues In J b/w Don't Let the Sun Catch You Crying – 1962
The Four M's (Martinez Brothers)
The Martinez Brothers recorded at both the Band Box studio in North Denver and Infal Records located in Commerce City around 1968.
Band Box 388 – Don't Cry for A Boy b/w First Day Of Your Life
45 – Infal 160 – "Create A Disturbance" b/w "Near Me" – 1968
Leo Frazier
(I located this photo on the back of an LP entitled "The Shorter AME Church & The Washington Park United Church of Christ Present "The Seven Last Words of Christ" – on John Law Records from 1972 – On the LP Leo is featured as "Tenor Solist" – Now this might not be the Band Box artist but I suspect that it is.)
This from a contributor on Leo Frazier (November 2013):
"Leo does not remember the location that he recorded the single at. He also does not have any recollection of Vicky Morossan (Band Box owner).  He did not record anything else with Band Box or with other studios.  His history after coming to Denver from New Orleans in 1961 is as a music teacher/choir director in public and catholic schools and with the archdiocese of Denver since about 1961.  He still sings at funerals and other functions occasionally for various catholic parishes in Denver.  I think he cut the Band Box record at the request of George Morrison Sr., who was the author of the songs on the 45."
NOTE: George Morrison Sr., was also involved on the above mentioned recording with the two Denver churches.
Band Box 0003 – He's Your Savior, He's Your Friend b/w If I Could Be Your Friend – 1961
Freddie & The Hitch-Hikers
Their big  contribution to record collection was the garage single "Sinners" which collectors drool over.  Freddie was Freddie Aldridge (deceased).  The band was very active appearing at many Denver local venues.  They had one release on Band Box in 1961.  Their is another Hitchhiker group listed on Band Box release 360 – backing R and B singer Chuck Thomas, but apparently no relation to this group.  The group pioneered the use of the theramin instrument on "Sinner Man" – a record which was cut in 1960.
Hitch Hiker drummer Larry Higgins recalls that Freddie was not present for the Chuck Thomas recording session and the back-up band was erroneously identified as "Johnny and the Hitch-Hikers". The group formed in the late 1950's and recorded on Denver's Band Box Records. A nice band biography is presented on the Denver Blog – The Denver Eye. Their recording of "Sinners" is quite sought after and can be heard on You Tube – The Band appeared at least on one occasion billed as Freddie Day & The Hitch-Hikers. Freddie came to Colorado from the Midwest. Larry went to high school at Mullen High in Denver.
The group has a claim-to-fame being the first rock group to employ the Theremin instrument – which can be heard on "Sinners" which was recorded in late 1960.  Drummer Larry Higgins recalled that Denver teenager Wayne Thompson (real name Wayne Head) would work for about six months with the Hitchhikers.  Wayne was the son of Shorty & Sue Thompson who recorded in Denver and lived in the Arvada area probably up until the mid 1960's when they moved to Nebraska.  Wayne would go on to become a composer of hit records for Elvis, The Box Tops, Eddy Arnold, Willie Nelson and more.  Read my Thompson Family story here.
Group Members:
Larry Higgins – drums (Don May & Gigolos – Daleks – Valiants – Saints – Pete Tracy Trio)
Freddie Alridge – guitar/vocals – deceased
Bobby Miller – guitar
Jerry Spiva – bass Bobby Leo – sax
Fred Underwood – guitar – brief stint
Wayne "Carson" Thompson – guitar – brief stint (deceased)  See the Thompson Family page
45 – Band Box 251 – Sinners/Mop Flop – 1961
45 – Band Box 360 – Why Baby/Let Our Hearts Be Our Guide – 1965
According to Hitch-Hiker drummer Larry Higgins the group did not back Chuck Thomas on this recording
Bud Freeman
This is a one-off Band Box label – with only this one known pressing which surfaced at a March 4th Denver Vinyl Record Show – 2018.
LP – Blessing 24597 – "Bud Freeman Sings His Own Gospel Songs"
Reva Gardner
LP – Keyboard 7002 – The Versatile Reva Gardner
Reva Gardner was a Denver organist who released one LP on the Band Box subsidiary label Keyboard (#7002).  Located this LP on the same day at the same place where I picked up the Dick Dedrick Band Box LP.  Her LP credits her with many touring, nightclub, supper club, television and banquet appearances.
Dick Gentile (and the Craters)
Dick Gentile released one single on the Band Box subsidiary label Valerie in 1962.  Gentile also composed the Band Box single "Surfside Twist Part 1" for Jim Perry & The Hesitations.  Interestingly, Gentile's Valerie single carries a catalog number more in keeping with the Band Box numbering system (316) – the only known instance of this occurring.  Apparently Dick Gentile would later join the national group The Melting Pot as their keyboard player.
Valerie 316 – "Try Me" b/w " Meanest Little Woman" – Mid 1960's
Ampex 11029 – The Melting Pot – Kool and The Gang b/w As I Lay Dying – August, 1971
Ampex 10111 – Fire Furn, Cauldron Bubble – 1971
The Gibbons Family
An obscure country gospel group – recording in 1960 on Band Box.  Group featured Mabel Gibbons on piano and Barbara Howard on steel guitar – An early Band Box act recording with Band Box when it was located on 220 Broadway in Denver known as "The Band Box Building – long since demolished).
45 – Band Box 225 – "That Old Country Church" b/w What Is the Need to Worry?" – March, 1960
Steve Gibson & The Red Caps
This is another one of those nationally recorded groups who found their way onto Band Box for a single release back in 1962.  The group formed in 1939 and enjoyed a long run.  As to their possible connection to Denver – this from a Post on the web:
"Arthur Davey, an original Red Cap who rejoined the group early in 1953, tires of life on the road and goes to his hometown of Denver, Colorado, and leads his own trio at local clubs."  This trio may have possibly used the Red Cap name on Band Box.  Solo singer Damita Jo was briefly a member of The Red Caps in the 1950's.  Here is a comprehensive Red Cap bio at Marv Goldberg's site. He sites the Band Box release as being "the last original" Steve Gibson and The Red Caps recording.  Davey – may have been on this single – and was a renown saxophone player.  He is pictured above with the group in the 1940's – far upper right of photo.
Cash Box August 23rd, 1952
Cash Box September 6th, 1952
Cash Box – November 1st, 1952
Cash Box – August 28th, 1957
45 -Band Box 325 – "No More" b/w Peppermint Baby" – November, 1962

William Louis Ginsburg
This LP is quite likely a one off vanity pressing in LP format.  The seller does not have a cover for the pressing and most likely it never had one especially with the typed label sticker.  When I first saw this listed it caught my attention in two ways – first being a Band Box pressing which I had never seen before and second – the artist – "Wm. L. (Louis) Ginsburg D.D.S".
I jokingly asked my wife if she had any dentists on the Ginsburg side of her family and she responded "Yes, uncle Will was a dentist.  He was our family dentist."  So next I checked with our family historian – Rick in Washington State and he confirmed that uncle Bill's full name was indeed William L. Ginsburg.
Uncle Will was born in New York in May of 1895 and moved to Denver where he was married to Sylvia Shapiro.  They had two sons Leland and Jordan.  Leland has passed away and nothing is known of Jordan.  William practiced in Denver and his office was located in the old Republic Building downtown.  He passed away in April of 1982 and is buried with his wife in the Jewish Cemetery in West Denver near The Mills Shopping Center.
Family members including Rick and my wife had no idea that uncle Will had musical talents!  Now I am pleased to learn that I have officially entered into the Band Box family via my marriage to a Ginsburg relative!
The seller of this record has no knowledge of Uncle Will – and stated they picked up the record in a Loveland, Colorado estate sale.
LP – Band Box – This and That Musical Program – 1968
A vanity pressing
Giuseppe's Fabulous Delrays
Another "fabulous" group from Band Box. They released one single in 1962.
Band Box 294 – 1962 – Now Is The Hour* b/w Guiseppe's Twist
*Charted Number 14 KTUX Pueblo, Colorado April 2nd, 1962
Alfonso Antonio Gonzales y Su Orchestra & Angie Gonzalez
Band Box 100 – Nieves De Enero b/w Tierra Sin Nombre – 1962
Band Box 102 – "Corazon Herido" b/w "Carita De Palo" – 1966
Band Box 370 – "That Same Old Love" b/w Negra Surumata" – 1966
Bill Goodwin
(Colorado Country Music Hall of Fame Inductee)
Visit the Bill Goodwin Band Box Page
Bill Goodwin was a Colorado country music performer and composer.  He fronted his own country groups – the Western Ramblers and the Country Tunesmen and cut four singles on the Band Box label and recorded nationally on labels such as Vee Jay and Starday.
The Pueblo City Limits music Blog site documents Bill Goodwin's career. Bill also penned songs for and with Band Box country artist Warren Robbe.  Band Box artist Dick Dedrick reports that Bill Goodwin (a personal friend) also worked as a Nashville agent for country recording stars Bill Anderson, Leroy Van Dyke, Roy Drusky, Jon Conlee and Donna Fargo.
Charles Gordon
Band Box LP 1008 – Rocky Mountain Jamboree – "Go Back To the One You Love"
Will Graves & The Rhythm Rangers (with Bernie Wingert)
One of the very early recording artists on Band Box – when Band Box was located on 220 Broadway in Denver in the "Band Box Building" (no longer standing)
Band Box 220 – 78 rpm – "You're Gonna Be Sorry" b/w "There's A Star In The Sky" (by Pat Peale and The Rhythm Rangers)
Band Box 220 – 45 rpm (Dupe Cat No) – "You're Gonna Be Sorry" b/w "There's A Star In The Sky" (by Pat Peale and The Rhythm Rangers)
Roy Green
Band Box LP 1008 – Rocky Mountain Jamboree – "Down Memory Lane"
Eddie Hammond
Keyboard 15257/15258  – 45 – "Butch Cassidy" b/w "Nate Campion"
This single was thought to be unreleased until in surfaced at the March 4th, 2018 Denver Record Expo – offered up by Vicky Morosan's family.
Edie Hammons
Band Box LP 1008 – Rocky Mountain Jamboree – "What Will I Do Without You" & "Dark Side of the Street" – 1962
45 – Rose 106 – Lately b/w The Worm Has Turned – 1967
Dean Hayden
Singer Dean Hayden released one Band Box single in 1962
Band Box 301 – Dancing Silhouettes b/w Just a Puppet – April, 1962
45 – Mali 103 – "Cara Mia" b/w Beholden" – February, 1962
Hazel Hedges
Hazel was a Denver organist who provided music on Daddy Ed's Band Box children's recordings  as well as composing a track for Dick West – another Band Box artist.
Band Box 222/223 – (with Daddy Ed) – Dummy the Duck b/w Trimming My Christmas Tree with Dreams – 1959
Arlan Howard
Howard is listed on the Band Box catalog as having released catalog number 308.  None of the Band Box collectors I know have a copy of this record.
Band Box 308 – 1962 – "I Dreamed" b/w "Bus From Prison" – Release not verified
The Ray Hudson Quartet
A lounge music combo – they released one single on Band Box in 1960 – two sided instrumental – jazzy and smooth.
Ray Hudson fronted larger groups out of Garden City, Kansas –
Band Box 245 – Nearness of You b/w Sayonara Cha Cha – 1960
45 – Dixie – The Blues Walked Away b/w Mine For One Night – 1959
45 – Dixie 1043 – "Here I Am – Drunk Again" b/w "Jackhammer" – 1963
The Hummingbirds (with Ed Whatley)
(Also See entry for Ed Whatley)
Band Box 232 – See You In My Dreams b/w Teenage Wedding – 1959
Band Box Hummingbirds Unreleased Tracks – "Bingo" b/w "No Love" – 1959
The Ink Spots
The assemblage of Ink Spots who passed through the Band Box studios was most likely led by George Holmes.  The only connection I have obtained relating to the Ink Spots and Band Box is a comment from Freddie & The Hitch-Hikers' drummer Larry Higgins who recalls the group (Ink Spots) performing for a time somewhere in Denver in the time period in question (early 1960's).  Read my entire profile page for more information on The Ink Spots.  They released one long play on Band Box (shown above) and no singles.
Band Box LP 1002 – "Yesterday and Today"
Dave Jackson (Westcliffe)
Dave Jackson was a little known Band Box artist releasing an LP on the subsidiary label Valerie "Morning Town Ride" Valerie 7000 in the late 1960's.  Pueblo City Limits does have a Blog Post on Dave Jackson.  Jackson was on the faculty of Custer County High School.  His LP is the only known long play released on the Valerie label.
LP – Valerie  7000 – Morning Town Ride
Jimmie James
Another Band Box artists lost for the ages.  He jumped on the trend in 1967 with his composition of "Too Many Mini Skirts.  Ad below – different spelling but the same guy?
45 – Band Box 377 – 1964 – Too Many Mini Skirts b/w Is It A Crime, Is It A Sin
The below home-made collage was found by the Band Box family in their archives – a promotional poster for the recording below.
45 – Carl 501 – I Wonder Why b/w Run Son Run – 1965
Bob Jamison
Both tracks were produced by Denver country musician Buster Jenkins
Band Box 345 – 1964 – "Is That The Reason Why" b/w "I'll Leave the Front Door Open
Argust "Hank" Jarman
Hank Jarman was a country artist with one 45 release in 1965 on Band Box.  Hank recorded enough tracks for a complete long play and may have been slated to have released Band Box LP 1003 in 1965.  Reader Alia Rodriques has researched Jarman and as a result Hank may have resided in Colorado Springs for a time.  His parents most likely were Newton Alvin Jarman and Mary Edith Hopkins, both born in Missouri, later living in Colorado Springs.  Newton died in 1966 and Mary Edith in 1977.
Argust was born in 1905 and thus recorded at Band Box at a rather late age of 60 years.  Alia discovered three Band Box long play acetates in June of 2016 in her now resident town of Tustin, California.  One is dated 1967 – and labeled as a birthday gift to his mother.
July 11th, 2017 – from Lawrence Peters:
"Thanks for posting this treasure trove of info about Band Box. I'm a country musician, born and raised in Denver, but living in Chicago, and I had no idea that there was such a thing as a Denver-based label, until I found a copy of the Hank Jarman 45, a few years ago (it's a favorite!). The added info in the comments section is also outstanding. Does anyone know where I could get one of those Band Box T-shirts?"
Band Box 361 –  Mule Skinner Blues b/w Tomorrow Breakfast With The Blues – 1965
Band Box LP – Test Pressing Acetate – Argust Jarman – 1965
Buster Jenkins
Buster was a long-time Denver area media personality, artist and record producer.  He was closely associated with Jim Ward's Wheat Ridge, Colorado based CLW Record Label – producing many of the acts.  He was a disk jockey on country music station KLAK.  His Band Box LP – catalog # 1008 is very hard to find these days.  In the mid 1970's Buster started up his own music label "High Country" records.  Two local artists recording on that label included Jerry Street and Band Box artist Dewey Knight.  Buster passed away in 2006.  Here is more interesting information about Buster Jenkins on The Hillbilly Researcher Blog site.
This great 1964 full-page advertisement provided by the Colorado music historian Lisa Wheeler ("Elksbugle" Blog) – shows what Buster was in charge of A/R for many of the Band Box country acts from the local Colorado area.
LP – Band Box 1008 – "Rocky Mountain Jamboree" – "The Old Country Church"

Jessie & The Juveniles
This is an obscure rhythm and blues group from Denver.  I located a metal acetate with a discarded Band Box label adhered.  This was most likely a one-off effort (vanity pressing) recorded at the Band Box studio.  There are undoubtedly countless vanity releases which never found their way into the Band Box catalog.  Both sides are raw but fun!
Band Box Acetate – Year unknown but estimated to be 1963
Jo Ann & Avel
This 1963 recording contains one side "Snowflakes" which was penned in part by "D. Barhite" which is no doubt Dave Barhite – leader and guitarist for the Band Box group The Saints.  The artists are Jo Ann and Avel Lucero.
Band Box 331 – Snowflakes b/w Suddenly – 1963
Larry Johnson & The Dakota Territory
This is another Denver country band recording on Valerie Records – a Band Box subsidiary
Valerie 2004 – "I Never Loved a Prettier Girl Than You" b/w "Do Your Own Thing" – Year Unknown – 1970's?
Rachel Jordan
She released "Crack-Up With Rachel Jordan" yet another bawdy adult humor LP release on the Spicy label
LP – Spicy 5003 – Laugh It Up With Crack Up Fun for Grown Ups
Ronny Kae (Ronny Kay) (The Saints)
Ronny was Band Box's most celebrated artist locally in the Denver market.  He released singles under this name – as well as Ronny Kay and Ronnie Kaye which may be attributed to labeling errors.  His birth name was Ronny Kleitman.  His drum oriented singles abound and are collectible.
The Ronny Kae LP, Band Box 1006 – is entitled "Swinging Drums" a single released in 1963.  The album however does not include that cut.  It does, however include songs such as "Bonfire Part 1″ and Warsaw Concerto" both of which were released on 45′s prior to the release of "Swinging Drums"- both sometime in 1962.  Oddly, both of those singles were recorded with Ronny spelling his last name "Kaye".  On the LP, he has resumed the spelling "Kae" – the spelling he used on his earliest recording for Band Box.  Ronny's actual name is Ronny Kleitman.  Read more about Ronny Kae.
Cash Box Trade Ad – April 25th, 1964
LP – Band Box 1006 – "Swinging Drums" – 1963
Band Box 201 – "Boom Boom" b/w "Caravan" – 1962
Band Box 289 – "Twistin' Bon Fire" b/w "Tangerine" – 1962
Band Box 300 – "Twistin' Rumble" b/w "Warsaw Concerto" – 1962
Band Box 336 – "A Flight for Drums" b/w "Swinging Drums" – 1963
(3rd Image second pressing shown below)
Band Box 339 – "Drums Fell Off a Cliff" b/w "Let There Be Drums" – 1963
Band Box – 362 – "Swinging Drums" b/w "The Lurch" – 1965
Band Box 380 – "Drum City" b/w "Taste of Honey" – 1967
This is the third Band Box 45 carrying the 380 catalog number
45 – Leo 506 – Band Box Custom – "Swinging Drums" b/w "A Flight For Drums"
45 – Band Box (Unreleased) – "Broadside" b/w "What The World Needs Now Is More Drums"
45 – Honey 10521 – Drums Are Back b/w Nostalgia
45 – Scene 1487 – The King Is Dead (both sides) – 1977
45 – Honey 11778 – Wipe Out b/w Harry Play Those Drums – 1978
Autographed Copy
Buddy Kain
Buddy is yet another country artist who paraded through Band Box with two 45's released by the label – in 1961 and 1962.
Band Box  285 – Don't Laugh at the Clown b/w The Dream is Ended – 1961
Band Box 324 – Sempre To Amo b/w Masquerade Heart – 1962
45 – Jubilee 45-5220 – "Don't Be Too Sure" b/w "I Wanna Cry" – 1955
45 Buddy Kain and the New Sounds – 20th Fox 45-118 – "Spider" b/w "Hinky Dinky Danky (Pinky Panky Poo)" – 1958
45 Buddy Kain with the Nomads – Myers 45-106 – "Jump Rope Hop" b/w "First Dance" – 1960
45 – Meyers 45-108 – "Don't Be Too Sure" b/w "With You" – 1960
Bobbi Kaye
Bobbi Kaye – a country artist –  is no relation to Ronny Kae – even with his various last name spellings.  Her two sides on Band Box were both written and produced by Denver country artist and local radio personality Buster Jenkins who released an LP on Band Box and recorded on other Denver area labels.  Most likely Bobbi Kaye was not locally based – more likely out of Tennessee.  The images below were unearthed by Valerie Hightower, granddaughter of Band Box owner Vicky Morosan – on her continuing search through materials from the Band Box archives!
Band Box 379 – Ruby's Stool* b/w Please Don't Let Me Want Him – March, 1968
*Charted Number 38 KLAK Lakewood, Colorado March 16th, 1968
45 – Nuggets 1030 – Since You've Gone b/w Fringes Of My Life – October, 1968
45 – Nugget 1033 – Stolen Moments b/w We Got Love – 1969
45 – Nugget 103 – It Don't Take A Fool b/w Between Each Tear – 1970
45 – Beacon 148 (UK) – It Don't Take a Fool b/w Between Each Tear – 1970
Nancy Kaye & The Echoes
This singer was backed by The Echoes – and they most likely were not the same Echoes recording early on Band Box.  Her one release was recorded in 1962.  She is not related to singer Ronny Kae no matter how he spells it.
An inductee into the Rock-A-Billy Hall of Fame
Band Box 305 –  Popcorn Twist b/w Don't Let Our Love – 1962
45 – Toppa 45-1088 – "This Is The Thanks I Get" b/w Tennessee Wig Walk" – 1963
The Reverend Kellog
45 – Keyboard Extended Play 704 – Songs of Faith – 1966
Ernie Kemm
Ernie Kemm was an "easy listening" Denver artist who has the distinction of releasing the only known 10-inch recording on the Band Box label which is depicted below.  He also released one single in 1966.  The local Blog site, "Pueblo City Limits" provided this 2010 biography for Ernie Kemm.
This from the Victoria Cruises web site where Kemm was employed:
"Ernie Kemm has worked nearly three decades on the Yangtze River. Born in Albuquerque, New Mexico, he earned a B.A. and M.A. from the University of New Mexico. He came to China to work for Lindblad Travel in 1985, as a pianist/entertainer and assistant to the cruise director, spending three years on the Kunlun, Chairman Mao's state ship, and two years (1987-1989) on the Bashan. He continued working on the Bashan for Abercrombie & Kent until 1993, and joined Victoria Cruises in its inaugural year (1994).
In his previous career in the entertainment field, he was a ragtime pianist, composer, and opened the nightclub "The Back Door", in Denver, Colorado, where Judy Collins played her first professional engagement. His nightclub act with Al Fike, "The Modern Minstrel Man", played some of the top rooms across the country from Florida to Las Vegas. Solo engagements at several clubs in New York included twelve years at Mrs. J's Sacred Cow. Engagements at sea included Celebrity Cruises, Sitmar, Royal Caribbean, and Cunard (Countess, Princess and the QE 2). He studied at H.B. Studios and with Broadway and tv star Charles Nelson Reilly, and Tony Award-winning composer Albert Hague among others. He was winner of Colorado's Bicentennial Song Contest ("Here's To Colorado"), and was recipient of the "Confetti" award for best performance in Charles Nelson Reilly's off-Broadway production "Confetti"."
45 – Band Box 369 – Larimer Square b/w Here Kitty Kitty – 1966
10 Inch LP – Band Box 1011 – Hello Denver
Other Colorado Local Recordings:
45 – Spur 6343 – "The Narrow Gauge Line" written by Kemm – released with picture sleeve
45 – Durango D-101 – The Narrow Gauge Line b/w The Narrow Gauge Line
45 – Spur "The Trail They Call the Navajo" b/w "Songs of the Navajos"
45 – Ernaco – Here's to Colorado b/w We Met In Paris
(From Lisa Wheeler's Blog Site "Elk Bugles": "In 1976, to celebrate the state's 100 birthday, Colorado lawmakers were looking for a theme song to mark the occasion. Ernie Kemm (who I write about in this 2010 post) penned a song, and entered the statewide contest to find the best tune – and won."
Dick Kinard
Kinard was a young organist who resided in Florida – It is not known where he recorded this Band Box LP.  The front jacket cover is not at all typical of Band Box art.
LP – Band Box 1009 – The Most Organ
Randy King
Visit the Randy King Band Box Page (Click Here)
Band Box 271 – I Can't Stop Loving You b/w The Last Show – 1961
Band Box 340 – The Legend of Little Orphan Joe b/w Merry Christmas – November, 1963
Band Box 348 – A Day Of Infamy b/w In the Summer Of His Years – 1964
45 – Band Box 368 – I Hope My Conscience Doesn't Show b/w I Don't Want To Be With Me – November, 1966
Dewey Knight
Dewey is another Band Box inductee into the Colorado Country Music Hall of Fame who did record one single on Band Box in 1968.  Dewey (real name) was born on a farm outside of Little Rock, Arkansas.  LP liner notes indicate Dewey came into contact with Band Box and national recording artist – Bill Goodwin to get his start.  He too worked his way to Denver – performing at the Four Season's Night Club which was a country stronghold in the 1960's and into the 1970's before converting into a rock 'n roll oldies venue before burning to the ground.  He also performed regularly at Denver's Country & Western Club.
45 – Band Box 378 – A Mind of Your Own* b/w We Can't Afford to Win – October, 1967
*Charted Number 35 KLAK Lakewood, Colorado November 11th, 1967
LP – Knight Record Company  – Velvet Street
LP – JEMKL 100 – Shiny Long Limousine – 1974
45 – High Country 68001 – "Haulin' My Last Load" b/w "How's She Forgetting Me" – October, 1968
45 – Confederate 1007 – "Prison Of The Past" b/w "Conversation with a Fool"
45 – JEMKL 3288 – "Shiny Long Limousine" b/w "Indecent" – 1973
45 – JEMKL 3298 – "Jesus Sent a Sing" b/w "Love Like Ours Is Grand Together" – 1973